New York Giants Week One Defense Was a Mirage That The Colts Will Expose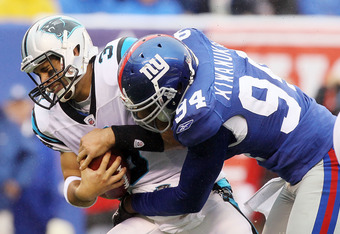 Jim McIsaac/Getty Images
The New York Giants' defense was vicious in their week one victory over the Carolina Panthers, but Big Blue's potentially pseudo-dominant performance may have been disguised by a possible 2011 number one overall draft pick team.
New Defensive Coordinator Perry Fewell did make Carolina Panthers Quarterback Matt Moore a believer, instilling more fear into the young starter than a snap to Ryan Leaf did to any sensible football fan. The only problem is that I only expect the Panthers to compete with teams like the Cleveland Browns this year.
The pressure that the Giants didn't have at all last season, aside from the blowout against the unfortunate Raiders, is back. New York's defensive front line looked like the 2009 season never happened, putting constant pressure on Carolina's quarterbacks.
The Giants did force three turnovers and sacked Moore four times, eventually knocking him out of the game, and after I saw Osi Umenyiora almost get a strip sack on the first play, I knew that the defense would be different this year.
But how different?
Anyone who watched Sunday's game saw Matt Moore throw three hideous interceptions. In the first pick, Moore threw to an area where there was one Panther and four Giants defenders, with a fifth coming over near the end of the play.
And if that wasn't enough, the next two were even more repulsive. While being battered like an action movie henchman by New York's front five all game (with Mathias Kiwanuka at linebacker), Moore showed that the pressure was too much and lobbed up two passes in the redzone gift wrapped for the Giants' secondary.
Meanwhile, the team did show areas of concern.
Even though the Panthers weren't in a running situation most of the game, the times they did feed the running backs, the Giants looked weak.
In the first quarter DeAngelo Williams broke a middle rush to the outside primarily because the questionable Jonathan Goff ran right into the fullback and was unable to get anywhere after that. If Goff keeps this type of play up, it will give more opportunities to second-year linebacker Clint Sintim with Bulluck lining up at the middle linebacker position or may even give Wilkinson some playing time, if he is healthy.
New York did prevent Jonathan Stewart from virtually doing anything at all after his last December 206-yard destruction of Bill Sheridan's defense, but Stewart hasn't had much contact while recovering from a heel injury. His 12-yard performance Sunday was no surprise.
Kenny Phillips answered a lot of questions about his knee, playing very effectively and even saved a rushing touchdown inside the 10-yard line just catching Williams' foot to prevent the score. He added an interception on one of the aforementioned Matt Moore lobs.
The Giants should certainly have more of a test this Sunday night when they take on the Indianapolis Colts and the ever-so dangerous Peyton Manning, but that still not be too telling. The Colts have shown weakness in their offensive line during the entire preseason, and week one proved to be no different as Manning found himself on the ground the most since he learned to walk.
And it is still unclear what the Colts have for a rushing attack as they only rushed 10 times and second-year back Donald Brown—who I completely expect to be their top back this year—didn't get any of the carries in the first game. That will be different this week and could be very dangerous for New York.
Week 2 Prediction:
There is a lot of promise with what the Giants have on their defensive line, so look for Tuck, Osi and Kiwi to get to Peyton on several passing plays, which any pressure is a lot for the Colts. Osi and Kiwi will cause the most problems of any Giants defender as No. 18's blind side is very weak.
I will even go as far as saying that the Giants WILL get at least five sacks against the untouchable Manning.
However, New York's linebacker problems are too serious at this point in the season. Goff didn't have to deal with much running in the season opener, but when he did he couldn't find the holes in front of him. And secondary questions still remain going into a game against the best quarterback in the NFL.
Dallas Clark and Austin Collie will only add to Goff's troubles when the Colts decide to exploit the middle of the field. The Giants will have to continue to use their three-safety sets as they are weak in coverage otherwise.
Therefore, the Giants will fall just short against the AFC South's best team in this offensive battle.
Final Score:
Colts 31, Giants 27.
This article is
What is the duplicate article?
Why is this article offensive?
Where is this article plagiarized from?
Why is this article poorly edited?

New York Giants: Like this team?