Oakand Raiders: They Can Go 11-5 This Year; They Can Also Go 5-11 Again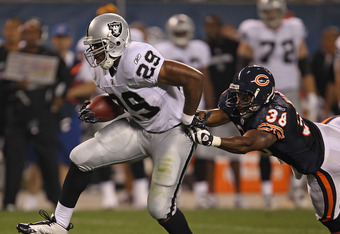 Jonathan Daniel/Getty Images
On Saturday evening, the Oakland Raiders went up the Chicago for a preseason game against the Bears. I saw a tale of two Oakland Raider teams during this preseason contest.
I don't mean the first and second units either.
The first unit was two different units on Saturday night.
On offense, there was the unit the took the ball down the field and scored on the opening drive (11-5). Then there was the unit that couldn't protect the quarterback and turned the ball over (5-11).
On defense, there was the unit that stuffed the run and didn't even allow Jay Cutler to complete one third of this passes. Then there was the unit that gave up an 89-yard touchdown run and a 22 yard touchdown pass.
So which team will we see for the 2010 season?
Let's take a look.
Run Defense
I didn't like the 89-yard touchdown run by Chicago running back Matt Forte but it's not cause for panic. However, I will say that it is definitely cause for concern.
The Raiders of the last few years got blown off the ball and gave up medium and long gains. Middle linebacker Kirk Morrison would get thrown to the ground while the running back breaks out for a big run.
This year's Raiders stopped Dallas's top flight ground attack in the preseason opener. They appeared to be doing the same thing in Chicago until they gave up the big play.
Richard Seymour was not playing but this one was on rookie rookie middle linebacker Rolando McClain. The play was probably the best thing that could happened to him this preseason.
Why?
The rookie got a little excited.
McClain was flying on the play and thumped one of the Chicago blockers on the play. The problem was he flew past the ball carrier to do so.
The 89-yard run was a rookie mistake he could learn from in the preseason. He didn't get bucked to the ground with his helmet sideways.
This situation can and will be easily fixed.
The Coverage
Jeremy Ware is a late-round defensive back that was beaten on the touchdown pass. I actually believe he has a future but the future is not now in his case.
He needs time.
Stanford Routt actually had a great game and made a few plays. He then became Nnamdi Asomugha as the Bears stopped throwing the ball his way.
Both Asomugha and Chris Johnson would normally be in the game with Routt being the next up. Following Routt would be Walter McFadden, who's having a good camp so far.
The Offensive Line
Michael Bush was always pretty good but now he is punishing defenses like a man his size should.
Jason Campbell was very accurate when he had protection.
When he had protection, that is.
Campbell threw an interception when he had pressure right in face up the middle. Only Peyton Manning, Brett Favre, and "Big" Ben Roethlisberger have been able to make good throws under such circumstances.
As it was, a touchdown pass to an open Zach Miller turned into an interception.
Up the middle is the worst place you can pressure a quarterback from. Even though Julius Peppers had a sack, most of it came up the middle.
Something must be done about it.
Back-up center Chris Morris's turnover and lack of blocking should get him escorted out of Raider Nation.
Jared Veldheer has already shown that he is more than capable of playing center. He has also shown that his short arms will cost him against those basketball defensive end types.
He had no chance to win his hand fight with Peppers while giving up a strip-sack to him. On the other hand, Henderson appears to be straightening up and flying right at left tackle.
Langston "Clubber Lang" Walker is handling his duties well at right tackle.
Veteran right guard Cooper Carlisle isn't.
Converted left tackle Bruce Campbell looks like a natural at the guard position.
Will the Raiders make the two moves?
This unit will ultimately decide what the Oakland Raiders will be in 2010.
Will it be 5-11 or 11-5?
It's up to Tom and Al at this point.
This article is
What is the duplicate article?
Why is this article offensive?
Where is this article plagiarized from?
Why is this article poorly edited?

Oakland Raiders: Like this team?