Four Players That Raise Colts' Hopes for 2010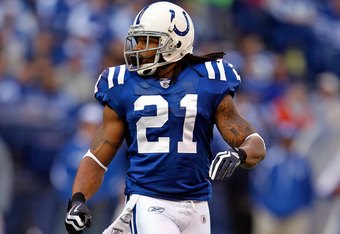 Andy Lyons/Getty Images
On Saturday, June 5, the Colts will take the field at Lucas Oil Stadium for a practice session that is open to the public.
It'll be the public's first look at the Colts since the end of the 2009 season. Thousands are liable to show up to watch the likes of Peyton Manning, Dallas Clark, and Reggie Wayne. Many will watch how much the young guys, such as Pierre Garcon and Austin Collie, have grown.
For me, I'll be keeping a close eye on two guys in particular, Anthony Gonzalez and Bob Sanders.
It's easy to overlook Gonzalez and Sanders' importance to the 2010 campaign considering Curtis Painter spent more time on the field in 2009 than they did. But their return means an already loaded Colts team now has a few extra rounds of ammunition.
There's no denying that when Bob Sanders is on the field, he is an impact player. He managed an interception in his token appearance last season.
His Lilliputian stature makes him alarmingly brittle, but also makes him an immensely entertaining player. Sanders is the type of player that offensive coordinators need to consider when creating a game plan. He's equally adept at playing the run and the pass, but it's his swagger that adds an extra element to the Colts defense.
Without Sanders, the Colts still became a solid defensive unit last season, but they lack personality.
The effectiveness of guys like Ray Lewis and Troy Polamalu comes from the intensity in which they play, not just from the talent they possess. Sanders is that type of player. It's a bit cliche, but Sanders does have the ability to make his teammates better by setting the example.
Sure, what makes him great makes him as fragile as glass, but as long as Sanders is on the field, the Colts reap great benefits.
Gonzalez, on the other hand, may be the truly forgotten Colt.
That's mostly because of the emergence of Garcon and Collie. The young duo combined for 107 catches, over 1400 yards, and 11 touchdowns.
It may difficult to imagine how Gonzalez will get significant playing time considering Garcon and Collie's performance last year, not to mention the 200 catches of mainstays Clark and Wayne.
Still, the Gonzalez of 2008 had 10 more catches and just as many touchdowns as the Garcon of 2009. It was Gonzalez, not Garcon, that was supposed to be the breakout player last season. There's no denying Gonzalez will have his work cut out for him to get his fair share of looks from Manning, but I'm sure Manning will welcome the additional target.
Now, I realize I mentioned four players, but you won't find the other two at the public practice on June 5. While they may not share a Colts uniform, they do share a surname.
The Titans' Chris Johnson and the Texans' Andre Johnson are both seeking new contracts from the perspective teams. Make no mistake, Colts' fans should pay some attention to how their division rivals approach their unhappy superstars.
History tells us that ugly contract disputes can often result in ugly seasons. Highly touted draft pick Michael Crabtree was the big holdout in 2009.
By the time he signed, he had missed five games. Crabtree spent the next 11 games rarely showcasing the talent you would expect from a high salaried player. His team, which had started 3-2, only won three of the next nine games. Crabtree, for all his hype, ended the season with two touchdowns.
Obviously, there's no way to tell in May what impact a holdout could have on a team in September. But considering the Titans and Texans are in better position than the Jaguars in challenging the Colts for the division title, neither can live without their marquee offensive weapon.
If a contract dispute turns into a stalemated holdout, the Colts could have a stranglehold on the division before opening kickoff. These will be interesting situations to watch.
It's hard to get excited about the NFL in May, but the Colts have plenty to be excited about heading into the final months of the off season.
This article is
What is the duplicate article?
Why is this article offensive?
Where is this article plagiarized from?
Why is this article poorly edited?

Indianapolis Colts: Like this team?