The NFL Scouting Combine begins this week, kicking off in earnest one of the globe's biggest sporting events, and possibly the only one to capture the attention span of fans for such an extended time.
Said event is the path to the draft, where every prospect steps under the microscope for evaluation, both on the field and off it. While it might seem silly to some, prospects can make or break their careers and vary their future by millions of dollars over the course of one week before a trying wait for the draft itself.
So it goes in this era of hits and misses, where the hits can morph into a league MVP such as Cam Newton and the early-round misses could wind up in a rut like Johnny Manziel.
Before the evaluation and inevitable stock changes begin, here's a look at a mock based on team need and prospect value.
2016 NFL Mock Draft
| | | | | |
| --- | --- | --- | --- | --- |
| Pick | Team | Player | Position | School |
| 1 | Tennessee Titans | Laremy Tunsil | OT | Ole Miss |
| 2 | Cleveland Browns | Jared Goff | QB | California |
| 3 | San Diego Chargers | Ronnie Stanley | OT | Notre Dame |
| 4 | Dallas Cowboys | Joey Bosa | DL | Ohio State |
| 5 | Jacksonville Jaguars | Jalen Ramsey | CB/S | Florida State |
| 6 | Baltimore Ravens | Mackensie Alexander | CB | Clemson |
| 7 | San Francisco 49ers | Myles Jack | LB | UCLA |
| 8 | Miami Dolphins | Reggie Ragland | LB | Alabama |
| 9 | Tampa Bay Buccaneers | DeForest Buckner | DE | Oregon |
| 10 | New York Giants | Jaylon Smith | LB | Notre Dame |
| 11 | Chicago Bears | Jack Conklin | OT | Michigan State |
| 12 | New Orleans Saints | Noah Spence | DE/LB | Eastern Kentucky |
| 13 | Philadelphia Eagles | Taylor Decker | OT | Ohio State |
| 14 | Oakland Raiders | Vernon Hargreaves III | CB | Florida |
| 15 | Los Angeles Rams | Carson Wentz | QB | North Dakota State |
| 16 | Detroit Lions | Ezekiel Elliott | RB | Ohio State |
| 17 | Atlanta Falcons | Darron Lee | LB | Ohio State |
| 18 | Indianapolis Colts | A'Shawn Robinson | DT | Alabama |
| 19 | Buffalo Bills | Jarran Reed | DL | Alabama |
| 20 | New York Jets | Jonathan Bullard | DE | Florida |
| 21 | Washington | Laquon Treadwell | WR | Ole Miss |
| 22 | Houston Texans | Robert Nkemdiche | DL | Ole Miss |
| 23 | Minnesota Vikings | Michael Thomas | WR | Ohio State |
| 24 | Cincinnati Bengals | Emmanuel Ogbah | DE | Oklahoma State |
| 25 | Pittsburgh Steelers | Eli Apple | CB | Ohio State |
| 26 | Seattle Seahawks | Shaq Lawson | DE/LB | Clemson |
| 27 | Green Bay Packers | Sheldon Rankins | DT | Louisville |
| 28 | Kansas City Chiefs | Corey Coleman | WR | Baylor |
| 29 | Arizona Cardinals | Leonard Floyd | LB | Georgia |
| 30 | Carolina Panthers | Josh Doctson | WR | TCU |
| 31 | Denver Broncos | Jason Spriggs | OT | Indiana |
Author's projections.
Pre-Combine Notable Moves
4. Dallas Cowboys: Joey Bosa, DL, Ohio State
Thanks to the emergence of someone such as former teammate Noah Spence, Ohio State's Joey Bosa doesn't have the firmest of grips on the title of best pass-rusher in the class.
It's a label that could be up for grabs at the combine. Bosa, while long considered the best in the class, could have an off day while physical monsters with plenty of upside such as Spence and DeForest Buckner capture the minds of scouts and don't let go.
FoxSports.com's Peter Schrager provided some insight on the situation:
1. Joey Bosa isn't clear and away the first defensive end on teams' boards. The growing interest and hype for DeForest Buckner is real.

— Peter Schrager (@PSchrags) February 19, 2016
Not that Bosa cannot retain and lock down the slot.
Bosa comes in at 6'6", 275 pounds and looks to fit any scheme not because of flashy speed, but due to hand quickness and strength that let him drive piles back regardless of starting standing up or with his hand in the dirt.
So long as Bosa keeps his stock where it's at, he's essentially a lock for the Dallas Cowboys. The team mustered just 31 sacks last year, and now Randy Gregory has been hit with a suspension. On top of that, according to 105.3 The Fan's Ben Rogers (via Mike Fisher of CBS DFW), the team won't bring back Greg Hardy.
In other words, the Cowboys seem done with character questions when it comes to guys who can rush the passer. And why not? Bosa might be there and do better in both areas.
12. New Orleans Saints: Noah Spence, DE/LB, Eastern Kentucky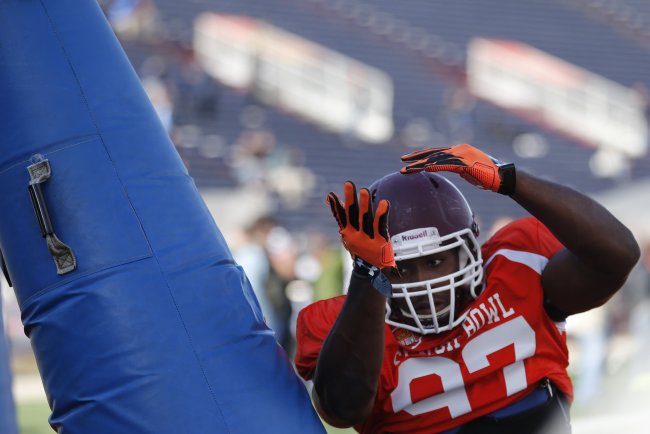 Brynn Anderson/Associated Press
The outcry for the New Orleans Saints to take a piece who can help the defense isn't hard to find. A simple perusing of comment sections or a Twitter search will say as much.
Such an outcry isn't wrong, 37-year-old quarterback and unpredictable head coach Sean Payton or not. The Saints ranked 31st against the pass last year, coughing up 284.0 yards per game on average. Ditto for run defense, which came in at 129.8 yards per game.
Over the past month and change, the aforementioned Spence and Ohio State's Darron Lee have emerged and given the Saints some serious options when it comes to finding pass-rushing help.
Spence would now be the name to watch. Before, the Saints sat in a rather iffy spot with so many teams higher in the draft now looking for help, especially after Von Miller pulled in the Super Bowl MVP.
Spence, though, has a checkered off-field past that saw him move from Ohio State to Eastern Kentucky, perhaps creating a scenario in which he falls a tad. New Orleans won't complain if a guy who comes in at 6'2" and 254 pounds with elite burst off the snap and an ability to bend his way to quarterbacks unlike few others falls in its lap.
Crafting a better rush would do those mentioned numbers some good. The Saints tallied just 31 sacks last year, so getting a situational prospect who can pin his ears back and focus on one aspect of the game will work wonders.
For an embattled unit, it's one step in the right direction.
15. Los Angeles Rams: Carson Wentz, QB, North Dakota State
The combine can work wonders for a potential first-round quarterback, and based on film, there seems to be little doubt that North Dakota State's Carson Wentz will shine as one of the top prospects in attendance
Wentz won't blow anyone away through numbers due to where he played, but there is a reason the hype around him continues to grow as more scouts get to work on his film. At 6'5" and 232 pounds with an arm that can make all the pro throws and a mind that can work through defenses like an open book, the only real knock is Wentz's level of collegiate competition.
As NFL.com's Lance Zierlein noted in a summary, Wentz needs time to grow, but the initial investment should easily pay off in the long run:
With a body type that is as prototypical as they come and a background in reading the entire field and working through progressions, Wentz will immediately check a couple of boxes that many college quarterbacks won't be able to check. While his arm strength is OK, he can still make all the throws and he can make them with accuracy. His ability to escape pressure and pick up first downs with his feet will be yet another check mark in his favor. Wentz is still in a developmental phase after just two years at an FBS program, but has the mental and physical building blocks of a future, franchise quarterback.
There aren't many teams in the top 15 who will want to wait, of course. The Cleveland Browns at No. 2 might, but Wentz certainly isn't the only option.
The Los Angeles Rams make for an interesting suitor, though. Making a move to a new home and clearly in rebuild mode, the Rams might not have an issue with another year of Nick Foles-Case Keenum purgatory if it means their flashy first-round pick can take a year to develop while the front office continues to build the roster.
Then again, few teams allow rookies such a grace period these days. How patient the Rams will be in a new market remains to be seen, too. But if Wentz falls and the Rams pull the trigger, the front office might want to consider the patient approach—landing a potential franchise quarterback outside of the top 10 would be a huge win.
Stats courtesy of NFL.com and are accurate as of Monday. All advanced metrics courtesy of Pro Football Focus.