With NFL draft season kicking up in full swing, it's officially time for the must-have resource—mock drafts.
Many might view mock drafts as a silly exercise. But there's a reason all the experts do them, and it has little to do with a way for vetting their expert title considering that's the worst possible way to judge an analyst given the volatile, uncontrollable nature of the real draft.
No, experts roll out mock drafts beginning in January to provide a resource. There's no better one-stop shop for prospect analysis and stock, the official order and a great look at team-by-team need.
With that in mind, here's a look at some of the most notable picks from experts as of late.
Notable Pick: No. 12, New Orleans Saints, Carson Wentz, QB, North Dakota State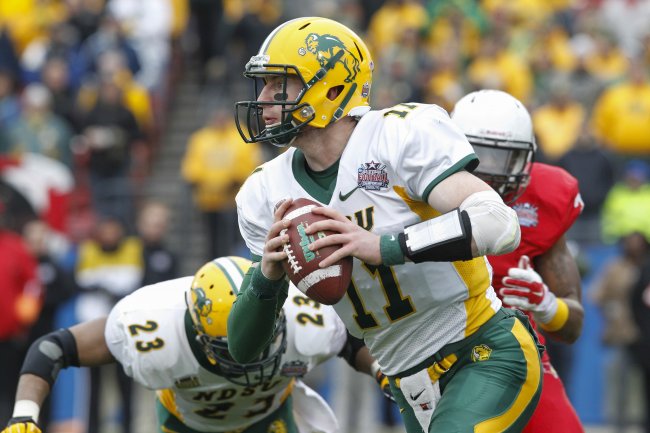 TIM SHARP/Associated Press
How's this for a surprise?
Not only do many not consider quarterback a need for the New Orleans Saints, few seem keen on Carson Wentz out of North Dakota State just yet.
NFL.com's Lance Zierlein addressed the team's portion of this scenario well: "The Saints have other needs they could address, but the ability to draft a talent like Wentz and let him sit behind Drew Brees might be too much for the Saints to pass on."
Many will point out the fact the Saints drafted Garrett Grayson pretty high as the guy to potentially groom behind Drew Brees in the long term, but if the Saints can grab a first-round talent and potential franchise quarterback, why wouldn't they?
Because that's what Wentz is. Small school or not, the senior stands at 6'6" and 235 pounds and has a strong pro set of skills in place, as CBSSports.com's Dane Brugler explained:
Although his internal clock needs maturing, Wentz performs well within structure, but can also improvise when the play breaks down, stretching out his legs to pick up chunk yardage if it's there (949 career rushing yards). He possesses a NFL-style skill-set with his size, athleticism and arm talent, including the field vision to work through reads and make sound decisions. Wentz ideally needs a redshirt rookie season in the NFL, but will be the top senior quarterback on several NFL draft boards.
For the Saints, it's not hard to look around and see how a team without a franchise quarterback performs. Look at the quarterbacks left in the postseason right now. Taking another potential starter at the most important position of all isn't silly, and Zierlein agrees.
Notable Pick: No. 29, Denver Broncos, Ezekiel Elliott, RB, Ohio State
It's hard to tell if the Denver Broncos will remain in win-now mode after this year.
Much of it depends on the future of Peyton Manning, whether he hoists a Lombardi Trophy this year and whether he feels like he's healthy enough to keep at it.
Regardless, ESPN.com's Mel Kiper has the Broncos doing whatever it takes to stay in contention by grabbing Ohio State running back Ezekiel Elliott:
There's a good chance the Broncos will evolve into a team that truly wants to win with the run game in 2016, and while they do have some options on the roster, Elliott isn't just a great fit, he's also the best player on the board at this point. He has vision, runs behind his pads, can turn a small crease into a big gain, catches the ball with ease, and is one of the best blocking tailbacks I've ever seen.
One might scoff at the idea of Denver adding another back, especially after strong years from Ronnie Hillman and C.J. Anderson, who both averaged at least 4.2 yards per carry with five touchdowns.
But as Kiper notes, Elliott is one of this year's can't-miss talents. He's the guy who ran for 1,821 yards and 23 touchdowns this past season. Not only does the junior excel as a runner, receiver and blocker, he's also the perfect fit in the Denver scheme.
If Elliott falls this far there isn't much in the way of a reason for the Broncos to take a pass.
Notable Pick: No. 2, Cleveland Browns, Jared Goff, QB, California
Maybe the biggest question mark of all going into this year's draft is how new Cleveland Browns head coach Hue Jackson decides to act at No. 2.
Jackson's the guy who helped Andy Dalton improve and even squeezed production out of backup AJ McCarron during his time as offensive coordinator with the Cincinnati Bengals. Whether he squeezes the most out of a veteran while building other positions or grabs his potential franchise gunslinger remains a hot topic of debate.
In this scenario, Bleacher Report's Matt Miller has Jackson doing the latter and grabbing California prospect Jared Goff.
Earlier in the writeup, he noted just how highly the league views Goff: "The general consensus in talking to NFL scouts this week is that a quarterback will go No. 1 overall after someone trades up with the Titans. The most common answer to which player that will be is Cal quarterback Jared Goff."
Back in September, Miller provided quite the interesting pro comparison for Goff:
Goff is close to perfect as a quarterback prospect, and his flaws are all fixable ones. Like Eli Manning, he has picturesque footwork in the pocket, aggressive downfield vision and the arm to make every throw in the playbook. Goff doesn't turn the ball over at Cal as much as Manning has in the NFL, but from a skills and athleticism perspective, they're very similar.
Outside of what Miller mentioned, Goff certainly looks the part at 6'4" and 215 pounds. He won't have the greatest supporting cast of weapons around him out of the gates, but it's clear he can squeeze production out of most after throwing for 4,719 yards and 43 touchdowns to 13 interceptions last year.
Cleveland won't expect to compete for the postseason right away, which is what makes this scenario so intriguing. Jackson can mold Goff in the meantime and perhaps help him more than most in the top five could.
Stats courtesy of NFL.com and are accurate as of January 23. All advanced metrics courtesy of Pro Football Focus.