Updates from Saturday, Mar. 29
Albert Breer of NFL Network provides details on Vince Wilfork's contract:
Wow ... The Vince Wilfork deal is complicated. In 2014: $1.3M to sign, $1.3M base, $300K weight clause, $200K workout bonus ...

— Albert Breer (@AlbertBreer) March 29, 2014
... $500K for first game on the 53-man roster, $87.5K per game in roster bonuses for being on the 46-man roster.

— Albert Breer (@AlbertBreer) March 29, 2014
So that's $5M for Wilfork. Then ... $500K for 50% playtime, $1.25M for 60% PT, $2M for 70% PT, $2.5M for 70%/divisional playoff appearance

— Albert Breer (@AlbertBreer) March 29, 2014
Wilfork can then make $500K for 70% playtime and Pats being Top 10 in scoring defense.

— Albert Breer (@AlbertBreer) March 29, 2014
Original Text:
Once thought to be on its last legs, the Vince Wilfork era in New England is going to continue.
Shortly after free agency began, the big defensive tackle, who has spent 10 seasons under Bill Belichick, reportedly asked New England for an outright release, and on Monday, the Boston Herald's Karen Guregian reported he had already cleaned out his locker.

Not so fast.
According to NFL.com's Ian Rapoport and ESPN's Adam Schefter, Wilfork and the Patriots have ironed out the kinks and reworked his deal, keeping him in New England for three more seasons:
Wilfork's new deal is through 2016 and earns him the right to make $8M in 2014.

— Ian Rapoport (@RapSheet) March 27, 2014
Patriots and DT Vince Wilfork restructured his contract. It's a new 3-year, $22.5M deal, per source. Wilfork stays a Patriot.

— Adam Schefter (@AdamSchefter) March 27, 2014
Vince Wilfork's new deal with Patriots really is a one-year, $8M deal that includes $3M guaranteed and deal has an option for 2 more years.

— Adam Schefter (@AdamSchefter) March 27, 2014
The 32-year-old then confirmed the news with a statement through his wife's Instagram account:
ESPN's Adam Schefter added more:
Pats DT Vince Wilfork could have made more on open market but didn't want to relocate his wife and kids. So stays in NE on reworked deal.

— Adam Schefter (@AdamSchefter) March 27, 2014
Christopher Gasper of The Boston Globe added more details on the deal:

About $3 million of the possible $8 million Vince Wilfork can earn this season in his new deal is tied to playing time incentives.

— Christopher Gasper (@cgasper) March 28, 2014
He also has per game 46-man active roster bonuses up to 16 games and a half-million bonus for spending one game on the 53-man roster.

— Christopher Gasper (@cgasper) March 28, 2014
It's been an incredible ride for Wilfork with the Patriots, and this move will likely be met with elation through the team's fanbase.
In 10 seasons, he has played 142 regular-season games (132 starts), tallying 16.0 sacks, 469 combined tackles, four forced fumbles, 12 fumble recoveries and two interceptions. He has added another three sacks in 18 postseason contests, winning the Super Bowl in the 2004-05 NFL season.
Of course, his impact goes far beyond the numbers.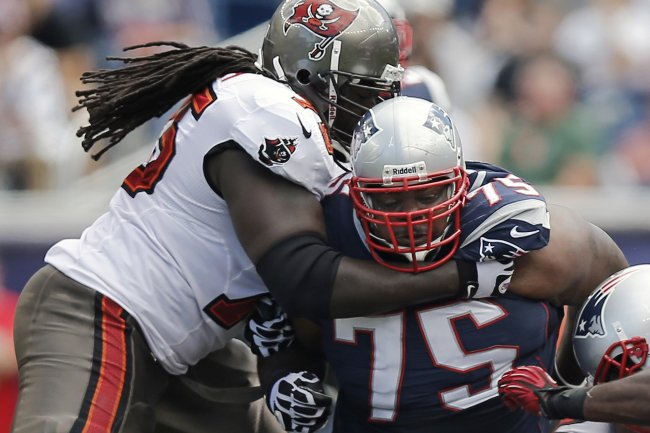 Winslow Townson/Getty Images
Wilfork has been one of the most dominant interior linemen over the past decade, a player capable of creating disruption on every play and completely shutting down opponents' running games. He was a massive, physical, athletic force whom teams needed to game-plan away from.
And as WEEI.com's Christopher Price pointed out, he and quarterback Tom Brady are the only remaining players from the last Pats Super Bowl roster:
If @wilfork75 is indeed released, Tom Brady would be the only guy left on roster from the last Patriots Super Bowl winner.

— Christopher Price (@cpriceNFL) March 13, 2014
There were times when his departure seemed like a guarantee, but not everyone was nearly as convinced.
"If he hits the free agency, I would be shocked," former Pats linebacker Brandon Spikes said in early March on NFL Network, via The Republican's Nick Underhill. "I think the Patriots love him, the organization up there, Boston loves him. He's been there for a while. I just honestly can't see him leaving."
There are undoubtedly concerns.
How would you grade this move by the Patriots?
Wilfork is 32 years old and coming off an Achilles injury that forced him to miss all but four games in 2013. It's difficult to project how a player of his stature will return from such a serious injury.
Nevertheless, the restructuring of his contract—the original deal presented a cap hit of $11.6 million next season—cuts down the risk significantly, making it a smart move for the Patriots, who now look far more solid on the interior of their defensive line.
Tommy Kelly will also be returning from injury, while 23-year-old Sealver Siliga proved to be effective against the run last season and now provides encouraging depth.
Throw in the additions of Darrelle Revis and Brandon Browner in the secondary, and this defense—led by the same anchor of the past decade—looks formidable.