The 2014 NFL draft provides a fresh start for each of the 20 franchises watching the playoffs from home this postseason.
With Black Monday in the books, fans now have a better idea as to how their favorite team will act in the upcoming draft. As the old adage that has withstood the test of time predicts, the majority of new head coaches will want to bring in shiny new franchise quarterbacks.
Fans of teams that kept their current head coach (for better or worse) should not feel left out on the action—teams that reach for quarterbacks to start new eras in turn create a trickle-down effect that drops top prospects down the board.
Here is an updated look at the first round of the 2014 draft, with the current order set through the first 20 picks based on strength of schedule. Picks after that are based on current playoff seeding. These prospects have also either declared or are assumed to do so in the near future.
1. Houston Texans: Teddy Bridgewater, QB, Louisville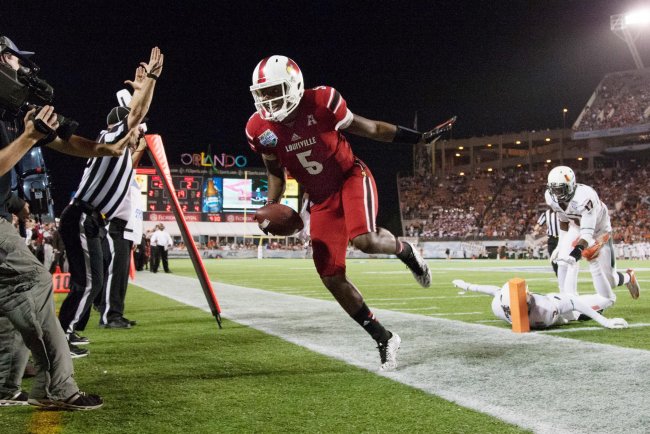 Rob Foldy-USA TODAY Sports
The Houston Texans are free to start a new era in more ways than one after losing a ridiculous 14 games in a row to obtain this pick.
A new era has partially started, as Houston has hired former Penn State coach Bill O'Brien as their new head coach, per NFL.com's Ian Rapoport. Bleacher Report's Matt Miller said before the hiring that the combo of O'Brien and Louisville quarterback Teddy Bridgewater would be perfect:
The #Texans have talent, and I'd think a Bill O'Brien and Teddy Bridgewater combination could work wonders with the available weapons.

— Matt Miller (@nfldraftscout) December 29, 2013
It is hard to disagree.
2. St. Louis Rams (via Washington): Jake Matthews, OT, Texas A&M
The St. Louis Rams could get sexy here and take a receiver, but doing so last year in the first round got them a lack of production the first half of the season and a franchise quarterback with a shredded knee.
Since Jake Long tore his ACL, the Rams must reinforce the line in front of Sam Bradford. Jake Matthews is the top prospect in that regard, and he would be a smart move for a team with two picks in the top 15.
3. Jacksonville Jaguars: Blake Bortles, QB, UCF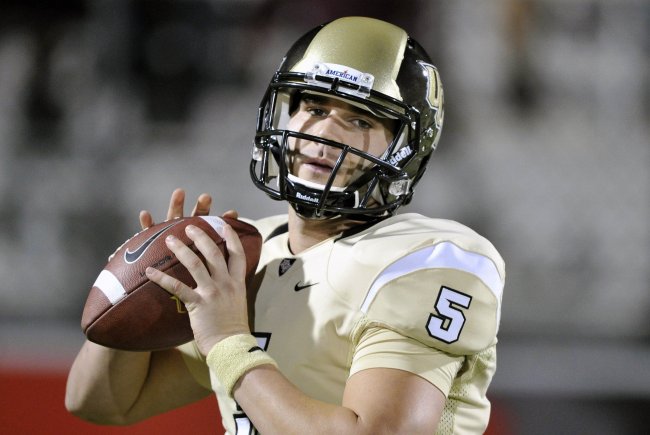 Brad Barr-USA TODAY Sports
The Jacksonville Jaguars and general manager David Caldwell got cute last year with a right tackle in the first round, but that simply will not happen again.
There are intriguing prospects on the board, such as South Carolina's Jadeveon Clowney. As Fox Sports' Jay Clemons notes, passing on him for UCF quarterback Blake Bortles may be a bad idea:
I would hate to be the NFL GM who passes on Jadeveon Clowney for Blake Bortles ...

— Jay Clemons (@FOX_JayClemons) December 31, 2013
Well, no team ever won a championship without taking risks. Bortles is a major risk, but he has a big-time arm and intriguing potential. At some point, Caldwell is going to have to stop dancing around the issue at quarterback with fancy metrics and explanations.
That time is now.
4. Cleveland Browns: Johnny Manziel, QB, Texas A&M

The Rob Chudzinski era is over in Cleveland after just one season. It is tough to see such a quick turnaround for a roster riddled with injuries, but one report from NFL Network's Albert Breer sheds some light on the situation:
1 breaking point for Browns: I'm told a couple weeks back, Chud was told to cut a player (re: accountability) to send a message. He refused.

— Albert Breer (@AlbertBreer) December 30, 2013
Chud at the helm or not, the Browns were likely going to take a quarterback here to end the Brandon Weeden era.
Per a report, the brass in Cleveland are very high on Johnny Manziel:
Report: #Browns very high on Johnny Manziel http://t.co/cTMZ8HXpk2

— CollegeFootball 24/7 (@NFL_CFB) December 30, 2013
Good. In a tough AFC North littered with elite defenses, Manziel's ability to create on the run like Ben Roethlisberger is an invaluable trait.
5. Oakland Raiders: Anthony Barr, OLB/DE, UCLA
Oakland is in a horrible position, despite sitting at No. 5 overall. Both quarterbacks likely worth the pick here are off the board, so it looks like another year of Terrelle Pryor and Matt McGloin in the Black Hole.
The best player available approach is the smart route here, so it comes down to Anthony Barr, Clowney and Khalil Mack. Clowney is beginning to show flags (keep reading), so this comes down to preference.
Barr is a versatile piece who will stay on the field on every down for the Raiders and upgrade a miserable unit led by the promising Sio Moore.
6. Atlanta Falcons: Jadeveon Clowney, DE, South Carolina
While it may just be the natural process of beginning to pick apart top prospects, things have not gone well for Clowney as of late:
Two ways to view Jadeveon Clowney: 1) He'll play hard once he's made the NFL, 2) He'll coast once he gets paid. http://t.co/1SbPeGrPCs

— CollegeFootball 24/7 (@NFL_CFB) December 27, 2013
As noted above, there are questions about Clowney's motor, and he now has two speeding tickets in the last month.
Most teams will not want to take a risk on those kinds of questions, but the coaching staff in Atlanta is strong, has a need and will want to take the top player on the board.
7. Tampa Bay Buccaneers: Khalil Mack, OLB, Buffalo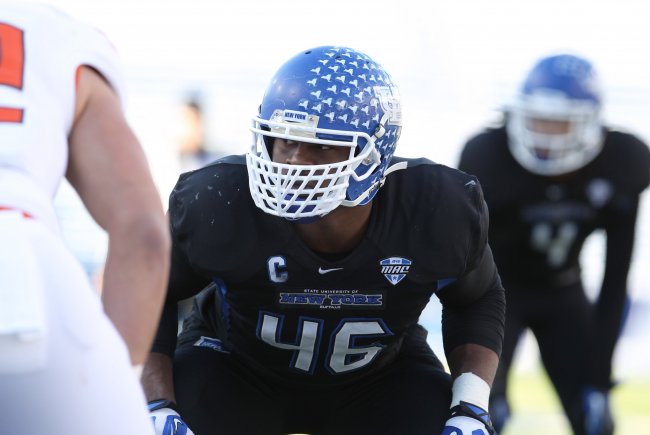 Timothy T. Ludwig-USA TODAY Spor
Both general manager Mark Dominik and head coach Greg Schiano are gone, as reported by NFL Network's Ian Rapoport:
Here it is RT @TBBuccaneers: via @ScottSBucs: Bucs dismiss GM Mark Dominik and Head Coach Greg Schiano: http://t.co/Ywf2x3Q6qA

— Ian Rapoport (@RapSheet) December 30, 2013
Tampa Bay is a rare team getting a fresh start that will not take a quarterback, thanks to the strong play of Mike Glennon.
Instead, expect the Buccaneers to look for help on defense. Mack is an obvious fit and choice here. Tampa Bay has invested high picks at defensive end recently, but this one will be far from a bust.
8. Minnesota Vikings: Derek Carr, QB, Fresno State
Unlike Tampa Bay, Minnesota will not be content with the current state of the quarterback position after letting go coach Leslie Frazier, per ESPN's Adam Schefter:
Vikings announced Leslie Frazier will not return.

— Adam Schefter (@AdamSchefter) December 30, 2013
Derek Carr's stock has fluctuated wildly as of late, but a strong performance in upcoming workouts and interviews will firmly place him back in the top 10.
Carr will start right away and make mistakes, but he will not be as bad as Josh Freeman or Christian Ponder.
9. Buffalo Bills: Sammy Watkins, WR, Clemson
Buffalo could use help in a few areas, but the chief concern right now is ensuring the success of quarterback EJ Manuel.
Adding the draft's top receiver to the mix with Robert Woods and Stevie Johnson gives the Bills an explosive trio. While defenses have to account for C.J. Spiller and Fred Jackson in the backfield, Manuel could go up top effectively with defenses stretched thin due to Watkins' presence.
10. Detroit Lions: Darqueze Dennard, CB, Michigan State
Jim Schwartz was another name to lose his job on Monday, but Matthew Stafford ensures the team will not be looking at signal-callers:
#Lions entire situation looked shaky yesterday. Now, coach Jim Schwartz has been informed he's been fired (first reported by ESPN).

— Ian Rapoport (@RapSheet) December 30, 2013
In fact, Stafford is so good that the team does not need to look at the offensive side of the ball. Instead, the team must address a porous defense that prevents the Lions from routinely blowing away the opposition as they should.
Darqueze Dennard is far and away the top corner on the board, played collegiate ball locally and is an instant starter.
11. Tennessee Titans: Vic Beasley, DE, Clemson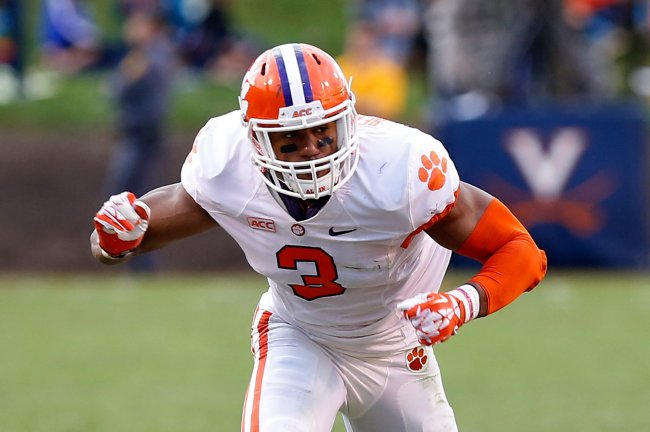 Geoff Burke-USA TODAY Sports
Tennessee has a wealth of questions to answer in the offseason, such as the fate of quarterback Jake Locker.
But an elite defense is slowly taking shape, thanks to cornerback Alterraun Verner and lineman Jurrell Casey.
Now, the Titans must add to that unit with the versatile Vic Beasley, who can come in right away and provide a stout pass-rush.
12. New York Giants: C.J. Mosley, LB, Alabama
New York needs leadership on defense and a rangy linebacker to cover the length of the field in a hurry.
C.J. Mosley, step on up.
Mosley has been underrated throughout his entire career, despite playing for Alabama. ESPN's Alex Scarborough put it best:
If AJ McCarron has been underrated, what does that make C.J. Mosley? His career at #Bama rivals any other. http://t.co/19lvBhdGJR

— Alex Scarborough (@AlexS_ESPN) December 27, 2013
The Giants get a linebacker here who will have an impact for the next decade.
13. St. Louis Rams: Mike Evans, WR, Texas A&M
Now the Rams can get crazy and upgrade yet again with another skill player.
Texas A&M's Mike Evans could pass for a tight end, thanks to his 6'5" and 225-pound frame.
That works perfectly in St. Louis, where he and tight end Jared Cook could consistently move the chains underneath while Tavon Austin stretches defenses deep.
14. Chicago Bears: Louis Nix III, NT, Notre Dame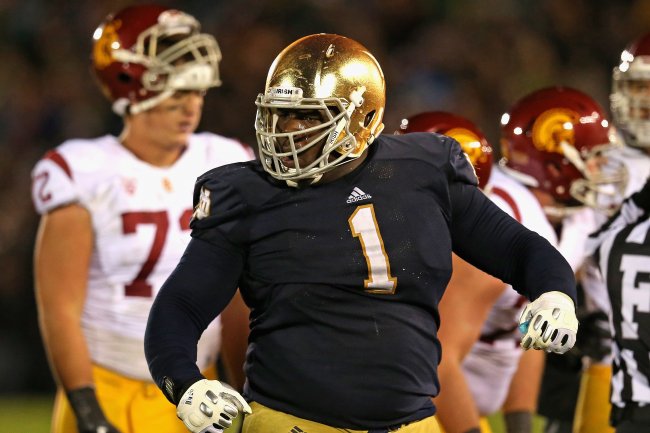 Jonathan Daniel/Getty Images
Defensive tackle Henry Melton is headed to free agency after getting slapped with the franchise tag last offseason. He is also recovering from injury and was recently hit with misdemeanor assault and public intoxication charges, per Adam Jahns of The Chicago Sun-Times.
Suffice it to say, the Bears need help up front.
Of course, Melton could come back at a cheap cost. That would be even better, because he can pair with Notre Dame's Louis Nix, a 340-pound monster who plugs running lanes and can apply a pass-rush on his own.
With how horrid the linebackers are in Chicago, the addition of Nix would be a welcome sight.
15. Pittsburgh Steelers: Cyrus Kouandjio, OT, Alabama
Cyrus Kouandjio is another member of the Crimson Tide who has flown under the radar this year.
Simply put, Kouandjio is dominant in all phases and pro-ready.
That is great news for the Pittsburgh Steelers, who have been mostly horrendous at selecting offensive lineman as of late—hence why Big Ben is consistently one of the NFL's most battered quarterbacks.
16. Baltimore Ravens: Eric Ebron, TE, North Carolina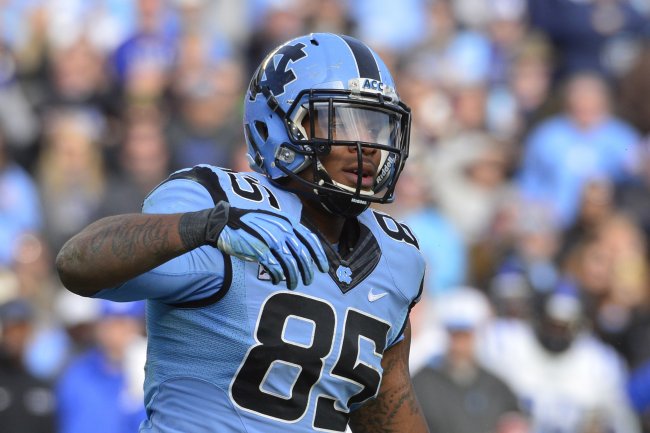 Bob Donnan-USA TODAY Sports
Surprise!
Eric Ebron is easily the top tight end in the 2014 class:
Eric Ebron is just special. Top 15 talent at tight end. So athletic.

— Matt Miller (@nfldraftscout) December 28, 2013
Ebron will by no means be replacing Dennis Pitta, but Baltimore can get with the two-tight end fad sweeping the league.
Quarterback Joe Flacco is essentially a black-haired Andy Dalton, so give him another big-bodied target to hit who can gain plenty of yards after the catch and the Ravens offense will look entirely different in 2014.
17. Dallas Cowboys: Stephon Tuitt, DE, Notre Dame
The defense in Jerryworld needs a jolt.
Help is needed at all spots, so the top player on the board is an easy call. That would be Stephon Tuitt here, who will come in and start from Day 1.
Tuitt can fill in at multiple spots, which is about as much as the Cowboys can ask for at this point. There is still a long way to go.
18. New York Jets: Kelvin Benjamin, WR, Florida State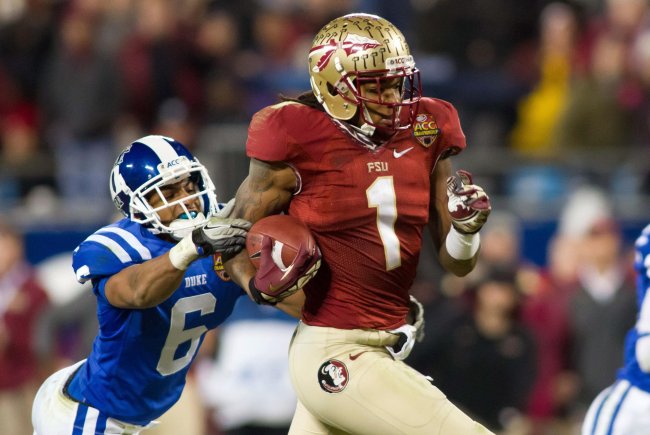 Jeremy Brevard-USA TODAY Sports
If the New York Jets are going to see Geno Smith succeed under center, the team has to do a better job of surrounding him with talent.
In other words, give him better options than Jeremy Kerley (or at least more).
Most seem to forget a few things about Florida State's Kelvin Benjamin, who stands at 6'5" and 234 pounds. For one, he is draft eligible. Two, he made Heisman winner Jameis Winston look great at times.
Oh, and that frame paired with elite speed? Instant contributor at the pro level.
19. Miami Dolphins: Cameron Erving, OT, Florida State
Miami has a ton of work to do this offseason when it comes to rebuilding the offensive line. Omar Kelly of The South Florida Sun-Sentinel concurs:
I honestly don't care how the Dolphins fix the O-line, but it is pretty clear Miami needs to replaced at least three starting spots.

— Omar Kelly (@OmarKelly) December 27, 2013
After all, Ryan Tannehill was the NFL's most-sacked quarterback in the regular season.
The overhaul can begin in the first round with ACC powerhouse Cameron Erving. While hardly the answer to all the woes in Miami, Erving is a heck of a first step in the right direction.
20. Arizona Cardinals: Taylor Lewan, OT, Michigan
Taylor Lewan's stock has taken a nosedive in 2013, and for good reason.
For one, he has a bad reputation on the field as someone who cannot control himself. This was on full display near the end of the season:
No. 2 ranked OT in 2014 draft class --> RT @KevinOnCFB: Taylor Lewan admits 'blatant' dirty play, could face susp. http://t.co/MYaTpHvbFA

— Matt Miller (@nfldraftscout) November 4, 2013
Now, Lewan is involved in other off-field issues in some fashion. But Lewan does remain one of the more intriguing prospects in the draft as a tackle that needs good coaching to go with his already dominant physical ability.
Arizona has the need and coaching staff to make it work.
21. Green Bay Packers: Ha Ha Clinton-Dix, S, Alabama
Green Bay can go a few different places here, but fixing a defense that clearly has plenty of issues is the first step in righting the ship.
Ha Ha Clinton-Dix is the perfect remedy in the secondary and will start in a three-down role in Dom Capers' defense.
Like Eric Reid and Kenny Vaccaro from last year's draft, Clinton-Dix is an immediate contributor.
22. San Diego Chargers: Justin Gilbert, CB, Oklahoma State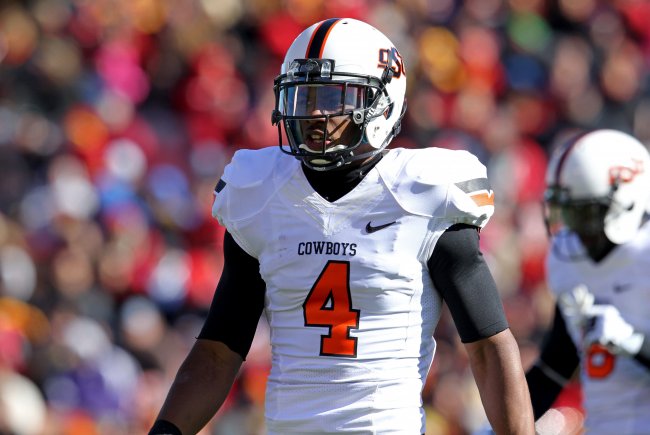 Brace Hemmelgarn-USA TODAY Sport
Any rookie taken at this point will be the No. 1 corner in San Diego.
While a testament to just how bad the secondary is, Justin Gilbert could go to a few different teams and assume the same role.
Gilbert is aggressive against the run and strong in coverage. He is far from the only addition the team needs to make to improve itself, but he is the perfect start.
23. Philadelphia Eagles: Jason Verrett, CB, TCU
The Philadelphia Eagles can outscore most opponents, but their secondary needs athletic, versatile pieces who will not burn out quickly when asked to be on the field so often.
Jason Verrett is a big, physical corner who fits the bill well. While far from the draft's biggest name, Verrett will be a starter at the pro level for a long time thanks to his aggressiveness (think Charles Tillman) and ability in coverage.
24. Kansas City Chiefs: Austin Seferian-Jenkins, TE, Washington
Andy Reid needs to open up the Kansas City passing game next year, and he can do so with the addition of a big tight end such as Austin Seferian-Jenkins.
Quarterback Alex Smith will be at his best when he can find a tight end with impressive red-zone accountability. Even better, Seferian-Jenkins will provide a yards after the catch element that the offense has been lacking in 2013.
25. Cincinnati Bengals: Bradley Roby, CB, Ohio State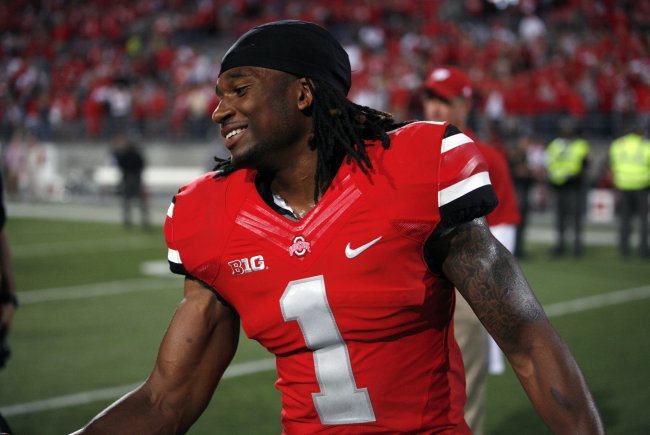 Raj Mehta-USA TODAY Sports
As one of the NFL's deepest teams, the Cincinnati Bengals can go a number of areas here.
However, cornerback sticks out the most as a spot that will need an upgrade sooner rather than later.
Leon Hall is out for the year yet again, and Terence Newman and Adam Jones are aging. Even worse, Dre Kirkpatrick continues to get exposed by other teams:
I've never seen Dre Kirkpatrick effectively cover a double-move.

— Matt Miller (@nfldraftscout) December 29, 2013
Bradley Roby is a nice addition here and fits the Hall mold, a player he can learn from for at least his first season.
26. Cleveland Browns (via Indianapolis): Allen Robinson, WR, Penn State

Cleveland can now add a top target here after getting a franchise quarterback earlier.
As good as Josh Gordon is, he may not be able to keep playing at such an impressive pace with defenses suddenly throwing everything they have at him.
Robinson has good size at 6'3" and 210 pounds. With defenses focused on Gordon, he will be free to move the chains consistently.
27. New Orleans Saints: Ryan Shazier, OLB, Ohio State
New Orleans Saints defensive coordinator Rob Ryan has done well provided the fact he took a shoddy 4-3 unit and turned it into a respectable 3-4 defense this season with little of his own guys getting playing time.
Like the addition of Vaccaro in last year's draft, Ryan Shazier is a smart add who will immediately be an every-down player. Also like Vaccaro, who switches between safety and corner, Shazier can fill multiple roles based on the scenario.
In other words, he is a perfect fit in Ryan's amoeba defense.
28. New England Patriots: Trent Murphy, DE, Stanford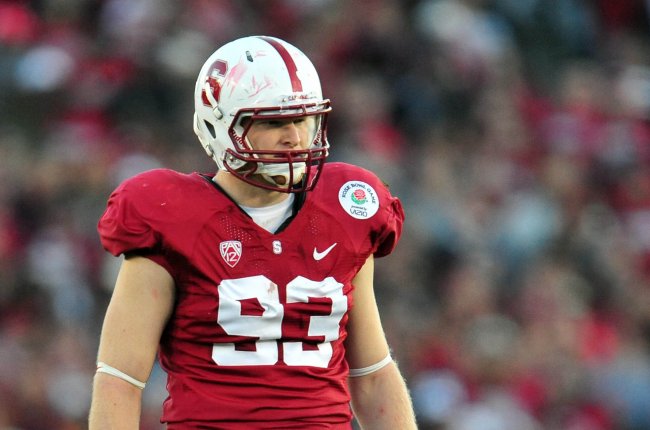 Gary A. Vasquez-USA TODAY Sports
Good luck figuring out what Bill Belichick has up his sleeve when it comes to the draft.
No, the guru does not just pull names out of a hat, despite it seeming that way. This time, the name is Trent Murphy, a borderline first-round player who can fill multiple roles in Belichick's defense.
While not a high-profile name, the Patriots have not gone after such players in recent years. Murphy is simply the latest example of that.
29. San Francisco 49ers: Marqise Lee, WR, USC
Running back Frank Gore has hit a wall in San Francisco. While not the most alarming piece of news, the 49ers are going to need more weapons through the air to squeeze the maximum amount of effectiveness out of Gore as his career winds down.
Anquan Boldin is getting up there in age, too, so it makes sense for the 49ers to go with Marqise Lee here.
A year ago, Lee would have been considered a top-10 pick. USC was a joke for most of the season, however, and Lee battled injuries, so he falls down the board here.
30. Carolina Panthers: Odell Beckham Jr., WR, LSU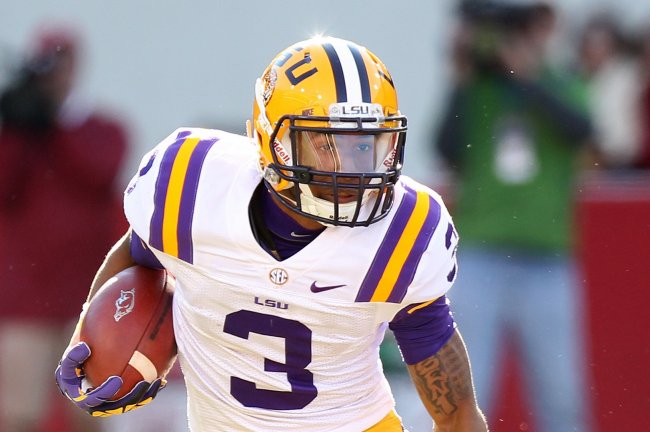 Nelson Chenault-USA TODAY Sports
One could argue that Tedd Ginn and Brandon LaFell have shown enough to retain their spots in Carolina and allow the Panthers to look elsewhere here.
But that ignores the fact Steve Smith is going to need a replacement sooner rather than later.
Carolina is simply horrid at drafting receivers, but Odell Beckham Jr. is an easy choice.
31. Denver Broncos: Ra'Shede Hageman, DT, Minnesota
Denver needs help on the defensive side of things in more ways than one.
For now, the Broncos will have to settle for upgrading the trenches, which in theory will create a ripple effect that makes the lives of the linebackers (who look uncomfortably out of place at times) easier.
Ra'Shede Hageman is a quality prospect who can adequately fill running lanes and, at times, create a nice rush. He will not make a ton of highlight-worthy plays, but he will help those around him to do so.
32. Seattle Seahawks: Cyril Richardson, OG, Baylor
Seattle does not need much in the way of upgrades as one of the NFL's deepest rosters, but keeping Russell Wilson upright, healthy and happy is an obvious priority.
Cyril Richardson is the move here that makes the most sense. If there is a shaky part of the roster, it is the offensive line. Richardson can start from Day 1 on the interior if need be and provide an upgrade.