The NFL season is a marathon, not a sprint.
Unless, of course, you're Chip Kelly. Then everything is a sprint—NFL games, walking the dog, sleeping, eating spaghetti, literally everything.
Nevertheless, the old adage still remains the same, and as much as some overly hardcore—or overly unintelligent—fans may argue otherwise, a loss in Week 2 certainly isn't going to derail a season. It's a long year. Injuries will rear their ugly heads, young players will emerge, offensive lines will jell, quarterbacks and receivers will up their chemistry.
Things change. Situations change. Teams change. Losses happen, but it's how teams respond to those losses that will define their seasons.
That being said, let's take a look at my Week 3 picks, along with a focus on a couple of early bounce-back candidates.
Week 3 NFL Picks

| | | | | | |
| --- | --- | --- | --- | --- | --- |
| Date | Time (ET) | Home Team | Away Team | TV | Winner |
| Thursday, Sept. 19 | 8:25 p.m. | Philadelphia Eagles | Kansas City Chiefs | NFL Network | Eagles |
| Sunday, Sept. 22 | 1 p.m. | Baltimore Ravens | Houston Texans | CBS | Ravens |
| Sunday, Sept. 22 | 1 p.m. | Carolina Panthers | New York Giants | FOX | Giants |
| Sunday, Sept. 22 | 1 p.m. | Washington Redskins | Detroit Lions | FOX | Lions |
| Sunday, Sept. 22 | 1 p.m. | Tennessee Titans | San Diego Chargers | CBS | Titans |
| Sunday, Sept. 22 | 1 p.m. | New Orleans Saints | Arizona Cardinals | FOX | Saints |
| Sunday, Sept. 22 | 1 p.m. | New England Patriots | Tampa Bay Buccaneers | FOX | Patriots |
| Sunday, Sept. 22 | 1 p.m. | Cincinnati Bengals | Green Bay Packers | FOX | Packers |
| Sunday, Sept. 22 | 1 p.m. | Dallas Cowboys | St. Louis Rams | FOX | Rams |
| Sunday, Sept. 22 | 1 p.m. | Minnesota Vikings | Cleveland Browns | CBS | Vikings |
| Sunday, Sept. 22 | 4:05 p.m. | Miami Dolphins | Atlanta Falcons | FOX | Dolphins |
| Sunday, Sept. 22 | 4:25 p.m | New York Jets | Buffalo Bills | CBS | Jets |
| Sunday, Sept. 22 | 4:25 p.m | San Francisco 49ers | Indianapolis Colts | CBS | 49ers |
| Sunday, Sept. 22 | 4:25 p.m | Seattle Seahawks | Jacksonville Jaguars | CBS | Seahawks |
| Sunday, Sept. 22 | 8:30 p.m. | Pittsburgh Steelers | Chicago Bears | NBC | Bears |
| Monday, Sept. 23 | 8:40 p.m. | Denver Broncos | Oakland Raiders | ESPN | Broncos |
San Francisco 49ers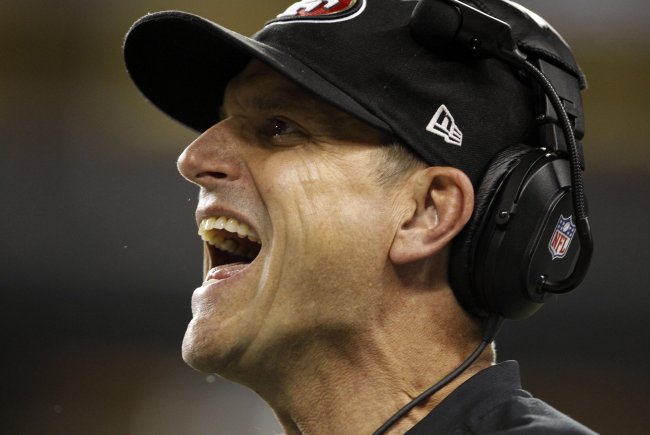 Joe Nicholson-USA TODAY Sports
The Niners were humiliated against the Seattle Seahawks at CenturyLink Field on Sunday night, but a home matchup with the Indianapolis Colts will undoubtedly help right the ship.
Chuck Pagano's squad has plenty of tantalizing parts. Andrew Luck is an absolute stud, T.Y. Hilton, Reggie Wayne and Coby Fleener make up a very talented receiving corps and the running game has looked solid in the first two weeks.
The problem, offensively, is in the trenches.
Luck has already been sacked seven times in two games, and as Pro Football Focus' Twitter feed pointed out, he has struggled when put under pressure:
Why is pressure so important. Andrew Luck yesterday: when not pressured QB rating of 100.5 When pressured 30.2.

— Pro Football Focus (@PFF) September 16, 2013
As such, the Colts probably couldn't find a worse opponent in Week 3. Led by Aldon Smith, San Francisco has one of the most ferocious, intimidating defensive lines in the league.
At home and coming off an embarrassing loss, you can expect Jim Harbaugh to ramp up the pressure against his old team and make it very difficult for Luck and Co. to move the ball consistently.
On the other side of the ball, Colin Kaepernick should have little trouble looking more like Week 1 Colin Kaepernick against a defense that has given up 385.0 yards per game against the Oakland Raiders and Miami Dolphins.
The angry Niners win big.
New York Jets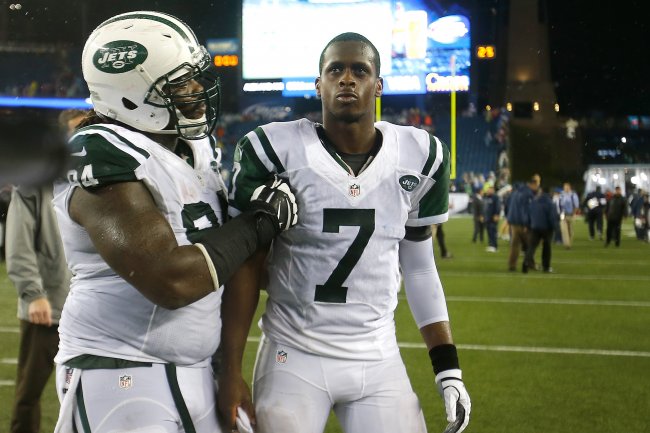 Jim Rogash/Getty Images
Sure, the New York Jets benefited last week from Aaron Dobson having hands made of butter and Mother Nature making a sloppy game, um, sloppier. So perhaps being ranked second in the NFL in yards allowed per game is slightly misleading.
But don't assume that's completely off.
Rex Ryan has one of the best front sevens in the NFL. It has limited two of the league's best running backs—New England's Stevan Ridley and Tampa Bay's Doug Martin—to a minuscule 2.625 yards per carry (105 yards on 40 carries).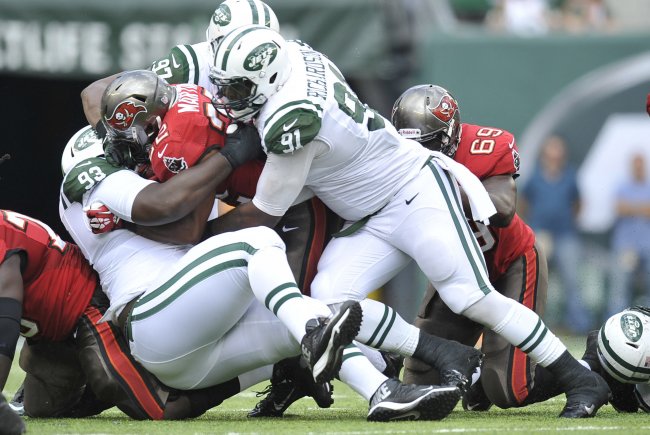 Joe Camporeale-USA TODAY Sports
Oh, and dynamic youngster Quinton Coples is likely to play after missing the first two games, via Metro New York's Kristian Dyer:
Quinton Coples, Muhammad Wilkerson likely to play against Bills http://t.co/8xcTeEpQc2 via @sharethis

— Kristian Dyer (@KristianRDyer) September 16, 2013
C.J. Spiller is absolutely electric in space, but there's not going to be any space on Sunday.
In the battle of the rookie quarterbacks, you have to give the advantage to the Bills. EJ Manuel has completed an impressive 68.2 percent of throws through two weeks, and the Jets' secondary has been shaky. Geno Smith, meanwhile, has had some really encouraging moments, but he has mixed those in with some ugly ones.
Nevertheless, in what is likely to turn into a low-scoring game, I like the Jets at home to control the trenches on both sides of the ball and utilize Chris Ivory against a defense that has struggled against the run.
Note: All stats courtesy of ESPN.com