Like he's done so many times in his career, Tom Brady engineered a fourth-quarter drive to bail the New England Patriots out of a late jam.
The Buffalo Bills threatened to spoil the NFL's opening weekend for the Pats, taking the lead late in the third quarter to put Bill Belichick's squad on upset watch.
But New England's superstar quarterback was brilliant and gritty down the stretch, leading two scoring drives en route to a 23-21 victory.
ESPN's SportsCenter Twitter account had the post as the Bills were unable to pull any rabbits out of the hat on the final play of the game:
Patriots HOLD ON. Stephen Gostkowski's 35-yd FG with :05 left seals 23-21 win. Tom Brady is now 21-2 vs. Bills all-time.

— SportsCenter (@SportsCenter) September 8, 2013
Mike Reiss of ESPN added some commentary of his own after the first AFC East matchup of 2013 went New England's way:
Patriots win it 23-21. Initial reaction: Clutch final drive. Brady to Amendola the new Brady to Welker. When they needed it, came through.

— Mike Reiss (@MikeReiss) September 8, 2013
Trailing 21-17 heading into the final quarter, Brady put together a nine-play, 70-yard drive that kicker Stephen Gostkowski finished with a field goal to cut the deficit to one.
With just under five minutes to play, Brady stepped on the field with the offense for what turned out to be the game-winning drive. He put together a 12-play, 49-yard march that led to a Gostkowski field goal with just five seconds on the game clock.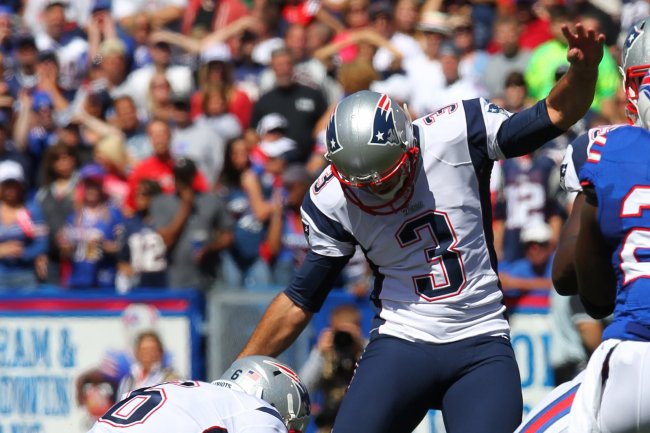 Timothy T. Ludwig-USA TODAY Spor
Gostkowski booted in all three of his field goals and two extra points on the afternoon. Brady finished with 288 yards passing on 52 attempts, along with two touchdown passes and an interception.
According to Bleacher Report's Matt Miller, Brady's stats could have been much better:
#Patriots receivers are doing nothing to help Tom Brady today.

— Matt Miller (@nfldraftscout) September 8, 2013
Shane Vereen led the Patriots' rushing attack with 101 yards on 14 carries, as he saw an increased role due to Stevan Ridley's shaky performance.
Wes Welker replacement Danny Amendola had 10 receptions and 104 yards in his Patriots debut, including a clutch catch on the final drive to move the chains. New England's Twitter account chronicled that play:
Amendola catches a rocket from Brady for another 3rd-down conversion. 1:08 to play & Pats ball at the 29-yd line.

— New England Patriots (@Patriots) September 8, 2013
For the Bills, rookie EJ Manuel had an outstanding professional debut, tossing two touchdowns with no interceptions to give the Patriots a major scare on the road.
It's still early, but Fox Sports 1's Mike Hill thinks the Bills might have found their savior at QB:
EJ Manuel might work out.

— Mike Hill (@ItsMikeHill) September 8, 2013
Manuel finished with 150 passing yards but was unable to keep the chains moving on Buffalo's final drive before the Patriots took the lead. It was truly a learning experience for the first-round draft pick, but there was a lot to like about his performance.
Running back Fred Jackson had 108 total yards for Buffalo, while breakout candidate C.J. Spiller mustered just 2.4 yards per carry in his first game of the new year. Wide receivers Stevie Johnson and rookie Robert Woods hauled in Manuel's two TD passes.
The Patriots had 145 more total yards than the Bills but turned the ball over three times. One of those turnovers came in the red zone—Brady fumbled the ball on 4th-and-goal from the Buffalo 1-yard line.
New England converted just two of five chances to score in the red zone.
The 2013 NFL regular season is in its infancy, but the Bills took a major step forward with respect to their AFC East chances on opening Sunday. On the other side, a win is a win, but the Patriots have work to do after nearly giving a division game away before completing the comeback late.
Follow B/R's Ethan Grant on Twitter.