Top 10 Achievements of Bill Parcells' Career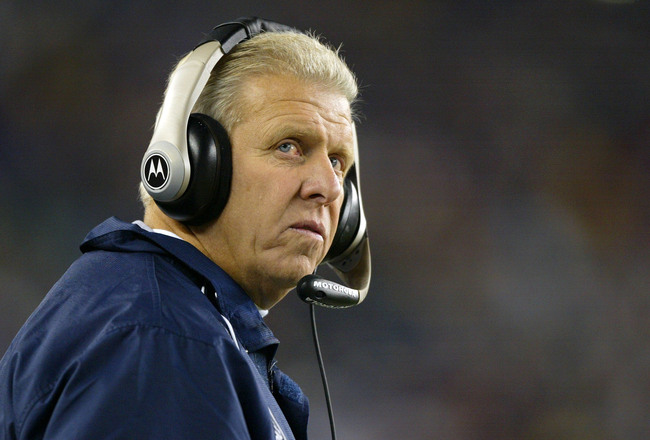 Al Bello/Getty Images
The Hall of Fame only comes calling for those who put together an achievement-heavy career. By any standard, Bill Parcells accumulated enough notches on his belt to earn his bronze bust.
The list of his accomplishments includes more hits than a Tim Tebow Google search. From Super Bowl wins to drastic turnarounds, it can be difficult to dig your way through them all.
But we're good at the kind of thing here at Bleacher Report. So click through to easily navigate through Parcells' crowning achievements.
10. Getting Drafted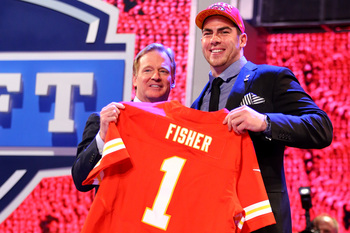 Al Bello/Getty Images
You could argue that this shouldn't be on this list because Parcells' Hall of Fame career was more about coaching than anything else. Problem is, I don't care.
How many kids grow up dreaming of being drafted? Now, how many dream of being a head coach? To overlook Parcells' selection by the Detroit Lions in the seventh round would mean letting down every child in the United States.
I don't want to be known for such a horrendous feat.
And, in all seriousness, it's an unknown tidbit that demonstrates Parcells was much more than a tough tactician.
9. Bill Parcells Actually Admitted He Was Wrong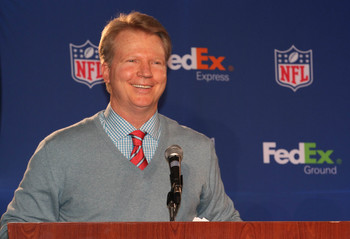 Matthew Emmons-USA TODAY Sports
Bill Parcells is stubborn. This is the man who is credited with coining the phrase "it is what it is" and who refused to mention Terrell Owens by name.
So it's incredible that one of his most important and far-reaching achievements is admitting he was wrong.
In his first year as head coach of the New York Giants, Parcells benched Phil Simms in favor of Scott Brunner. He was promptly rewarded with a 3-12-1 record and was almost fired.
But the following season, he saw the error of his ways and reinserted Simms into the starting lineup. That admission of failure led to multiple playoff appearances and a couple Super Bowl wins.
We've all gotten into an argument, usually with a significant other, where we know we were wrong. Yet, we dig in because we aren't strong enough to admit it. That makes this a personal victory for Parcells.
However, the professional ramifications of that act of courage are extensive. For instance, who would have won those two Super Bowls? Would Bill Belichick and Tom Brady have become successful? Would Sean Payton have revived New Orleans? Would Bobby Petrino have crashed his motorcycle?
I have to stop. The "what ifs" springing from such a seemingly minor decision are starting to make my head spin. The butterfly effect is real, folks.
8. Started the Gatorade Bath Tradition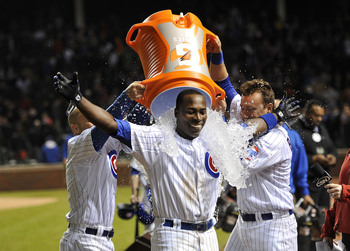 Brian Kersey/Getty Images
Was the Gatorade bath the most important achievement in a distinguished career? No.
The most lucrative moment in NFL history that benefitted a company other than the $9 billion football behemoth? Definitely.
After the Giants beat the Washington Redskins in a 1985 regular season game, his players doused Parcells in Gatorade. That split-second decision launched a sports tradition that carries on to this day and sold untold million of gallons of the sports drink.
Some Chicago Bears fans will claim that Mike Ditka was the first victim, but the late Steve Sabol's word is all the proof required.
7. The First Coach to Be Traded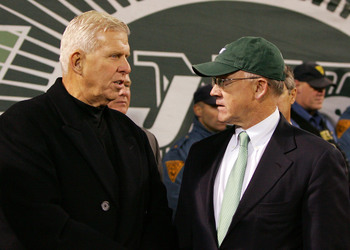 Jim McIsaac/Getty Images
Nobody loves the trade process except for fans, media and the "winning" general manager. But this isn't a slideshow dedicated to the happiest moments of Parcells' life.
This is all about his achievements. Being the first NFL coach who was ever "traded" certainly counts as one.
In 1997, Parcells was allowed to sign with the New York Jets provided they sent a first-, second-, third- and fourth-round pick to the New England Patriots. It was, and remains, a steep price for a head coach, especially one that only stuck around for three years.
6. Kickstarted Tony Romo's Career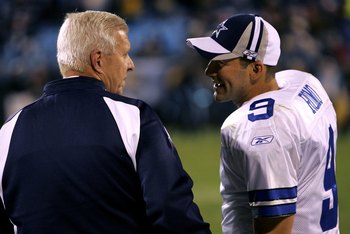 Streeter Lecka/Getty Images
Let the debate rage about Tony Romo. Regardless of how you slice it, though, Romo has been the starting quarterback for the Dallas Cowboys since the 2006 season. That's professional success.
The decision to bench the experienced Drew Bledsoe for an undrafted free agent shouldn't be taken lightly. That's especially true since Romo threw three interceptions against only two touchdowns in his last outing before being named the starter.
The move required confidence in an age when most coaches always take the conservative route to save their job. Then again, no one ever accused Parcells of lacking intestinal fortitude.
5. Won Everywhere He Went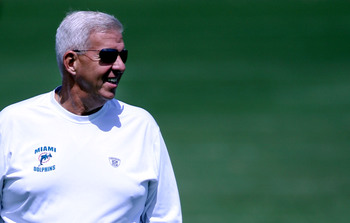 Marc Serota/Getty Images
Everywhere Parcells went, his teams won.
From his first head-coaching gig in New York to his last coaching stop with the Dallas Cowboys, Parcells whipped each of his teams into shape. Every franchise that hired him as the head coach was rewarded with at least one playoff trip.
And that's before you take into account his time as the Miami Dolphins Executive Vice President of Football Operations. He guided a rebuilding process that resulted in the Dolphins winning 11 games the year after winning just once.
Everyone usually has a professional failure. Using reasonable terms, Parcells doesn't.
4. Super Bowl XXXI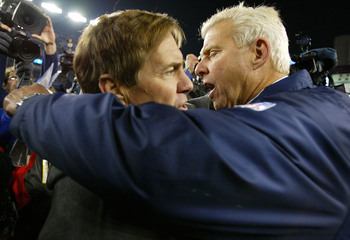 Al Bello/Getty Images
Fans are always difficult to please. If our team doesn't win the championship, the entire season was for naught.
But such extreme measuring sticks are a recipe for constant disappointment, if not delusion. That's why we shouldn't dismiss Parcells guiding the New England Patriots to Super Bowl XXXI.
Actually, it should be viewed as one of his crowning achievements. Before the Pats made Super Bowl contention routine in the 21st century, they were usually an afterthought. They only made the playoffs six times in their 33 years of existence.
Parcells guided New England to respectability within two years and earned a Super Bowl berth within four. The Big Tuna took a historically fledgling franchise to the brink of a championship. That deserves some praise, regardless of your perspective.
3. Coaching Tree
Stacy Revere/Getty Images
Building a successful franchise is impressive. Building a foundation that springboards many others to success is legendary.
Parcells wasn't known as an easy man to work for. He knew what people were capable of and refused to accept anything less.
That mentality, along with his football knowledge and ability to recognize talent in the coaching ranks created an acorn that spawned one of the most impressive coaching trees of any sport.
You can count Super Bowl champions Bill Belichick, Tom Coughlin and Sean Payton among his disciples. In addition, Tony Sparano, Steve Spagnoulo, Eric Mangini and Josh McDaniels also fall under his umbrella. If it weren't for Bill Walsh's brilliance, the label of "coaching godfather" could be added to Parcells' resume.
2. Super Bowl XXI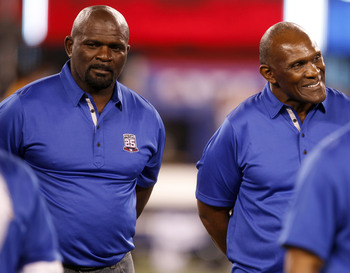 The Star-Ledger-USA TODAY Sports
People go their whole lives without ever achieving their dreams. It took Parcells eight seasons to rise from NFL assistant to head coach of a Super Bowl champion.
The 1986 New York Giants were fearsome.
Linebacker Lawrence Taylor combined with fellow Hall of Famer Harry Carson to wreak havoc in Parcells' 3-4 defense. They were so dominant that they were aptly renamed the "Big Blue Wrecking Crew" (awesome nickname).
The offense, led by the revived Phil Simms, was also quite impressive. In the playoffs alone, the Giants averaged 35 points per game. Their closest game was a 17-point shutout of the Washington Redskins.
That's what happens when you marry superior talent with top-notch coaching.
1. Super Bowl XXV
Doug Benc/Getty Images
While the 1986 team was dominant, the 1990 championship was a more impressive coaching feat.
Lawrence Taylor was still a force, but starting to show signs of aging. After recording at least 15 sacks in three of the four previous years, he only accounted for 10.5, despite getting three in the season opener.
To make matters even more difficult, starting quarterback Phil Simms was lost for the year during a late-season skid.
But Parcells didn't start making excuses for his team.
The Giants continued to execute his ground-out-the-clock scheme throughout the playoffs, and Parcells kept things light for second-string quarterback Jeff Hostetler. They walloped the Chicago Bears with 31 points, despite only 17 passes from Hostetler. New York followed up that offensive outburst with only five field goals against the San Francisco 49ers, but it was enough for a defensive victory.
In the Super Bowl, the Giants held the ball for a record 40 minutes and 33 seconds, keeping the ball away from the explosive Buffalo Bills. Then, history was made in the form of Bills kicker Scott Norwood, who pushed a game-winning field goal wide right.
The opposition in those final two games was probably more talented than New York. However, that wasn't enough to match Parcells and his Giants.
Keep Reading