Re-Grading Top July Trades of the 2012 MLB Season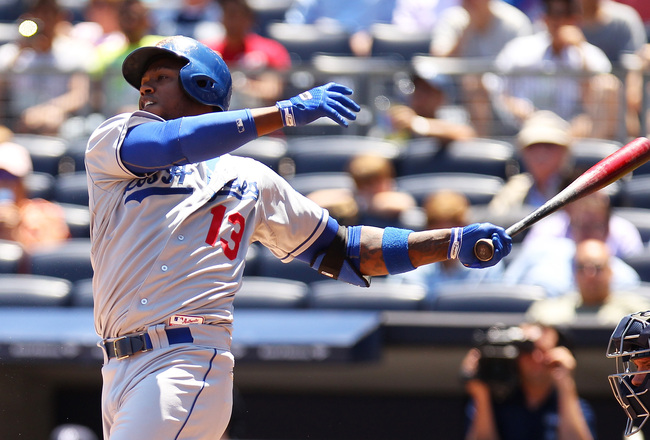 Hanley Ramirez is hitting .315 with 17 homers in 97 games since being traded to the Dodgers last July.
Mike Stobe/Getty Images
Before a team pulls the trigger on a July trade, it'll likely have revisited several trades from past years in order remind itself of why it would trade a productive veteran for an unproven minor leaguer or vice versa.
No general manager wants to be the one who makes what appears to be a relatively insignificant trade that turns out producing a terrific player for the other team. Last July, the Mariners were short on outfield depth and deep in power relievers so a deal to send right-hander Steve Delabar to the Blue Jays for Eric Thames appeared to make plenty of sense, right?
Thames, a left-handed hitting corner outfielder had a fairly productive rookie season in 2011 with a .262 batting average and 12 homers in just 95 games. But he had fallen out of favor in Toronto after struggling with a .652 OPS in 46 games in 2012.
Delabar, a 29-year-old journeyman who throws his fastball in the mid-90s, had a 4.17 ERA with excellent peripherals (36.2 IP, 23 H, 11 BB, 46 K). With several hard-throwing right-handers in the system, including Tom Wilhelmsen, Stephen Pryor and Carter Capps, Delabar apparently became expendable.
Nearly one year later, it looks as though Blue Jays general manager Alex Anthopoulos completely destroyed Jack Zduriencik in this deal. Thames was designated for assignment and later traded to Baltimore for a fringe minor leaguer last month. Delabar is having another stellar season (1.58 ERA, 12.8 K/9) and is one of five finalists for the last roster spot AL All-Star team.
Here's a look back at eight trades from last July that were much more notable, at least at the time.
Dodgers Acquire Hanley Ramirez from Marlins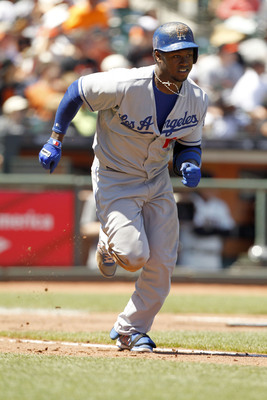 Cary Edmondson-USA TODAY Sports
Dodgers acquire SS/3B Hanley Ramirez and LHP Randy Choate from Marlins for RHP Nathan Eovaldi and RHP Scott McGough 7/25/12
One of the better players in the game from the time he entered the league in 2006 until 2010, when he had a .906 OPS and averaged 25 homers, 40 doubles and 39 stolen bases per season, Ramirez appeared to be on the decline when the Marlins traded him last July.
It turns out that he wasn't. While he's had trouble staying on the field in 2013, the 29-year-old is once again the best player on the field when healthy. He's hitting .419 (44-for-15) with seven homers, nine doubles and four stolen bases as the surging Dodgers, who looked to be dead in the water a few weeks back, now appear to be legitimate playoff contenders.
Signed for one more season at $16 million, Ramirez is worth every penny if he can avoid any more trips to the disabled list. Starting pitcher Nathan Eovaldi had decent numbers with the Marlins (3.90 ERA, 87.2 IP, 86 H, 36 BB, 57 K), but the Dodgers will likely never miss him if Hanley can lead them to the playoffs in one of the next two seasons.
Grades
Dodgers: B+ ('A' if they go deep into the playoffs with a healthy Ramirez in 2013 or 2014)
Marlins: C-
Giants Acquire Hunter Pence from Phillies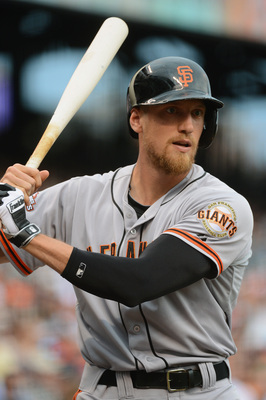 Garrett Ellwood/Getty Images
Giants acquire OF Hunter Pence from Phillies for C Tommy Joseph, OF Nate Schierholtz and RHP Seth Rosin 7/31/12
It's hard to argue with any trades a team makes if they go on to win the World Series as the Giants did after acquiring Pence last July. Despite overall numbers that were mediocre (.671 OPS in the regular season; 13-for-62 in the playoffs), Pence came up with some big hits down the stretch and ended up knocking in 49 runs in 75 games played between the regular season and the playoffs.
The 30-year-old Pence was also under team control for another season, so even though the price tag ($13.8 million in 2013) was high for a player who was coming off of the worst statistical season of his career, the Giants are getting a much better version of Pence this year (.767 OPS, 13 HR, 13 SB).
Shortly after trading Pence and fellow outfielder Shane Victorino, the seemingly out-of-contention Phillies went on a run before falling just short of a playoff spot. Whether Pence would've contributed or not is unknown, but it's safe to say that they gave up too early.
In addition to saving an estimated $18 million on Pence between 2012-2013, they added some young talent to their farm system. Catcher Tommy Joseph was the centerpiece of the deal and had a solid chance at being the Phillies' starting catcher in 2014.
But the 21-year-old has been injured most of this season and hasn't hit when on the field (.489 OPS in 35 games ). Rosin, 24, has a 4.13 ERA in 18 Double-A starts and probably isn't in the team's plans moving forward.
The biggest blunder of the entire deal has to be the Phillies' decision to non-tender Nate Schierholtz, which saved them around $2 million and was re-invested into signing Delmon Young this past offseason. The 29-year-old Schierholtz (.834 OPS, 11 HR), who is under team control for one more season, is now having a career season for the Cubs. Young hasn't been terrible (.755 OPS) but he's not in Schierholtz's class in 2013.
Grades
Giants: A-
Phillies: D+
Angels Acquire Zack Greinke from Brewers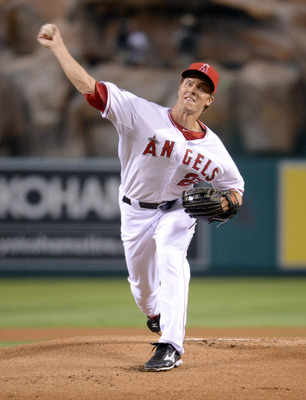 Kirby Lee-USA TODAY Sports
Angels acquire RHP Zack Greinke from Brewers for SS Jean Segura, RHP Johnny Hellweg and RHP Ariel Peña 7/27/12
You can't blame the Angels for being aggressive. When they acquired Greinke for three of the best prospects in a very thin farm system, many people would've agreed that they had one of the most talented rosters in baseball.
Adding another top-of-the-rotation starter to go with Jered Weaver and C.J. Wilson certainly gave them a chance to go deep into the playoffs. The problem is that they didn't make the playoffs.
They finished the season with 89 wins, but went home for the winter, having nothing to show for the trade as Greinke, who had a 3.53 ERA in 13 starts for the Halos, was set to become a free agent.
In the meantime, the 23-year-old Segura has become a star in Milwaukee (.849 OPS, 11 HR, 10 2B, 8 3B, 27 SB) while Angels shortstop Erick Aybar is in the midst of a mediocre season (.691 OPS). Anything Hellweg and Peña contribute are just icing on the cake for the Brewers or salt in the wound for the Angels.
Grades
Angels: C+
Brewers: A-
Tigers Acquire Omar Infante and Anibal Sanchez from Marlins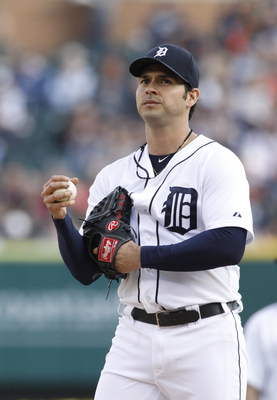 Duane Burleson/Getty Images
Tigers acquire 2B Omar Infante and RHP Anibal Sanchez from Marlins for C Rob Brantly, RHP Jacob Turner and LHP Brian Flynn 7/23/12
A World Series appearance and the re-signing of Sanchez gives the Tigers a leg up on this one, although there's a chance this deal could even out a bit down the line. The way Sanchez is going, though, Jacob Turner might have to turn into an ace for the deal to ever swing in the Marlins' favor.
The 29-year-old Sanchez, who signed a five-year, $88 million deal in the offseason, pitched well down the stretch last season and has been even better in 2013 (2.70 ERA, 86.2 IP, 74 H, 24 BB, 105 K). Infante has also solidified the second base position, as expected, although he's currently on the disabled list with an ankle sprain.
At the time of the deal, Turner's stock had dropped significantly and he was no longer viewed as a future top-of-the-rotation starter. But the 22-year-old is pitching like one in 2013. In seven starts, the 6'5" right-hander has a 2.30 ERA and only one homer allowed in 47 innings (40 H, 13 BB, 30 K).
Flynn, who has a 3.38 ERA in 18 starts between Triple-A and Double-A, could join Turner in the Marlins rotation soon and Brantly has been the team's starting catcher since last August, although the 23-year-old is struggling at the plate this season (.579 OPS).
Grades
Marlins: C+ ('B' or 'B-' if Turner's success continues)
Tigers: A-
Rangers Acquire Ryan Dempster from Cubs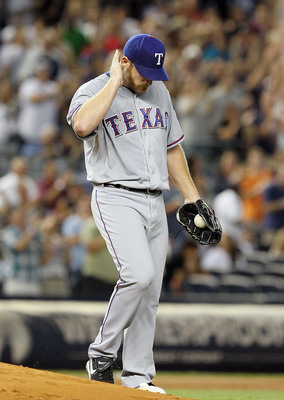 Jim McIsaac/Getty Images
Rangers acquire RHP Ryan Dempster from Cubs for 3B Christian Villanueva and RHP Kyle Hendricks 7/31/12
Dempster's acquisition wasn't quite enough to hold off a red-hot A's team that beat the Rangers out for the AL West title on the last day of the season. The team did win eight of his 12 starts, although he was knocked out of the game 162 loss to Oakland after allowing five earned runs in just three innings.
Compared to what the Cubs are expected to get for Matt Garza, another soon-to-be-free-agent rental, the return for Dempster will appear to have been a bargain for Texas.
The Cubs nearly acquired starting pitcher Randall Delgado from Atlanta before Dempster nixed the deal, which would've looked like a great deal with the way he's pitching for the Diamondbacks this season. But they settled for two lower-level prospects in exchange for Dempster.
Third baseman Christian Villanueva has some upside, but he's fallen off the prospect radar a bit with very average numbers in Double-A this season (.760 OPS, 11 HR in 83 games), while right-hander Kyle Hendricks (2.13 ERA, 101.1 IP, 89 H, 24 BB, 81 K in 17 Double-A starts) has a limited ceiling but appears to have a back-of-the-rotation future, possibly by 2014.
Grades
Cubs: C+ ('B' if Villanueva or Hendricks become big league regulars at some point)
Rangers: B-
Braves Acquire Paul Maholm from Cubs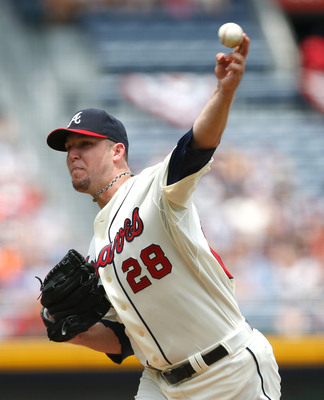 Mike Zarrilli/Getty Images
Braves acquire LHP Paul Maholm and OF Reed Johnson from Cubs for RHP Jaye Chapman and RHP Arodys Vizcaino 7/30/12
Maholm has been much better than advertised, posting a 3.71 ERA with 48 walks and 138 strikeouts in 179.2 innings since being acquired. He's also signed for a bargain price of $6.5 million this season, which will likely be much less than he gets as a free agent after the season.
The savings on Maholm was re-invested by the Cubs back into the rotation in 2013. If you consider that Maholm's rotation spot and salary went to Scott Feldman ($6 million in 2013), then it was a great move as Feldman pitched terrific and was dealt to the O's for two pitchers who could help in 2014.
If Maholm's rotation spot and salary went to Scott Baker ($5.5 million in 2013), who hasn't thrown a pitch for the Cubs as he continues to battle back from Tommy John surgery, then it was a terrible deal. But that's not how this works and the Cubs have a ton of money so it probably isn't worth pondering.
We really won't know if this was a good deal for the Cubs until at least 2014, when Arodys Vizcaino is expected to return at full healthy after a long recovery from Tommy John surgery. He has a ceiling as either a top-of-the-rotation starter or a dominant closer. Check back on this deal in a few years.
Grades
Braves: B ('B' if Villanueva or Hendricks become big league regulars at some point)
Cubs: Inc.
Giants Acquire Marco Scutaro from Rockies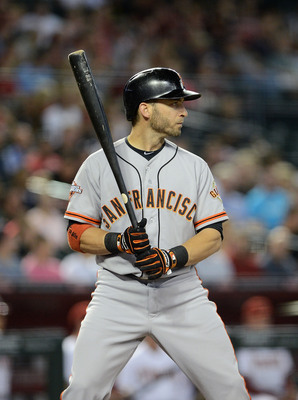 Jennifer Stewart/Getty Images
Giants acquire 2B Marco Scutaro from Rockies for IF Charlie Culberson 7/27/12
Of course general manager Brian Sabean knew he was acquiring a guy who would help lead the Giants to a World Series, capturing the NLCS MVP along the way. OK, so no one thought much of this trade when it went down. Scutaro was a 36-year-old with a .684 OPS in one of the most hitter-friendly environments in baseball. Sabean was taking a shot that he could be a slight upgrade over Ryan Theriot at second base.
He was right. Scutaro posted an .859 regular-season OPS after being acquired, and although he struggled in the NLDS and the World Series, he went 14-for-28 against the Cardinals in the NLCS. The Giants re-signed Scutaro, now 37, to a three-year, $20 million deal in the offseason.
Culberson has an OPS over .800 in Triple-A with 15 homers in 111 games since being acquired, but he's behind DJ LeMahieu and Josh Rutledge on the depth chart and has yet to get a chance with the Rockies.
Grades
Giants: A
Rockies: C ('B' if Culberson even becomes a big league regular)
Pirates Acquire Wandy Rodriguez from Astros
Kevin C. Cox/Getty Images
Pirates acquire LHP Wandy Rodriguez from Astros for OF Robbie Grossman, LHP Colton Cain and LHP Rudy Owens 7/24/12
Acquiring Rodriguez last July wasn't enough to keep the Bucs from a 20th consecutive losing season, but good thing he was still signed for another season (and a 2014 player option) and the return doesn't appear to be significant.
The 34-year-old Rodriguez has posted a 3.66 ERA in 137.2 innings since being acquired with 36 walks and 96 strikeouts. He might not even make it back from an elbow injury this season, or next for that matter, but he's already made a strong contribution to the team with the second-best record in baseball.
If he doesn't throw another pitch with the Bucs because of the injury, it could be costly because Rodriguez would likely exercise his $13 player option ($5.5 million would be paid by Houston). But it's unlikely that Grossman, a projected reserve outfielder in the majors, Colton Cain (4.54 ERA in Low-A) or Owens, who hasn't pitched since foot surgery in April, will make the Bucs regret the deal.
Grades
Astros: C-
Pirates: B ('C' if Rodriguez misses the rest of the next two seasons and exercises his 2014 player option)
Keep Reading