Burning Questions for New York Jets' Training Camp
Rick Stewart/Getty Images

The New York Jets enter training camp with seemingly more questions than answers.
Coming off a second consecutive non-playoff season, everyone seems to doubt the Jets' ability to put together a successful season.
With a boatload of youngsters poised to become starters, and a handful of veterans and the head coach in danger of losing their jobs, it seems as if anything can happen in Cortland over the next month.
Here are ten burning questions for New York heading into training camp.
Begin Slideshow

»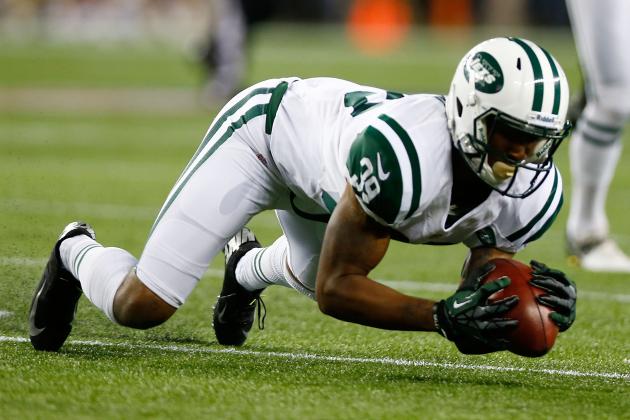 Jared Wickerham/Getty Images

With LaRon Landry, Yeremiah Bell, and Eric Smith all gone, the Jets have a hole at safety that needs to be filled.
While veteran Dawan Landry will man the strong safety spot, the free safety position is up for grabs. Josh Bush and Antonio Allen, both late-round picks a year ago, will be the ones competing for the staring job.
Bush and Allen, both 24 years of age, are different types of players. Bush is more of a finesse defensive back, as he is a ball hawk who doesn't come up to the box often.
Allen, on the other hand, is a physical player who struggles in coverage and excels when coming up to the box. Allen is an aggressive player and a superb open-field tackler.
The battle between Bush and Allen for the starting job should be one of the more intriguing storylines throughout training camp. With both players yet to make a major impact, it's anyone's guess which one will come out on top.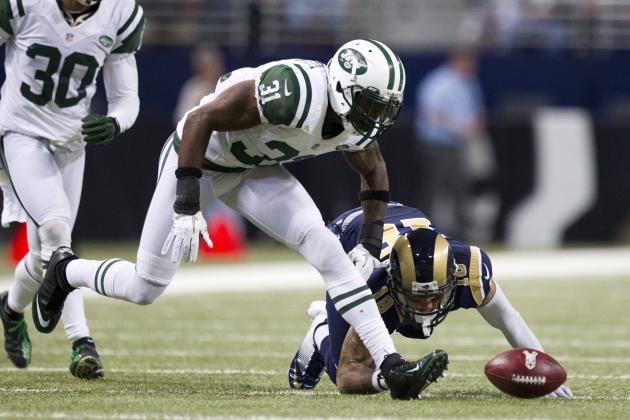 David Welker/Getty Images

Even with All-Pro cornerback Darrelle Revis sidelined for the majority of the season, the Jets managed to rank second in the league in pass defense.
However, the stat is extremely deceiving, as the unit was the beneficiary of playing several of the league's poorest passing attacks. 9 of the Jets 16 games were played against opponents that ranked in the bottom third in the NFL in passing offense.
Unfortunately for the New York secondary, the schedule isn't quite as easy in 2013. Only 6 of the team's opponents ranked in the bottom half of the NFL in passing offense.
For the Jets pass defense to rank among the elite again this season, rookie first-round pick Dee Milliner and the new starting safety duo need to be terrific from the start.
Antonio Cromartie can't do it on his own.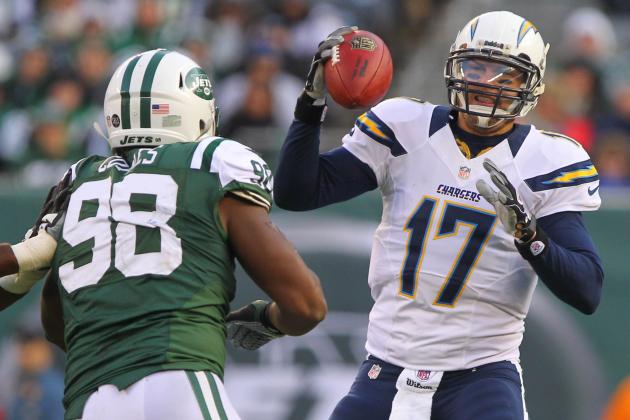 Ed Mulholland-USA TODAY Sports

Many fans and experts questioned the Jets selection of Quinton Coples in the first round last year, but the doubters were proved wrong by the former North Carolina star in his rookie season. Coples recorded a team-high 5.5 sacks in 2012, and he managed to do it in limited snaps.
Now, Coples will make the move from defensive end to outside linebacker to make room for this year's first round pick, Sheldon Richardson. Coples doesn't have much experience playing linebacker, and his ability to drop back in coverage and play against the run is a concern.
If Coples can learn the ins and outs of his new position in training camp, he could be in for a breakout year, but if he has troubling adjusting, he could go from a rookie stud to a sophomore disappointment.
The Star-Ledger-USA TODAY Sports

The Jets receiving corps was absolutely abysmal last season, and the absence of Santonio Holmes only made the unit worse.
Rex Ryan still doesn't know who New York's starting quarterback will be this year, but it likely won't matter if Holmes cannot be healthy and productive. The Jets' passing attack is almost entirely dependent on Holmes' health.
Unfortunately for Gang Green, Holmes is unsure of whether he will be on the field in Week 1. Even if Holmes does play, his effectiveness may be limited.
The former Super Bowl MVP's game is dependent on speed and elusiveness. Coming off a serious foot injury, those abilities could be seriously compromised.
Holmes is a tough player who has come up big in the past, but his days as a top-level wide receiver talent may be over.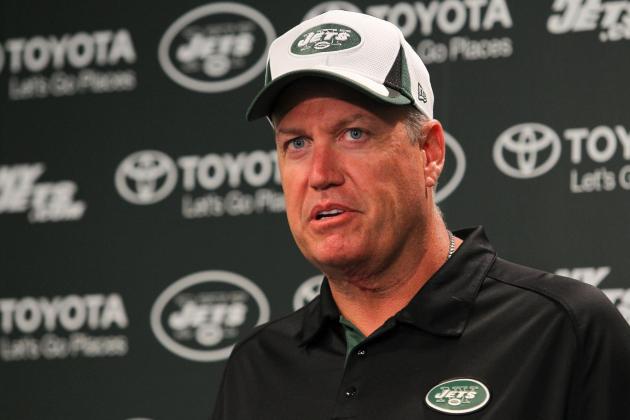 Ed Mulholland-USA TODAY Sports

I'll take you back to December 11, 2011. On this day, Rex Ryan and the Jets destroyed the Kansas City Chiefs 37-10 for the team's third consecutive win. The victory moved the team to 8-5 and into the final wildcard spot. A third straight AFC Championship appearance for Ryan and Gang Green did not seem out of the picture.
Since that day, Ryan's career in Gotham has fallen apart. The Jets collapsed and lost the final three games in 2011 and missed the postseason. The same thing happened again last year.
During that time, Ryan lost control of the locker room, benched his franchise quarterback and lost the best defensive player in the NFL.
After starting his head coaching career 30-19 (including four playoff victories), Ryan has led the Jets to a record of 6-13. To say his seat is hot would be a massive understatement. Ryan's only chance to keep his job is to will the Jets to a miracle playoff spot.
However, with a young and largely talent-starved roster to work with, Ryan seems doomed before the season has even started. If Ryan can keep New York in the playoff hunt, he not only deserves to keep his job, but a couple votes for head coach of the year.
Ryan will take charge of the defense for the first time in years in 2013. If he can pull some magic out of the unit, he may have a shot of holding onto his job.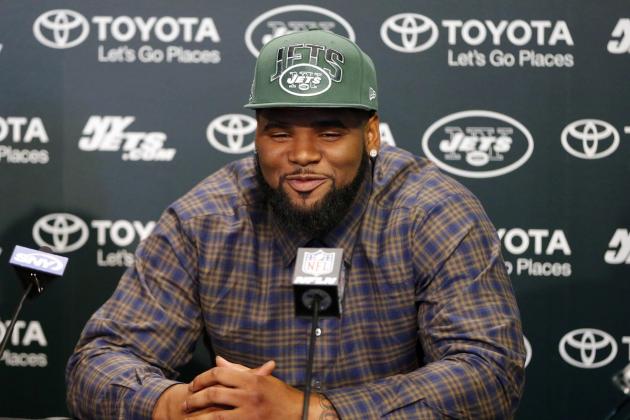 Jim O'Connor-USA TODAY Sports

Despite serious offensive ineptitude in recent years, the Jets have spent their last four five first-round picks on defense. Three of those picks have gone towards the defensive line.
2011 first-rounder Muhammad Wilkerson had somewhat of a breakout year last season. He should improve even more in 2013, and emerge as one of the most complete defensive ends in the game.
Rookie Sheldon Richardson is as athletic as a big man as you will see. His combination of athleticism and size will be tough for opposing offensive lineman to handle, and he could be in for a huge first year.
Defensive tackle should also be a strong position for New York. Veteran addition Antonio Garay is a ferocious interior pass rusher when healthy, and third-year man Kenrick Ellis has physical tools comparable to that of Haloti Ngata. Damon Harrison could also make an impact as a run stuffer.
The New York defensive line was strong last year, but the unit is young and ever improving. Don't be surprised to see them rank among one of the best lines in the NFL this season.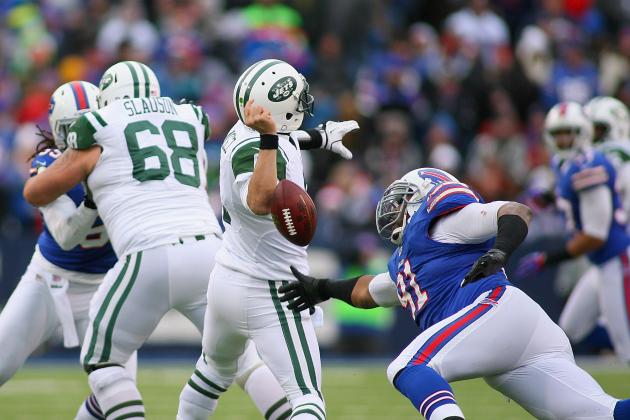 Rick Stewart/Getty Images

Mark Sanchez has been the Jets' starting quarterback the last four seasons, but his job is in danger in 2013. Sanchez will have to outplay second-round pick Geno Smith in training camp in order to remain the team's starter.
The key for Sanchez, as it has been for most of his career, is holding onto the ball.
Sanchez has struggled throughout his time in the NFL with turnovers. The former first-round pick has thrown 69 picks since his debut in 2009, second-most in the league over that span. Sanchez has also fumbled a horrendous 43 times.
If the USC product can show the capability to hang onto the football in training camp and the preseason, he will likely remain the starter. But, knowing Sanchez, this is highly unlikely.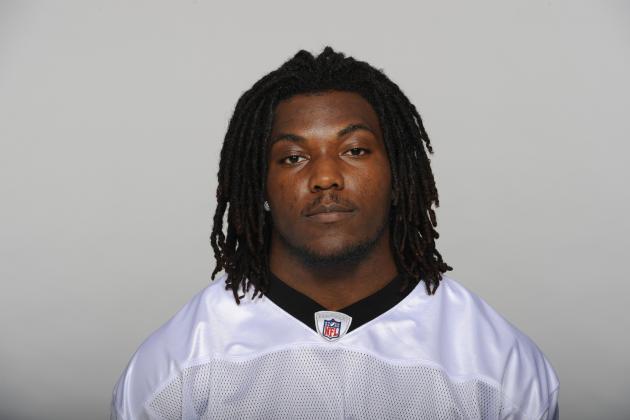 Handout/Getty Images

John Idzik's and the Jets' front office's smartest decision this offseason was trading a fourth-round pick for running back Chris Ivory.
Ivory had been lost in the shuffle with New Orleans for all of his career, but with the Jets, he will finally receive the playing time he deserves.
Ivory is an incredibly talented runner with a destructive running style that fits New York perfectly. The 25-year-old has averaged a phenomenal 5.0 yards per carry in his three years in the NFL.
However, Ivory's ability to handle a heavy workload is a concern. The Tiffin product has never received more than 137 carries in any given season.
Ivory will be a force early in the year, but does he have the endurance to last a full season of receiving 15-plus carries a game?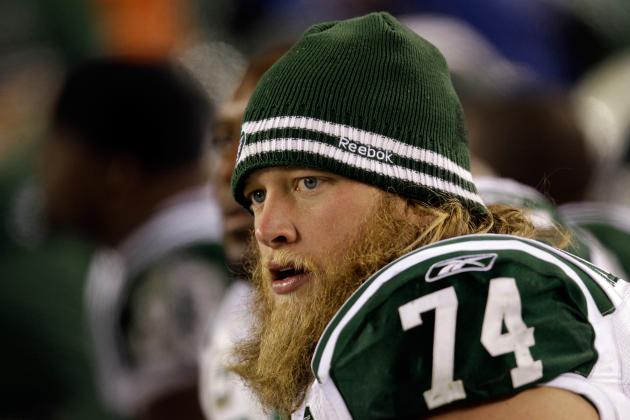 Rob Carr/Getty Images

The offensive line is perhaps New York's most polarizing unit heading into the 2013 season. The unit is incredibly strong in some points, but extremely questionable in others.
Center Nick Mangold and left tackle D'Brickashaw Ferguson are two of the best players at their respective positions in the league. Both should have Pro Bowl-caliber seasons in 2013.
Right tackle Austin Howard should also be solid, as he is coming off a decent first year as a starter, and is expected to only improve.
New York's real concern is at guard. Both the team's starting guards from last year, Brandon Moore and Matt Slauson, are gone. The team has replaced them with veterans Willie Colon and Stephen Peterman, and rookie third-round pick Brian Winters.
Colon is solid when on the field, but he has been injury-plagued throughout this career. Peterman and Winters are expected to compete for the starting job at right guard. Peterman has never showed the capability to be a consistent starter, and Winters still has major holes in his game.
New York's offensive line could either be a force or a liability this season.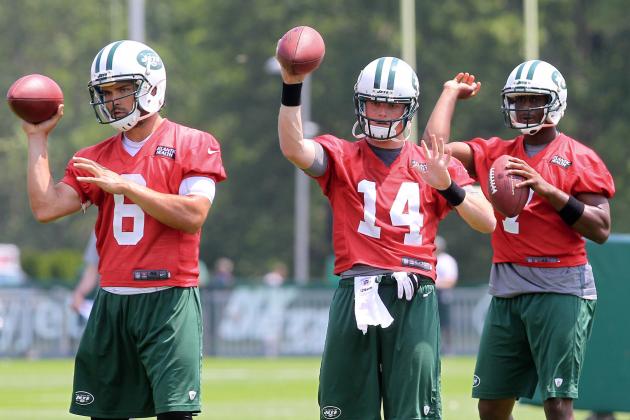 Ed Mulholland-USA TODAY Sports

The most intriguing storyline heading into New York's training camp is the quarterback battle, and it's not close.
Mark Sanchez has seemingly regressed in each year as a starter, and his inability to hang onto the football has doomed Gang Green in recent seasons. The only reason Sanchez is still on the roster is because of his massive contract.
Rookie Geno Smith is the most likely candidate to take the starting job from Sanchez. The second-round pick has pinpoint accuracy and terrific mobility. If he can show improvement in his ability to handle pocket pressure, Smith should emerge as the Week 1 starter.
Greg McElroy has an outside chance to claim the job, but only if Sanchez and Smith both perform terribly in training camp.
Entering training camp, Sanchez has to be considered the favorite because of his experience, but if Sanchez is his usual self, Smith could win the battle.