Ranking the Top 25 MVP Candidates Heading into the 2013-14 NFL Season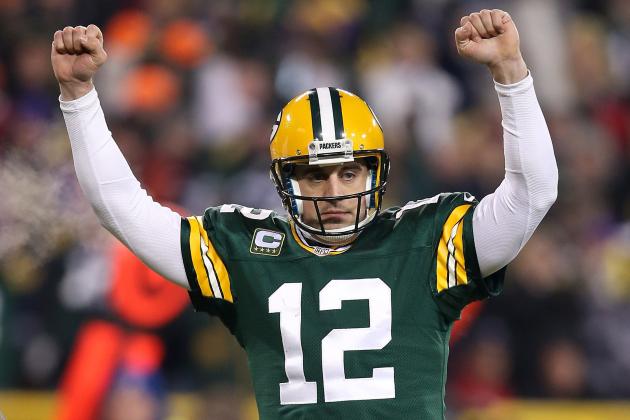 Andy Lyons/Getty Images

Obviously any ranking of potential MVP candidates in the NFL is sure to be quarterback-laden throughout.
In fact, since 2000, only four non-quarterbacks have won the MVP award (all four of those exceptions were running backs). Remarkably, no wide receiver has ever been named MVP in the NFL.
Though history may indicate a remote likelihood of anyone beyond a quarterback or running back being awarded such an honor, I couldn't just make a list with only two positions represented. Besides, there are some rare talents in the NFL these days who may possess the ability to defy such odds and break traditional thinking by becoming the next league MVP.
What follows is a list ranking the top 25 potential MVP candidates for the upcoming season.
Begin Slideshow

»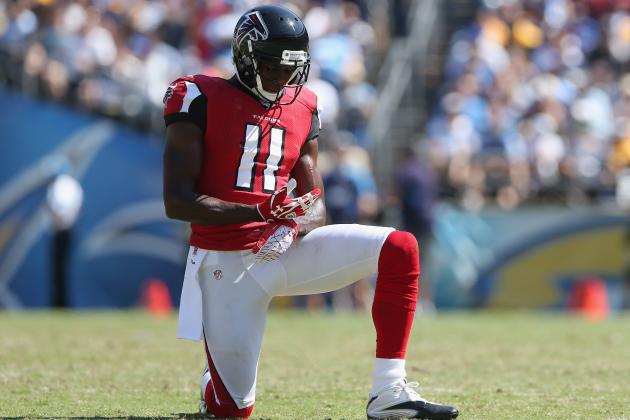 Jeff Gross/Getty Images

The education of Julio Jones as a No. 1 receiver is reaching near-completion. Jones might just be the only other receiver who has the physical gift to challenge Calvin Johnson for his newly acquired single-season receiving yards record.
One of the biggest challenges any receiver faces when it comes to these rewards is that the quarterback is usually the one who gets most of the credit. But Julio Jones is not your average receiver.
He has the ability to make his own luck and generate big plays. Though, there's a slim chance that Jones can actually be considered more valuable to the Falcons offense than the guy actually throwing the passes, Matt Ryan.
This means there better be numerous memorable highlights in voters' minds.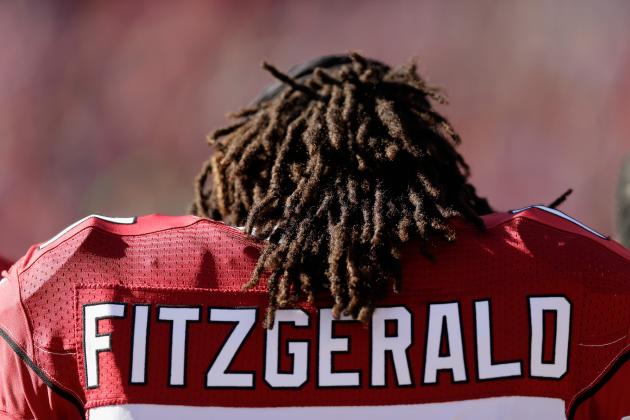 Ezra Shaw/Getty Images

Coming off the worst season of his NFL career, Larry Fitzgerald has to be ecstatic about the arrival of a quarterback who can actually throw him a catchable ball downfield.
Fitz is almost certainly going to be an early favorite of Carson Palmer, which could bode well for his return to prominence.
However, in order for Fitzgerald to be in the hunt for an MVP award, he has to post the greatest season of his entire career, because 1,400 yards and 13 touchdowns just won't cut it.
Gregory Shamus/Getty Images

If random acts of violence factored into the votes for league MVP, then Ndamukong Suh would be the odds-on favorite.
Suh is a gifted athlete fully equipped with all the tools to be one of the most dominant forces in the NFL. He's a fantastic pass-rusher for an interior lineman, which is important for consideration of this award.
For him to even be considered, Suh will have to put up similar numbers to what we saw from J.J. Watt last year.
Even if he does manage such dominance, there's no guarantee that will even translate into MVP consideration. Obviously this is a long shot, but of all the defensive tackles in the NFL, Suh has the best chance of winning MVP.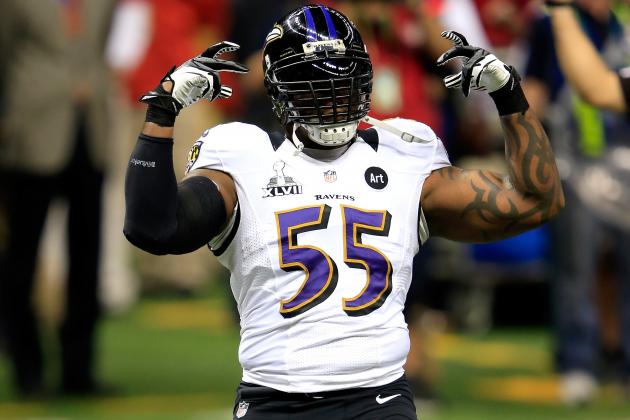 Jamie Squire/Getty Images

Assuming T-Sizzle is completely recovered from his torn Achilles and can return to 2011 form, when he won defensive MVP, quarterbacks need to note where he lines up.
Suggs can disrupt an offense in several ways and always plays the game with passion and desire. If Suggs forces fumbles and creates sacks with a frequency like he did pre-injury, an MVP season is not impossible.
Though history tells us it's very unlikely for a defensive player to win league MVP. Only defensive tackle Alan Page of Minnesota and Lawrence Taylor of the Giants have ever accomplished such a feat.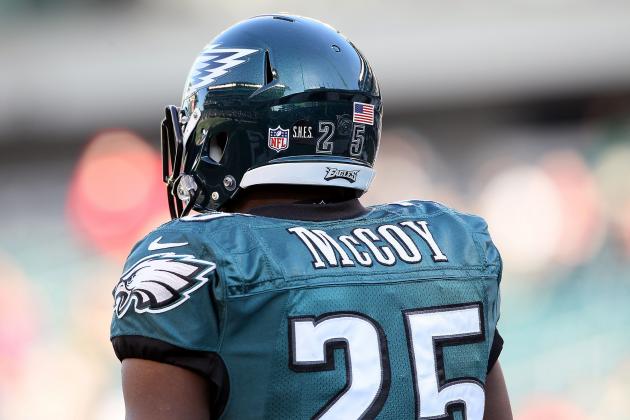 Alex Trautwig/Getty Images

If new Eagles head coach Chip Kelly's offense proves to be a success, LeSean McCoy is likely to be the engine that makes it run.
"Shady" McCoy is all kinds of dangerous with a ball in his hand. Eagles faithful should be eager to see what this new-look offense has in store for one of the league's most dangerous weapons.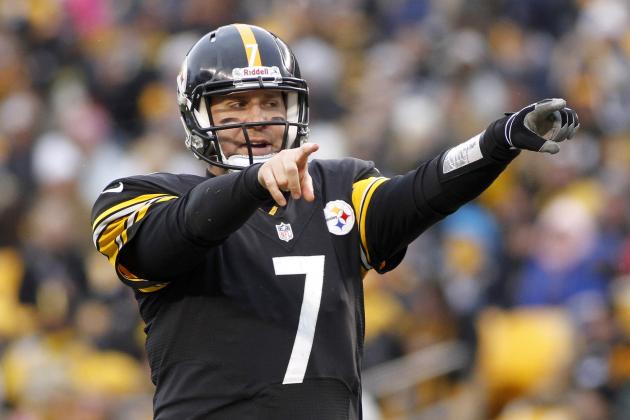 Justin K. Aller/Getty Images

Ben Roethlisberger is one of the toughest, most competitive players in the NFL. There should be little doubt that he's capable of putting together a dominant performance any given season.
Hopefully he and offensive coordinator Todd Haley can be on the same page after a difficult first year together in 2012. However, difficult is relative when you throw 26 touchdown passes to eight interceptions.
This year, Big Ben's offensive line should be greatly improved, which should allow him the necessary time to exploit opposing secondaries while staying healthy.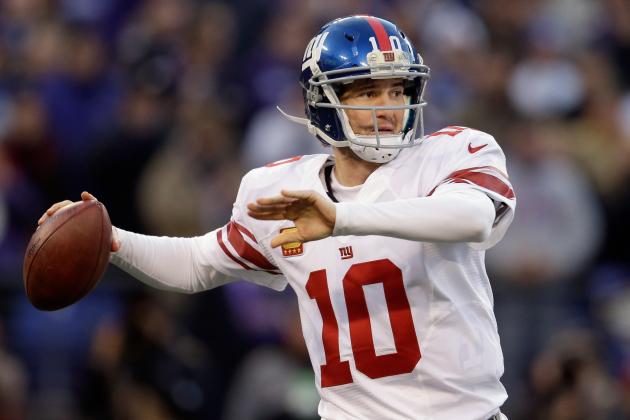 Rob Carr/Getty Images

Surprisingly, Eli Manning has passed for more than 30 touchdowns in a season on just one occasion. Apparently regular-season football just isn't his forte.
At least we know Manning is loaded with weapons on offense for the 2013 season and is always capable of putting up gaudy numbers if he gets in the groove. When he's hot, few quarterbacks are better. Unfortunately, this tends to happen in the latter part of the season and carries over into the playoffs.
Manning has two Super Bowl titles and I'm sure he would like to add his first MVP award to that list. Especially considering his brother already has four MVPs.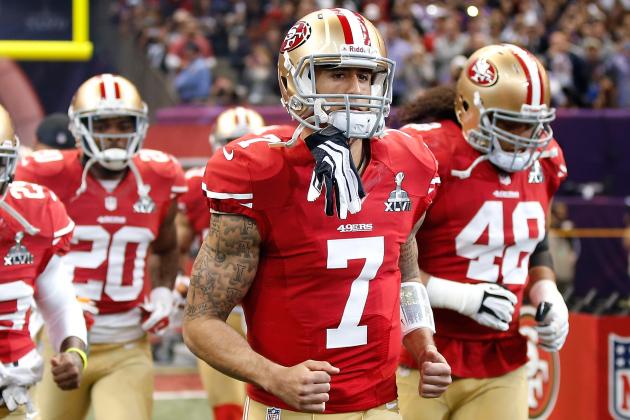 Chris Graythen/Getty Images

Who cares that this guy has only seven regular-season starts in his pro career?
Colin Kaepernick is the real deal.
But could he be ready to make a play for an MVP title?
As long as No. 7 can continue to play the same way he did throughout last season, then Kaep has a wonderful opportunity to take the league by storm.
Admittedly, defenses should be more prepared for Kaepernick's skill set this time around, but he also has the benefit of a full offseason as the starting quarterback under the tutelage of former NFL signal-caller and current head coach Jim Harbaugh.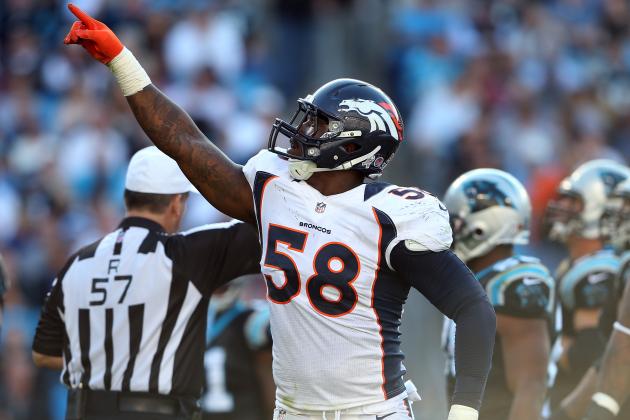 Streeter Lecka/Getty Images

In Von Miller's first two seasons as a pro he racked up 30 sacks and nine forced fumbles—not too shabby for a guy who is only 24 years old. Miller has unlimited potential as a pass-rusher and is my pick for the second-ranked defender for an MVP-caliber season.
Miller's speed to get around blockers is scary, but his instincts and balance are what truly make him great.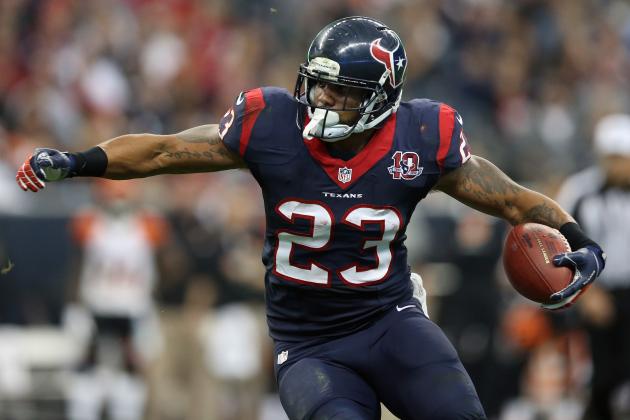 Ronald Martinez/Getty Images

Some may think Arian Foster should be ranked higher on this list based on his recent dominance. But Foster has been carrying a heavy load for the last three seasons and may be wearing down. His average yards per carry has declined for the third straight year, dropping to only 4.1 in 2012. It's only a matter of time before all of the hits he has accumulated begin to take a toll on his durability and productivity.
Foster has a knack for finding the end zone and for staying healthy; each of these elements are critical in order for a running back to defy the odds and win MVP in this QB-driven league.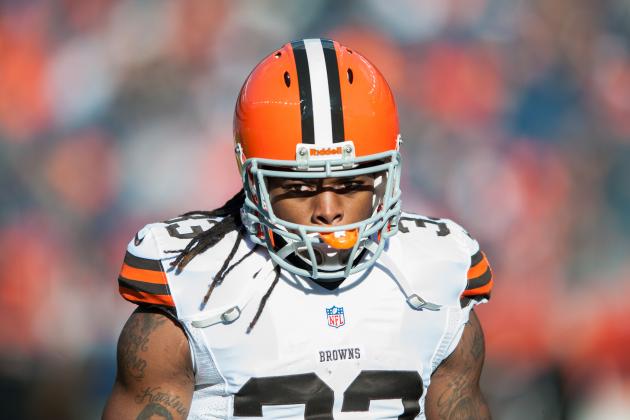 Dustin Bradford/Getty Images

I can already hear many readers crying "What about Alfred Morris or Doug Martin?" Trust me—Trent Richardson will soon emerge as one of the best players in the NFL. He may even step up to claim this title as early as next season.
Richardson has vision, power, quickness, toughness, balance and elusiveness. I know he may be banged up right now, but with the assumption he gets healthy by August, this kid has a chance to be something really special.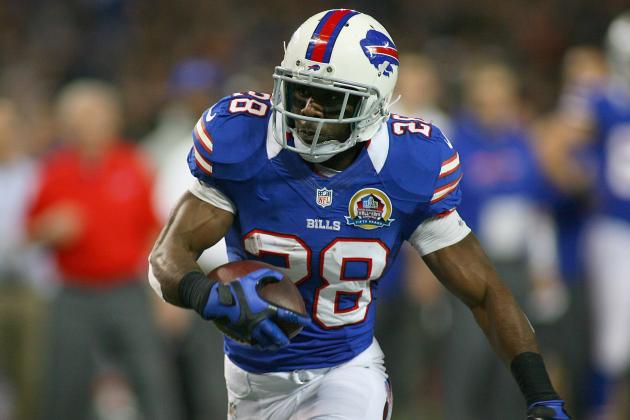 Rick Stewart/Getty Images

Per NFL.com, running back C.J. Spiller had 12 runs of 20 yards or greater, which was second behind only Adrian Peterson.
This kid is incredibly explosive and one of the most dangerous weapons with a ball in his hands. With that said, Buffalo has historically used Spiller in a dual-running back approach with fellow tailback Fred Jackson.
Thankfully, new head coach Doug Marrone plans on using Spiller as the main featured back, which only helps Spiller's rising MVP-caliber talent.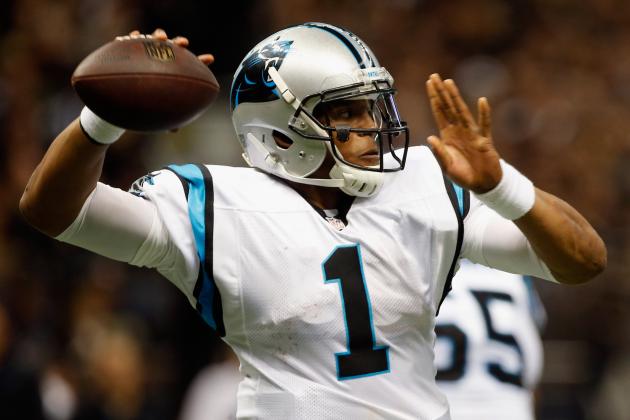 Chris Graythen/Getty Images

This poor kid is badly in need of some options besides Steve Smith. However, with his remarkable ability to improvise and make things happen with his legs, there's a good chance Cam Newton can carry the Panthers offense single-handedly to a productive and competitive season.
This, after all, is exactly the type of thing MVP seasons are made of—a guy so valuable that he's capable of lifting up the play of his entire team and carrying them on his shoulders. We saw examples of this recently in the NBA playoffs with LeBron James taking over when his teammates were struggling.
Of course, in order for any of this to happen for Cam, he'll have to take a major step forward both in his maturation as a quarterback and as a leader of the Panther organization.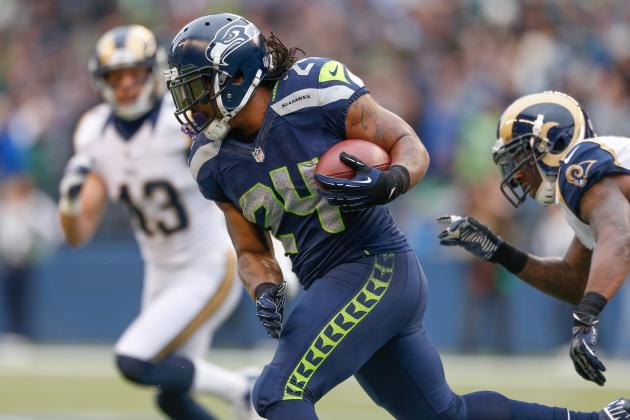 Otto Greule Jr/Getty Images

The legacy of Marshawn Lynch will forever be linked in direct contrast with the success of Adrian Peterson, especially considering they're both products of the same draft class. Don't think for a second Marshawn hasn't been paying attention to the kind of numbers Peterson put up in 2012.
Now the pressure is on for Lynch to one-up his competitor and have his own record-breaking year. The good news for Seattle is that No. 24 is fully capable of a 2,000-yard rushing season.
As if Lynch needed any more motivation to step up his "beast mode" mentality, the Seahawks drafted freak athlete Christine Michael in the second round. That makes two consecutive drafts where head coach Pete Carroll brought in youth to nip at the heels of Lynch. Clearly he has no room for complacency, which could be a stroke of genius on the part of Carroll to keep his star workhorse hungry.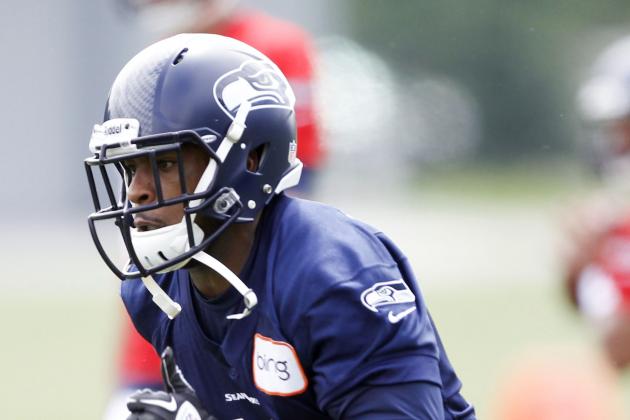 Joe Nicholson-USA TODAY Sports

Before Percy Harvin was injured last season, he was actually on pace to be considered for the MVP award. His versatility and rare playmaking ability made Harvin one of the most exciting and dangerous players in the NFL.
The Seahawks offense has been lacking a home run hitter for quite some time now. If Seattle utilizes him properly, this could be a match made in heaven.
Patrick McDermott/Getty Images

With bad knees, marginal targets and defensive coordinators scrambling to catch up, Robert Griffin III has his work cut out for him in 2013. With that said, few rookie QBs have ever electrified the NFL like RG3.
If he proves he can run smart and stay healthy for 16 games, Griffin could be hoisting a few trophies by season's end.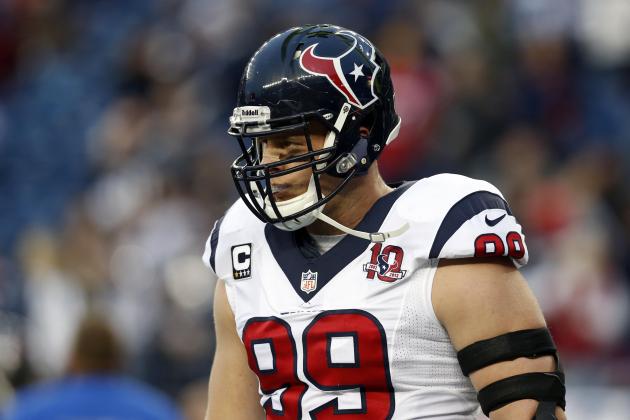 Greg M. Cooper-USA TODAY Sports

Only two defensive players in the NFL have been named league MVP dating back to 1957. If anyone could break the drought and defy the odds, it has to be the uncanny J.J. Watt—the man who set the NFL afire like never before.
Defensive ends in a 3-4 front are not supposed to have the kind of numbers J.J. Watt did in 2012; in fact, no one is. It's safe to say at this point there's no telling what Watt is capable of doing for an encore. The kid has not even come close to his prime.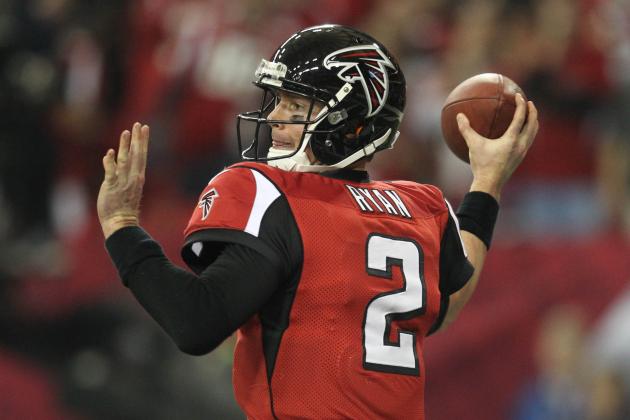 Daniel Shirey-USA TODAY Sports

It seems each year Matt Ryan gets a little better than the year before. In 2012, he threw over 30 touchdowns for the first time in his career.
With Roddy White, Julio Jones and Tony Gonzalez as his weapons, Ryan should put up huge numbers this season. It may be worth mentioning that this is a contract year for him. Expect nothing short of 4,000 yards and 35 touchdowns.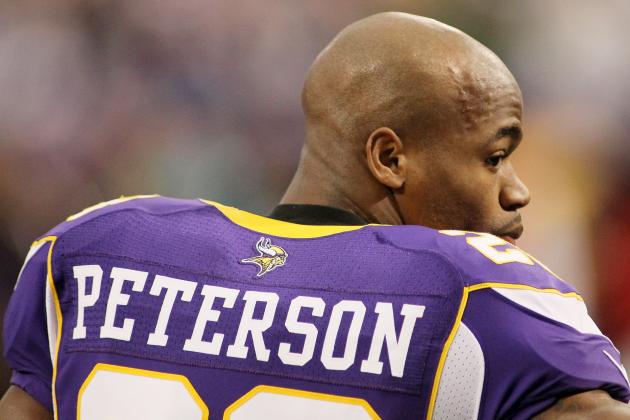 Andy King/Getty Images

The chances of Adrian Peterson duplicating the type of season he had last year is remote at best, which is why he's listed lower than many may have expected on this list. Only Jim Brown was able to win back-to-back MVP awards as a running back.
Peterson has a historic opportunity here to reclaim the NFL back from the quarterbacks. In a pass-happy league, it has been special to watch this legend in the making rip defenses to shred with sheer will and unnatural physical gifts.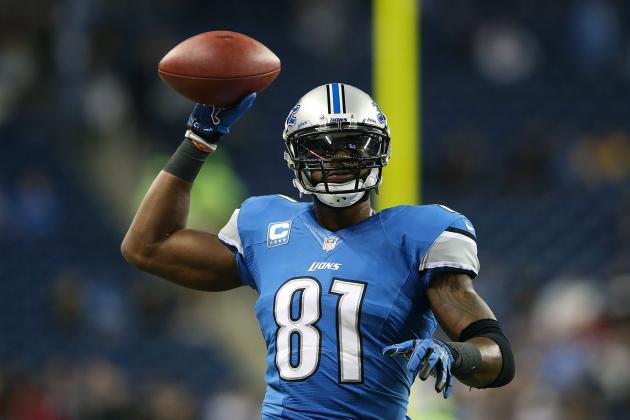 Leon Halip/Getty Images

This freakishly athletic receiver is virtually "un-guardable." At 6'5" 239 pounds, Calvin can win nearly every jump ball over cornerbacks and can also outrun most of them as well.
If anyone has a chance to be the first wide receiver to win league MVP, it's got to be Calvin Johnson. Last year, he was just 36 yards shy of becoming the first person in history to have 2,000 yards receiving in a single season—and he did it with broken fingers.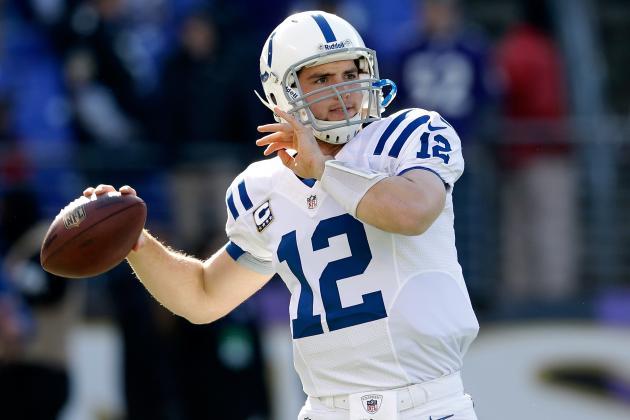 Rob Carr/Getty Images

Of all the outstanding sophomore quarterbacks entering this season, nobody has a better chance of an MVP performance than Andrew Luck.
In his first season in the NFL, Luck was able to demonstrate unique poise and uncommon leadership on a team depleted of talent and barely able to keep their QB on their feet. The Colts had one of the worst offensive lines in the NFL last year, yet somehow this rookie signal-caller found a way to compete and win week after week.
Luck should be ready to take his game to the next level and never look back. Multiple MVP seasons are likely in this youngster's future and it could start as soon as 2013.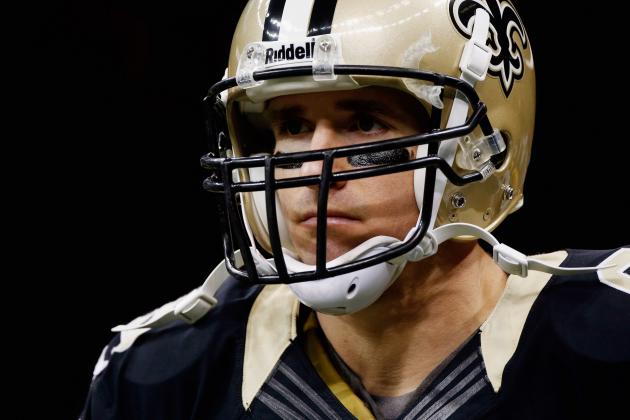 Chris Graythen/Getty Images

Few quarterbacks are as consistent as Drew Brees. He should benefit from the return of his wing man and boss, Sean Payton. These two have made quite the formidable tandem over the years, breaking numerous passing records along the way.
Judging by last year's performance, it looks as though Drew hasn't lost a step and can still shred NFL secondaries at will.
If the Saints defense provides any help this year, they should be back in the playoff hunt, which makes Brees a likely candidate for MVP consideration.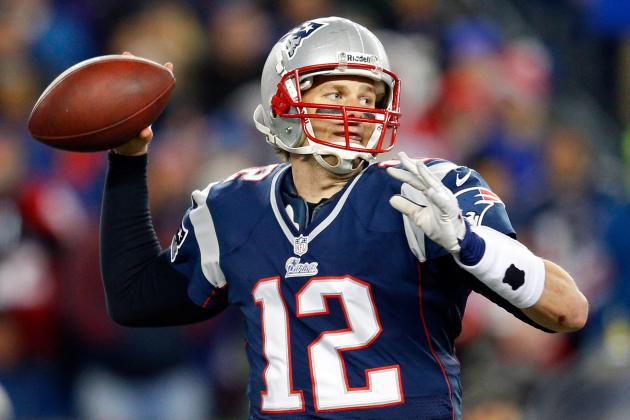 Jim Rogash/Getty Images

Some might think that with free agency, injuries and arrests this offseason, Tom Brady's arsenal has become highly suspect. But Brady is no stranger to performing at a high level despite mediocre targets throughout the years.
Having to overcome such adversity could play in his favor for voters if Brady finds a way yet again to thrive in conditions where most quarterbacks are sure to falter. This year, "Tom Terrific" may be more valuable to the Patriots than ever before.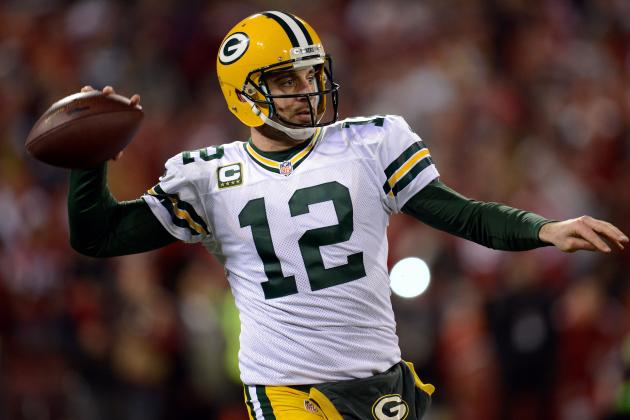 Thearon W. Henderson/Getty Images

Mr. Rodgers' neighborhood has done its best to set him up for yet another MVP-caliber season.
"A-Rod" has one of the stronger arms in the league while also being extremely accurate. Not to mention he can take off and run whenever the situation calls for it.
In the history of the NFL, no one has ever had more seasons of at least 28 touchdown passes, 3,000 yards passing and at least 200 yards rushing. Remarkably, Rodgers has accomplished this feat in each of his five seasons as a starter, per Pro Football Reference.
With a revamped running game infused with talented, young legs and a focus upfront to protect its prized possession, Green Bay is in good hands with perhaps the best quarterback in the league.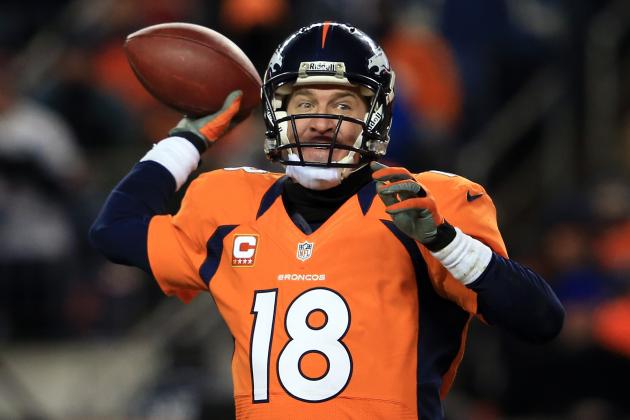 Doug Pensinger/Getty Images

Last year was merely an opportunity for Peyton Manning to shake off the rust from missing the 2011 season while adjusting to his new comrades at arms. What this old man was able to demonstrate last year under those circumstances was astounding.
As far as I'm concerned, he has cemented his place as the greatest "force multiplier" to ever play the game. In other words, nobody makes the guys around him better than Peyton Manning does.
Now with renewed confidence in his neck and arm, new weapons and familiarity with his surroundings, it's safe to assume big-brother Manning is primed for a mega season.
Ryan Riddle is an NFL Featured Columnist for Bleacher Report. Before B/R, Ryan played defensive end at the University of California, where he still holds the single-season sack record. Afterwards, he was drafted by the Oakland Raiders and spent time with the New York Jets, Atlanta Falcons and Baltimore Ravens.