4 NFL Head Coaches Who Will Be on the Hot Seat Next Season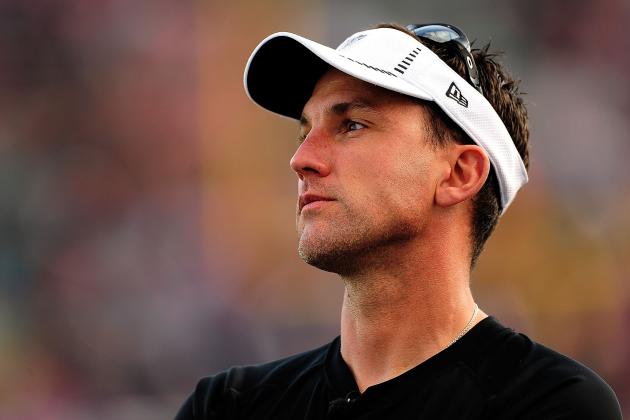 Stacy Revere/Getty Images

In the NFL, every team wants to win. So, when a team isn't living up to expectations, the coach often suffers.
Coaches are fired frequently, and there will be more coaches out of work at the conclusion of the 2013 season. Only one team can win each game, and that means that a lot of teams lose more games than they want to.
For example, the Jacksonville Jaguars and Kansas City Chiefs both finished the 2012 season with a mere two wins. As a result, Jaguars coach Mike Mularkey and Chiefs coach Romeo Crennel were let go. In 2013, there will be a lot of teams failing to meet expectations, and that will lead to some more firings.
Which coaches are on the fringe of losing their job? Here are four coaches who are on the hot seat.
Begin Slideshow

»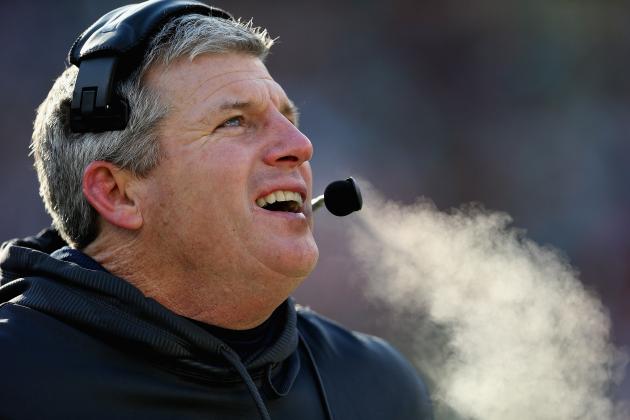 Jonathan Daniel/Getty Images

Many were surprised that the Tennessee Titans retained Mike Munchak after a poor 2012 campaign, but the Titans decided not to let go of the inexperienced head coach.
Unfortunately for the third-year head coach, he's not likely to be manning the sidelines in Tennessee once the 2014 season rolls around. The Titans went 6-10 in 2012, and they are poised for another miserable campaign in 2013.
The Titans managed to steal six games, but none came against a team with a winning record. The Titans beat the Jaguars, Steelers, Jets, Dolphins, Bills and Lions in 2012, and four of those wins came by four points or less.
Those tight wins aren't going to come often in 2013. The Titans have to play the Denver Broncos, Houston Texans (twice), Indianapolis Colts (twice), San Francisco 49ers, Seattle Seahawks and St. Louis Rams, in addition to solid teams like the Steelers and Cardinals.
With one of the league's worst starting quarterbacks in Jake Locker and a poor defense, Munchak isn't going to get bailed out by his players. The Titans will have to pull off some upsets to help Munchak keep his job, and even if they do that, he's still likely to be out of work soon after the season ends.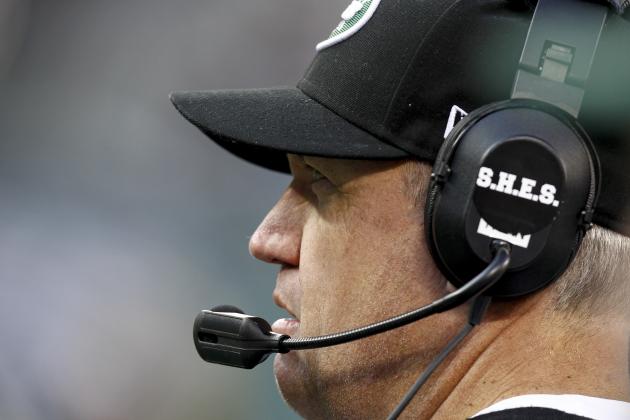 Jeff Zelevansky/Getty Images

The New York Jets seem to be more of a circus than a football team, and Rex Ryan is responsible.
Despite making the AFC Championship Game in 2009 and 2010, Ryan is on the hot seat and the Jets are headed downhill. Ryan's squad won eight games in 2011 and six in 2012, and general manager Mike Tannenbaum was fired as a result. Ryan wasn't fired, but he's going to be on a short leash.
Ryan decided to keep throwing Mark Sanchez onto the field as the starting quarterback, even though the team wasn't winning and Sanchez's stats were horrific. Sanchez finished with 13 touchdown passes and 18 interceptions, and he posted an appalling 66.9 passer rating.
Now, the Jets have a plethora of options at quarterback. David Garrard retired, but the team added Geno Smith. Smith, Sanchez and Greg McElroy will likely be fighting for the starting job, and Tim Tebow could be in the mix if he re-signs with the team.
While the Jets have a lot of options, none are great. If Ryan sticks with Sanchez, who hasn't exactly turned heads with his performance in OTAs and other offseason activities, and he struggles, Ryan will likely be fired.
If Ryan chooses Smith and he doesn't meet expectations, Ryan should meet the same fate. So, it's safe to say that lots of pressure is on Ryan to make the right decision.
New York doesn't have a good offense, and with games against four solid teams in the AFC South (the Atlanta Falcons, Carolina Panthers, Tampa Bay Buccaneers and New Orleans Saints), three solid AFC North teams (the Steelers, the Cincinnati Bengals and Baltimore Ravens) and two games against the New England Patriots, they should have trouble.
And if they can't pull off an abundance of upsets, New York will be upset and Ryan will be gone.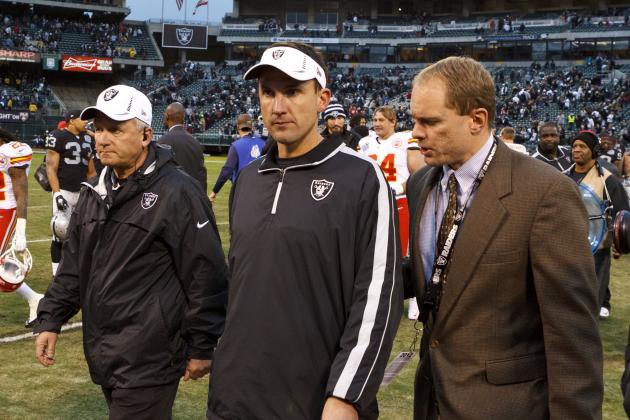 Jason O. Watson/Getty Images

The Oakland Raiders are rebuilding, and it doesn't help to keep changing coaches. However, that doesn't mean Dennis Allen is safe.
Matt Flynn was brought in this offseason to pilot the offense, but if the Raiders finish at the bottom of the pack again, they'll be picking high in the NFL draft. That wouldn't be good for Flynn, who would likely be replaced by a rookie signal-caller in that scenario.
Louisville's Teddy Bridgewater and San Jose State's David Fales headline a stellar quarterback class, and the Raiders should be able to nab one.
Flynn is a dangerous passer with help around him, but the Raiders failed to provide him with help this offseason. Allen's Raiders went 4-12 last season, and with uncertainty at quarterback, running back and wide receiver, poor defensive linemen and linebackers, and average cornerbacks, there are ample reasons to bet against the Raiders.
Running back Darren McFadden is injury-prone, and the Raiders don't have a proven option at quarterback. That should lead to the downfall of Allen and the beginning of another new era in Oakland.
That era would include a new quarterback and a new coach.
The Raiders are rebuilding, but Allen isn't experienced and wasn't able to take the Raiders anywhere despite having an average quarterback in Carson Palmer last season.
Oakland should be able to improve upon its four-win total from last season, but it's not making the playoffs. Unless Flynn surprises everyone and shows that he has what it takes to lead the Raiders far in the future, Allen will be let go and the Raiders will embark on another new journey.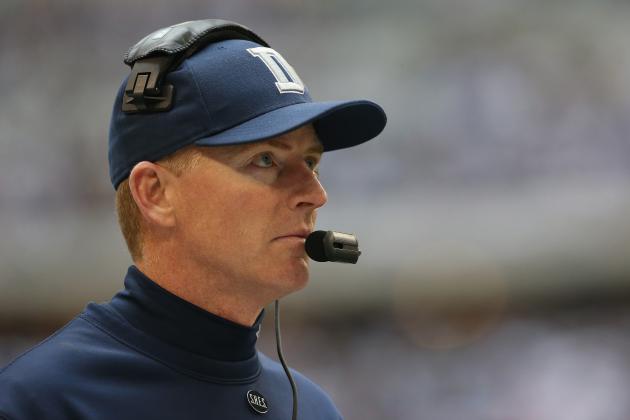 Ronald Martinez/Getty Images

Jason Garrett is the only coach on this list whose team won more than six games last season, but he's been discussed as a candidate to lose his job.
Time and time again, the Dallas Cowboys have come just short of the playoffs. It's happened in both of Garrett's full seasons, as it happened in 2011, when the New York Giants built a big lead and held on to beat the Cowboys in Week 17, and in 2012, when the Washington Redskins subjugated the Cowboys 28-18.
While the Cowboys are 21-19 under Garrett, they haven't made the playoffs under his guidance. 21-19 is far from bad, but the Cowboys are America's Team.
They haven't met expectations since losing Super Bowl XXX to the Steelers, and as a result, they're not giving coaches a long leash. Owner Jerry Jones and the fans crave success, and they're not going to win Super Bowls under the guidance of Garrett.
Tony Romo has done well, but the pieces just haven't come together for him. The Cowboys have some tough games, and outside of games against the Raiders, Lions and Chargers, they don't have many favorable ones.
With four quality teams in the Cowboys, New York Giants, Washington Redskins and Philadelphia Eagles in the NFC East, the Cowboys will have a tough time winning the division. If they don't win the division, Garrett will likely fail to keep his job.
Three consecutive seasons without making the playoffs isn't good for any team, and it's definitely not going to fly in Dallas.