Fantasy Football: Breaking Down the Running Back Situations for Every NFL Team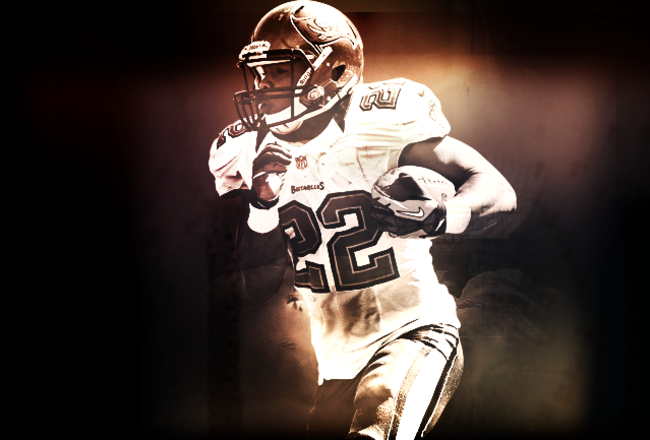 Finding a running back for fantasy football is difficult because every NFL coach treats the position differently. Today we are seeing more and more running back-by-committee approaches where coaches will use more than one running back extensively.
In this article, the running back situation for every NFL team is analyzed and broken down into three categories. The three categories are bell cow, feature and committee. Bell cow describes a situation where there is one true running back and there's not a lot of depth behind the starter. Feature describes when there is a definite starting running back, but there is a talented rusher behind him who will contribute. This rusher's contribution won't take too much away from the starter's statistics, though.
Finally, the committee describes a team that will use two or more backs throughout the season and will use both of them often. Committee's are often a fantasy football owner's nightmare since it's difficult to determine which rusher will have the bigger game on a given week.
Arizona Cardinals: Committee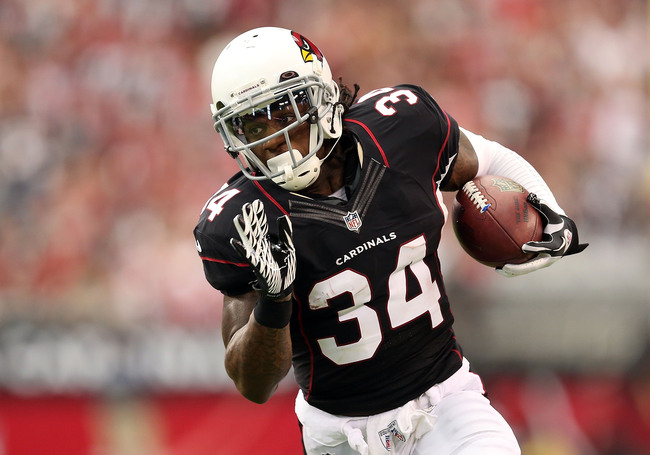 Ryan Williams hasn't gotten off to the start he's wanted in his NFL career.
Christian Petersen/Getty Images
The Arizona Cardinals are a running back situation that I'm staying away from in 2013. Not because I don't like their running backs, but because there's so many of them.
Rashard Mendenhall is expected to be the starter, but right behind him is 2011 second round draft pick Ryan Williams. Behind Mendenhall and Williams are two 2013 picks in Stepfan Taylor (round five) and Andre Ellington (round six).
Mendenhall and Williams both missed significant playing time in 2011 because of injuries. Add in the fact that they're in a crowded backfield and they both become unattractive options.
Atlanta Falcons: Feature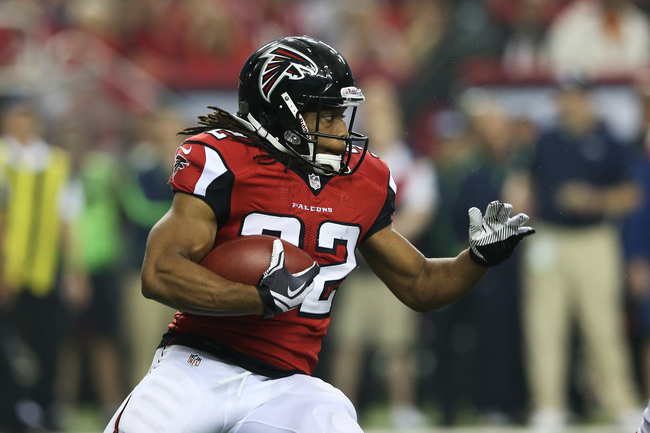 Jacquizz Rodgers finished with over 700 scrimmage yards in 2012, making him an effective weapon.
Streeter Lecka/Getty Images
The Falcons let go of Michael Turner after five seasons with the team and signed longtime Rams running back Steven Jackson in the offseason. Jackson has rushed for over 1,000 yards in eight straight seasons.
Even though 2012 was a disappointing year for Turner, just 800 yards and 3.6 yards a carry, he did manage to score 10 touchdowns. In fact, Turner scored double-digit touchdowns in every season with Atlanta. This is an area where Jackson can improve since he hasn't had double-digit rushing touchdowns since 2006.
Jackson is expected to be the lead back in 2013 for the Falcons, but don't forget about Jacquizz Rodgers. The Oregon State running back showed promise last season as a change-of-pace runner out of the backfield. His 53 receptions for 402 yards make him a decent option in PPR leagues.
Baltimore Ravens: Feature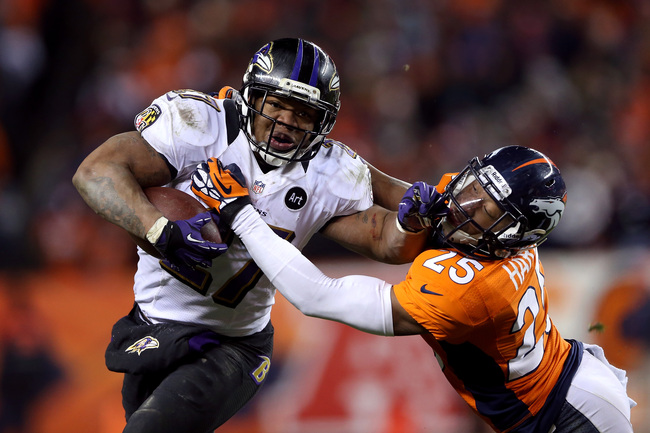 Ray Rice is in store for another great season in 2013.
Jeff Gross/Getty Images
Last year Ray Rice saw a decrease in performance from his 2011 season. He had 447 less yards and five less touchdowns in 2012. Even with the decrease in production, Rice was still a top five option, but it's concerning whenever a running back's statistics decrease.
One of the reasons for the decrease in production was the emergence of rookie Bernard Pierce. Near the end of the season, Pierce was seeing more carries, including a 123-yard performance against the Giants in week 15.
Pierce is a good handcuff if Rice ever gets hurt, but don't bet on that. Rice has played in 16 games in each of the last four seasons.
Buffalo Bills: Bell Cow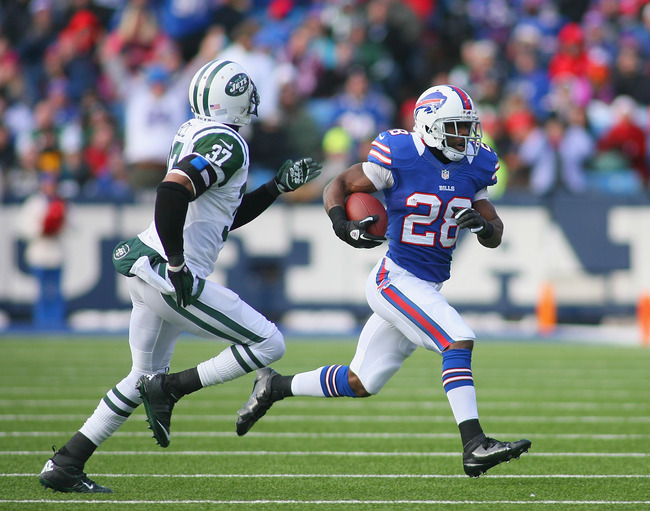 C.J. Spiller will finally be freed as the lead runner in Buffalo.
Rick Stewart/Getty Images
There's a new coaching staff in Buffalo, which means C.J. Spiller will finally get his chance to be the full-time starter. Head coach Doug Marrone has already said that he doesn't see Spiller as a situational back. Last season he split carries with backup Fred Jackson, even though Jackson was ineffective averaging just 3.8 yards a carry.
In 2012 Spiller had over 1,700 yards from scrimmage (1,244 rushing, 459 receiving). He also averaged six yards a carry, which is a very impressive feat.
With Fred Jackson at 32-years old and Tashard Choice at third string, it seems like it's finally Spiller's chance to be the lead back in 2013.
Carolina Panthers: Committee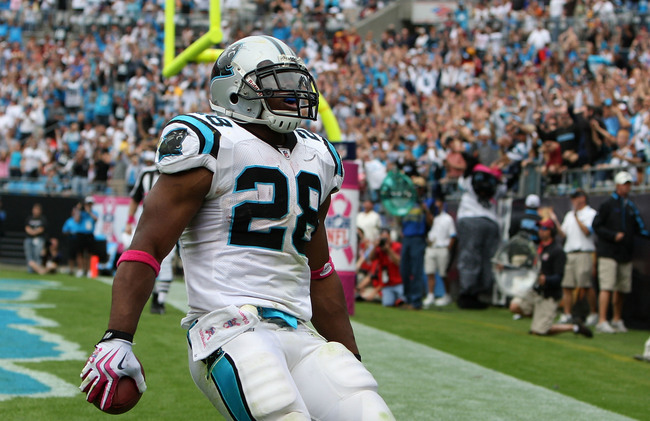 Jonathan Stewart will be sharing carries with his quarterback Cam Newton.
Streeter Lecka/Getty Images
When Jonathan Stewart is healthy, the Carolina Panthers like to use both him and DeAngelo Williams in their run game. Another player to factor in is quarterback Cam Newton, who has rushed for over 700 yards in his first two seasons in the league.
In 2011 the Panthers became the first team in NFL history to have three players rush for over 700 yards in Williams, Stewart and Newton. Last season would have been a similar story, but Stewart only played in nine games.
During this year's draft, the Panthers spent a sixth-round pick on explosive Oregon running back Kenjon Barner.
Stewart is expected to be the starter in Carolina since Williams is now in his 30's, but it's still going to be a timeshare between Stewart, Williams and Newton.
Chicago Bears: Feature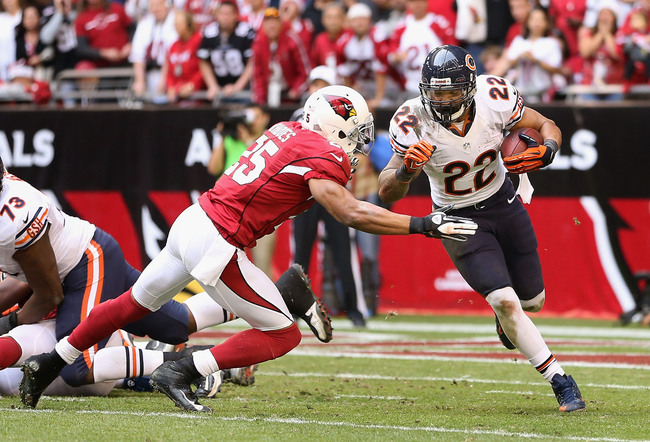 Matt Forte is a fixture in the Chicago Bears backfield.
Christian Petersen/Getty Images
Matt Forte is the main guy in Chicago as he has been since his rookie year in 2008. Backing up Forte is a capable runner in Michael Bush, who ran for nearly 1,000 yards in Oakland during the 2011 season.
While Bush won't get many yards, he does take touchdowns away from Forte. Even though Forte had 134 more carries than Bush, they both ended up with five rushing touchdowns in 2011.
Cincinnati Bengals: Feature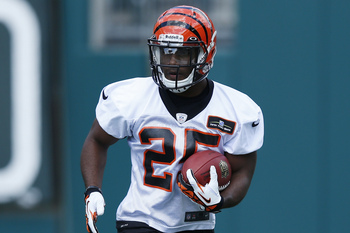 Giovanni Bernard is expected to contribute early as a rookie.
Joe Robbins/Getty Images
The Bengals acquired BenJarvus Green-Ellis in the 2011 offseason and saw pedestrian results in 2012. That's why they spent a second-round pick on Giovanni Bernard and made him the first running back taken in the NFL Draft this year.
For now, Green-Ellis is the starter, but Bernard is expected to play a big role during his rookie season. Expect Bernard's workload to increase as the season progresses.
Cleveland Browns: Bell Cow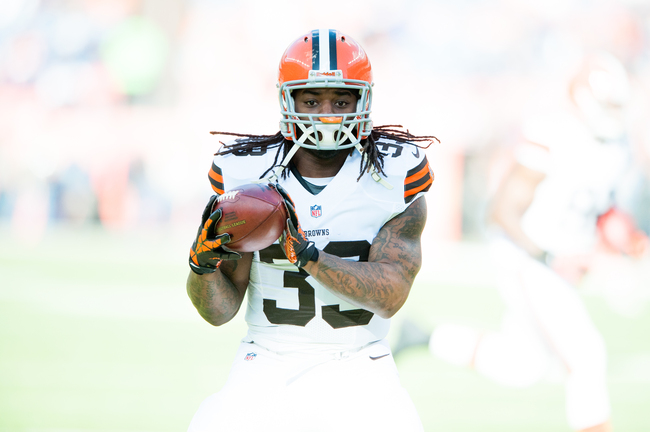 Trent Richardson will be the lead back in Cleveland for years to come.
Dustin Bradford/Getty Images
Trent Richardson was the third overall pick in the 2012 draft and fell just 50 yards shy of 1,000 rushing yards his rookie season. He saw the majority of the carries in 2012 and that's not expected to change in 2013.
Backing up Richardson is Montario Hardesty, who played in 13 games last year, but only saw 65 carries.
Dallas Cowboys: Bell Cow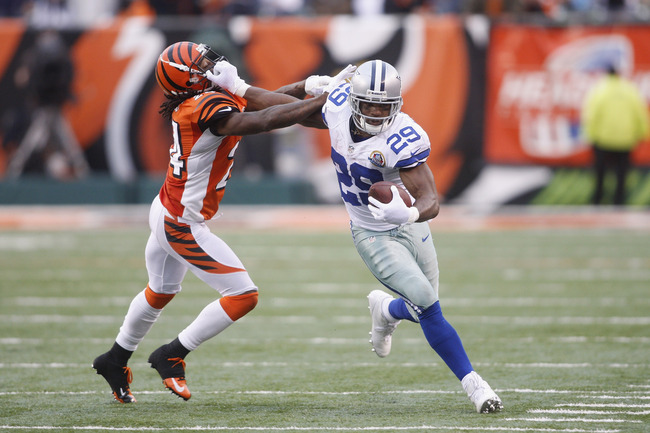 DeMarco Murray is ready for a big season in 2013.
John Grieshop/Getty Images
It's the DeMarco Murray show in Dallas now. Murray came on strong as a rookie in 2011 and battled with injuries in 2012 as he missed six games, but now it's time for Murray to the main man.
With Felix Jones out of the picture, there's not a lot of competition for Murray. Rookie Joseph Randle is expected to be the backup with Phillip Tanner behind him.
Denver Broncos: Committee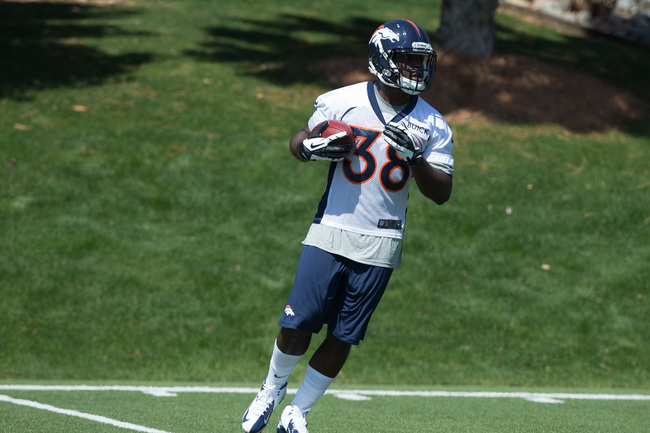 Montee Ball is an impressive rookie, but he'll have to beat out the veterans for a chance in 2013.
Justin Edmonds/Getty Images
The Denver Broncos have a plethora of running backs at the moment. Veterans Willis McGahee and Knowshon Moreno are in the picture after their success in 2011 and 2012.
Then there are young backs Ronnie Hillman and Montee Ball (rookie). At the moment, it's unclear who will be starting in 2013, but all four running backs are talented players who will likely contribute in different ways.
This is a running back battle worth paying attention to during training camp and the preseason.
Detroit Lions: Committee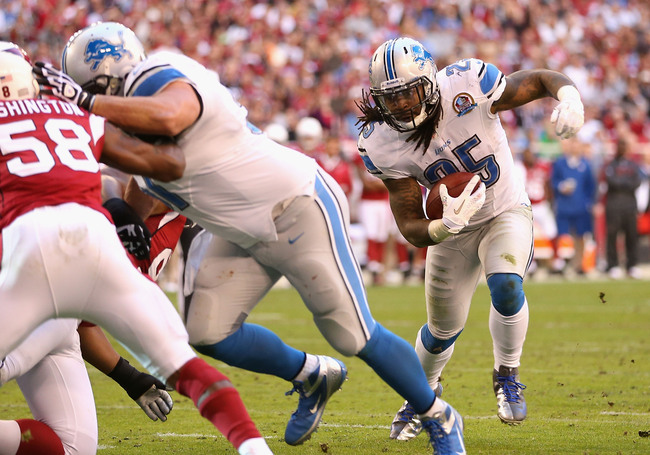 Mikel Leshoure will take a backseat to Reggie Bush, but he'll still be involved in the Lions offense.
Christian Petersen/Getty Images
Detroit signed Reggie Bush in the offseason and he's expected to carry most of the duties at the running back position. Bush is a great fit for the Lions since he's one of the best at catching the ball out of the backfield and making something happen with it.
Sharing carries with Bush will be 2011 second round draft pick Mikel Leshoure. Leshoure had nearly 800 yards as a rookie and scored nine touchdowns. Bush and Leshoure can act as a smash-and-dash duo for the Lions backfield.
Green Bay Packers: Committee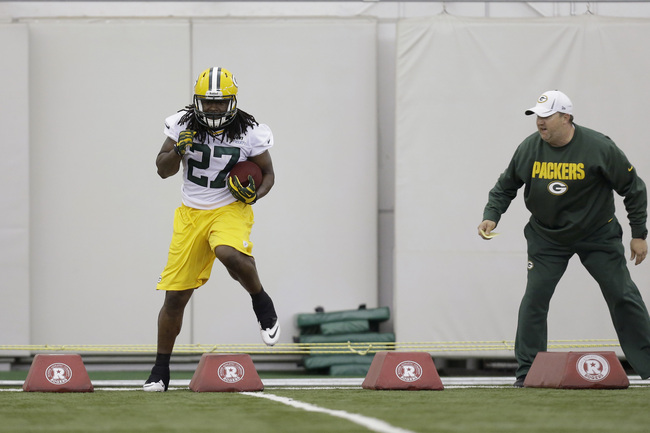 Eddie Lacy is expected to start as a rookie.
Mike McGinnis/Getty Images
Last season the Green Bay Packers struggled to find a lead running back. Alex Green led the team in rushing, but he only had 464 yards and failed to score a touchdown. That's why in the 2013 draft they selected Eddie Lacy from Alabama and Johnathan Franklin from UCLA.
Lacy was highly praised as he was the lead back for the National Championship team, but Franklin is talented in his own right. He set the UCLA single-season rushing record last year with 1,732 yards.
Both of these rookies will compete for the starting job, but Lacy being a second-round draft pick has the upper hand. Either way, they're both expected to contribute in 2013.
Houston Texans: Bell Cow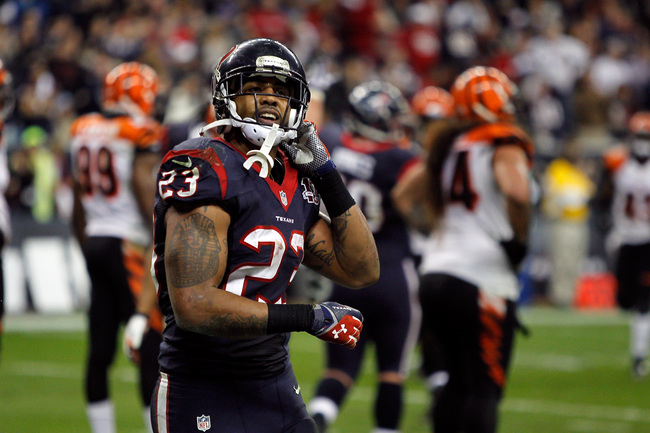 Arian Foster is the workhorse for the Houston Texans.
Bob Levey/Getty Images
Many people expected Ben Tate to have an increased role in 2012 after his 942-yard season the year before, but that didn't happen. Instead, Arian Foster was relied on heavily as he had 351 carries last year. He made good use of those carries rushing for over 1,400 yards and 15 touchdowns.
This year is not expected to be any different. Foster is going to be the lead man as Tate sees limited action as the backup.
Indianapolis Colts: Feature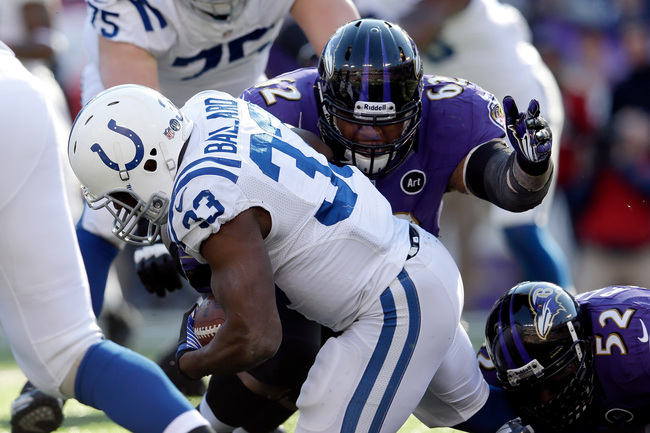 Ballard had an impact as a rookie and is expected to continue the trend in his sophomore season.
Rob Carr/Getty Images
Vick Ballard was a fifth round pick in 2012 so when he went on to start 12 games for the Colts and put up 814 rushing yards, it was pretty surprising. Due to injuries, Ballard was put into the starting role and did well.
He has a lot of room to improve, however. He had just two rushing touchdowns all season and averaged just 3.9 yards a carry. He'll be the starter heading into 2013, but former first round pick Donald Brown is still in the mix.
Brown hasn't lived up to his first-round reputation, but the Colts will still use him as a backup in 2013. This is Ballard's job to lose.
Jacksonville Jaguars: Bell Cow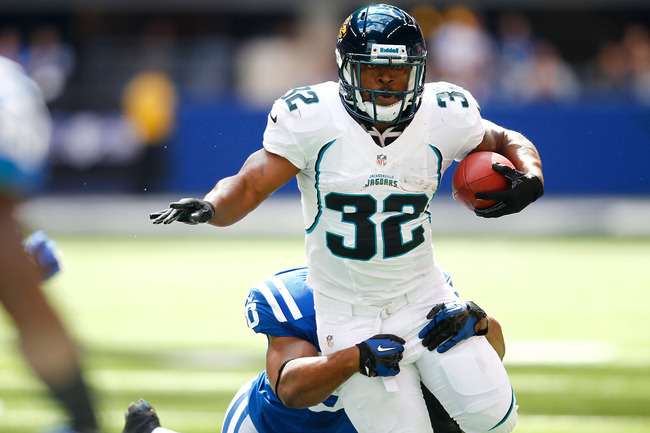 Maurice Jones-Drew missed most of the 2012 season, but he'll be ready for 2013.
Michael Hickey/Getty Images
Maurice Jones-Drew only played in six games last season as he and the other Jaguars running backs suffered injuries. The Jaguars went through about every running back on their roster and failed to find a successful replacement.
MJD's backup the previous couple of seasons, Rashad Jennings, has departed to Oakland, leaving little depth behind Jones-Drew. Justin Forsett and Denard Robinson are the backups, which means MJD will carry most of the load in 2013.
Kansas City Chiefs: Bell Cow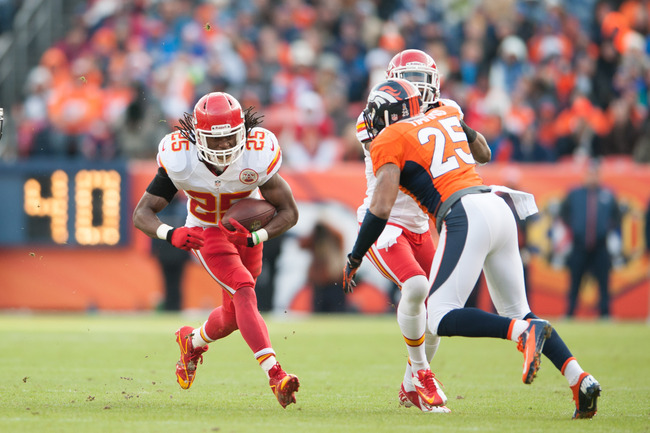 Andy Reid should use Jamaal Charles properly in 2013.
Dustin Bradford/Getty Images
Despite criticism last year of Jamaal Charles not getting enough carries, he managed to rush for over 1,500 yards and had a very successful season. He is expected to have another great year this season under new coach Andy Reid.
Behind Charles on the depth chart is rookie Knile Davis and third year player Shaun Draughn. Neither is expected to have a big role, which means lots of carries for Charles.
Miami Dolphins: Committee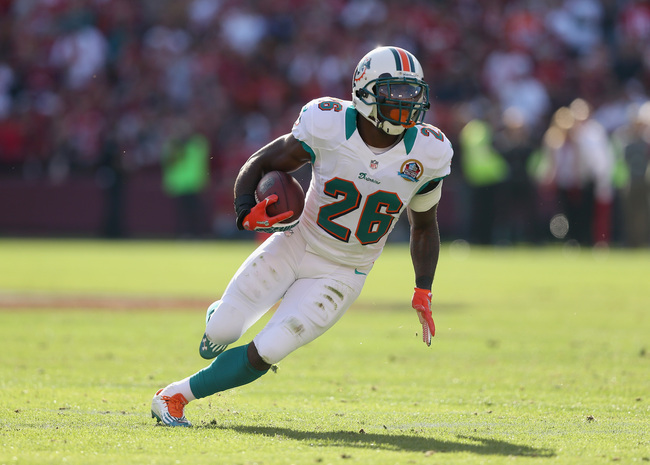 Lamar Miller has a lot of skills that he hopes to show off in 2013.
Ezra Shaw/Getty Images
The Miami Dolphins running back situation is up for competition right now after the departure of Reggie Bush. They have 2011 second round pick Daniel Thomas, 2012 fourth round pick Lamar Miller and this year's fifth round pick Mike Gillislee.
Miller is expected to be the starter, but Thomas is right there with him. It should be a tough competition between two talented runners.
Minnesota Vikings: Bell Cow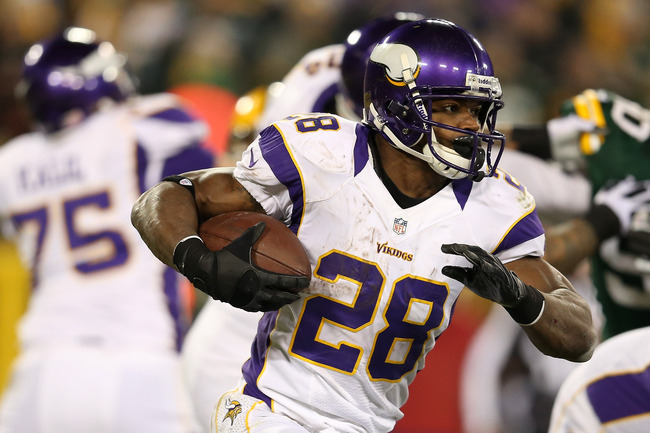 Adrian Peterson was the NFL's leader in rushing last year as he became the seventh player in history to rush for over 2,000 yards.
Andy Lyons/Getty Images
There's not too much to say here that you don't already know. Adrian Peterson is going to get the carries in Minnesota. He rushed for over 2,000 yards last season falling just nine yards shy of the single-season record.
Peterson's backup Toby Gerhart played in all 16 games, but only had 50 carries the entire season.
New England Patriots: Committee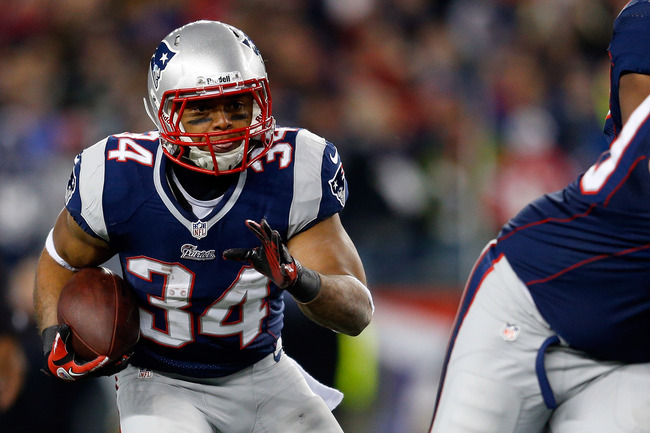 Shane Vereen's role with the Patriots as the No.1 tailback in 2013 is expected to increase.
Jim Rogash/Getty Images
Stevan Ridley had a fantastic season in 2012 as he rushed for 1,263 yards and 12 touchdowns. Even with those fantastic numbers, the Patriots appear to be headed towards a committee approach in 2013.
Shane Vereen was a second round pick in 2011 and showed promise towards the end of last season. Perhaps that's why the local New England media envisions two 1,000-yard rushers from the Patriots this year.
The Patriots have even more depth at the position as they acquired Leon Washington and LeGarrette Blount in the off season. They also still have Brandon Bolden who had some good games in 2012.
New Orleans Saints: Committee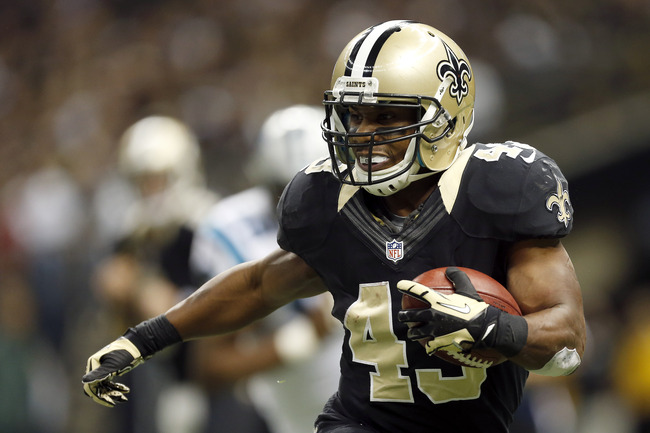 Darren Sproles does most of his work in the passing game.
Wesley Hitt/Getty Images
The Saints have been running in a committee the last couple of seasons and for the most part it's been working for them. Pierre Thomas, Darren Sproles and Mark Ingram each play their part in this Saints offense.
Ingram and Thomas are the primary rushers, although neither one had a great season in 2012. Ingram finished just over 600 yards and Thomas just missed 500. Most of Sproles' work comes in the passing game, where he finished with 75 receptions for 667 yards and seven touchdowns in 2012.
New York Giants: Committee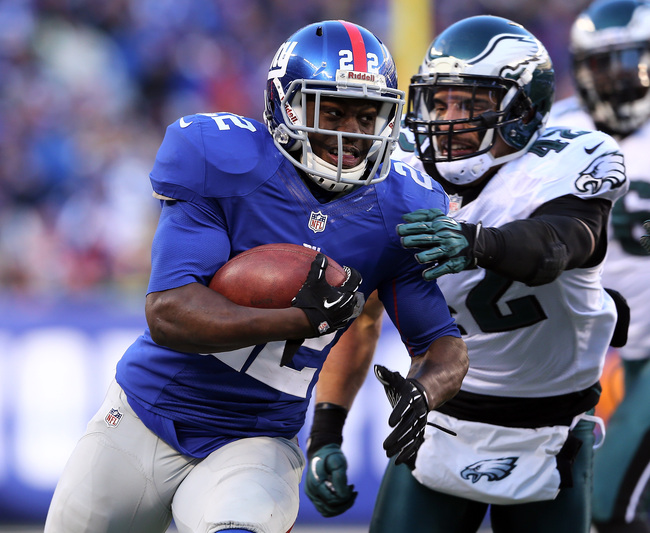 David Wilson made some highlight plays as a rookie in 2012.
Elsa/Getty Images
Last season both rookie David Wilson and journeyman Andre Brown made big contributions to the Giants running game. Wilson's impact was more on special teams as he led the league in kick return yards, but his return game showed just how dynamic of a player he is.
Heading into 2013 Wilson, the first-round pick from 2012, is the assumed starter with Brown backing him up. Before Brown's season ended week 12, he was having a pretty impressive season. He had scored at least one touchdown in every game he had a carry in (eight) except for one. He also averaged 5.3 yards a carry.
New York Jets: Bell Cow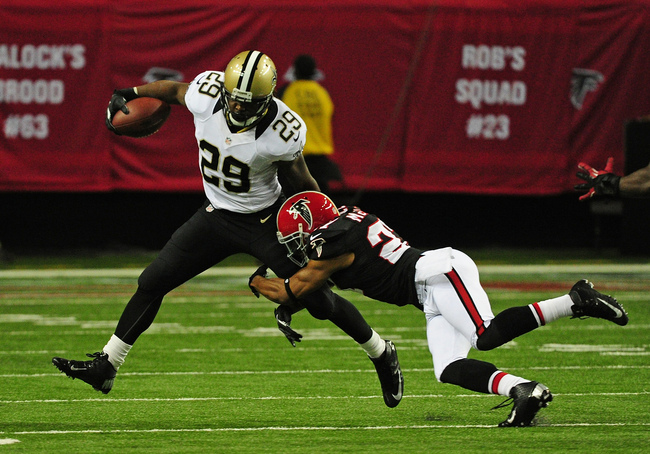 Chris Ivory will take over as the Jets starter in 2013 and will try and prove that he's an every-down player.
Scott Cunningham/Getty Images
The New York Jets traded with the Saints to get running back Chris Ivory. Ivory got lost in the shuffle in New Orleans, but he when he played he showed signs of promise. Ivory's game can be compared to Marshawn Lynch since they're both powerful and run hard.
Behind Ivory are Mike Goodson and Bilal Powell who aren't expected to contribute as much. The Jets gave up a fourth-round pick to get Ivory and he's expected to do most of the work this year for the Jets.
Oakland Raiders: Bell Cow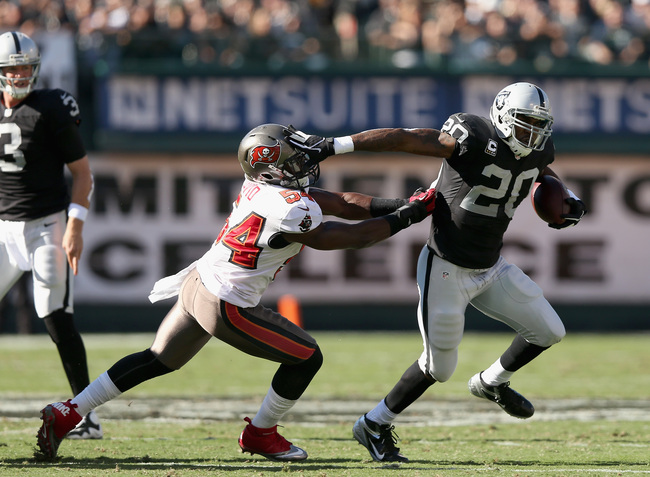 Darren McFadden is explosive when he's healthy, but staying injury-free has been a problem for him.
Ezra Shaw/Getty Images
Assuming (and yes, it's a big assumption) that Darren McFadden can stay healthy for an entire season, he'll be the primary ball carrier in Oakland. Last season was terrible for McFadden as he averaged 3.3 yards a carry and only found the end zone twice on the ground.
Behind McFadden on the depth chart is former Jaguars running back Rashad Jennings and sixth round draft pick Latavius Murray. Murray has been receiving praise from head coach Dennis Allen and has some hype behind him.
Knowing that McFadden has never completed a full season, Murray and Jennings will likely get some playing time in 2013.
Philadelphia Eagles: Feature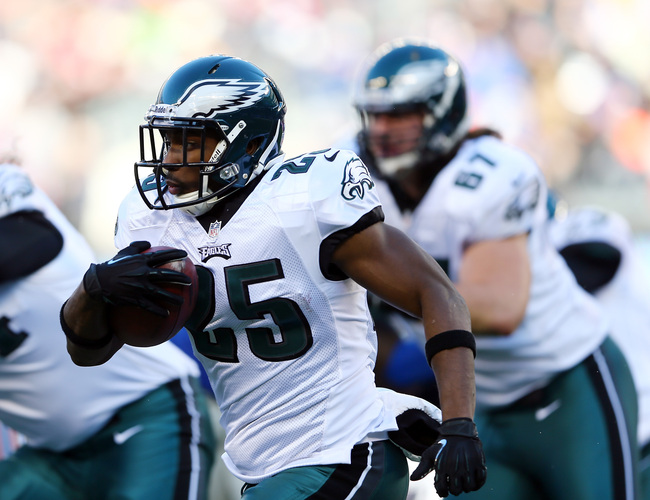 LeSean McCoy is the leader of a talented Eagles backfield.
Elsa/Getty Images
LeSean McCoy and new coach Chip Kelly should be a great match, but there's a lot of talent at the running back position in Philly.
In 2012 when McCoy missed time because of injury, Bryce Brown took advantage and exploded onto the scene. He had back-to-back 100-yard games and finished the season with over 500 rushing yards.
During the offseason, the Eagles added even more depth when they signed free agent and former Cowboys running back Felix Jones. Jones has been running with the second team offense, so he may have a bigger role than people realize. McCoy will be the starter, but there are a lot of mouths to feed in Kelly's fast-paced offense.
Pittsburgh Steelers: Committee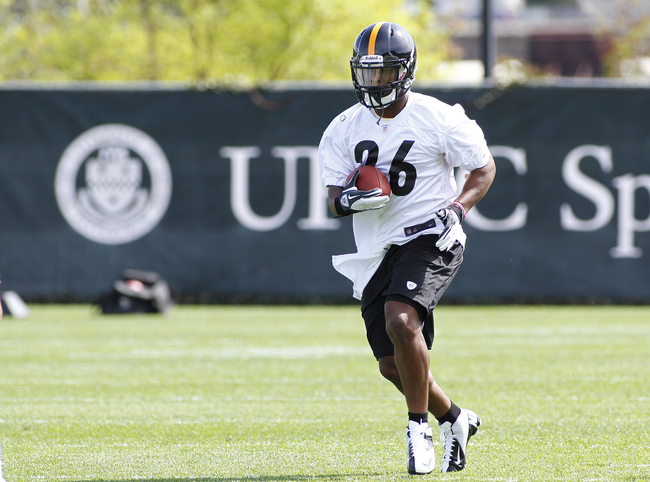 Le'Veon Bell has a chance to become the starter in Pittsburgh as a rookie.
Justin K. Aller/Getty Images
Last season the Steelers relied on Jonathan Dwyer and Isaac Redman since Rashard Mendenhall missed ten games due to injury. Neither running back was overly impressive, which is why the Steelers spent a second-round pick on Le'Veon Bell.
The Michigan State running back was reliable for the Spartans as he carried the ball 382 times for 1,740 yards last year. This proves that Bell is capable of carrying the load and he could push himself into a big role his rookie season. Still, Dwyer is the veteran and assumed starter.
San Diego Chargers: Feature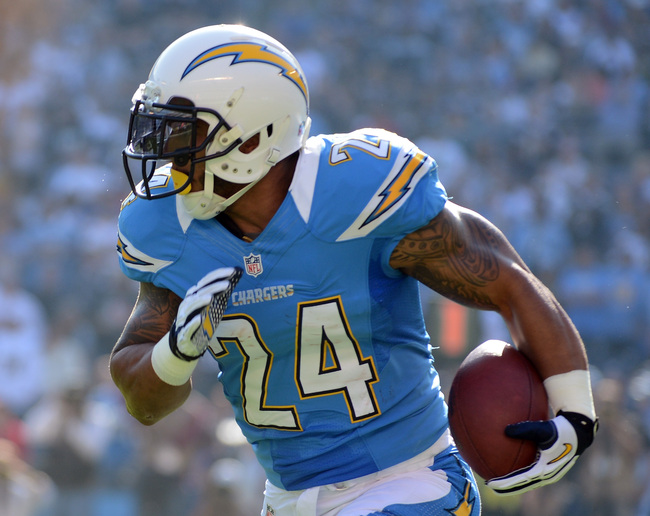 Ryan Mathews' 2012 season wasn't what we expected, but he could turn it around in 2013.
Harry How/Getty Images
Ryan Mathews was supposed to have a breakout season in 2012, but injuries stopped that from happening. Now in 2013, the hype is on again as Mathews is the starting running back.
The Chargers signed former Patriot Danny Woodhead in the offseason to be the third down back. Woodhead has shown he can be a solid contributor in New England and will now take those skills to San Diego.
Mathews will be the main back with Woodhead seeing a good number of touches both on the ground and through the air.
San Francisco 49ers: Feature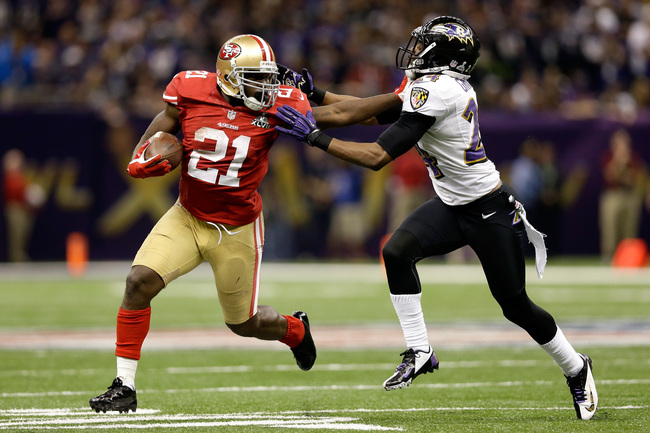 Frank Gore has been getting it done for years.
Ezra Shaw/Getty Images
Frank Gore has entered his 30's, but he's still producing at a high level. He's coming off back-to-back 1,200-yard seasons and has shown no signs of slowing down. That doesn't mean that there aren't any other talented guys in San Francisco.
Behind Gore on the depth chart are Kendall Hunter and LaMichael James. Both Hunter and James contributed down the stretch for San Francisco on their run to the Super Bowl.
Even though James and Hunter are both talented and will contribute in 2013, this is Gore's team and he will be the main focus for San Francisco.
Seattle Seahawks: Feature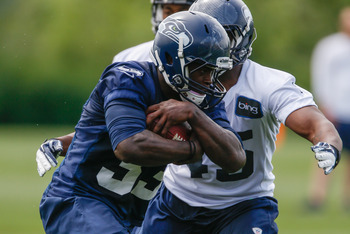 Christine Michael is a talented rookie who finds himself in a crowded Seattle backfield.
Otto Greule Jr/Getty Images
Marshawn Lynch ran for a career-high 1,590 yards last season and had an incredible year. With that being said, the Seahawks have invested a lot in the running back position over the last few months drafting Christine Michael in the second round and Spencer Ware in the sixth.
Last year the Seahawks took Robert Turbin in round four and he was a solid contributor as a rookie, amassing over 500 yards on offense. Lynch is still the starter, but the Seahawks could turn to Turbin and Michael throughout the 2013 season.
St. Louis Rams: Committee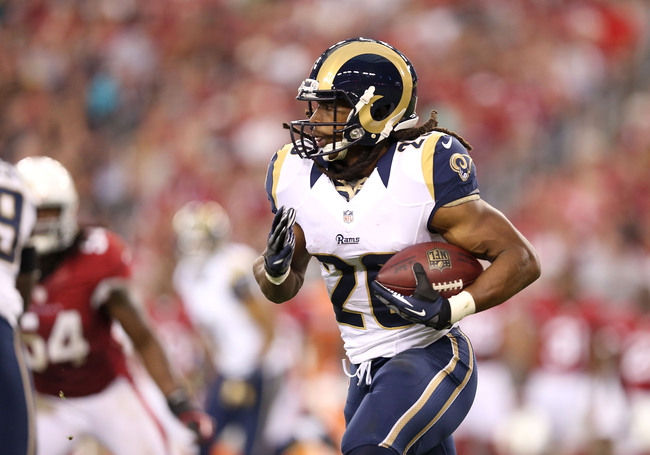 Daryl Richardson filled in nicely his rookie season as he came in for veteran Steven Jackson.
Christian Petersen/Getty Images
The St. Louis Rams have one of the more interesting running back battles in the NFL right now. They have 2012 second-round pick Isaiah Pead (who saw very limited action as a rookie), 2012 seventh-round pick Daryl Richardson (who saw extensive action as a rookie) and this year's fifth-round pick Zac Stacy.
Depending who you ask, all three could be the starter. They all have unique talents, which means they could all contribute for the Rams this year.
Tampa Bay Buccaneers: Bell Cow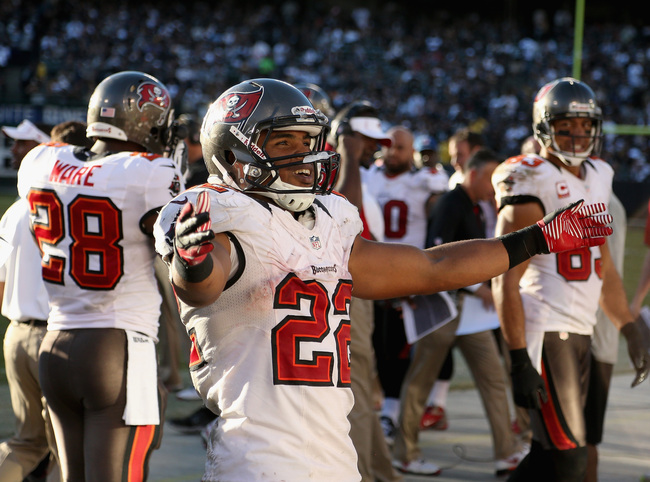 Doug Martin came on strong as a rookie and has a bright future ahead of him.
Ezra Shaw/Getty Images
Doug Martin had a sensational rookie season and it was highlighted in a week nine game against the Oakland Raiders when he rushed for 251 yards and four touchdowns.
Behind Martin on the depth chart are Brian Leonard and rookie Mike James. Neither one is a threat to Martin for playing time so expect the second-year player to get nearly all of the carries for Tampa Bay this season.
Tennessee Titans: Feature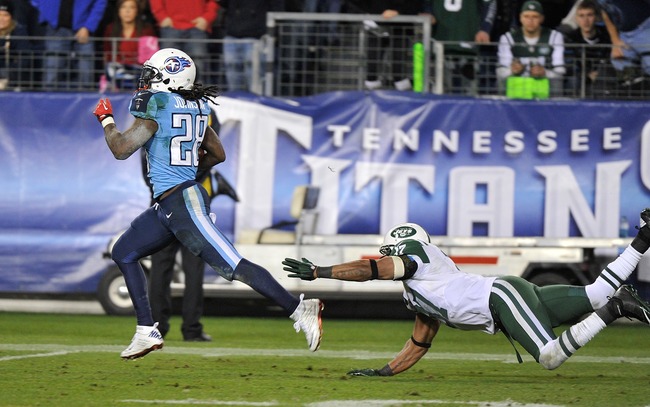 Chris Johnson can still break out big runs, but his game is very inconsistent.
Frederick Breedon/Getty Images
If you look at Chris Johnson's overall performance in 2012, it looks like he had a good year. Dig a little deeper and you'll see his season was highly inconsistent. He had five games under 30 rushing yards and four over 120. He was unpredictable on a weekly basis.
Despite his inconsistencies, Johnson is still a great talent and will remain the starter in 2013. Backing him up is former Jets rusher Shonn Greene. Greene is coming off of back-to-back 1,000-yard seasons and will likely take carries away from Johnson.
Washington Redskins: Bell Cow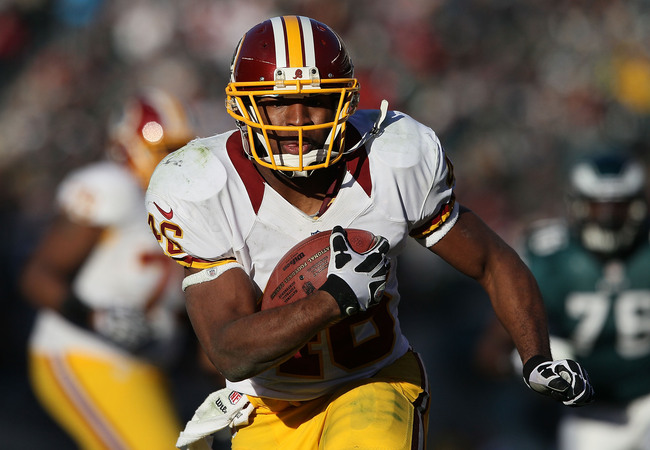 Alfred Morris had a sensational rookie season with the Redskins.
Alex Trautwig/Getty Images
Last season Alfred Morris surprised everyone as the sixth round pick from Florida Atlantic finished second in the league in rushing yards. The Redskins third leading rusher behind Morris and Robert Griffin III was Evan Royster with just 88 yards on 23 carries.
The Redskins will likely use their backup running backs more in 2013, but it's clear that Morris will get the majority of the carries.
Keep Reading