Predicting Every NFL Team's Most Heated Camp Battle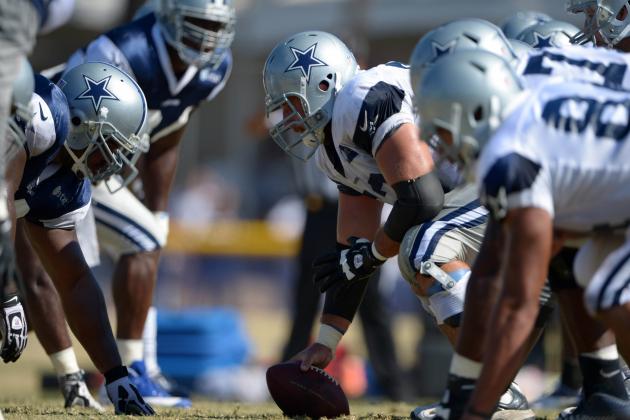 Kirby Lee-USA TODAY Sports

During an NFL offseason that can feel excruciatingly long, there's almost no news between the draft and real football except position battles.
Who's looking good? Who showed up out of shape? Is the rookie picking up the playbook? How's the new free agent doing against that veteran on the other side of the ball? Can the local-school product hold his own during his camp invite?
Fans spend all offseason scouring the wires for answers to questions like these, and for any news out of quarterback school, rookie camp, OTAs, minicamps or training camp.
Whether it's non-contact drills, shells, seven-on-seven or 11-on-11, position battles that get hashed out in spring and summer camps mean real change in the men on the battlefield in the fall, when the ammunition goes live.
With all the top free agents signed and all the rookies given their marching orders, what will be the hottest camp battles of every team this summer?
Begin Slideshow

»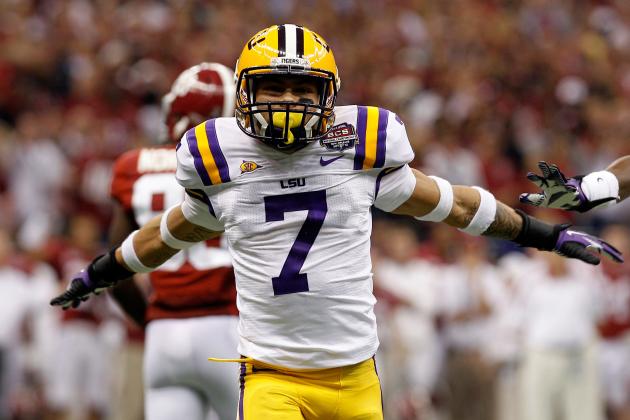 Chris Graythen/Getty Images

One of the most intriguing stories of the 2013 draft, former Louisiana State cornerback Tyrann Mathieu followed up a dominant true sophomore year by getting dismissed from the team. Multiple failed drug tests ended Mathieu's time at LSU.
Rather than reestablish himself at a smaller school, Mathieu chose to sit out a year and declare for the draft.
Mathieu's lack of ideal size and very short on-field track record made him hard to project to the NFL. When the Cardinals drafted him in the third round and announced he would play free safety, that added another layer of questions.
The presumed starter at free safety, free-agent signing Yeremiah Bell, worked under Cardinals defensive coordinator Todd Bowles at Miami.
An explosive, dynamic, unknown quantity just drafted in the third round, against a trusted veteran just signed in free agency? That's an interesting camp battle.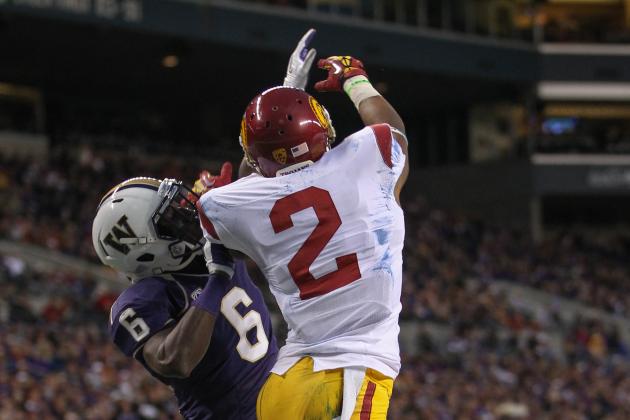 Otto Greule Jr/Getty Images

The Atlanta Falcons have one of the most stacked, balanced rosters in the NFL. There won't be many true position battles.
Though first-round pick Desmond Trufant will get every opportunity to replace Brent Grimes at right cornerback, don't sleep on the ability of second-round pick Robert Alford.
Alford ran one one-hundredth of a second slower than Trufant at the combine, bench-pressed one more rep of 225 pounds than Trufant and out-jumped Trufant vertically and horizontally.
Trufant has the size and polish to be a more natural fit as an outside starter—but again, Alford's every bit the athlete Trufant is and maybe a slightly better one.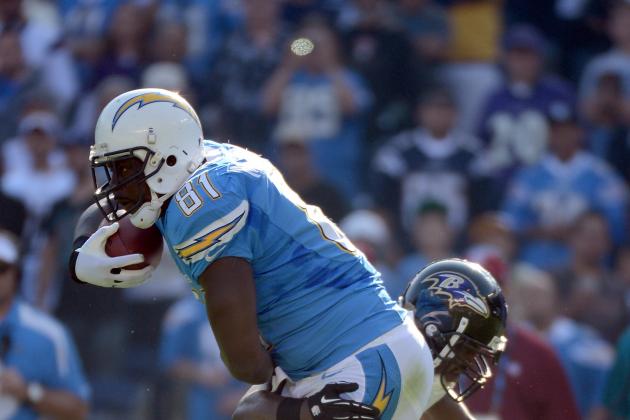 Harry How/Getty Images

The story of the Baltimore Ravens' offseason was always going be written around the replacement of Ray Lewis.
When free-agent inside linebacker Rolando McClain found himself on the wrong side of the law and the Ravens drafted Arthur Brown in the second round, it looked like the final chapter in the saga. Somewhere in the middle, though, planned successor Dannell Ellerbe left the Ravens as a free agent.
Not only did the Ravens need to replace Lewis, they needed to replace Ellerbe as well.
One intriguing name is Jameel McClain, whose long recovery from a spinal injury should be over soon, and fourth-round draft pick John Simon.
Simon, who switched from defensive tackle to defensive end at Ohio State, will likely take a few steps back and plant his 6'1", 257-pound frame at inside linebacker. Whether McClain can recover in time to reclaim his spot or Smith can establish himself at his new position, only training camp will tell.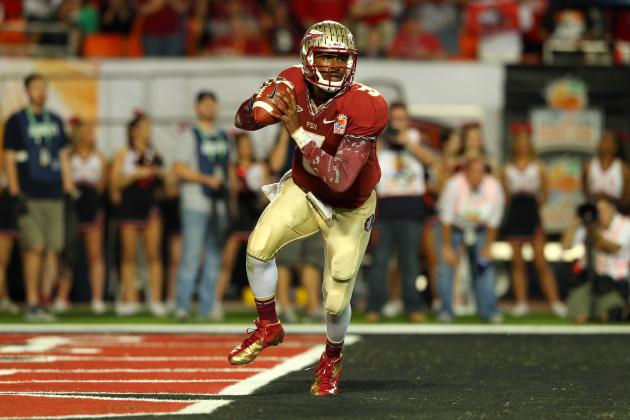 Mike Ehrmann/Getty Images

EJ Manuel, to almost everyone's shock, was the first quarterback taken in the 2013 draft. A dual-threat quarterback with size and athleticism—and questions surrounding his passing ability—Manuel might be the least NFL-ready of the top quarterback prospects.
Yet Bills CEO and President Russ Brandon told Mike Silver of Yahoo! Sports that Manuel was brought in to compete with the presumed starter, free-agent signing Kevin Kolb.
Will Manuel prove the doubters wrong and beat out Kolb for the starting gig? Or will Manuel be handed the starting gig and prove the doubters right? Somehow Kolb's grip on the starting job seems flimsy at best.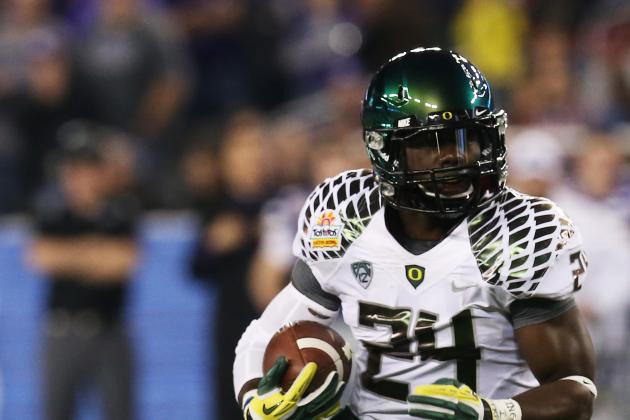 Stephen Dunn/Getty Images

The Carolina Panthers have an obscene level of running talent. Besides having two of the more talented tailbacks in the NFL in Jonathan Stewart and DeAngelo Williams, they also have the NFL's most dangerous rushing quarterback, Cam Newton, under center.
Yet Kenjon Barner was one of the most productive backs in college football last season. With his lateral explosion and deep speed, he's one of the most intriguing talents in this season's draft class.
As with the San Francisco 49ers' LaMichael James last season, it will likely be later in the season that Barner's talent bubbles up to the surface. Still, if he can break through the logjam, he could break out.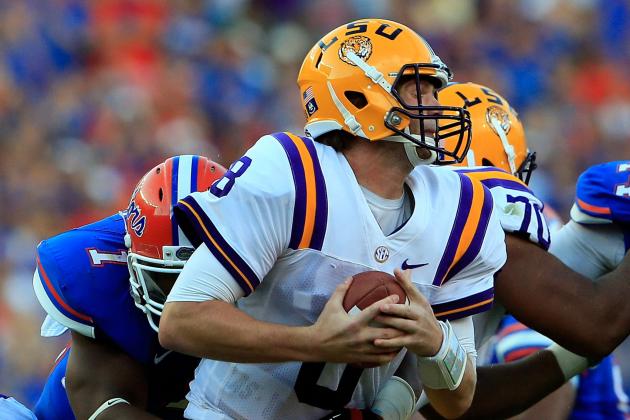 Sam Greenwood/Getty Images

According to Adam L. Jahns of the Chicago Sun-Times, the Chicago Bears signed free agent D.J. Williams to replace the legendary Brian Urlacher as their starting middle linebacker.
Then Florida inside linebacker prospect Jon Bostic fell to them in the second round.
Williams, though long one of the NFL's most productive linebackers, missed nine games in 2012 due to suspensions for six of the naughtiest letters: D-U-I and P-E-D. Williams only had one start in the remaining seven games and was released by the Broncos at the end of the year.
Williams will turn 31 before the season starts, so he should still have at least one more good season left. Yet Bostic is the future, and talented enough to be the present too.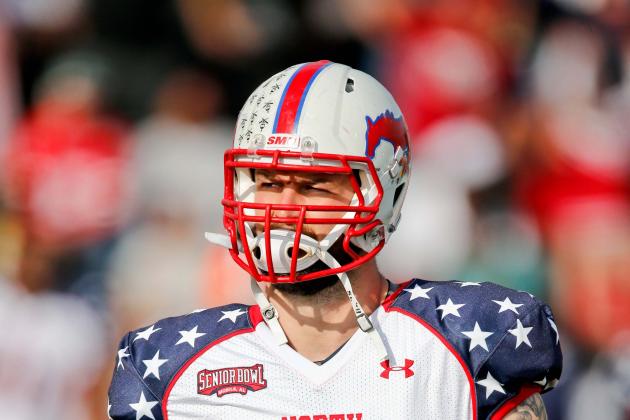 Derick E. Hingle-USA TODAY Sports

Pass-rusher Carlos Dunlap's contract situation already would've been one of the most talked-about stories of the Bengals offseason. His spectacular talent and inconsistent production maximize the chance that he and the team will have very different opinions of his market value.
If Dunlap pins his ears back and kills it this season, he'll be due a monster payday—from the Bengals or whomever else.
Margus Hunt's spectacular talent and unknown production make him an intriguing option behind Dunlap. If Hunt can push Dunlap, the Bengals will be able to have confidence they can replace Dunlap while also lowering his market value.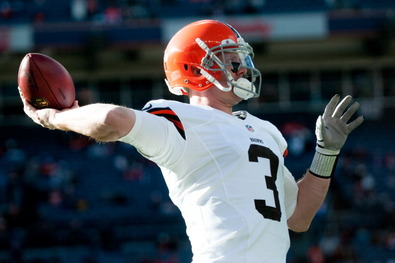 Dustin Bradford/Getty Images

The Cleveland Browns hope this isn't a battle at all. The Browns hope new offensive coordinator Norv Turner will be able to unlock all the potential hidden within last year's first-round quarterback, Brandon Weeden.
If not, they wisely hedged their bets by acquiring Jason Campbell, one of the league's best backups. If word comes out of training camp that Campbell is pushing Weeden, that's very bad news for Weeden and the Browns' long-term picture.
For 2013, though, it could actually be good news.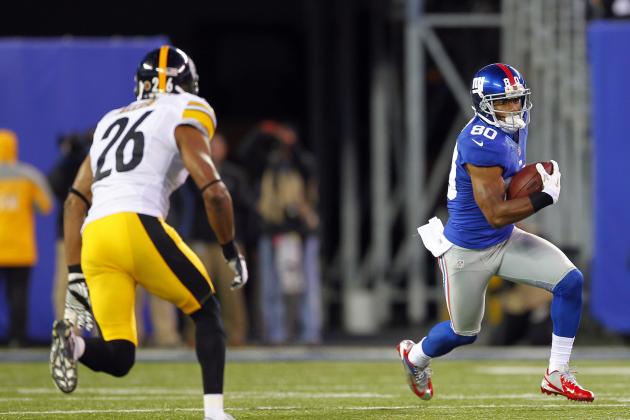 Rich Schultz/Getty Images

Though the cap-strapped Cowboys had Matt Johnson, a second-year player who missed his rookie year due to injury, at free safety, they spent some of what little money they had securing a steady veteran in Will Allen.
Then they drafted J.J. Wilcox, a tailback-turned-slot-receiver-turned-free-safety in college. With great measurables but little experience playing the position, Wilcox could challenge both Johnson and Allen for the starting role.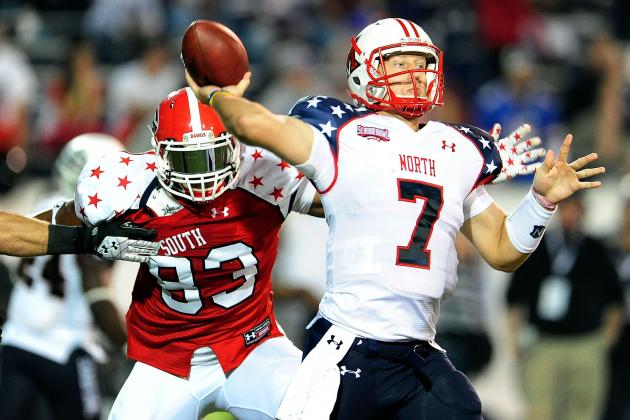 Stacy Revere/Getty Images

Though the Broncos drafted quarterback Brock Osweiler in the second round of the 2012 draft, they lucked into one of the most intriguing quarterback prospects in the seventh round of the 2013 draft: Zac Dysert.
In theory, this should be no kind of competition; Denver drafted Osweiler much more highly, and he has a year of experience in the system.
These things have a funny way of working out, though. The Green Bay Packers thought they drafted Aaron Rodgers' long-term backup in Brian Brohm, only to have late-round flier Matt Flynn drastically outplay him from the first rookie minicamp.
The winner of this camp battle could become the heir to Peyton Manning's crown.
The Detroit Lions have had only two kickers in my 31-year life: Eddie Murray and Jason Hanson.
With Hanson's retirement, the Lions signed not-much-younger David Akers to stabilize the position, despite him coming off the worst season of his career. Then, the Lions did something a little riskier: They signed Norwegian YouTube kicking sensation Havard "Kickalicious" Rugland.
Though Akers certainly has a, ha ha, leg up in this competition, Rugland is 10 years younger and has a bigger leg. As they're both left-footed, they'll be able to work together with Pro Bowl long snapper Don Muhlbach and fifth-round rookie punter Sam Martin and not have to switch sides.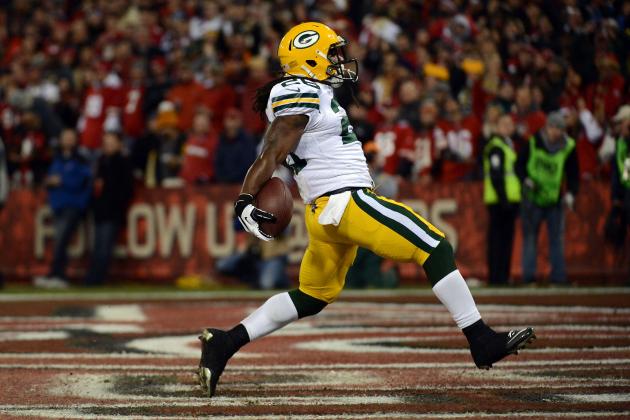 Harry How/Getty Images

Though the unexpected breakout of Green Bay Packers tailback DuJuan Harris was one of the cooler stories of the 2012 stretch run and playoffs, the Packers doubled down on his position in the 2013 draft.
By taking the consensus No. 1 all-around tailback prospect, Eddie Lacy, in the second round, and one of the most productive college tailbacks in the country, Johnathan Franklin, in the fourth, one might think Harris' time as a starter is over.
Don't be sure.
Harris proved his NFL worth when it counted last season, and Lacy and Franklin both have a lot of questions about their next-level game. NFL fans (and fantasy football fanatics) everywhere will watch this one intently.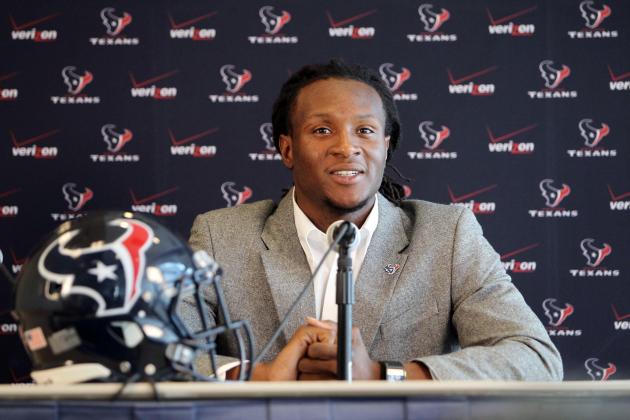 USA TODAY Sports

The Houston Texans' No. 1 receiver spot is set; Andre Johnson has a death grip on it.
After that, things get fuzzy. Clemson wideout DeAndre Hopkins was just drafted to be the No. 2; his size and speed make him a natural fit, unlike slot receiver/returner Keshawn Martin. Lestar Jean also has the size to play outside but lacks Hopkins' speed.
Further complicating matters, DeVier Posey should return at some point this season from an Achilles injury, but when that will be and whether he'll be able to make an impact are unknowns.
If Hopkins doesn't step in and nail down the No. 2 job, the doors at both positions swing wide open.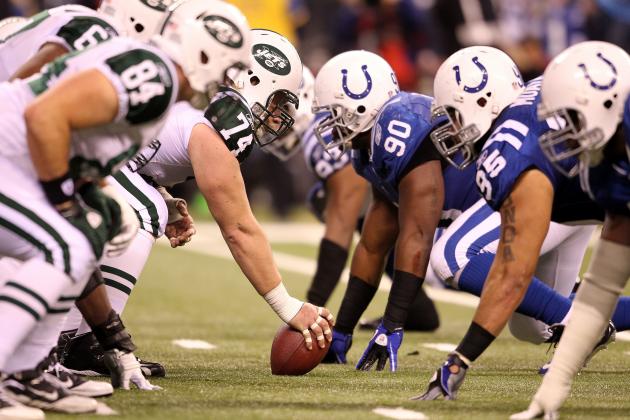 Andy Lyons/Getty Images

Whether protecting Andrew Luck or opening holes for Vick Ballard, the Indianapolis Colts offensive line struggled last season.
Now, overwhelmed starting center Samson Satele will have to fend off a challenge from overlooked rookie center Khaled Holmes, and heralded free-agent signing Donald Thomas will have to prove his mettle over third-round draft pick Hugh Thornton.
It's not inconceivable that Thomas, who can play center, slides over the ball, and Thornton takes over Thomas' left guard spot.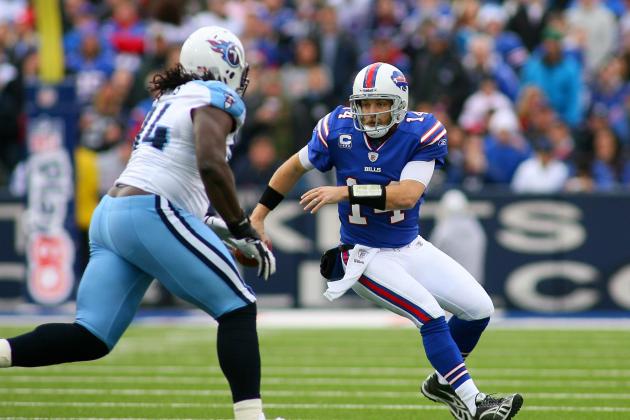 Rick Stewart/Getty Images

Desperate to shore up a defensive line that struggled mightily in 2012, the Jacksonville Jaguars signed both Roy Miller and Sen'Derrick Marks.
Miller, recently of the Tampa Bay Buccaneers, is an adept lane-clogger but doesn't provide much push up the middle in the passing game. Marks, drafted in the second round by the Tennessee Titans in 2009, has plenty of talent—but hasn't been able to turn that into consistent production.
Both will be 26 next season, and both will compete for reps next to Tyson Alualu.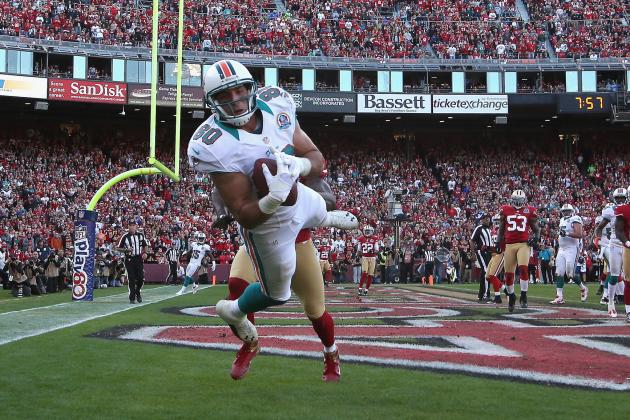 Ezra Shaw/Getty Images

When the Kansas City Chiefs signed veteran tight end Anthony Fasano to a four-year, $16 million deal, it was one of the better pickups of the 2013 free-agency period. Fasano still has plenty of productive years left.
Paired with excellent young tight end Tony Moeaki, Fasano would give new quarterback Alex Smith two sure pairs of hands to help move the chains.
Then the Chiefs drafted Travis Kelce.
Boasting deep speed that let him run a 4.62 40-yard dash, and an insane 37" vertical leap, the 6'5", 255-pound Kelce is a dangerous physical mismatch against almost any defender. If Kelce can pick it up quickly, the Chiefs will have the happy problem of figuring out how all three tight ends can get on the field.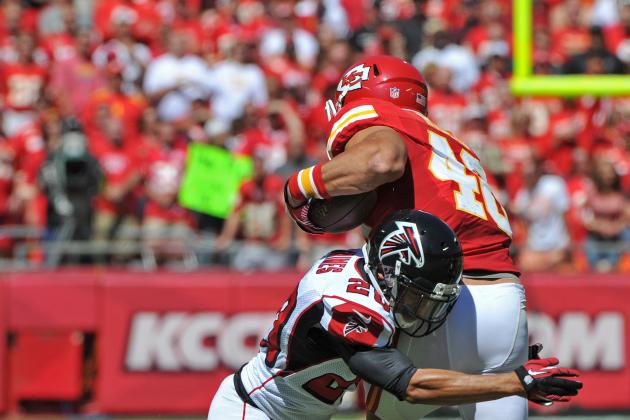 Peter Aiken/Getty Images

Brent Grimes, signed as a free agent by the Miami Dolphins, was thought to be penciled in as the second cornerback across from Richard Marshall. Grimes, though, comes off Achilles tendon repair; whether he can get back to his excellent pre-injury form is unknown.
Then the Dolphins took cornerbacks Jamar Taylor and Will Davis in the second and third rounds of the 2013 draft respectively.
Taylor is by far the more touted prospect; as Davis hails from Utah State, he'll likely need more seasoning before challenging for a starting job. Yet until shells go on this summer, it'll be an open question as to whether Taylor or Davis is more ready to play on Sundays—and if either is more ready than Grimes.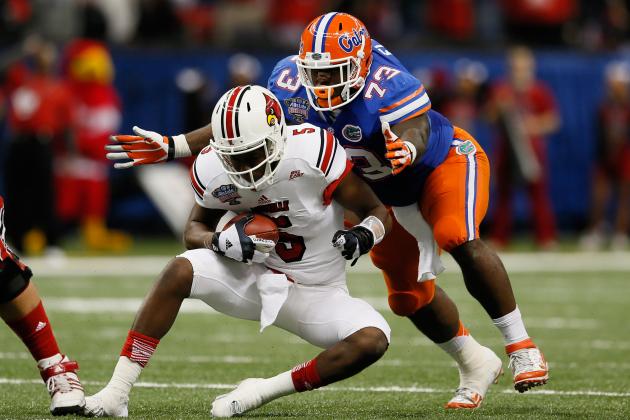 Kevin C. Cox/Getty Images

Of the Minnesota Vikings' three first-round draft picks, Sharrif Floyd is the only one who won't necessarily walk into a starting role.
With longtime standout Kevin Williams playing Floyd's natural role as the pass-rushing 3-technique tackle and Letroy Guion holding down the run-stuffing nose tackle spot, there's nowhere for Floyd to play.
Yet Floyd's talent is too huge to keep on the bench. Where and when he plays—and who sits while he does—will be the subject of great interest this summer.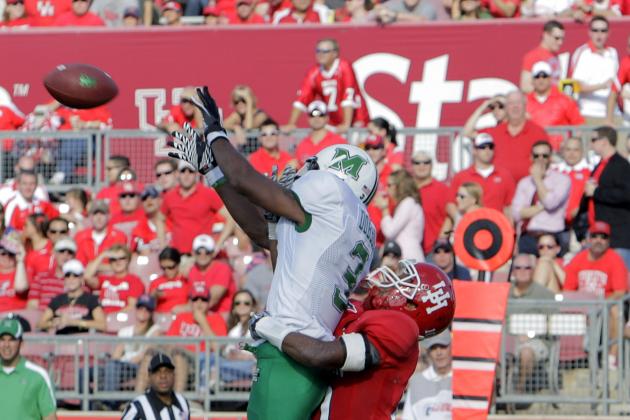 Bob Levey/Getty Images

There's absolutely no question who the New England Patriots' top receiver will be: Danny Amendola, the lavishly-paid wideout signed in the wake of Wes Welker's departure.
After that, things get fuzzy.
Presumably holding down the other spot is fellow free-agent signing Michael Jenkins, but Jenkins had only 40 catches in rotational duty for the Minnesota Vikings last season and will be 31 before the season starts.
Of all the explosive, playmaking receivers available in the 2013 draft class, the Patriots selected Marshall's Aaron Dobson, whose tepid college production (57 catches for 679 yards and three touchdowns in his final season) belie his 6'3", 210-pound frame and 4.37 40-yard dash time speed.
Then again, as measured by STATS LLC via NESN.com, Dobson didn't drop a single one of his 92 targets last season.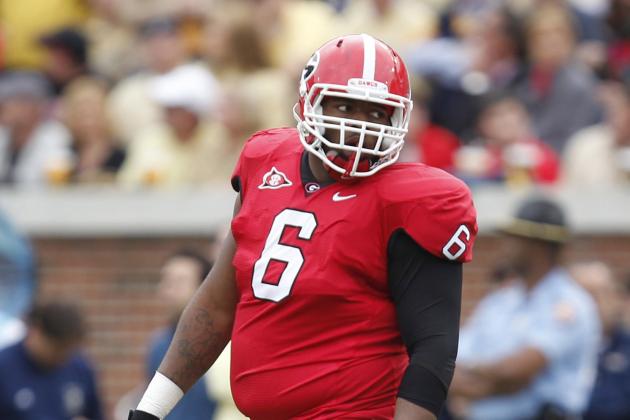 Josh D. Weiss-USA TODAY Sports

The New Orleans Saints allowed more rushing yards than any other team in the NFL in 2012. With new defensive coordinator Rob Ryan charged with beefing up every dimension of the Saints defense, the third-round selection of massive Georgia nose tackle John Jenkins makes perfect sense.
Jenkins, at 6'4", 346 pounds, has the classic wide upper body of a 3-4 interior run-stuffer. However, sometimes he struggles to get low and play with leverage, which is one of the reasons he was still available for the Saints in the third round.
The Saints need Jenkins to reach his upside, and as quickly as possible.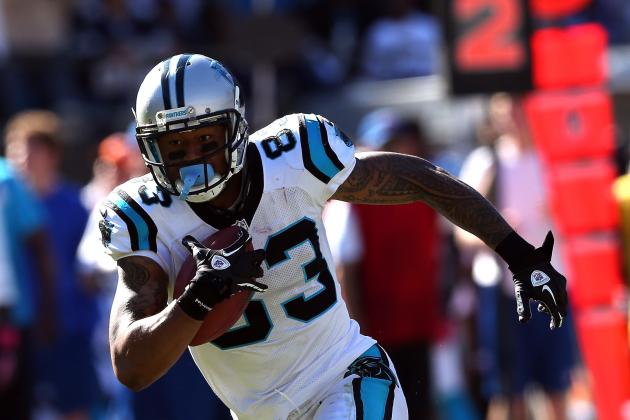 Streeter Lecka/Getty Images

As of right now, Rueben Randle and free-agent signing Louis Murphy are the New York Giants' No. 2 and No. 3 receivers. Whenever the Giants and restricted free agent Victor Cruz work out their differences, Cruz will emphatically take over the No. 2 spot.
The question then becomes, who's No. 3? As Cruz often works out of the slot, it will be up to Randle, the 2012 second-round pick, to show he has what it takes to hold off the new guy on the outside.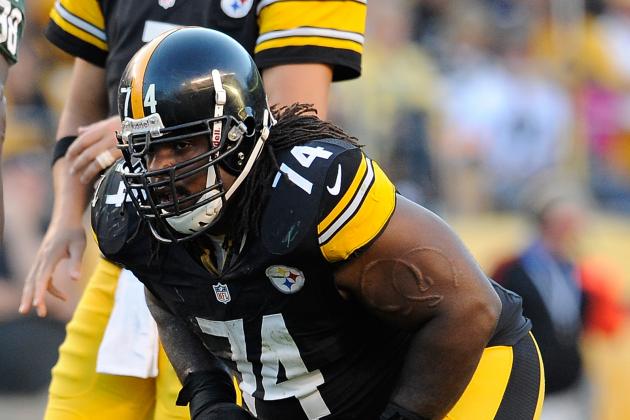 Joe Sargent/Getty Images

Though there may be splashier position battles on the Jets' roster in 2013, there may not be a more important one than at the left guard spot.
The departed Brandon Moore and Matt Slauson made up one of Pro Football Focus' highest-rated guard pairs in 2012 (subscription required). With recent signee Stephen Peterman penciled in at the right guard spot, the left guard spot was presumed to be Willie Colon's.
Colon, arguably the Jets' top free-agent signing in a season that saw a lot more departures than arrivals, will now have to hold off third-round draft pick Brian Winters.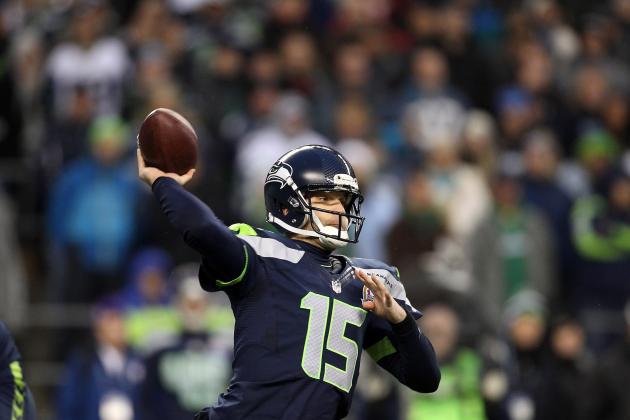 Kevin Casey/Getty Images

When the Raiders shockingly met Cincinnati Bengals owner Mike Brown's ransom demands for the rights to his wayward franchise quarterback, Carson Palmer, it was a head-scratching acquisition.
When Palmer's rocky tenure in Oakland ended a season-and-a-half later with a trade to Arizona, the Raiders faced a bigger talent vacuum at the position than when they started.
Enter Matt Flynn, the quickest-replaced big-money free-agent quarterback in NFL history. Signed by the Seahawks and superseded by third-round rookie Russell Wilson within what seemed like minutes, Flynn still brings almost no NFL regular-season experience to the table.
Former No. 1 overall high school recruit Terrelle Pryor has sat on the bench in Oakland, waiting for an opportunity to make an impact. Whether he's ready to do so—or ever will be—is an open question, but the opportunity is now.
The Raiders also harvested some of the bounty of late-sliding quarterback talent in the 2013 draft, picking up two-year Arkansas Razorbacks starter Tyler Wilson.
It'll be fascinating to watch who emerges from this rugby scrum of a quarterback depth chart.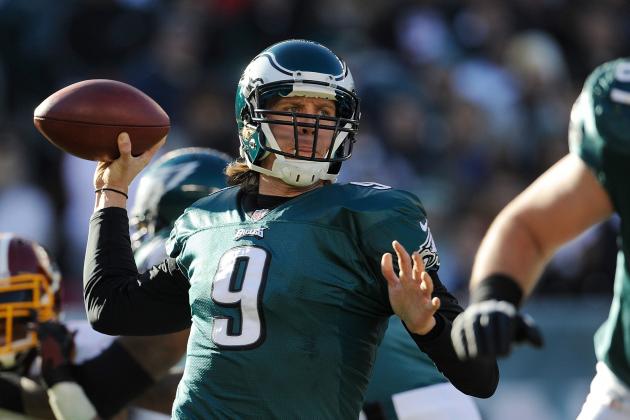 Patrick McDermott/Getty Images

The Philadelphia Eagles' quarterback battle is not only the hottest battle of the season for the Eagles, it's one of the hottest battles in the NFL.
With how much of Chip Kelly's Oregon zone-read offense is set to be used in Philly still unknown, a lot of assumptions have been made about the kind of quarterback Kelly will want to use—chiefly, one who can run.
As Chris Brown of Grantland.com explained, Kelly is right when he says he doesn't need a burner to run his offense, just an accurate passer who's not a liability on the hoof. But he's got one of those in Nick Foles, plus the greatest runner ever to play NFL quarterback in Michael Vick.
Throw Matt Barkley into that mix, and the Eagles' quarterback picture is as clear as mud.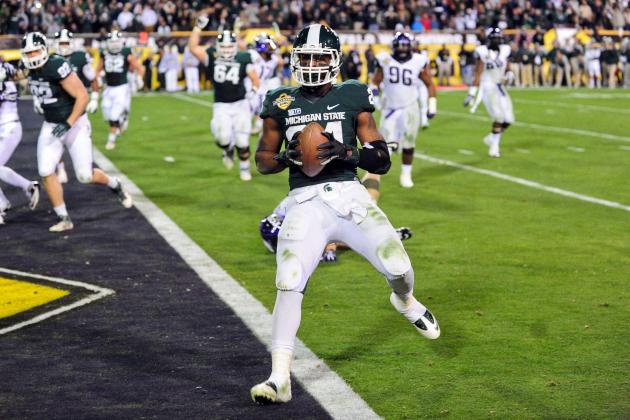 Matt Kartozian-USA TODAY Sports

This is one of those "battles" where the team and coaching staff have a very strong favorite. Bell, the Steelers' second-round pick, is an extremely versatile power back, with great hands and good pass-blocking ability.
His rival for reps, Jonathan Dwyer, is a pure runner in a contract year. Per NFL.com's Daniel Jeremiah, the Steelers tried to deal Dwyer for a pick in the 2013 draft but obviously couldn't.
Yet Dwyer has already gotten it done in the NFL, rushing for 623 yards in spot duty last year, with two 100-plus-yard games to his credit. Bell may be exactly the prospect the Steelers wanted, but he'll have to prove he deserves the job this summer.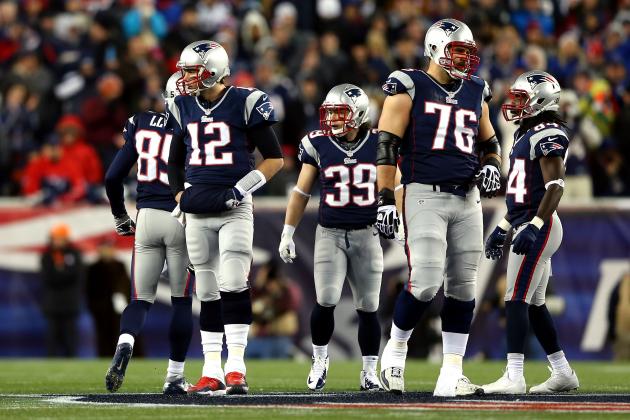 Elsa/Getty Images

Really, the San Diego Chargers' running back battle isn't a "battle." Both Ryan Mathews and free-agent signing Danny Woodhead bring different skills to the table; ideally both will be healthy and productive in different roles.
However, Mathews can't seem to stay healthy or be productive, and Woodhead hasn't really been given the chance to carry a whole team's workload on his small frame. Whoever emerges as the lead dog will have to keep fighting all season to stay in the lead.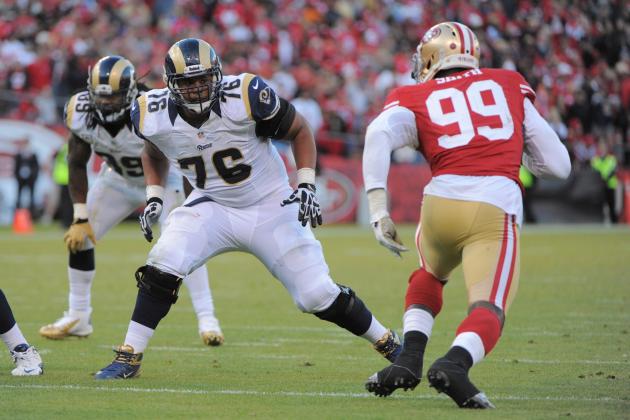 Kyle Terada-USA TODAY Sports

Aldon Smith has been one of the most productive sack artists in the NFL over the past two seasons. However, as the terrifying defensive end in front of him, Justin Smith, has aged, Aldon Smith's effectiveness has slipped.
Aldon Smith relies on power and technique, as well as the offense's fear of Justin Smith, to get to the quarterback. Aldon Smith isn't a blazing corner-turner. Tank Carradine, however, has the explosive athleticism Aldon Smith lacks.
On any other team, Carradine would be tabbed as an instant-impact guy. If he shows well in camp, Jim Harbaugh may have to find a way to put Carradine on the field, regardless of the names above him on the depth chart.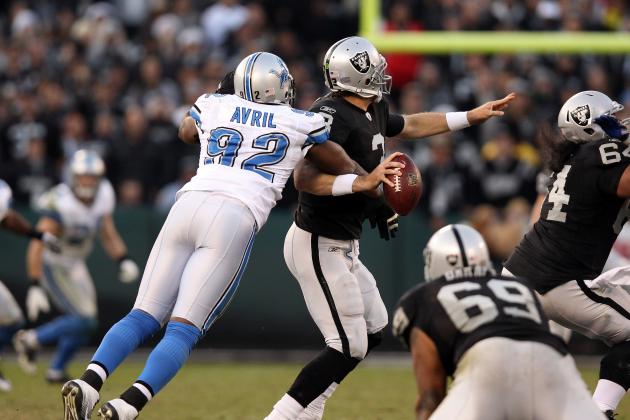 Ezra Shaw/Getty Images

Veteran all-arounder Chris Clemons, inside-outside guy Michael Bennett and pure speed rushers Bruce Irvin and Cliff Avril will all fight for reps at two defensive end spots.
Clemons and Bennett are recovering from injury. Irvin and Avril can be one-dimensional, struggling against the run or to get pressure with inside moves. Bennett can slide inside to DT but likely can't excel against the run there.
Bennett is a young veteran on a one-year deal, and Irvin a first-round draft pick entering his second season. Clemons has been too good, too long, to put on the shelf.
How will this all shake out? How will they divvy up reps? Will there be enough sacks to go around?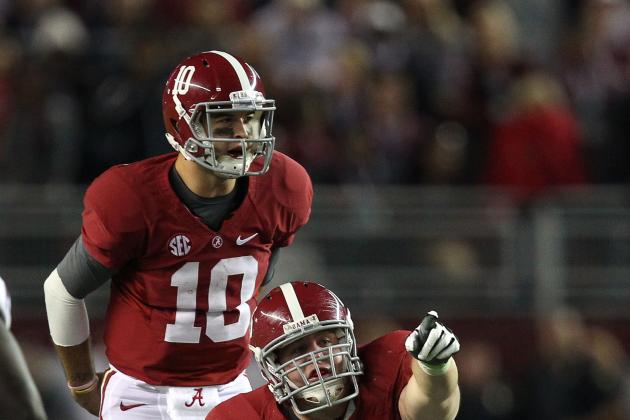 Mike Zarrilli/Getty Images

The St. Louis Rams made one of the shrewder pickups in the draft when they selected Alabama's Barrett Jones.
Jones, who played (and played well) at nearly every spot on the line at the nation's top program, is likely a natural center in the NFL due to a lack of elite size. Still, the 6'4", 306-pounder is as smart and tough as they come and could find a way to bubble up to the top of the Rams' depth chart at any line position not held down by Jake Long.
Kevin C. Cox/Getty Images

Eric Wright was supposed to have this job locked down on a massive free-agent contract. Wright then screwed up big-time, getting popped for PED usage and voiding all of his guarantees. Now he's on a one-year deal, the Bucs have traded for Darrelle Revis and here comes Johnthan Banks.
Banks, the Buccaneers' second-round pick out of Mississippi State, has the talent and athleticism to start right away in the NFL. There's a reason the Bucs offered Wright all that money a year ago, though: When he has his head on straight, he can play at a very high level.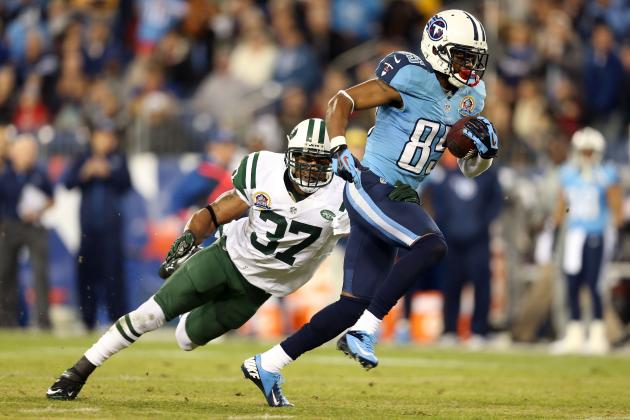 Andy Lyons/Getty Images

Nate Washington has played a lot of games for the Tennessee Titans as a receiver "of the future," or "with upside," or with "great potential." Now approaching his 30th birthday, his future with the Titans is nearly past.
The Titans drafted local boy Justin Hunter in the second round; despite other prospects getting more hype as playmakers, including fellow Volunteer Cordarrelle Patterson, Hunter was a favorite among draft observers as an all-around outside receiver.
The question isn't whether the future belongs to Hunter, but whether that future is now.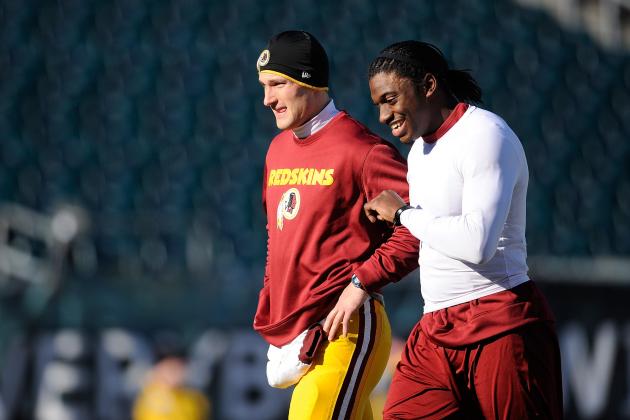 Patrick McDermott/Getty Images

OK, this isn't a battle at all. If Robert Griffin III is able to play, he will play—as evidenced in last year's playoff game against Seattle.
However, whether Griffin can play will be the most-watched story of the offseason...not just in Redskins camp, but in any camp in the NFL.