Ranking the Top 15 Offensive Rookie of the Year Candidates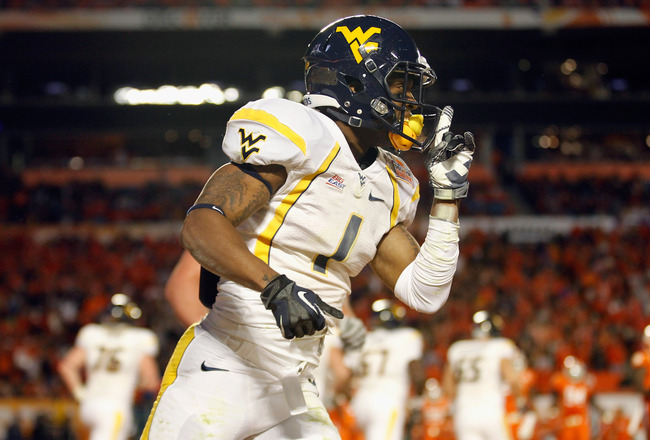 Streeter Lecka/Getty Images
If a quarterback does not win the Offensive Rookie of the Year award in 2013—and the top candidates for the honor won't be signal callers—it will mark just the fourth time since 2004 that a non-quarterback has received the accolade.
Percy Harvin in 2009 was the last non-quarterback to win it, with Adrian Peterson (2007) and Cadillac Williams (2005) joining him since 2004.
Over the last three years, Robert Griffin III (2012), Cam Newton (2011) and Sam Bradford (2010) have taken home the prize. The run for quarterbacks will likely end in 2013.
In the following slides, we'll run down the top candidates for Offensive Rookie of the Year in 2013. The rankings are based on team fit and projected production during next season.
Honorable Mention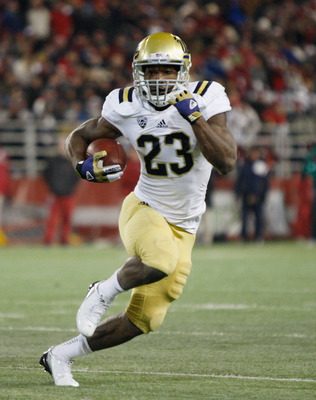 William Mancebo/Getty Images
WR Terrance Williams, Dallas Cowboys
A premier vertical threat with imposing size (6'2"), Williams should carve out an early role in the Cowboys' pass-heavy offense. And if Miles Austin can't stay healthy, he'll have a chance to post big numbers opposite Dez Bryant.
TE Gavin Escobar, Dallas Cowboys
The worry here for Escobar is the depth chart, which will see All-Pro Jason Witten continue on as the starter. But Escobar enters the NFL as the matchup-winning tight end that so many teams want. He'll get a chance to make his mark early.
WR Aaron Dobson, New England Patriots
Can Dobson form a connection with Tom Brady in the Patriots' precision-based offense as a rookie? That's the real question. There's opportunities in New England for a receiver to emerge.
RB Johnathan Franklin, Green Bay Packers
The Packers took Eddie Lacy at the back end of the second round, and he'll be expected to take on a lead role. But if he can't stay healthy—and that's been an issue for Lacy—Franklin has the three-down skills and versatility to be a major weapon in an offense like Green Bay's.
WR Quinton Patton, San Francisco 49ers
Patton in the fourth round was one of the real value picks at the receiver position. While the 49ers have other options at receiver, Patton has a chance to be a contributor early on. He'd likely need an injury to truly compete for the award.
15. TE Zach Ertz, Philadelphia Eagles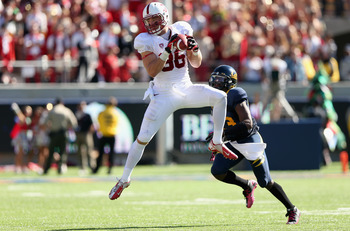 Ezra Shaw/Getty Images
Philadelphia Eagles head coach Chip Kelly got an up-close and personal look at Ertz while at Oregon, and he didn't hesitate to draft the pass-catching tight end with the team's second-round pick.
Standing 6'5", Ertz led Stanford in catches, receiving yards and touchdowns last season.
Why He Could Win
The Eagles are well-stocked at tight end, with veteran Brent Celek (57 catches in 2012), free-agent signing James Casey (34 with Houston) and now Ertz. But with impressive size and fluid athleticism, Ertz will be difficult to keep off the field.
Kelly is bringing his play-calling innovation to the next level, so expect to see a lot of multiple formations and scheme variety.
Much like the New England Patriots do with their tight ends, Philadelphia can employ Casey in an Aaron Hernandez-type role, with Ertz serving as the Eagles' version of Rob Gronkowski. Such a set up should give Ertz chances to put up big numbers.
14. WR Markus Wheaton, Pittsburgh Steelers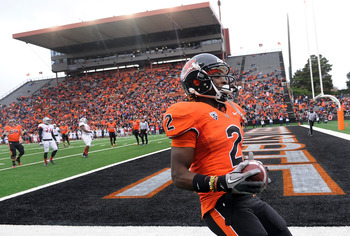 Steve Dykes/Getty Images
Wheaton lasted all the way to No. 79 overall, where the Steelers selected him to help replace departed free-agent receiver Mike Wallace.
As a senior at Oregon State, Wheaton caught 91 passes for 1,244 yards and 11 touchdowns.
Why He Could Win
Despite losing Wallace, the Steelers retain Emmanuel Sanders and Antonio Brown as likely starters. But was there a better player in this draft to replace Wallace with than Wheaton?
A vertical threat in every sense of the word, Wheaton timed out at 4.45 seconds at the NFL combine but still appeared to play much faster on film in Corvallis. He's explosive down the field and can play inside at the slot, giving him a very real opportunity to be a playmaker for the Steelers offense in Year 1.
Wheaton can also contribute on special teams, which would only add to his potential rookie of the year candidacy. Don't sleep on this Wallace clone.
13. QB E.J. Manuel, Buffalo Bills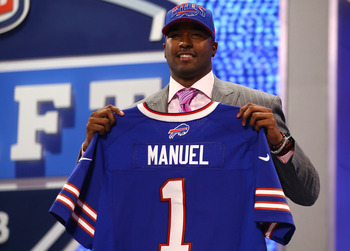 Al Bello/Getty Images
The Bills made one of the draft's early surprises, as they traded down from No. 8 overall and then took Florida State quarterback EJ Manuel eight spots later. Surprisingly, Manuel became the first quarterback off the board.
He threw 41 touchdowns against 18 interceptions during his time in Tallahassee.
Why He Could Win
Unlike a running back, receiver or tight end, a quarterback can completely change the outlook of a franchise overnight. As we've seen over the past few seasons, rookies are capable of providing these dynamic swings in fortunes.
Manuel enters the NFL as more of a project than say, an Andrew Luck or Robert Griffin III, but he'll be given every chance to win the starting job in Buffalo. And if he does, and the Bills play well in 2013, Manuel will receive serious consideration for the award.
Still, we see Manuel as a quarterback who isn't ready to be a savior in Year 1. Maybe down the line, but expecting the next Russell Wilson to re-incarnate in Buffalo next season isn't realistic.
12. QB Geno Smith, New York Jets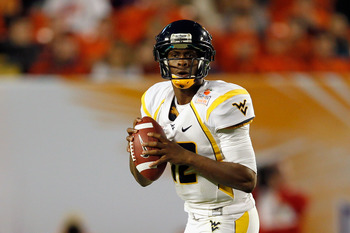 Streeter Lecka/Getty Images
Smith became the green-room version of Aaron Rodgers and Brady Quinn in 2013, but his draft-day fall was much worse. A potential top-5 pick, Smith fell into the second round before the Jets snagged him at No. 39 overall.
In his final season at West Virginia, Smith completed almost 72 percent of his passes with 42 touchdowns.
Why He Could Win
Can you imagine if Smith won the starting quarterback job over Mark Sanchez, proved all his naysayers wrong and led the Jets from the laughing stock circus they were in 2012 to a potential playoff spot in 2013? He'd be worshipped in the Big Apple.
Of course, that's an unlikely scenario, especially with talent lacking on the offensive side of the football in New York.
But I certainly won't count out Smith to win the job to start 2013, for no other reason than Sanchez isn't a starting-caliber quarterback and desperately needs to be replaced. Smith is NFL-ready in terms of his size and arm, and he could be a candidate to learn on the job.
11. WR Keenan Allen, San Diego Chargers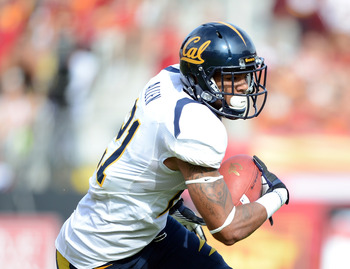 Harry How/Getty Images
Widely regarded as one of the top receiver prospects in the 2013 class, Allen fell into the third round because of worries about his still-healing knee. The Chargers ended his slide at No. 76 overall.
He enters the NFL as Cal's all-time leader in receptions.
Why He Could Win
The talent is certainly there for Allen, who is a sizable target (6'2") with big, soft hands and the ability to both run clean routes and make yards after the catch.
Once his knee is 100 percent, expect Allen and his diverse skill set to compete to start in San Diego. And even if he doesn't win a starting job opposite Danario Alexander outside, the Chargers can slide Allen inside and have him work the slot right away.
Allen should become an instant favorite of quarterback Philip Rivers, who posted his lowest yards per attempt average of his career in 2013. The Chargers need to be better throwing the football next season to compete in the AFC West.
10. WR Justin Hunter, Tennessee Titans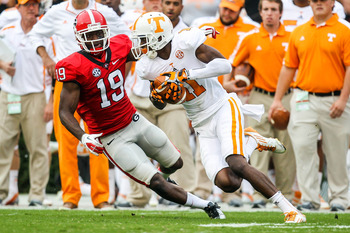 Daniel Shirey-USA TODAY Sports
When Hunter fell to No. 34 overall, the Titans aggressively moved up to get the play-making receiver. At the top of the second round, Tennessee moved two 2013 picks and a third-rounder in 2014 to ensure Hunter would be a Titan.
He caught 106 passes for 1,812 yards and 18 touchdowns at Tennessee.
Why He Could Win
The Titans committed their offseason to getting better offensively. Not only should the running game be better with two new premier guards, but the physically gifted Hunter also provides a very nice third option for quarterback Jake Locker, who is entering a make-or-break season.
In traditional three-receiver sets, the Titans can now employ Hunter and Kenny Britt on the boundaries and Kendall Wright inside, and feel very confident that one of the three will win his matchup.
By season's end, Hunter could actually be the receiver who is making the biggest impact. His size, explosion and play-making ability are all NFL-ready. Locker's struggles and the presence of Wright and Britt hurt his chances of being a big-time producer, but don't count Hunter out of this race.
9. TE Tyler Eifert, Cincinnati Bengals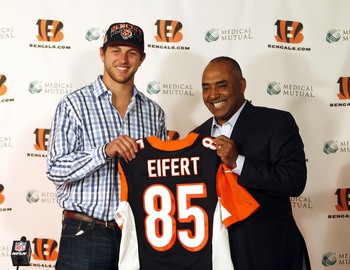 Frank Victores-USA TODAY Sports
The Bengals probably didn't expect Eifert—the draft's top tight end—to be available at No. 21 overall. But when he was, Cincinnati couldn't pass on adding the dynamic pass-catcher.
The 6'6" Eifert caught 140 passes for 1,840 yards and 11 touchdowns at Notre Dame.
Why He Could Win
There's no question that Eifert's selection showed an unhappiness with Jermaine Gresham, Cincinnati's 2012 starter at tight end and a former first-round pick. It wouldn't be at all suprising if Eifert stole a large quantity of Gresham's opportunities next season, especially on passing downs.
If the Bengals do afford Eifert such a chance, he could really put up some impressive numbers. The Bengals already possess one of the game's elite receivers in A.J. Green, who demands double teams from safeties on almost every snap. Eifert might be the perfect tight end to expose singe-coverage matchups either inside at tight end or split out wide in multiple sets.
Eifert has plenty of competition for targets in Cincinnati, but he's talented enough to provide Andy Dalton with a reliable target right away in 2013. He could catch 10 touchdowns.
8. RB Giovani Bernard, Cincinnati Bengals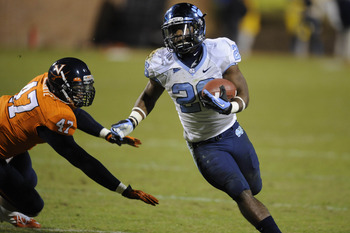 Rafael Suanes-USA TODAY Sports
Think the Bengals were serious about upgrading their offense around Andy Dalton? Just 13 picks after taking Eifert, Cincinnati snagged UNC's dynamo back Gio Bernard.
Over 423 carries in Chapel Hill, Bernard rushed for 2,481 yards and 25 touchdowns.
Why He Could Win
Last season's starter BenJarvus Green-Ellis remains, but Bernand is coming to take a large portion of his looks away. Or at least he should.
A flashy runner with an ability to make an immediate impact in both the passing game and as a returner, Bernard is the kind of first-year player the Bengals won't be able to keep off the field.
The Lawfirm rushed for 1,000 yards last season, but that won't be happening in 2013. Bernard could legitimately rack up close to 200 total touches next season as a rookie. He'll produce with that kind of role.
7. RB Montee Ball, Denver Broncos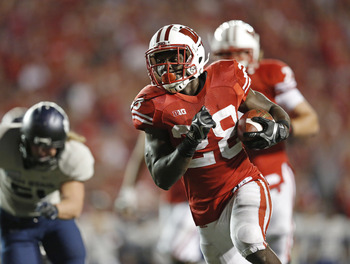 Tom Lynn/Getty Images
One of the most productive collegiate running backs in history, Ball totaled an NCAA-record 83 touchdowns over four years at Wisconsin. His lack of an elite skill dropped him to No. 58, where the Broncos made him their second-round pick.
Ball rushed 924 times for 5,140 yards and 77 rushing touchdowns in Madison.
Why He Could Win
The Broncos are likely turning over lead-back duties to Ball, who will eventually replace the veteran Willis McGahee. While 2012 third-round pick Ronnie Hillman remains, Ball should be expected to take over most of McGahee's touches next season.
If that's truly the case, Ball will be a back to watch.
Despite being 31 years old , McGahee produced 953 total yards in 10 games for Denver last season. A fresher, more versatile Ball could put up similar per-game numbers as Peyton Manning's top running back in 2013.
6. WR Robert Woods, Buffalo Bills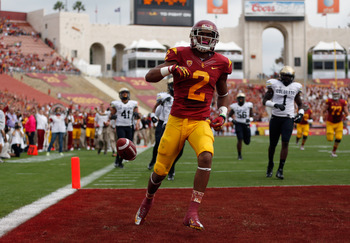 Jeff Gross/Getty Images
One of the more underrated receivers in the 2013 class, Woods lasted until the 43rd pick before the Bills took him off the board. At 6'0" and 200 pounds, Woods caught 111 passes as a sophomore in USC's offense.
He also hauled in 22 touchdowns over his final two seasons as a Trojan.
Why He Could Win
Expect Woods' production to translate to the NFL level, especially if given the kind of opportunities he'll likely to see in Buffalo. With very little proven talent behind Stevie Johnson, Woods could quickly become a top target in the Bills' offense.
Of course, the major worry with Woods starts and ends at the quarterback position in Buffalo. But an accomplished intermediate receiver like Woods can still produce with either Kevin Kolb or EJ Manuel under center.
There aren't many sure-fire starting receivers in this class, but Woods appears to be one of them. He should be a high-volume pass catcher if given the chance.
5. RB Le'Veon Bell, Pittsburgh Steelers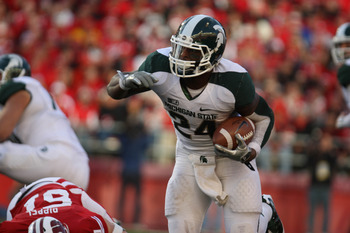 Mary Langenfeld-USA TODAY Sports
Somewhat surprisingly, Bell became the second running back off the board when the Steelers snagged him at No. 48 overall. But with impressive size (6'1", 230 pounds) and the ability to both carry 25 times and catch the football, Bell arrives with an NFL-ready game.
He carried 671 times for 3,346 yards and 33 touchdowns at Michigan State.
Why He Could Win
Bell should be an immediate starter. Jonathan Dwyer and Isaac Redman remain on the roster, but Bell is a better overall player than both running backs and should win the starting job before Week 1.
The Steelers will like his ability to pound the rock inside 20-25 times a game, but it's his pass-catching experience that really gives Bell a chance to click during his rookie season.
Remember, Bell caught 78 passes for Michigan State and looked like a natural doing it. In Todd Haley's offense, such a skill is a must.
If Bell can win a starting spot early, there's no reason to think he can't hit 1,200 all-purpose yards and double-digit total touchdowns as a rookie.
4. WR Cordarrelle Patterson, Minnesota Vikings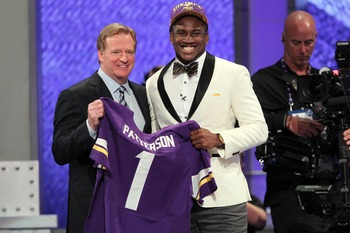 Brad Penner-USA TODAY Sports
The Vikings capped off their ridiculous first-round haul by moving back into the top 32 picks and snagging Patterson, who some claimed to be the first or second-best receiver in the 2013 class. At No. 29, Minnesota picked the raw but explosive pass catcher.
In his one Division I season, Patterson set Tennessee's single-season record for all-purpose yards.
Why He Could Win
HIs critics will claim Patterson is a raw receiver with limited route-running chops. Maybe that's true. But if there's any team that knows how to manufacture production for a receiver, it's the Vikings.
Minnesota turned Percy Harvin into a multi-dimensional threat at the next level, and he won the 2009 Offensive Rookie of the Year despite still raw offensive talents. The Vikings can do the same for Patterson.
An explosive all-around athlete who can win vertically and after the catch, Patterson projects as an immediate starter opposite Greg Jennings and as the potential answer to Harvin's departure as a returner and occasional ball-carrier.
You can bank on Minnesota having a plan to use a special talent like Patterson. If he stays healthy, he could take the league by storm as a rookie.
3. RB Eddie Lacy, Green Bay Packers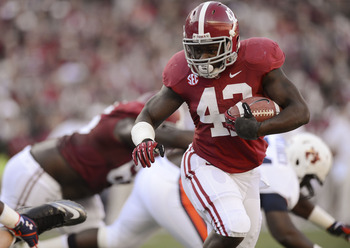 John David Mercer-USA TODAY Sports
The Packers must have been surprised when Lacy was still on the board, both at No. 55 overall and again at No. 61 after the team traded down. With a second opportunity to add the workhorse back, the Packers pounced.
As Alabama's lead back in 2012, Lacy rushed for 1,322 yards and 17 touchdowns.
Why He Could Win
What a perfect situation for Lacy to fall into.
Not only do the Packers run a zone-read scheme—which fits Lacy's one-cut and go style—but he's entering an offense led by Aaron Rodgers and one of the game's better passing games. No offense saw more double-high safety looks than the Packers last season, and Lacy should feel confident in his ability to punish such a front.
The presence of both Johnathan Franklin and DuJuan Harris may limit this total touches, but the Packers didn't draft him in the second round not to be the lead back. He'll get three-down looks, including in the passing game.
If Lacy stays healthy, he has an opportunity to make the kind of instant impact few other rookies have in this class. The Packers could be scary with him on board.
2. WR DeAndre Hopkins, Houston Texans
USA TODAY Sports
Lacking a second receiver behind Andre Johnson for the better part of a decade, the Texans decided to spend their first round pick on Hopkins. The No. 27 overall pick, Hopkins brings an NFL-ready game to an offense already well-stocked at other positions.
In his final season at Clemson, Hopkins caught 82 passes for 1,405 yards and 18 touchdowns.
Why He Could Win
You wonder how Hopkins won't be super productive with the Texans as a rookie.
While not an athletically dominant receiver, Hopkins does possess a big frame, polished route-running and quite possibly the best hands in the class. Playing alongside Johnson should ensure he's receiving favorable matchups on most downs.
The Texans finally made it a priority to give Johnson some help. Expect it to pay off immediately. Hopkins is pro-ready and plenty capable of being a dominant player in the Houston offense in Year 1.
1. WR Tavon Austin, St. Louis Rams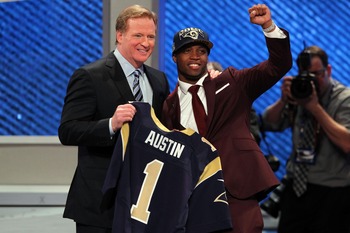 Brad Penner-USA TODAY Sports
By the end of the draft process, Austin had cemented his status as the best offensive skill position player in the 2013 class. The Rams smartly moved up to No. 8 to give quarterback Sam Bradford a game-changing playmaker who can line up at several positions.
In just his junior and senior seasons, Austin racked up more than 3,300 yards from scrimmage and 24 touchdowns.
Why He Could Win
Only an injury to the 174-pound do-it-all will keep him from leading the pack for this award.
Despite his size, Austin can line up in the slot, running back and returner, and still light up the scoreboard doing any of the three. At West Virginia, Austin scored a total of 40 touchdowns (29 receiving, six rushing, five returning).
Austin could easily lead the Rams in total targets next season, while also receiving looks in the backfield and returning both kicks and punts. The sky is the limit for such a versatile and explosive player in the wide-open professional game.
Keep Reading