The Biggest Steals from Day 2 of the 2013 NFL Draft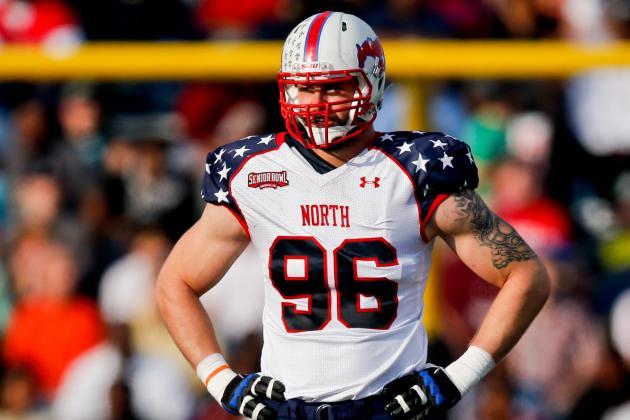 Derick E. Hingle-USA TODAY Sports

When you think about how many players are drafted over the course of seven rounds, it's a given that not every player will make an impact. Some won't even make it to the beginning of the season, others will be career backups and only a handful will go on to be Pro Bowl-caliber players.
It's a myth that all All-Pro and Pro Bowl players are drafted in the first round. If this was the case, no general manager would ever lose his job, which is why good GMs know how to find talent in every round.
The best kind of talent to find in the draft are the "steals." Players drop every year for numerous reasons. Some have undisclosed medical red flags, concerning off-the-field problems or were a product of media hype.
Whatever the reason, top-notch organizations capitalize on certain players being under drafted and turn them into superstars. Making front office executives of other organizations look foolish in the process.
Let's take a look at seven of the biggest "steals" from Day 2 of the 2013 NFL draft.
Begin Slideshow

»
Even at No. 13, one would have to think the New York Jets were interested in West Virginia quarterback Geno Smith. Most believed Smith would be a top-10 pick based on the multitude of positive reports from around the league prior to the draft.
Fortunately for the Jets, they were able to select two defensive players in Round 1 and still draft Smith with the 39th pick. The 6'3", 220-pound quarterback will come and compete with Mark Sanchez for the starting job immediately.
New York and the rest of the nation knows how futile Sanchez's play is, so it wouldn't come as a shock if Smith became the starter on opening day. Even if he doesn't start right away, the odds are in his favor because Sanchez will struggle for a long streak during the season. He does every year.
That will be Smith's calling card. He could capitalize on Sanchez's struggles and take over as the starter midseason.
Surely he's disappointed he didn't go in Round 1, but this may end up being the best situation regardless of draft position.
Drafted: Round 2, Pick 39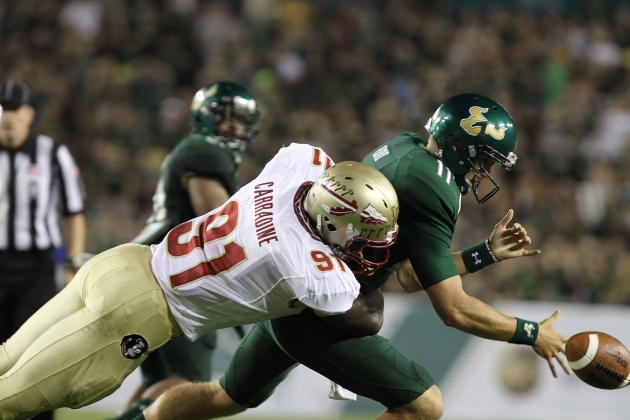 Kim Klement-USA TODAY Sports

If it hadn't been for a late-season ACL injury at Florida State, Cornellius "Tank" Carradine would have been a surefire first-round pick. Shoot, some analysts believed he could have snuck his way into the first round despite the knee injury.
Obviously general manager Trent Baalke and head coach Jim Harbaugh felt comfortable with the state of Carradine's knee, making it an easy decision at No. 40 overall. In a 3-4, he should find playing time at both defensive end spots.
When his knee is 100 percent healthy, it wouldn't surprise me if defensive coordinator Vic Fangio started toying with the idea of using him as a stand-up rusher. Some believe that may even be his best role, so he could eventually blossom into it.
He won't beat out Aldon Smith at right outside linebacker, so for now and the foreseeable future, he will be a role player at best. Yet as we all know, it's never a bad thing to have too much talent.
Drafted: Round 2, Pick 40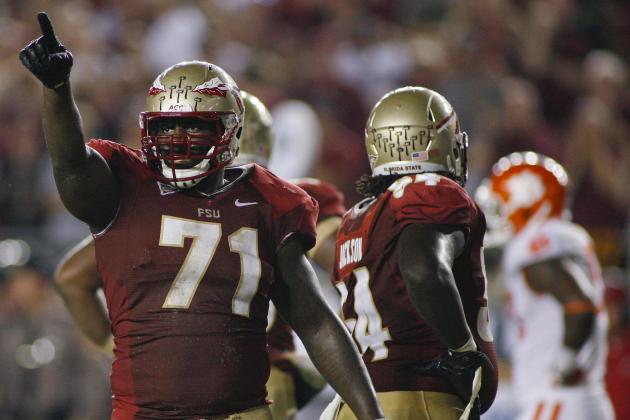 TurnOnTheJets.com
Despite only playing one year of Division I football, Florida State offensive tackle Menelik Watson was out to prove he was worthy of a Day 1 selection. Even though his mission to first-round greatness didn't happen, he did go early on Day 2 and found a nice landing spot in Oakland.
Watson goes to a Raiders team that is desperate for offensive line help. Currently, their starters at tackle are Jared Veldheer and Khalif Barnes. Veldheer will continue to man the left tackle position, while the former collegiate basketball star from the United Kingdom will push Barnes at right tackle.
The analysts at Pro Football Focus had Barnes as a below-average run blocker and a below-average pass blocker. He allowed four quarterback sacks, three quarterback hits and 17 quarterback hurries in 356 pass blocking attempts.
Watson has huge upside and will continue to gain a better grasp of the game as he matures. Even if he doesn't start on Day 1, I guarantee he will find his way onto the field in 2013. He has too much physical talent not too.
Drafted: Round 2, Pick 42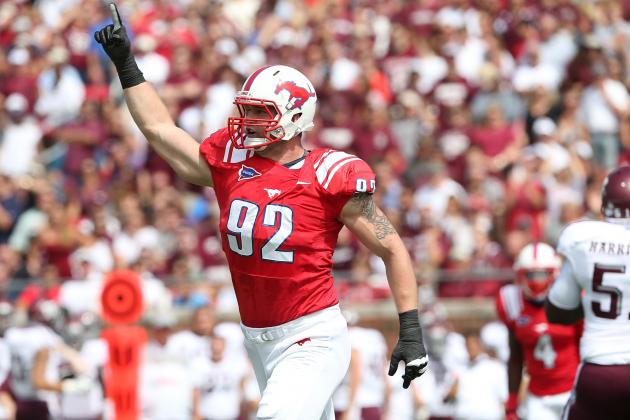 Ronald Martinez/Getty Images

Ever since the NFL Scouting Combine, fans and media members alike felt SMU defensive lineman Margus Hunt would land on his feet in San Francisco. This could have been the case if Hunt had been available at No. 55, but Cincinnati didn't give the Estonian-born athlete the opportunity to fall that far.
They snatched him up with the 53rd selection. Despite having Carlos Dunlap, Michael Johnson and Robert Geathers at defensive end already, the Bengals felt Hunt would give their defense more flexibility and athleticism all the way around.
Hunt won't start right away, but he will instantly become a sub-package player. I could see the Bengals using him at defensive tackle in pass-rushing situations. Sitting and learning for a couple of years behind the slew of talented defensive linemen the Bengals have is ideal.
He's raw and he doesn't have a whole lot of football experience under his belt. Yet with the correct coaching, he will be meeting quarterbacks in the backfield before you know it.
Drafted: Round 2, Pick 53
Prior to the draft, there had been some chatter regarding running back Eddie Lacy and the Green Bay Packers. Everyone knew the Packers would be looking for a running back, but no one believed they would spend a first-round pick on one.
So, the Alabama Crimson Tide running back appeared to be out of the picture. The consensus was that Lacy would be the first back off the board, and he wouldn't be available after the Bengals picked at No. 37.
Unfortunately for Lacy, he wasn't the first running back off the board, and three other running backs were selected ahead of him. This, in turn, caused the Packers to race to the podium with their selection card in hand.
Based on his physical prowess and production in college, Lacy has the opportunity to push James Starks for the starting running back job.
Drafted: Round 2, Pick 61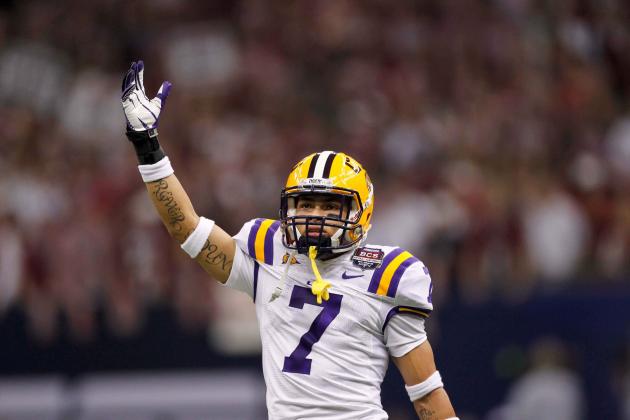 Derick E. Hingle-USA TODAY Sports

It's no secret that LSU cornerback Tyrann Mathieu is one of the draft's most talked about prospects. His high level of play at LSU and his off-the-field drug problems had the entire draft community buzzing. People wanted to know which team he was going to be playing for in 2013.
Draftniks and talent evaluators had him going at the end of Round 2 or early on in Round 3. Arizona called his name with the 69th pick and ended any speculation as to where he may wind up.
After the NFL Scouting Combine, teams like San Francisco and Seattle were being thrown around as potential suitors, but the Cardinals made sure the 49ers and Seahawks didn't have a chance at getting him.
Mathieu appeared to be consumed by emotion after being selected.
Honestly, he had every right to be. If he wouldn't have gotten kicked off the LSU football team, he would have had the opportunity to solidify his draft stock even more in 2012. He's lucky to go as high as he did. The off-the-field problems could have been more of a deterrent to teams than they were.
The "Honey Badger" is best suited for duty in the slot. His playmaking ability upgrades Arizona's secondary immediately.
Drafted: Round 3, Pick 69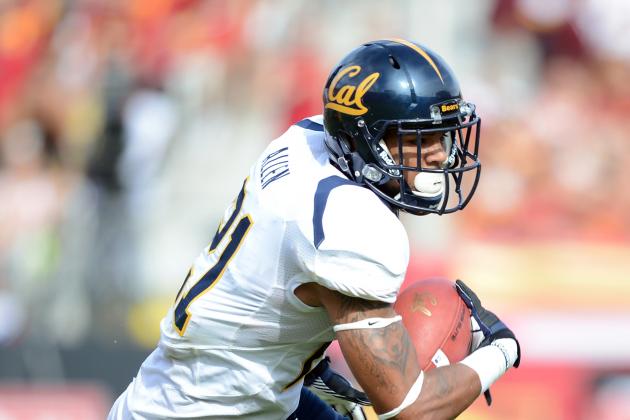 Harry How/Getty Images

The San Diego Chargers got the offensive line help they needed in the first round after selecting D.J. Fluker. Then, in the second round, they came back and drafted their middle linebacker of the immediate future in Manti Te'o. Finally, in the third round, they selected a playmaker who can vertically stress a defense.
The Round 3 fall was odd for Keenan Allen.
For months and months, experts had him pegged as a Day 1 pick. It just goes to show what a couple of knee surgeries can do to a player's draft stock. Allen missed the NFL Scouting Combine because of his troublesome knees, and he ran poorly at his pro day because of it.
It makes you wonder how healthy he is. A player who is expected to go in the first round doesn't just fall two rounds because of a minor knee injury.
However, that doesn't mean he won't make a full recovery. Odds are, he will, and he will push for playing time at the right wide receiver position. That spot is currently manned by Danario Alexander, yet it's unlikely he holds up as a full-time player.
According to Scott Bair of utsandiego.com, Alexander has had five knee operations of his own.
Drafted: Round 3, Pick 76