Bengals 2013 Draft Picks: Results, Analysis and Grades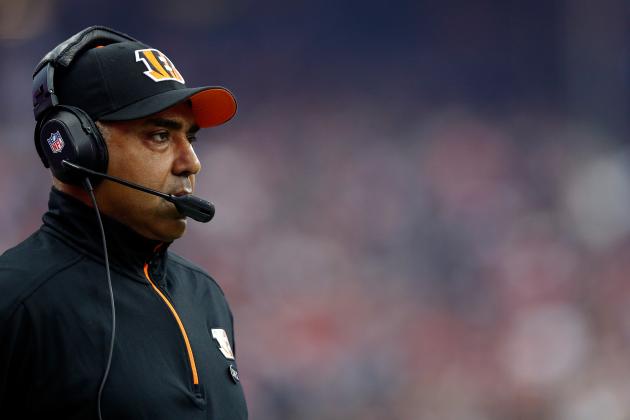 Scott Halleran/Getty Images

The Cincinnati Bengals enter the 2013 NFL draft with 10 selections, which the team hopes to flip into an AFC North crown and a third-straight playoff appearance next year.
Cincinnati is in an enviable situation with not many major holes to fill. There are obvious areas that could use improving such as at running back, linebacker and safety, not to mention a massive void at offensive tackle if Andre Smith does not re-sign.
Head coach Marvin Lewis and Co. have shown a penchant for selecting solid draft classes the past few seasons. Now officially out of a rebuilding mode, expect a few surprises.
Throughout the draft this slideshow will be updated with the newest members of the Bengals, along with analysis and grades of each pick.
Until the draft kicks off, let's take a look at a few prospects the Bengals could target in Round 1.
Begin Slideshow

»
In a shocking turn of events, the Cincinnati Bengals made Notre Dame tight end Tyler Eifert the No. 21 overall selection in the draft.
It's a shocking selection because the Bengals already have a Pro-Bowl tight end in Jermaine Gresham on the roster.
With Eifert coming to town, the Cincinnati offense just got much, much better.
Eifert is a monster at 6'6" and 250 pounds who catches anything thrown his way. His addition means the Bengals can run two tight end sets with Eifert and Gresham in a similar manner as to what the New England Patriots do with Aaron Hernandez and Rob Gronkowski.
In the redzone, the combo of Eifert and Gresham is going to cause some serious issues for defenses.
All of this goes without mentioning elite wide receiver A.J. Green, who will now see less coverage as defenses have to deal with pass-catching threats out of the tight end slot in Gresham and Eifert.
All in all, this pick is as good as it gets. Eifert was the best player available by a mile.
Grade: A+
The Cincinnati Bengals made Giovani Bernard out of North Carolina the No. 37 overall pick thanks to the trade that shipped disgruntled quarterback Carson Palmer to the Oakland Raiders two offseasons ago.
Now everything has come full circle, and the Bengals may have a franchise running back in Bernard.
The Cincinnati running game was part of the reason Cincinnati failed to win a playoff contest last season. BenJarvus Green-Ellis was elite in short-yardage situations, but he simply is not the kind of back to keep defenses honest and free up guys like A.J. Green in the passing game.
Bernard is a shifty back who fits offensive coordinator Jay Gruden's offense perfectly. He can run tough between the tackles, but excels at catching the ball out of the backfield.
Not only is Bernard a great threat on the ground, he gives quarterback Andy Dalton his first reliable target at the position during his time in the NFL.
Cincinnati was the first team in the NFL to take a running back this year, and they happened to make the right choice based on their needs. That's nothing but a perfect mark in our book.
Grade: A+
What can you say? The Cincinnati Bengals under defensive coordinator Mike Zimmer absolutely love having a ridiculously deep rotation along the defensive line.
SMU's Margus Hunt only adds to that rotation.
Hunt is a rare athlete at 6'8" and 277 pounds who is a a gold medal-winning track and field contestant before picking up a helmet and cleats back in 2009.
Now, Hunt joins the Bengals and gives them yet another outstanding pass-rusher to plug into its relentless attack. There's Geno Atkins, Carlos Dunlap, Michael Johnson, Wallace Gilberry and now Hunt, who all excel at getting to the passer.
Hunt has rare strength that allows him to bull-rush offensive linemen right into the passer, but he also has the finesse to get around less athletic blockers.
The only downside is Hunt displayed a questionable motor in college, but his unlimited upside with only a few years playing the sport makes this another great pick for the Bengals.
Grade B+
The third round may turn out to be where the Cincinnati Bengals made their first mistake of the draft after having a shocking good first three picks in the top two rounds.
With the No. 84 overall pick, Cincinnati selected Georgia safety Shawn Williams.
Make no mistake, Williams is not a bad player by any means. There were just arguably better options available. According to CBS, Georgia's Bacarri Rambo and South Carolina's D.J. Swearinger are higher ranked prospects and were still on the board when Cincinnati picked Williams.
That said, Williams may fit exactly what the Bengals are looking for at the strong safety position next to Reggie Nelson. He's a big defensive back at 6'0" and 213 pounds and is an absolute monster against the run.
Williams does not have the speed to play the pass exceptionally well, but it does not look like the Bengals intend to use him that way anyway.
Overall, a pretty nice pickup here.
Grade: C+
With so many needs already adequately addressed through the first three rounds, the Bengals had some flexibility to add to a lesser need in here in the fourth round—depth at the linebacker spot.
Cincinnati made Sean Porter out of Texas A&M the pick at No. 118 overall, and for good reason.
Porter is an athletic linebacker who followed in the footsteps of a man named Von Miller for the Aggies. He's not a game-changing pass-rusher as Miller was, but he is a solid weak-side linebacker prospect.
As of now, the Benglas have Vontaze Burfict as the starter on the weak side. James Harrison has an undefined role, but could be gone sooner rather than later given his age.
In terms of value, this is right where most projected Porter to go. He'll come in and have an immediate impact on special teams and could potentially be groomed into the starting weak-side linebacker of the future.
Grade: B
It's no secret the Cincinnati Bengals needed more quality depth along the offensive line, even with Andre Smith coming back.
That said, Cincinnati may have been able to find more value here.
With the No. 156 overall pick, the Bengals made Kansas product Tanner Hawkinson the selection.
It's a head-scratching pick for Cincinnati because Hawkinson figures to have been available in the next to rounds. Talents such as Ohio State's Reid Fragel and San Jose State's David Quessenberry were still on the board and projected to have more of an immediate impact.
Hawkinson is not a horrible prospect. In fact, the Bengals probably love him because of his versatility to back up both the guards and center position at the NFL level. It's just going to take quite some time for him to develop into a starting-caliber player.
The value here is horrid, and for that it's hard to give the Bengals a great grade.
Grade: D
Cincinnati entered the sixth round with two picks and not many needs to fill, so the selection of Nebraska running back Rex Burkhead makes a lot of sense.
Yes, the team already found a potential franchise running back in the second round with Giovani Bernard, but that does not mean the team should continue to ignore the position.
In fact, the Bengals had a slight need at the position still with former third-down extraordinaire Brian Leonard now a member of the Tampa Bay Buccaneers.
Burkhead is a virtual clone of Leonard in that he does not have elite speed, but he has great hands and a knack for making the big play when his team needs it most.
All in all, not a horrible value pick at this point in the draft, especially with another selection coming up in seven picks.
Grade: A
With the second of two picks in the sixth round, the Cincinnati Bengals shocked no fans when finally deciding to dip into the wide receiver pool.
The choice ended up being Arkansas product Cobi Hamilton with the No. 197 overall pick.
Hamilton is a shifty receiver with one speed who lets contact disrupt his ability to bring in the football, but when he is in space he can be tough to track and actually bring down.
The Arkansas play-maker joins a deep class of receivers for the Bengals, including two second-year players trying to find their roles in Mohamed Sanu and Marvin Jones. Hamilton joins the bunch as an outside shot to make the roster if he can show enough in training camp.
Not a horrible pick by any means, especially when a pick this late has proven to make an impact and appears at least somewhat coachable.
Grade: B
If you have been paying attention to our grades thus far, we considered the offensive lineman the Cincinnati Bengals selected in the fifth round to be a mistake because Ohio State's Reid Fragel was still on the board at the time.
Now, Fragel is a the newest member of the team courtesy of the No. 240 overall pick.
To be fair, Fragel is ranked above most, including fifth-round pick Tanner Hawkinson, and Fragel was slotted by most (such as CBS) to be off the board in the fourth round.
But enough defending ourselves. Instead, let's focus on what an amazing pick this is for the Bengals with a compensatory selection.
Fragel is a converted tight end who excelled once tasked with taking on the offensive tackle position at OSU. He is a work in progress, but one who could ultimately turn in to a starter sooner rather than later.
That's an amazing pick in Round 7.
Grade: A+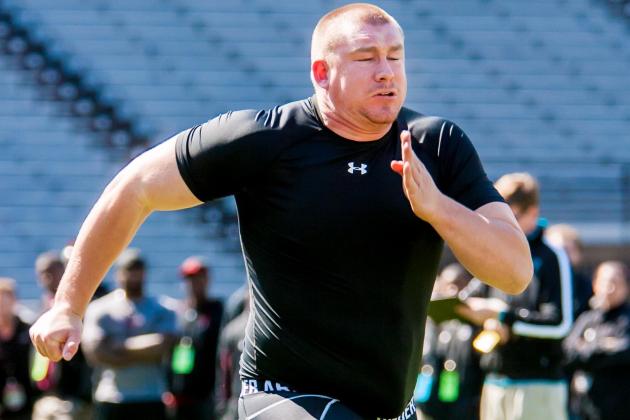 Jeff Blake-USA TODAY Sports

The Cincinnati Bengals selected their own Mr. Irrelevant just a few picks away from the real thing thanks to a compensatory selection at No. 251. overall.
With the pick, the Bengals scooped up South Carolina center T.J. Johnson.
Johnson does not do one thing particularly well, but he is one of the guys who has paved the way for running back Marcus Lattimore over the years.
Head coach Marvin Lewis was in attendance at South Carolina's pro day (per CBS) and most have liked what he saw, because the Bengals already have two solid players at the center position in Kyle Cook and Trevor Robinson.
Johnson may be able to develop on the practice squad for a year, which is always nice this late in the round, but one has to think there was better value on the board somewhere.
Grade: C