Tyler Bray: 5 Things You Need to Know About the Tennessee Quarterback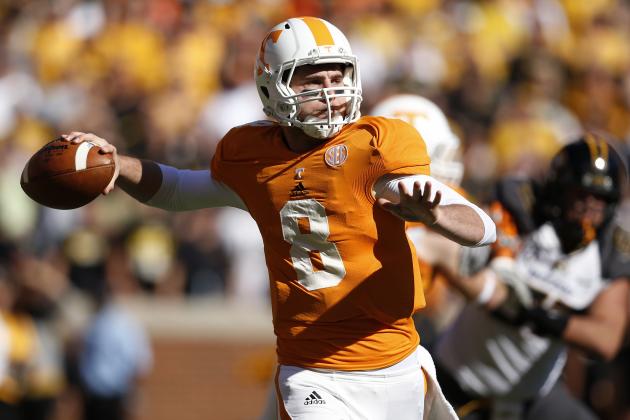 Joe Robbins/Getty Images

Tyler Bray is a tall, strong-armed quarterback who can make every throw needed in the NFL. However, his immaturity and inconsistency will likely drop him to Day 3 of the draft.
If given time to develop and adjust to the rigors of pro football, as well as add weight to his thin frame, Bray has all of the physical traits and tools required of an NFL quarterback. The only question is if he can improve after showing some arrested development at Tennessee.
In a down year for quarterback prospects, it's not impossible that a team takes a chance on Bray earlier in the draft than he's projected to go, but they'll need to do their homework and foster his development.
Here's a closer look at Tyler Bray.
Begin Slideshow

»
Full Name: Tyler Ian Bray
Birthday: December 21, 1991
Hometown: Kingsburg, Calif.
High School: Kingsburg High School
Major: Sociology
Year: 2013
As a senior, Bray led his high school team to a perfect 13-0 record, throwing for 3,321 yards and 41 touchdowns.
Bray declared for the draft early, forgoing his senior season after head coach Derek Dooley was fired.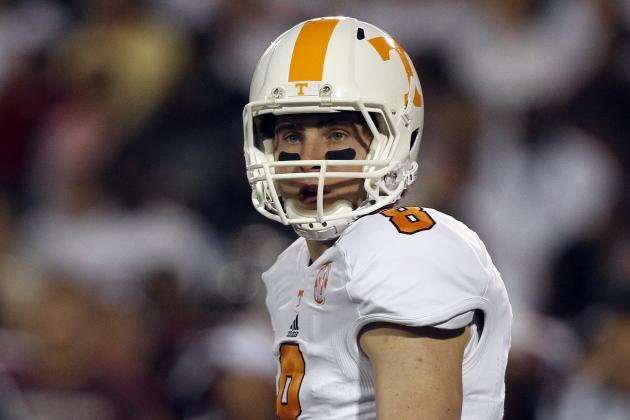 Butch Dill/Getty Images

2010: 5 starts, 224 attempts, 1,849 yards, 8.3 YPA, 18 TD, 10 INT
2011: 7 starts, 247 attempts, 1,983 yards, 8.0 YPA, 17 TD, 6 INT
2012: 12 starts, 451 attempts, 3,612 yards, 8.0 YPA, 34 TD, 12 INT
As a freshman at Tennessee, he saw early action in mop-up duty before starting the final five games, posting a 4-1 record. He had three 300-yard passing games in that stretch, leading the Vols to an unlikely Music City Bowl berth.
The following season, he broke Peyton Manning's record for touchdowns in the first four games with 14; however, a fractured thumb caused him to miss the next five games. He returned for the final two games but was not the same player, completing just 44 percent of his passes with three touchdowns and four interceptions.
In his junior season, Bray failed to build on the promising start he had the previous year. He struggled against top competition, leading the Vols to just a 5-7 record. His lack of progression as a quarterback dropped the draft status, as many had him as a high-round pick prior to the season.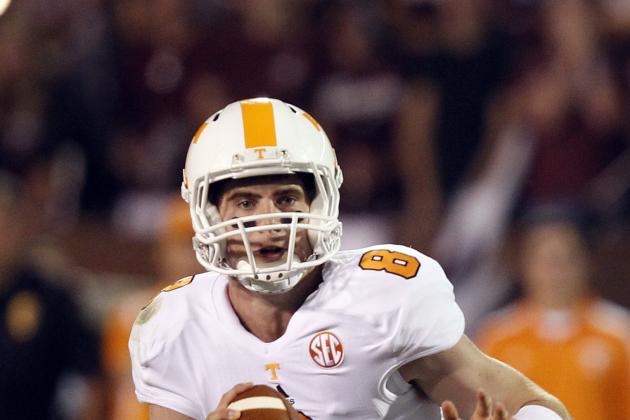 Butch Dill/Getty Images

Measurables
Height: 6'6"
Weight: 232 pounds
Arm Length: 33 inches
Hand Size: 9.25 inches
Combine Results
40-yard dash: 5.05 seconds
Broad jump: 100.0 inches
Three-cone Drill: 7.20 seconds
20-yard Shuttle: 4.51 seconds
The most notable thing about Bray's pro day were some of the quotes that came out, noted here.
Tyler Bray on how he wants to be remembered: "As a guy who won ball games. But we didn't. So ... yeah, that's not good."

— govols247.com (@govols247) March 20, 2013
Bray has elite height which, paired with his arm strength, makes him an elite prospect based on those two measurables alone. Though he doesn't have the hand size of Ryan Mallet, the comparisons are certainly apt given both players' strengths and off-field concerns. There's little debate that Bray has the tools to make every NFL throw, but whether or not he can put it all together remains the biggest question for any team considering selecting him.
All stats courtesy of NFL.com.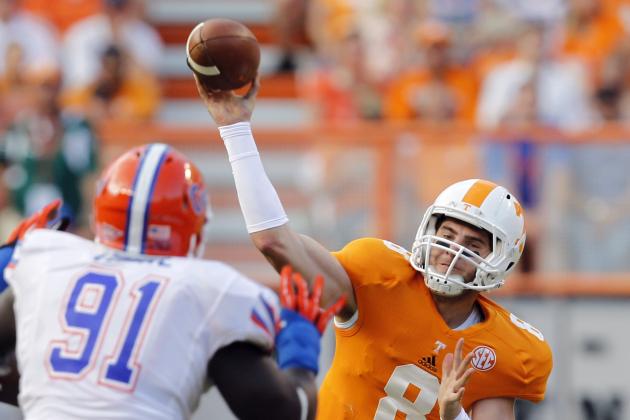 John Sommers II/Getty Images

Bray recorded the highest peak ball speed of any quarterback at the combine, coming in at 59 mph. He appears to be a less talented version of Ryan Mallett, from his rocket arm to his questionable intangibles.
He avoided vandalism charges over a bottle-throwing incident after he reached out to the victim.
Bray was benched in 2012 against Vanderbilt after going 11-of-29 passing for 103 yards with two interceptions and one touchdown.
Don Banks thinks Bray is an intriguing prospect:
The team that drafts Bray likely knows it isn't going to get a polished and ready-to-play prospect who will follow the trend established by instant stars like Andrew Luck, Robert Griffin III, Cam Newton and so many other glamour QBs of recent vintage. But they might get a passer whose upside potential and eventual production will dwarf those quarterback prospects whose development are considered further along at the moment. Bray will require some patience, but the eventual payoff could be significant
The Pittsburgh Steelers have shown some interest in Bray:
Worth noting: Steelers' braintrust had dinner with Tennessee QB Tyler Bray before attending his Pro Day.

— Adam Schefter (@AdamSchefter) March 20, 2013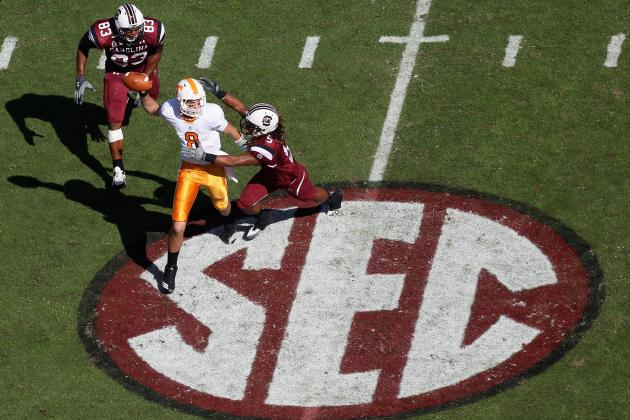 Streeter Lecka/Getty Images

The book on Bray is pretty much the same no matter which scout or source you look to: He's got the arm, but can he get to the next level? Here's a sampling:
Per NFL.com:
Bray has elite arm strength, and generates this power through a consistent rotation of his hips. His gamed is mired with tremendous inconsistencies, mostly rooted in a poor feel for the intricacies of the game. Accuracy and footwork can go array at any point in the game.
Per CBSSports.com:
Bray possesses a great deal of natural arm talent and possesses even more confidence in his ability to fit the ball between tight windows.Bray remains a work in progress when projecting him to the NFL. For one, he takes the vast majority of his snaps out of the shotgun. More important, while willing to step up into a disintegrating pocket, he is a long-legged, relatively slow-footed athlete who has only marginal mobility overall.
Per Matt Miller of Bleacher Report:
No surprise that Tyler Bray would leave #Tennessee for the NFL, as per @bfeldmancbs. 2nd round stock, could rise. Scary bad mechanics.

— Matt Miller (@nfldraftscout) December 20, 2012