Draft Prospects Who Would Perfectly Fit with the Arizona Cardinals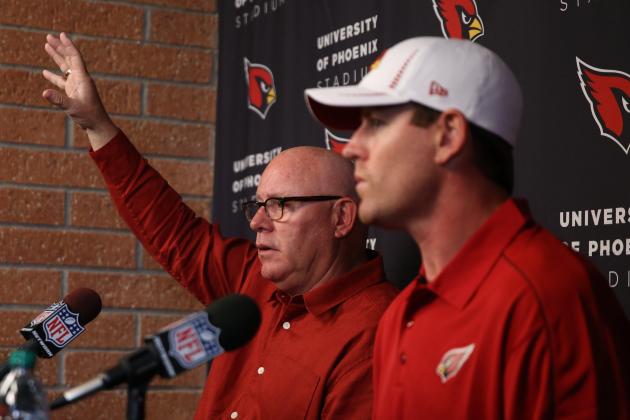 Mark J. Rebilas-USA TODAY Sports
Bruce Arians (left) and Quarterback Carson Palmer answer questions at a press conference.
The Arizona Cardinals hold high draft picks thanks to last season's 5-11 record. With the NFL Draft coming up at the end of the month, this would be a good time to take a look at players who would fit perfectly with the Cardinals.
They acquired Carson Palmer from the Oakland Raiders in a swap of late-round draft picks, but the Cardinals still have holes to fill at other key positions.
The offensive line will still be a focal point at the draft. The running back position has injury-prone players while the tight end position doesn't produce much in the passing game. The linebacking corps could also use upgrades after being gashed in the ground game last season.
The NFL Draft comes up on the 25th, so click the slideshow below and check out who would be perfect fits in Arizona.
Begin Slideshow

»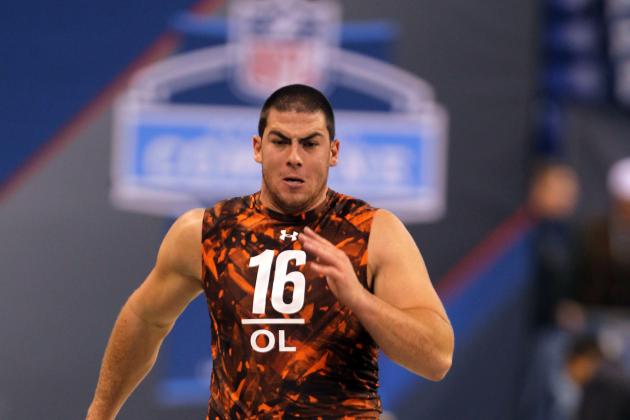 Brian Spurlock-USA TODAY Sports
Fisher would be a perfect fit on the offensive line.
Eric Fisher would be the best option for the Cardinals on the offensive line. Fisher is a 6-foot-7, 306 pound offensive lineman from Central Michigan and has that look and feel of a prototypical offensive tackle.
Fisher turned in a solid performance at the combine with a 5.05-second 40-yard dash and knocked out 27 reps on the bench press. He has that unique mix of size, speed and strength that teams look for in their offensive tackles.
While spending most of his time as a left tackle for the Chippewas, he might be able to play the right side as well, which makes him all that much more valuable.
Arizona's offensive line has been porous to say the least over the last three seasons, and Fisher would help to plug the leaks. Carson Palmer would also probably appreciate Fisher anchoring a line that could keep him upright.
The only question that remains about Fisher is if he'd still be available at the seventh overall pick.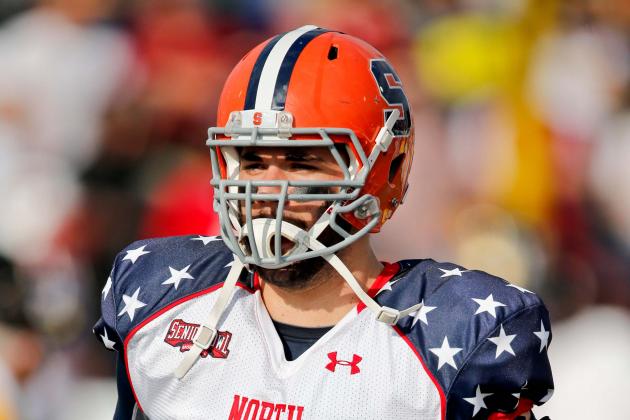 Derick E. Hingle-USA TODAY Sports
Pugh would be a guard Arizona could get in the second round.
If the Cardinals could land Fisher in the first round, Justin Pugh of Syracuse would be a perfect fit for Arizona.
Pugh stands 6-foot-5 and 307 pounds and would be an upgrade on the offensive line. Pugh fits perfectly since he has good speed (5.12 40-yard dash) and is able to get to the second level of the defense quickly. That kind of size and speed would be able to break running lanes open as a lead blocker and help Arizona improve on its woeful performance in the ground game. His speed and mobility would be helpful in pass protection as well.
Pugh also started each game over his last three seasons at Syracuse, and his durability would also be a great boost to an offensive line that suffered through its share of injuries last season.
Arizona should look to Pugh as a way to bolster its offensive line.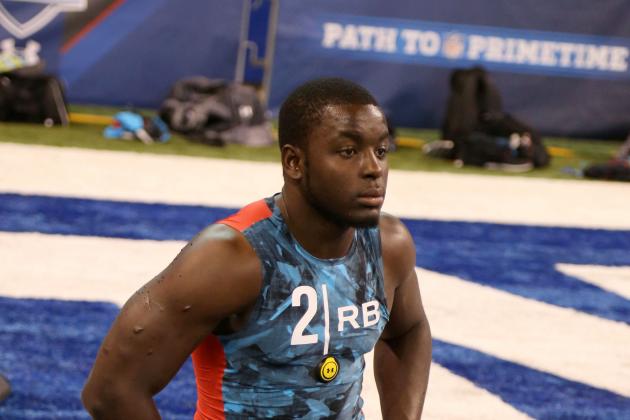 USA TODAY Sports
Montee Ball finds himself in the end zone at the combine.
The Cardinals still could be looking for a running back at the draft to compliment the duo of Rashard Mendenhall and Ryan Williams. That search should stop with Wisconsin running back Montee Ball.
Mendenhall and Williams are very injury-prone, and Arizona needs Ball as an insurance policy that can also turn into the feature-back level of talent Bruce Arians likes. Mendenhall missed time last season recovering from a torn ACL while Ryan Williams lasted five games before a season-ending shoulder injury.
The issues with the offensive line are well-documented, and that's played a role in the lack of success in the ground game for the Cardinals.
Ball, a 5-foot-11, 214 pound back out of Wisconsin, doesn't give Arizona that complimentary big-body back that teams seek out. What he does bring to the table is an unparalleled nose for the end zone and a surprising amount of durability.
Ball ran behind some dominant offensive lines at Wisconsin. If the Cardinals could improve on their line, Ball could start piling up the yardage for the Cardinals.
He's also stayed healthy despite the high number of carries he's had, which would also be an asset Arizona could use given the spate of injuries the team has suffered through.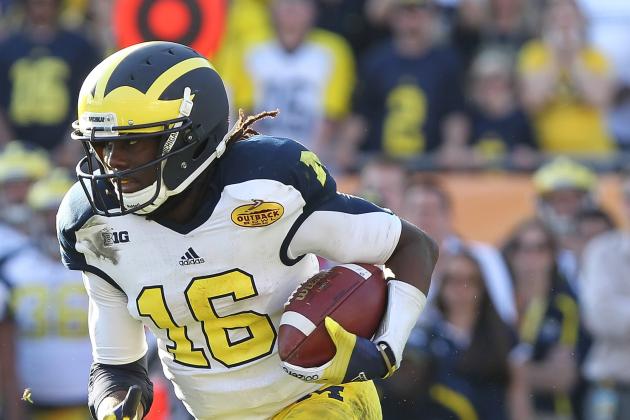 Kim Klement-USA TODAY Sports
Robinson was a dual-threat quarterback for Michigan.
When it comes to wide receivers for the Arizona Cardinals, the name Larry Fitzgerald should almost immediately pop into mind. But after FItzgerald, the talent at the position takes a steep nosedive.
Michael Floyd, Andre Roberts and Kerry Taylor don't draw the attention or the coverage that Fitzgerald does. That's why Denard Robinson can be the perfect fit for the Cardinals at the wideout position.
Robinson not only could add the pass-catching abilities to his blazing speed, but his versatility makes him a perfect fit. He could line up in the backfield and run with the ball or maybe flare out into the flat to be a receiving threat there as well.
Last season in Oakland, Palmer threw to his backs of Marcel Reese and Darren McFadden just as often as he was throwing to his wideouts in Denarius Moore and Darius Heyward-Bey. Robinson could be that kind of asset in the short passing game for Palmer and the option for gadget plays is always present.
Robinson can also give opposing defenses headaches as they try to figure out how best to cover him.
If Robinson causes confusion, someone's going to have a mismatch to take advantage of and make a big play. He can also break tackles and make defenders miss which gives the Cardinals another big-play threat in the passing game which would fit nicely with Arians' offensive theories.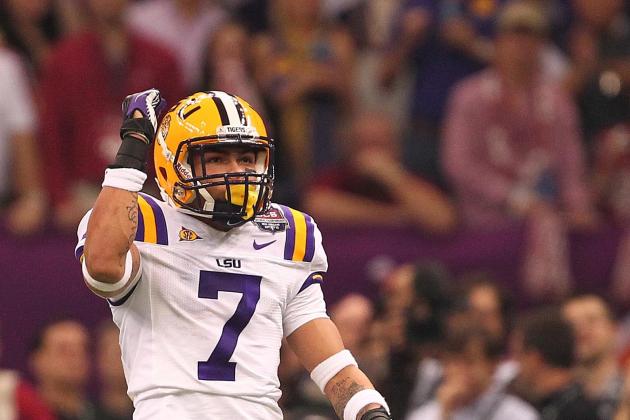 Marvin Gentry-USA TODAY Sports
Mathieu would be a perfect fit in the Arizona secondary.
Tyrann Mathieu looks like another perfect fit the Arizona Cardinals could find at the NFL Draft.
There's no doubt the cornerback from LSU has more than his share of baggage, but the potential for performance on the field is there. The other reason why he's a perfect fit for Arizona would come from fellow cornerback Patrick Peterson of the Cardinals.
According to Pro Football Talk, Peterson has been mentoring Mathieu since their time together at LSU, and the two have been living together.
With Peterson's hand guiding him, Mathieu can be one of those players who can build a reputation for what he does on the field more so than what he's done off of it. Mathieu could focus more on being Honey Badger rather than Honey Boo Boo with his talents and Peterson's support.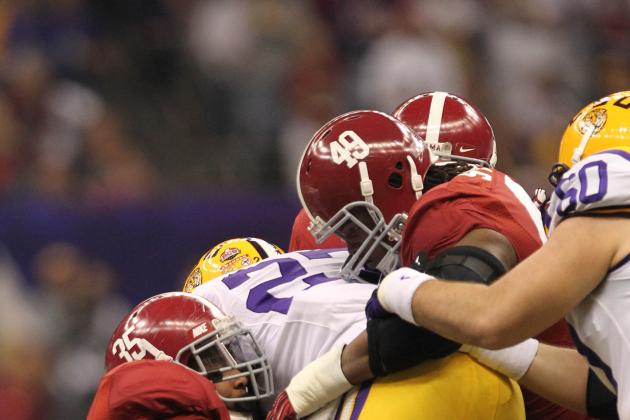 Matthew Emmons-USA TODAY Sports
Johnson and the Tide take down an LSU rusher.
Arizona needs help stopping the run, and Nico Johnson of Alabama is that perfect fit. Johnson could be picked up on the third day of the draft as a late-round bargain.
Johnson (6-foot-2, 249 pounds) has been described as a sledgehammer on defense when it comes to defending the running game. He finds ways to cut through blocks and has a strong nose for the ball. Johnson loves to punish ball carriers and would be a perfect addition to an Arizona defense that needs help in that area.
The Cardinals were 28th against the run last season, allowing 2,192 yards on the ground on 506 carries. That comes out to 137 yards per game and teams scored 12 touchdowns against Arizona as well.
That need became even larger when Pro Bowl linebacker Daryl Washington was given a four-game suspension for violating the league's substance abuse policy. That news came out on Wednesday, and Arizona will need to find some additional linebacker depth to help get through the period without Washington.
Johnson should be looked at around the fifth round of the draft to shore up that much-needed area of the defense.