The Top 10 Quarterbacks in the NFL Entering 2013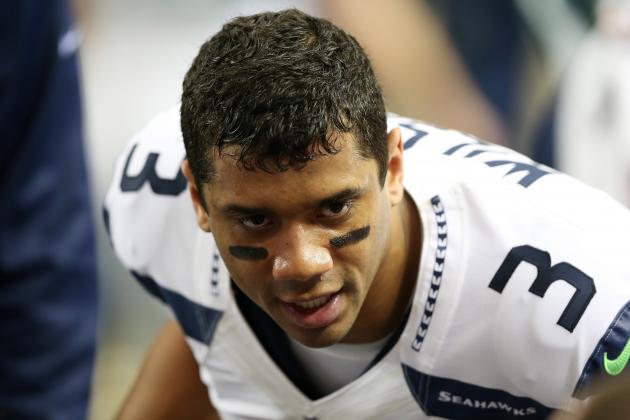 Streeter Lecka/Getty Images

2012 was an unbelievable year for quarterbacks, as signal-callers both young and old alike dazzled viewers for the duration of the NFL season.
I anticipate 2013 will provide equally excellent play from the position, and I know who the top 10 quarterbacks are entering the season.
But, before we get to the top 10, here are the honorable mentions.
Begin Slideshow

»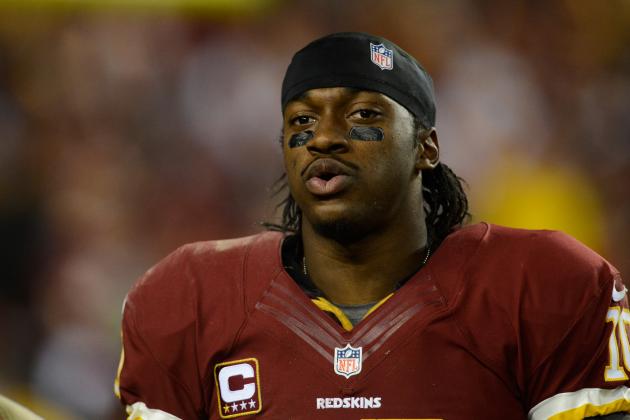 Patrick McDermott/Getty Images

Robert Griffin III
Don't get me wrong: I'm a huge fan of Robert Griffin III. What he was able to accomplish in his rookie season was nothing short of incredible, and nothing was more impressive than the leadership he possessed in leading the Washington Redskins to their first NFC East title since 1999.
The only thing keeping Griffin off this top 10 list is his health; his availability for Week 1 remains very much in question as he recovers from ACL surgery.
Colin Kaepernick
The meteoric ascent of Colin Kaepernick was immensely enjoyable to behold. The second-year quarterback was superb, combining freakish athleticism with one of the NFL's strongest arms, and nearly led the San Francisco 49ers to a Super Bowl title.
It's his relative inexperience that prevents me from putting him on the list, but in no way, shape or form would I be surprised to see Kaepernick have a monster season. He will most certainly be on this list next season.
I think Jay Cutler could very well be in for a huge season under the tutelage of new head coach Marc Trestman, but I still have questions about his leadership ability and the quality of the Chicago Bears offensive line.
Also missing the cut: Tony Romo, Matthew Stafford
Justin K. Aller/Getty Images

I want to be clear on this: I am very concerned about the Pittsburgh Steelers as they're currently constituted. The talent level certainly doesn't appear to be as high across the board, and they play in the very difficult AFC North.
Still, Ben Roethlisberger merits inclusion on this list. Year in and year out, he puts up numbers and wins games in Pittsburgh. As long as he's under center, the Steelers are capable of beating anyone.
The offense should be more in sync in year two under offensive coordinator Todd Haley, and I believe their two high-profile free-agent losses on offense, receiver Mike Wallace and running back Rashard Mendenhall, won't be as big a deal as many expect.
Antonio Brown and Emmanuel Sanders are more than capable of handling the load at receiver. In fact, Sanders averaged more yards per catch than Wallace last season. As for Mendenhall, he averaged less yards per carry than the Steelers other two workhorse backs, Jonathan Dwyer and Ike Redman.
If this were a top 10 list of the best quarterbacks in the NFL, Roethlisberger and his two Super Bowl rings would rank higher. But, as it's a top 10 list of the best quarterbacks entering 2013, Roethlisberger can't be ranked any higher than 10th.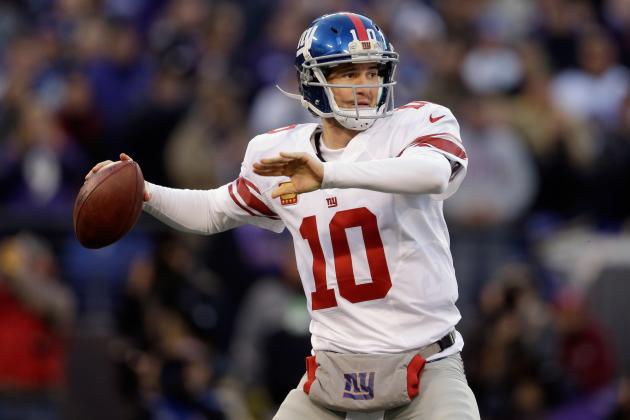 Rob Carr/Getty Images

Eli Manning falls under the same category as Ben Roethlisberger: If this were a top 10 list of best quarterbacks in the league, he'd rank higher, but I just can't put him higher in good conscience.
Manning didn't have his best season in 2012 and the offense often sputtered, leading to the Giants missing the postseason for the second time in three seasons.
I expect Manning to bounce back in 2013, and a lot of it will have to do with the health of wide receiver Hakeem Nicks. The offense is significantly more dynamic with Nicks in top form, and his nagging injuries last season certainly hurt the team.
Manning is too good and too clutch to not get it done next season. That's why I had no issue including him on this list.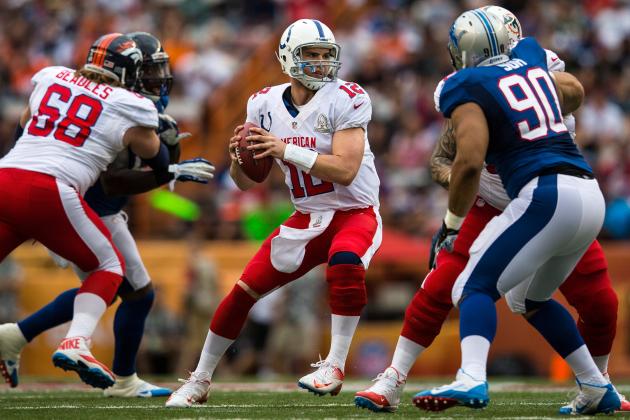 Kent Nishimura/Getty Images

Andrew Luck was majestic in his neophyte campaign, slinging passes all over the field and leading an undermanned Indianapolis Colts squad to victory after victory and an improbable playoff berth. There's no reason to believe he won't improve in year two.
Many will point to the loss of former offensive coordinator Bruce Arians, now the head coach in Arizona, as a reason why Luck may regress in 2013. Those people are likely unaware that the Colts hired Pep Hamilton, Luck's offensive coordinator during his final year at Stanford, to take Arians' place. How did Luck perform in that season with Hamilton? He threw 37 touchdown passes.
With a number of ascending skill players surrounding him, Luck will be even better in year two, and there's a strong chance that his ranking on this list next year will be even higher.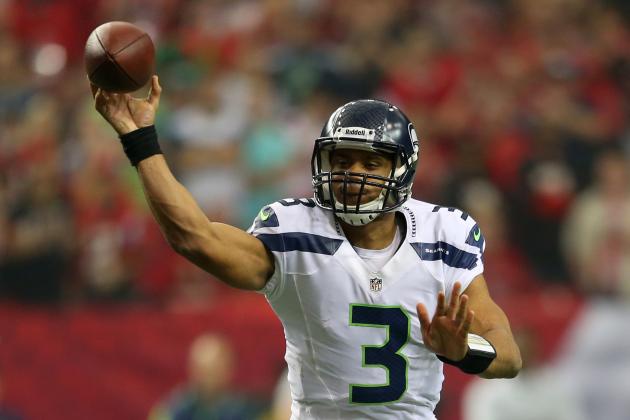 Mike Ehrmann/Getty Images

Russell Wilson and the Seattle Seahawks are going to be so good in 2013. They are the team that I'm most excited to watch next season.
Wilson had an awesome rookie season, leading Seattle to within seconds of an appearance in the NFC title game and possessing a poise and savvy that belied his neophyte status.
The addition of Percy Harvin will make the Seahawks offense even more explosive, and the lanes for Wilson to run through will be even wider as a result.
I don't buy anyone who says that the read-option will be figured out this year, thus Wilson won't be as good. Malarkey. Wilson is too good and too hard of a worker. He's going to be terrific this upcoming campaign.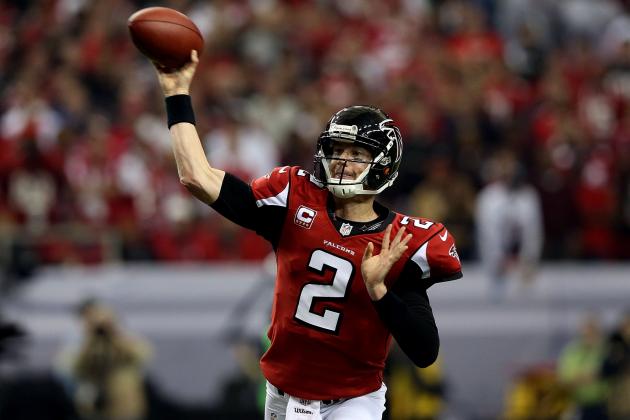 Streeter Lecka/Getty Images

In the past, I've been a huge Matt Ryan critic. I always pointed to his lack of postseason success as the reason why I didn't believe in him and why I didn't think he could win the big game.
Well, he proved me wrong last season, engineering a last-minute comeback win in the divisional round of the postseason over the Seattle Seahawks, finally getting the elephant off his back with his first playoff victory.
The Falcons offense is going to be ridiculously potent in 2013. Roddy White and Julio Jones comprise the single best one-two punch at wide receiver in the league, and Tony Gonzalez, the greatest tight end of all time, is returning for one more season. Plus, the running game should be improved with the addition of Steven Jackson, who has been thirsting to play on a winning team.
I expect Ryan to have a huge season and to win at least one game in next year's tournament.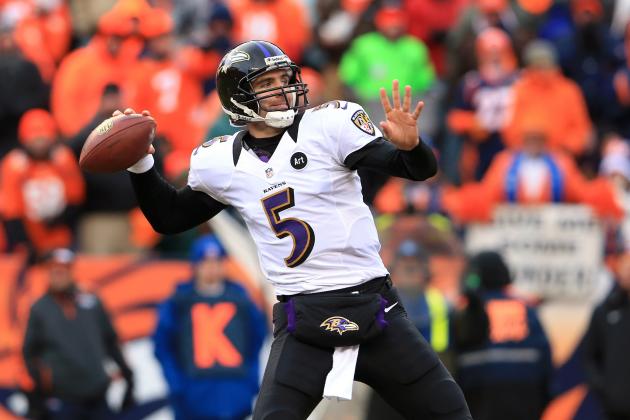 Doug Pensinger/Getty Images

If you're a regular reader of my columns, you know that I'm #WackoForFlacco. I wasn't surprised in the least by his torrid and historic run through the postseason, where he tossed 11 touchdown passes against zero interceptions en route to winning Super Bowl MVP.
I don't care that the Baltimore Ravens lost Anquan Boldin. It doesn't matter. Bottom line: Joe Flacco is a winner. As long as he's under center, the Ravens will be in the playoff picture, and likely in the postseason, each and every season.
Consider the fact that Flacco has made the playoffs and won at least one game in the tournament in each of his first five seasons. If that isn't enough for you, I don't know what is.
And don't tell me that his huge money contract will affect his level of play on the field. If there was ever a quarterback who wouldn't be changed by money, it's Flacco. Heck, the guy ate his first post-contract meal at McDonald's. If I had just been handed a contract in excess of $100 million, I'd have been at the finest steakhouse in town with a blonde on one arm and a brunette on the other, but I'm not Flacco. He's the new Joe Cool.
Plus, a full season with offensive coordinator Jim Caldwell will only help Flacco.
Flacco is elite. Period, end of story. You're welcome to disagree, but you'd be wrong.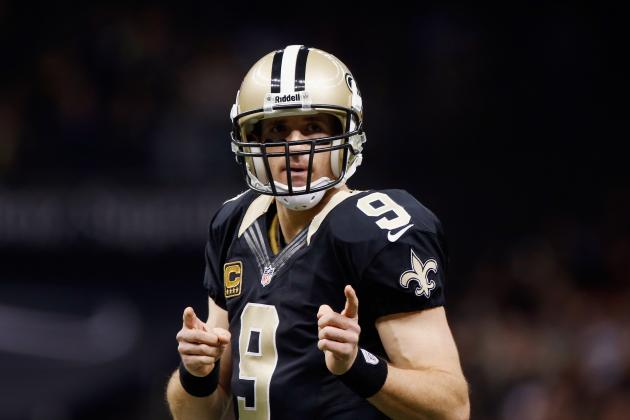 Chris Graythen/Getty Images

Drew Brees is obviously one of the finest signal-callers in the NFL, but the return of head coach Sean Payton should make him even better in 2013.
Let's not discount the pain that Brees and the entire Saints team will be looking to inflict upon the NFL in revenge for the suspensions of Payton and others. If Vegas set the odds at touchdown passes for Brees at 40, I'd pound the over and sleep soundly at night.
The Saints defense can't be any worse than it was in 2012. No, seriously, it actually can't be any worse, as it allowed more yards from scrimmage than any team in the history of the NFL. So, there's that.
And it's safe to assume that Brees' interception total will also drop in 2013, as he threw an uncharacteristic 19 last year, second-most in his career.
Secondaries around the league should be very, very afraid. Brees and Payton are coming for you.
And they won't be taking any prisoners.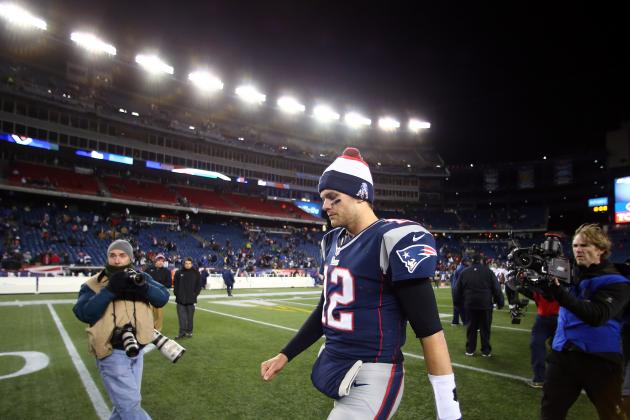 Elsa/Getty Images

Tom Brady, old reliable. How could he not be in the top three of this list?
Brady had another exemplary campaign in 2012, (give stats here). There's no reason to believe he won't play at an elite level again in 2013.
Yes, I do think that losing Wes Welker hurts, but if there's a quarterback that can make it work, it's Brady. Plus, let's not forget that Brady will still have Aaron Hernandez and Rob Gronkowski to throw the ball to, plus Stevan Ridley and Shane Vereen in the run game.
New England also isn't done adding weapons, as I expect it to bring in another receiver or two to bolster the passing game.
If you don't think Brady is going to have a huge season, you aren't paying attention.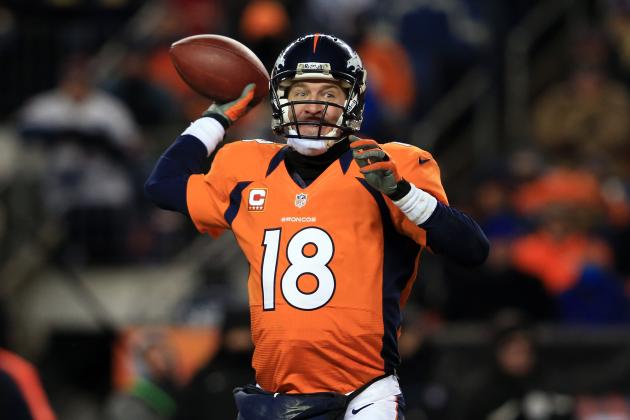 Doug Pensinger/Getty Images

Peyton Manning had an incredible 2012 season, particularly when you consider he was coming off career-threatening neck surgery. He tossed 37 touchdown passes against only 11 interceptions, mind-boggling numbers for a quarterback who missed the entire 2011 season.
The Broncos offense is even more stacked in 2013, as it added former Patriots receiver Wes Welker to the fold. Welker will combine with Demaryius Thomas and Eric Decker to form a ridiculous trio of wideouts that will cause sleepless nights for defensive coordinators all over the AFC.
Couple this with the fact that the Broncos play in the weak AFC West and will play the NFL's weakest schedule in 2013, and you have the recipe for another astronomical season from Manning. It'd be a stunner if he didn't throw 35 touchdowns and lead the Broncos to the AFC West title.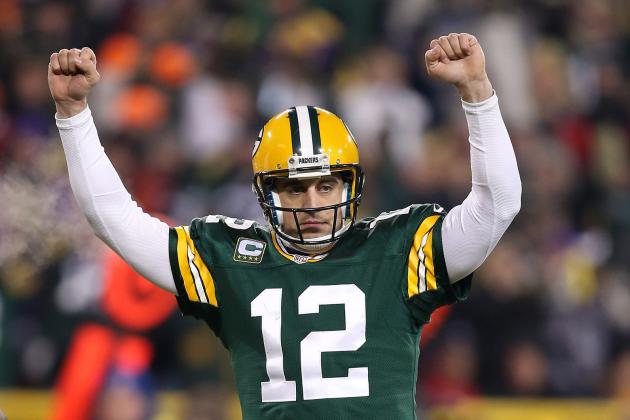 Andy Lyons/Getty Images

On Twitter, I refer to Aaron Rodgers as #TheMaestro. Not only is he the best quarterback in the NFL, but if I were starting a franchise and could pick any player as my cornerstone, he'd be the choice, and it would take me about 0.00000001 seconds to make that decision.
Rodgers had another, well, Rodgers-esque campaign in 2012, throwing 39 touchdowns. Even with the loss of receiver Greg Jennings in free agency, I expect Rodgers to put up similar numbers, as the Packers are stacked on offense yet again.
I beg you not to mention Rodgers' impending megabucks contract extension as a reason for him not being as good in 2013. If you know anything about Rodgers, you know that he's always played with a massive chip on his shoulder. If anything, he'll be seeking to prove the naysayers wrong yet again, and use their lack of belief as inspiration for yet another magical season.
Rodgers isn't just the top quarterback entering 2013, but the top player. He's the best player in the NFL. That makes him an easy No. 1 on this list.