Breaking Down What New England Patriots' Offseason Moves Mean for the NFL Draft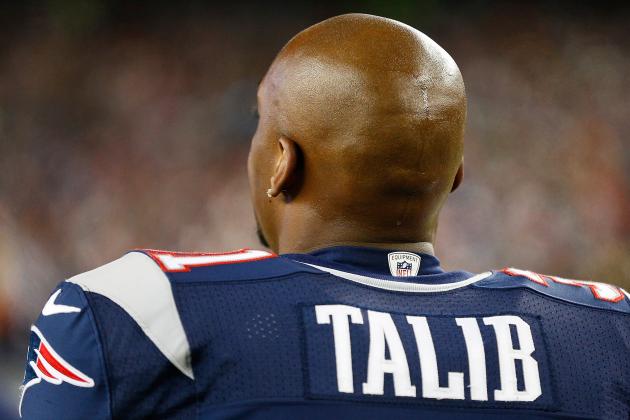 Jim Rogash/Getty Images

With the first wave of NFL free-agency frenzy over, it becomes a bit easier to project potential plans for the New England Patriots in the 2013 NFL draft.
It's only been a week since free agency began, but the Patriots already look drastically different than a season ago.
On offense, Tom Brady lost his favorite target Wes Welker to the Broncos, but will have a new toy in scrappy wide receiver Danny Amendola.
On defense, the Patriots managed to retain their main source of attitude by bringing back cornerback Aqib Talib while also adding some muscle to the back end in the form of veteran safety Adrian Wilson.
While Bill Belichick and company have been busy, there is still work to do with holes to fill and depth to build.
Here's a look at how the Pats' recent signings have affected their plans for draft day.
All NFL combine stats courtesy of NFL.com
All contract details courtesy of Spotrac.com
Begin Slideshow

»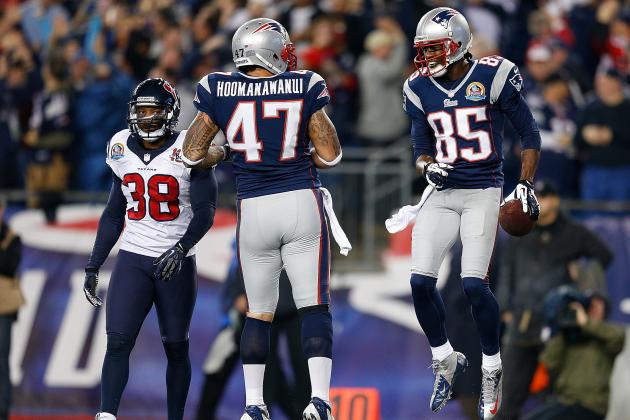 Jim Rogash/Getty Images

With Rob Gronkowski, Aaron Hernandez, Jake Ballard and Daniel Fells all under contract in 2013, the Patriots are stacked at the tight end position.
Michael Hoomanawanui filled in admirably for both, Gronk and Hernandez, throughout the 2012 season, primarily being used as a blocking tight end and, at times, at fullback.
It would be shocking to see the Patriots draft a tight end as it is perhaps the Patriots' deepest position.
Stranger things have happened in the Belichick era, though.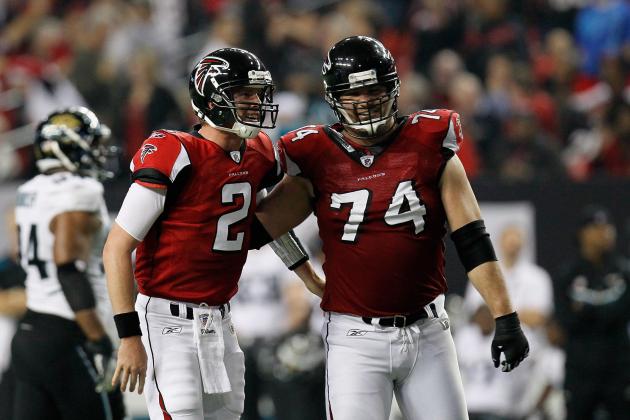 Kevin C. Cox/Getty Images

Will Svitek was likely brought aboard to be New England's swing tackle going forward, whether the Pats re-sign Sebastian Vollmer or not.
In other words, if the Pats lose Vollmer, it's like that they draft an offensive tackle early.
A couple names that come to mind are Alabama's D.J. Fluker (6'6'', 335 lbs) and Oklahoma's Lane Johnson (6'6'', 302 lbs). Both have the size and athleticism to play right tackle for the Pats and could be available to New England at the end of the first round.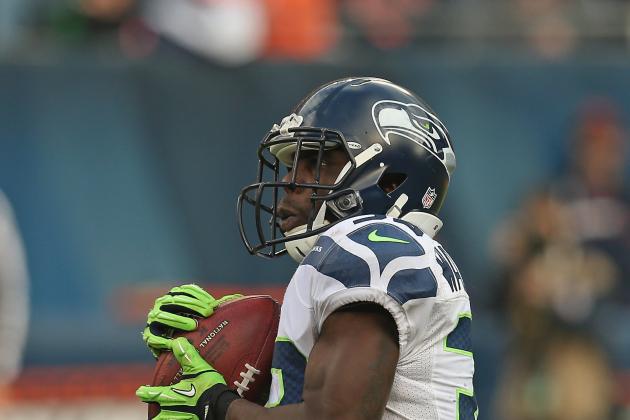 Jonathan Daniel/Getty Images

Leon Washington projects as the Patriots' top kick returner and perhaps punt returner as well.
If former Olympian and second-year running back Jeff Demps can manage both, his track and football careers, he'll likely take on return duties as well.
There's also the possibility that free agent Julian Edelman, who has been the team's top punt returner in recent seasons, re-signs with the team.
It's doubtful that the Patriots will be looking for return help via the draft.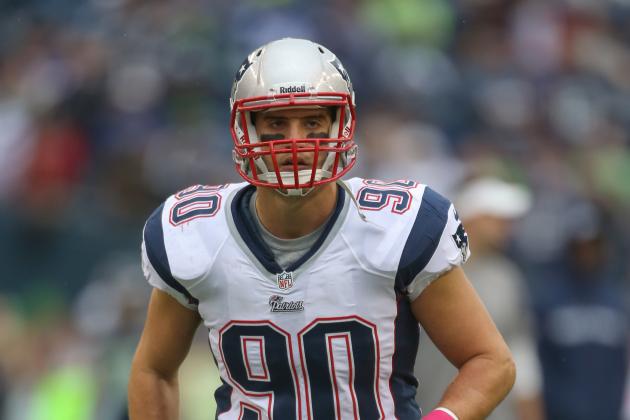 Otto Greule Jr/Getty Images

As Bleacher Report's Erik Frenz points out, Niko Koutouvides was only on the field for nine defensive snaps in 2012.
Needless to say, Koutouvides isn't much of a defensive player, but is a solid core special teams guy.
The Patriots have a trio of young talent at linebacker consisting of thumpers Jerod Mayo, Brandon Spikes and Dont'a Hightower—although Spikes' rookie contract expires after 2013.
The Patriots may be on the lookout for his replacement if they feel the future doesn't hold an extension for the young playmaker.
Regardless, New England may still target a coverage linebacker in the draft, although a healthy Dane Fletcher may be able to help a bit in that department.
Another wrinkle here is that Bill Belichick may have plans to use Adrian Wilson as a sub-package coverage linebacker, which would lessen the need.
The feeling here is that if it's the right guy at the right spot (say if Alec Ogletree falls to the end of the second round), the Patriots will do it, but it is not a high need.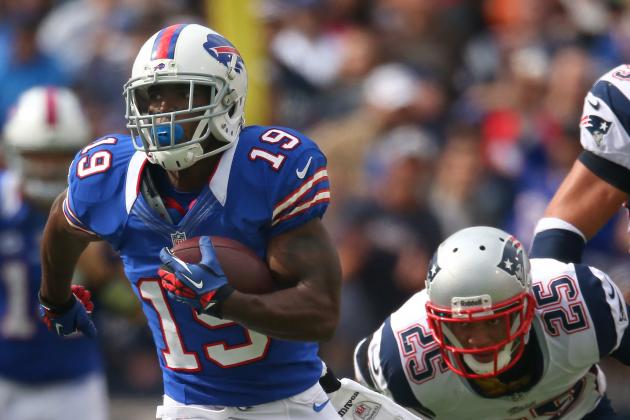 Tom Szczerbowski/Getty Images

Donald Jones is a young and raw talent who does most of his work outside the hash marks.
As Patriots owner Robert Kraft admitted at the NFL owners meeting, the Patriots have invested enough in middle-of-the-field receivers (h/t Mike Reiss of ESPNBoston):
"We have a lot of people," Kraft said, "we've committed a lot of money to this inside position – you have Gronk, you have Hernandez, you have Danny (Amendola) now."
It would be surprising if Bill Belichick invested a high draft pick on an "inside" player.
A high draft pick on an outside receiver, however, would bring no surprise to this writer.
We've all said it million times, but the Patriots haven't had a true outside, deep threat since the days of Randy Moss.
The 2013 draft may be where the Patriots try to change that by targeting a big and fast receiver like Justin Hunter (6'4'', 4.44 40-yard dash time) or Cordarrelle Patterson (6'3'', 4.42 ) in the early rounds.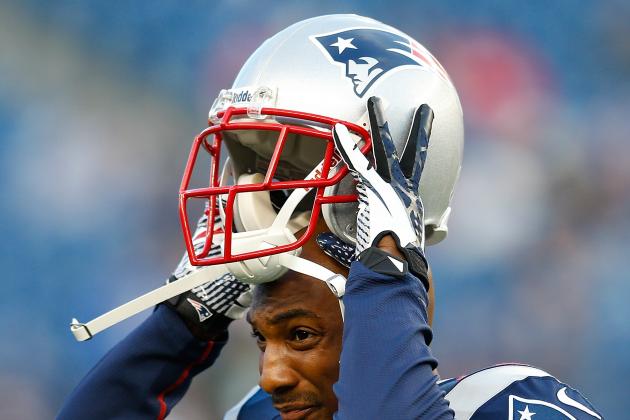 Jim Rogash/Getty Images

Aqib Talib is locked in at the starting left cornerback spot for the Pats.
However, with Alfonzo Dennard facing potential jail time and Kyle Arrington much better suited for the slot, the Patriots may look to draft a talented outside cornerback in an early round as an insurance policy.
Also, with Talib signing just a one-year deal, the Patriots may be looking for his eventual replacement should they lose their No. 1 corner in free agency in 2014.
Xavier Rhodes out of Florida State, may be a potential target as he has the press-man skills and size (6'1'', 215 lbs) the Patriots covet in their cornerbacks, though he may be off the board before the Patriots pick at No. 29 overall.
Other potential targets with similar skill sets include Desmond Trufant (5'11'', 190 lbs), Jamar Taylor (5'11'', 192 lbs) and Johnthan Banks (6'2'', 185 lbs).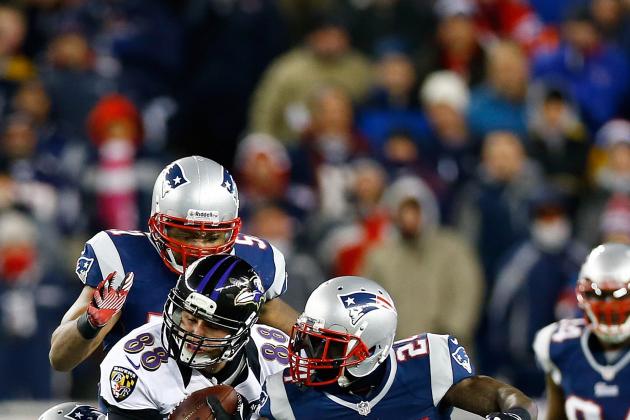 Jared Wickerham/Getty Images

Kyle Arrington projects to be the top slot cornerback on the depth chart going forward.
As mentioned, the Patriots may still draft an outside corner in the early rounds, but they may also draft a developmental-type corner in the later rounds that could potentially compete with Arrington for time in the slot.
If a guy like Tyrann Mathieu—known as the 'Honey Badger' to most—is available when the Pats pick at the end of the third round, it wouldn't be surprising to see them pull the trigger on the troubled, but talented, cornerback (who projects well as a slot corner in the NFL).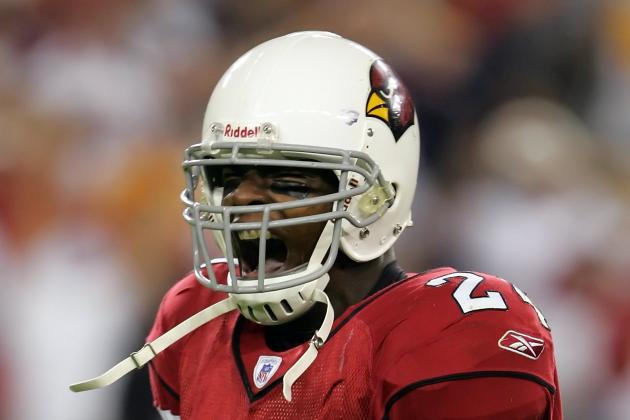 Lisa Blumenfeld/Getty Images

With the addition of veteran safety Adrian Wilson, the Patriots appear to be quite deep at the safety position going forward.
Wilson projects as the starting strong safety while Devin McCourty will likely remain the top free safety after performing at a high level at that spot in 2012.
Second-year safety Tavon Wilson and vet Steve Gregory will likely see the field often in sub-packages as they duke it out for the third safety spot.
T. Wilson projects as A. Wilson's eventual replacement. However, if the younger Wilson isn't viewed as a potential starter by the coaching staff, they may target a safety in the draft—which appears to be stocked with promising safeties.
If a guy like Eric Reid is available when the Patriots pick in the second round (No. 59 overall), they may jump at the opportunity.
If the right safety falls to them that presents good value, I would expect the Patriots to grab him regardless of how they feel about what looks like a solid group of safeties.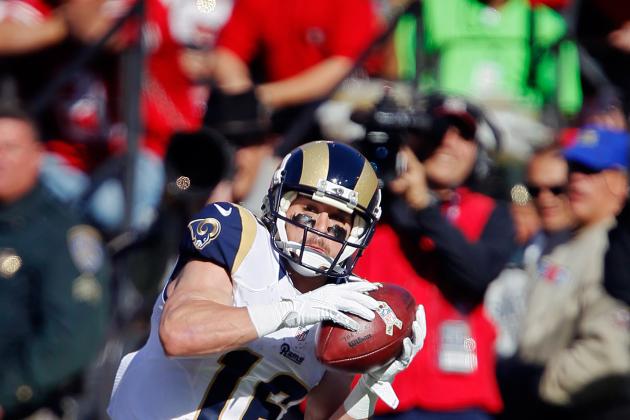 Brian Bahr/Getty Images

Wes Welker is gone. Brandon Lloyd is gone. Julian Edelman is still a free agent.
The Patriots don't have a single wide receiver on their roster that caught a pass from Tom Brady in 2012.
Danny Amendola looks like he'll get every opportunity to be Brady's next favorite target, but he's still an unknown having never played in the Patriots' system (although St. Louis' system is similar).
The Patriots are dangerously thin at wide receiver and all reason suggests that they will draft at least one wide receiver.
Guys like West Virginia's Tavon Austin and Stedman Bailey seem like sensible targets for the Patriots as they are both quick and precise route runners who can get plenty of yards after the catch—necessary ingredients to be a successful pass-catcher in New England.