Big-Name NFL Free Agents Who Won't Earn Big-Time Money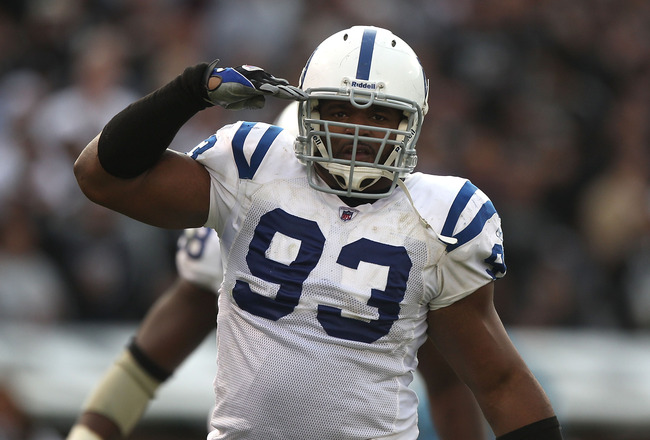 Jed Jacobsohn/Getty Images
NFL free agency is set to open on Tuesday, March 12, and a common misnomer is that every single big-name free agent will receive big-time money.
It just isn't true.
While there are some impressive names about to hit the open market, not all of them will strike gold and receive a huge contract. Here are 10 players who won't make the big money in free agency that you think they might.
Andy Levitre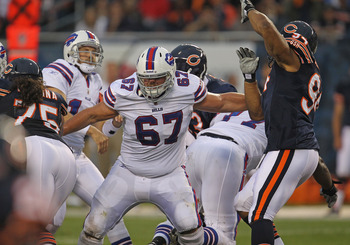 Jonathan Daniel/Getty Images
While Andy Levitre has been a solid cog in the Bills' offensive line since being drafted four years ago, I don't believe he'll receive a big-money contract when free agency opens.
Despite never missing a game in his four seasons, Levitre has never made a Pro Bowl. While he's an above-average player, he's never been dominant.
The Bills had a chance to retain Levitre with the franchise tag, but opted to use it on safety Jairus Byrd instead. To me, that showed the Bills weren't that interested in keeping Levitre around at an exorbitant price.
I doubt that any team will pay Levitre big-time money this offseason.
Greg Jennings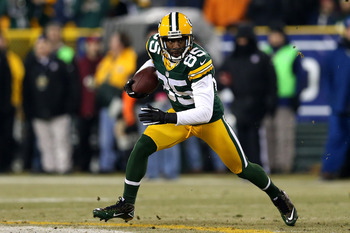 Jonathan Daniel/Getty Images
While Green Bay Packers wide receiver Greg Jennings is one of the better players on the free-agent market, don't expect him to receive the kind of money that will be doled out to former Steelers wideout Mike Wallace.
Jennings' value took a hit on Monday when the Packers decided not to use the franchise tag on him, which would have paid him $10.54 million in 2013. With Green Bay needing money to work out long-term extensions for players like Aaron Rodgers and Clay Matthews, it never seemed likely that they were going to tag Jennings.
There have been varying reports on Jennings' asking price, but they've consistently been in the $12-14 million range. I don't believe he'll earn that much money.
Instead, as one AFC executive said, Jennings will instead command a deal somewhere in between $7-9 million per season. I believe that's the most likely outcome.
Dashon Goldson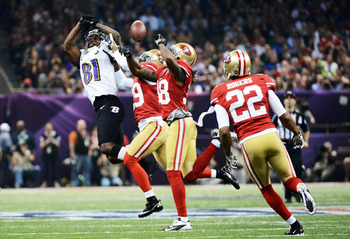 Harry How/Getty Images
49ers safety Dashon Goldson has been a valuable member of the San Francisco defense since being drafted in the fourth round in 2007. He was so valuable that he played last year under the franchise tag designation, earning $6.2 million in the process.
However, with the tag number for safeties set to rise to $7.45 million in 2013, the 49ers decided not to use the tag on Goldson again.
While Goldson is repeatedly seeking $8 million per season, I'm weary of his ability to get it. There's no doubt that he's been a very good player, but I'm not sure he'll receive a contract of that magnitude, which would make him one of the highest paid safeties in the league.
Aqib Talib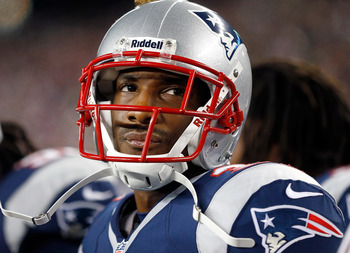 Jim Rogash/Getty Images
In theory, a young, talented, playmaking cornerback like Aqib Talib should earn top-flight money on the free-agent market.
However, Talib's documented off-field struggles, including being suspended for four games last October, will affect his ability to land a huge contract.
While Talib improved the Patriots' secondary after he ran himself out of town in Tampa Bay, it's hard to imagine New England splurging big money on him. When the trade was announced and compensation was a fourth-round selection in this April's draft, I thought for sure that Talib would be extended. The fact that it hasn't happened yet is worrisome.
Regardless, Talib is young (26) and ascending. There is at least one team out there that will pay him in the hopes that he can keep his nose clean and continue to improve on the field.
For all of his off-field issues, I just don't see him landing a big-money contract.
Steven Jackson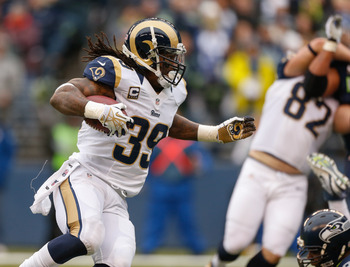 Otto Greule Jr/Getty Images
Steven Jackson has long been one of the league's more recognizable and well-known players, starring in commercials and being a top pick in fantasy leagues across the country.
It won't matter come next week, as he won't receive a big payday from any NFL team.
Jackson will turn 30 before the start of the 2013 season, and history shows that NFL teams just don't pay running backs at that age. This is especially true for a descending player like Jackson, whose yardage totals have dipped in each of the past three seasons.
Jackson was set to receive $7 million from the Rams in 2013, but will reportedly void his contract, allowing him to sign anywhere. The fact is the Rams weren't going to keep him for $7 million per season. No team would pay Jackson that kind of money.
While I expect Jackson to be signed relatively quickly and become an instant part of a team's offense, there's no way he's receiving a big-money deal.
Richard Seymour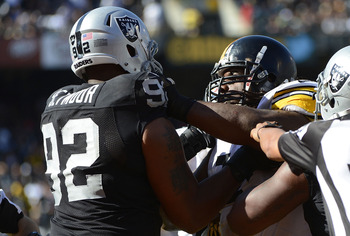 Thearon W. Henderson/Getty Images
Richard Seymour has had a borderline Hall-of-Fame career, winning three Super Bowls in the early 2000's with the Patriots and being one of the most recognizable members of their championship defense.
But, at age 33 and with a history of knee injuries, he won't be receiving a big-money contract.
There's still a place in an NFL locker room for Seymour. He's a terrific guy and a fantastic teammate, the type you want mentoring young players on the rigors of playing in the league. I believe he can be effective as a situational player, but he'd be miscast as a lead guy.
With all of that said: expect Seymour to play in 2013. Just don't expect him to receive a huge contract to do so.
Reggie Bush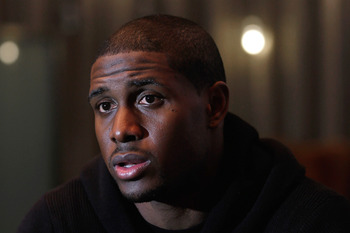 Lintao Zhang/Getty Images
With the emergence of Lamar Miller and the presence of Daniel Thomas on the Dolphins' roster, running back Reggie Bush is expendable for Miami, and he likely won't return.
While Bush is one of the most well-known players in the league (more so for his exploits while at USC than anything else), he's long been overrated by fans.
Bush did have a pretty good season last year in Miami, but it won't matter in this free-agent period. Bush simply hasn't been talented or consistent enough throughout his career to earn a big-money contract. Name value isn't enough.
Dwight Freeney
Donald Miralle/Getty Images
During the Indianapolis Colts' tremendous run of success in this millennium, there were two constants: Peyton Manning on offense and Dwight Freeney on defense.
Freeney has had an unbelievable career, amassing 107.5 sacks and helping the Colts to a Super Bowl championship. When he was released by Indianapolis, fans all over the league wondered aloud if their favorite team would be bringing Freeney in to help their pass rush.
I don't doubt Freeney can and will bolster a team's pass rush in 2013, but he will be 33 at the start of the season and best utilized in a situational role.
That means Freeney won't be making big money again in his NFL career.
Osi Umenyiora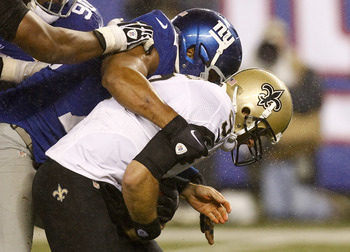 Jeff Zelevansky/Getty Images
Osi Umenyiora has helped the Giants to two Super Bowl titles. He's been a star in the country's largest media market with his success on the field and his charm off of it.
Still, Umenyiora's sack totals have declined in each of the past two seasons, and he only registered six in 2012, despite being active for all 16 games.
Umenyiora will turn 32 during this season and was already part of a rotation on the Giants' defensive line.
He'll definitely get paid, and I envision him having some degree of success in the future. But, it won't be for a big-money contract.
Dunta Robinson
Streeter Lecka/Getty Images
While Dunta Robinson never lived up to the huge contract he signed with the Atlanta Falcons, he was a solid player who helped the Falcons to playoff appearances in each of his three seasons with the club.
When Atlanta released him last week, fans across the league began to covet Robinson for their secondary. While Robinson will be 31 at the start of the 2013 season, cornerbacks have shown that they can play well into their 30's, so I don't think age will be a concern.
The question: is Robinson good enough to be a No. 1, shutdown-type cornerback? I don't believe he was that as a Falcon, so I don't envision it happening elsewhere.
Robinson will certainly get paid, and he will improve a team's secondary in 2013 and beyond with his sure tackling and cover skills. Just don't expect it to be a big-money deal.
Nick Kostos is the executive producer of the "SiriusXM Blitz," hosted by Rich Gannon and Adam Schein, on SiriusXM NFL Radio. You can follow Nick on Twitter.
Keep Reading