Reviewing the Indianapolis Colts' Measurable Scouting Combine Takeaways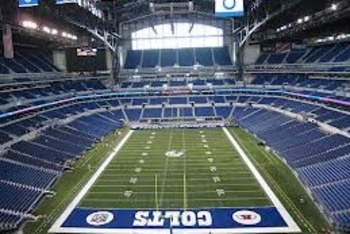 Lucas Oil Stadium: Site of the 2013 NFL Scouting Combine
The measurables are in from the 2013 NFL Scouting Combine and the verdict is...wow!
Even though the "Underwear Olympics" bore little resemblance to Sundays in the NFL, the 300+ NFL prospects invited to Indianapolis made a big impression with their athletic ability.
By now Colts fans can recite their team's player needs in their sleep: offensive line, defensive backs and the defensive front seven. Some of these needs will be addressed in free agency, others in the draft and some by both.
The Indianapolis Colts will draft in the 24th position of the first, third, fourth, sixth and seventh rounds, plus any compensatory picks they may be awarded during the March NFL owners' meeting.
This installment of "Guess What Grigson Will Do," takes a look at the measurables from the NFL Scouting Combine and how those measureables could address the Colts' player needs. The focus is solely on the measurables with the caveat that there is more to an NFL player than how fast he can run or how high he can jump in his underwear.
Colts' GM Ryan Grigson has already hinted that what he really wants to see at the NFL Scouting Combine is players on his radar perform poorly so that he can steal them in later rounds.
Taking this for some of his famous tongue-in-cheek banter and a thinly veiled attempt to confuse his rivals, let's assume for the sake of argument that Grigson and Head Coach Chuck Pagano do pay attention to the measurables posted at the Combine and that these data have some impact on the Colts' draft board.
With that in mind, here are the measurable standouts of the 2013 NFL Scouting Combine that fill the Colts' needs and will be available when the Colts are "on the clock" at the 2013 NFL Draft.
3-4 Defensive End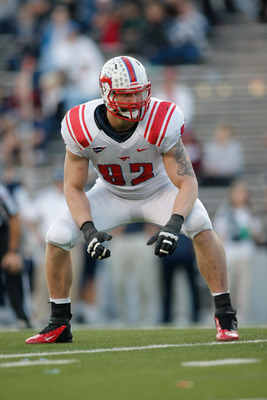 Comparisons to JJ Watt should make Magnus blush, except that they may be accurate.
Brett Davis-USA TODAY Sports
Let's begin with the defensive ends.
The Colts need one or two defensive ends that can set an edge and play the "5-technique" required in Pagano's 3-4 defensive scheme.
The 3-4 defensive end is a hybrid between the traditional 4-3 defensive tackle and defensive end. He has to be powerful enough to set the edge of the defense and force the offense to run inside him, and fast enough to get a good upfield pass rush.
Different groups of measurables reveal different things about a player's athletic ability.
For defensive ends in the 5-technique the Colts want a combination of quickness and power. This is also one position where height and reach are as important as the player's mass.
For defensive ends let's look at size and reach, measure quickness with the 40, and power with the bench press and broad jump.
A lot of defensive ends show up in mock drafts for the Colts, but there is little attention paid to whether or not the player has the skill package to play the 5-technique.
Most impressive of the 5-technique defensive linemen was Margus Hunt, an absolute freak from Estonia, the strongman capital of the world. He has only played football for a few years and moves like a wide receiver so there is nothing but upside with this guy.
The players in the table below have the 5-technique skill set, posted top scores in the relevant measurables and should be around when the Colts are ready to draft. Players are listed in projected draft order with top-5 scores in bolded italics:
Player

Size

Reach

(in.)

Bench

(reps)

Broad

(in.)

40

(secs)

Margus Hunt

SMU

6'8"

277

33 3/4
38
121
4.60

Sam Montgomery

LSU

6'3"

262

33 7/8
N/A
114
4.81

Joe Kruger

Utah

6'6"

269

34 3/8
24
117
4.83

5-year Avg.

Defensive Line


6'3"

266

33 1/2
25.6
113
4.88
Nose Tackle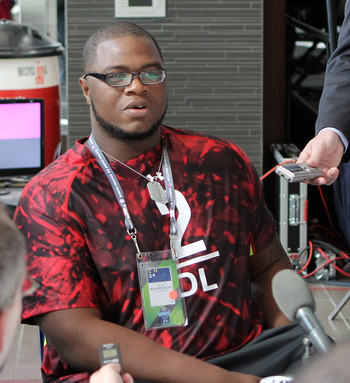 This thoughtful fella moved really well for the biggest defender at the combine.
USA TODAY Sports
There were several prospects who played nose tackle in a 3-4 scheme for their college team.
These behemoths specialize in the zero-technique. They can occupy two blockers and still stuff the A-gaps.
Quickness is more a priority than speed so we're going to look at the 20-yard shuttle and 10-second splits from the 40-yard dash. These gents also need a few extra pounds to plug the middle and keep blockers off of the linebackers. They won't be jumping through the dome so we'll go with the bench press as our power measure.
This is a lower priority on the defensive line for the Colts and these players could be around in later rounds if the Colts want to add to their depth at the position.
The players in the table below have the zero-technique skill set, posted top scores in the relevant measurables and are projected in later rounds. Players are listed in their projected draft order with top-5 scores in bolded italics:
Player
Size

Bench

(reps)

10-yard

Split

(secs)

20-yard

Shuttle

(secs)

Brandon Williams

Missouri Southern

6'1"

335

38
1.79
4.91

Josh Boyd

Miss. State

6'3"

310

32
1.67
4.64

T.J. Barnes

Georgia Tech

6'6"

369

25
1.88
4.96
3-4 OLB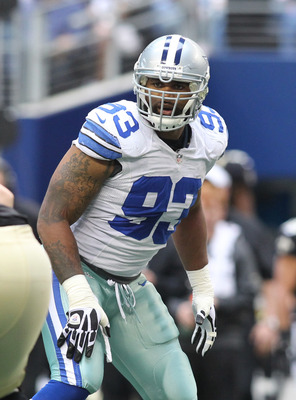 Colts fans want Anthony Spencer to replace Dwight Freeny and since he's from Indiana they might get their wish.
USA TODAY Sports
Colts fans have their hearts set on acquiring homeboy Anthony Spencer in free agency. He's the prototype outside linebacker in the 3-4 scheme, capable of stopping the run and rushing the quarterback.
Much like the defensive ends in the 3-4 scheme, the outside linebackers are hybrids of the traditional 4-3 OLB and defensive ends. They need the power to set the edge and the speed to pass rush, run sideline to sideline and drop into pass coverage.
At the Combine players who were designated as defensive ends and had the athletic ability to potentially play the OLB in the 3-4 were able to perform the linebacker position workouts.
Let's look at these guys' speed times and the two jumps (vertical and broad).
If the Colts pick up Spencer they likely will not spend a draft pick at this position, but a late-round "best available" pick is possible.
The players in the table below were listed as defensive ends but their size and speed mark them more as 3-4 outside linebackers. Players are listed in projected draft order with top-5 scores in bolded italics:
Player
Size

Vert

(in.)

Broad

(in.)

40

(secs)

3-Cone

(secs)

20-yard

Shuttle

(secs)

Ty Powell

Harding

6'2"

249

37
122
4.64
6.98
4.40

Michael Buchanan

Illinois

6'5"

255

33
113
4.78
6.91
4.44
Interior Offensive Line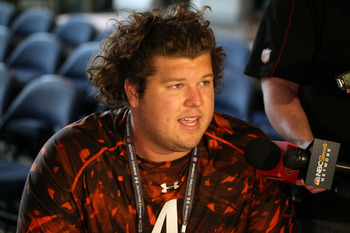 UCLA's Jeff Baca posted some of the best measurables of the Combine, and he's an offensive guard.
Brian Spurlock-USA TODAY Sports
Injuries and a lack of depth contributed to one of the worst offensive lines in the NFL last season.
Every Colts fan repeats the mantra, "must protect Andrew Luck."
Fortunately the Colts have plenty of salary cap money to bring in some veteran talent to body guard the franchise. Also fortunate is the depth of talent on the offensive line in this year's draft.
Guards and centers may be the least glamorous positions on the field, only noticed when they miss a block or commit a penalty. When an offensive linemen is deemed too slow to play the tackle position he is "kicked inside" where his lack of athleticism won't hurt the team but they can still benefit from his size.
The offensive linemen in general were uber-athletic at this year's combine with five athletes posting sub-five second times in the 40-yard dash, compared to a single athlete last year.
The athletic upgrade occurs as NFL teams spread the field and run no-huddle offenses demanding more athleticism from the big hogs up front.
Consider this trend, at one time it seemed that the size of NFL linemen would continue to increase as it pushed through 300 pounds and moved toward 400. In the last couple of years, however, the heavyweights have stabilized around 300 pounds as coaches, trainers and players realize that extraneous bulk is ineffective in the modern NFL game.
We'll look at the 10-yard split from the 40-yard dash as you will never see interior linemen sprinting 40 yards without oxygen. 20-yard shuttles are another indicator of an interior lineman's ability to pull and get to the outside ahead of his running back. For lower-body power let's examine the jumps.
The guards and centers in the table below stood out among the interior linemen that could be available to the Colts. Players are listed in projected draft order with top-5 scores in bolded italics:
Player
Size

Vert

(in.)

Broad

(in.)

10-yard

Split

(secs)

20-yard

Shuttle

(secs)

Brian Schwenke (C)

Cal

6'3"

314

26.5
108
1.68
4.74

Jeff Baca (G)

UCLA

6'3"

302

26.5
DNP
1.68
4.44

Earl Watford (G)

James Madison

6'3"

300

30
107
1.73
5.00
5-year Avg.
314
27
100
N/A
4.77
Offensive Tackle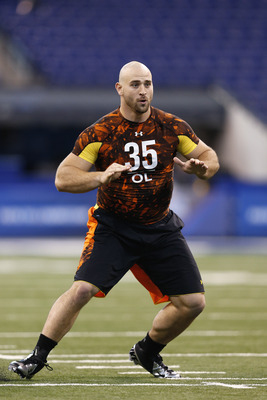 Kyle Long only played one year of D1 football, but he started out as a pitcher with a 97 mph fastball.
Joe Robbins/Getty Images
While the guard and center positions are the more technically challenging chess pieces on the offensive line, the tackle position requires the greatest athleticism.
Tackles frequently operate "on an island", alone man-to-man against the fastest and strongest athletes of the opposing defense. A tackle has to simultaneously check the explosive upfield rush and prevent his opponent from setting an edge.
Athleticism and size are requirements for the tackle positions and the Combine revealed tremendous depth at this position. We'll look at the jumps, the 40 because the times are so impressive and the 20-yard shuttle because some of the fast guys may not be so quick.
The top three to four tackles will be long gone by the time the Colts draft in the first round but fortune shines as several small-school and little-known tackles crashed the party and set Lucas Oil Field abuzz.
The loudest exclamations occurred with the first group on the first day of the Combine when Terron Armstead posted an eye-popping 4.71 time in the 40, faster than some running backs.
The tackles in the table below blew up expectations and, assuming that Joeckel, Fisher and Johnson are drafted in the top-20, could be available to the Colts in the first or later rounds. Players are listed in projected draft order with top-5 scores in bolded italics:
Player
Size

Vert

(in.)

Broad

(in.)

40

(secs)

20-yard

Shuttle

(secs)

Kyle Long

Oregon

6'6"

318

28
107
4.94
4.63

Reid Fragel

Ohio State

6"8"

308

30
113
5.14
4.68

Terron Armstead

Arkansas-Pine Bluff

6'5"

306

34.5
112
4.71
4.72

David Quessenberry

San Jose State

6'5"

302

29.5
112
5.08
4.45

Garrett Gilkey

Chadron State

6'6"

318

30
108
5.33
4.75

Tanner Hawkinson

Kansas

6'5"

298

28.5
112
5.07
4.51

Vinston Painter

Virginia Tech

6'4"

306

30.5
97
4.95
4.56
5-year Avg.
314
27
101
5.13

4.80
Safeties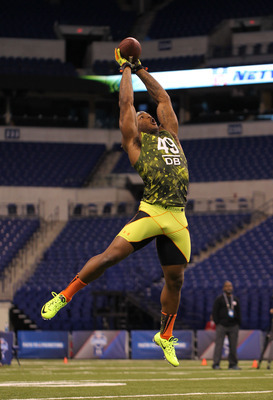 Shamarko Thomas has the size, speed, athleticism and hands to be a difference maker in the NFL.
Brian Spurlock-USA TODAY Sports
The depth of athleticism continues into another minor Colts' need at the safety position.
There was a time when a safety was just a cornerback who couldn't cover or a an offensive skill player who couldn't hold on to the ball. But as NFL defenses have become more and more sophisticated to match NFL offenses, the safety spot has emerged as a potential game changing position on the field.
Safeties cover over the top in the ubiquitous cover-2 pass defense, keep an eye out for tight ends and running backs running a streak down the middle of the field and on their plays off from pass coverage they are asked to contain the edge of the opponent's running game and screen plays.
Safeties must have the speed to stay with receivers and the mass to take down a running back or tight end in the open field. This combination means that today's safeties are specialists rather than castoffs.
Shamarko Thomas, a "human missile" according to the NFL Network commentators, blew away the field and announced his presence by winning four of the six events. He wasn't on anyone's top-5 list before the Combine.
The safeties in the table below combine size and athleticism and could be available in the later rounds when the Colts might spend a pick on a safety. Players are listed in projected draft order with top-5 scores in bolded italics:
Player
Size

Bench

(reps)

Vert

(in.)

Broad

(in.)

40

(secs)

20-yard

Shuttle

(secs)

Shamarko Thomas

Syracuse

5'9"

213

28
40.5
133
4.42
4.26

Eric Reid

LSU

6'1"

213

17
40.5
134
4.53
4.22

Matt Elam

Florida

5'10"

208

17
35.5
118
4.54
DNP

Shawn Williams

Georiga

6'0"

213

25
36
120
4.46
4.25

Earl Wolff

NC State

5'11"

209

DNP
39
134
4.44
4.07

JJ Wilcox

Georgia Southern

6'0"

213

17
35
124
4.57
4.09

TJ McDonald

USC

6'2"

219

19
40
131
4.59
4.20
5-year Avg.
209
18.1
34 1/4
120
4.62

4.24
Cornerbacks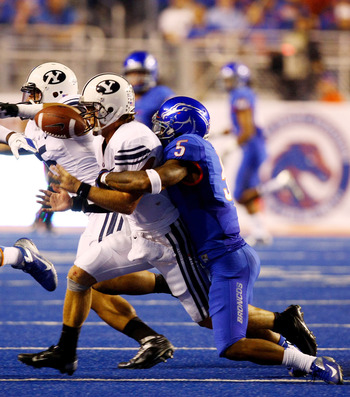 Bosie State's Jamar Taylor posted 13 intercepts and 6 forced fumbles in only 23 starts.
Brian Losness-USA TODAY Sports
Always save the best for last. The Colts could take a defensive end with their first round pick but many fans expect the Colts to go after their number one priority and draft O-line with the 24th pick.
Grigson, however, was asked who he would be more comfortable starting: a rookie offensive lineman or a rookie cornerback. Grigson explained that the offensive line is a much more technical position than cornerback and a rookie cornerback can be ready to start quicker than a rookie offensive lineman.
Grigson may be tipping his hand that he prefers to pick a cornerback with his first round pick, or maybe he's dissembling to throw off the competition. We won't know the answer until draft day.
Fortunately the cornerbacks in the draft are, at least athletically, one of the deeper positions. The top 2-3 corners will be gone when the Colts pick, but some great athletes were on display that could fall to the Colts or they could go for one in later rounds.
Cornerbacks need quickness more than long speed, though this depends on the defensive scheme. The same is true for size. Bigger cornerbacks are needed in press coverage and lighter cornerbacks thrive playing off their man.
Some Colts fans have commented that they want the Colts to find a tall cornerback, someone who can go up and defend against tall receivers. Height is good, but an athlete's reach and vertical leap can make up for a lack of height.
Do the math, if a 6'1" player can jump 36 inches vertically, but a 5'10" player can go 41 inches, who has the higher reach? The same is true for a player's reach.
Desmond Trufant is the player Colts fans should be keeping an eye out for on the draft board. If he is still around when they pick in the first round this Husky is a no-brainer.
Jamar Taylor is a late-round sleeper who was a big-time producer in college. In 23 career starts he reeled in 13 interceptions and forced six fumbles. This guys is a ball hawk and he makes big plays when he arrives.
The cornerbacks in the table below combine quickness with the ability to take a ball at the top, and could be available in the later rounds. Players are listed in projected draft order with top-5 scores in bolded italics:
Player
Size

Reach

(in.)

Vert

(in.)

Broad

(in.)

40

(secs)

20-yard

Shuttle

(secs)

Desmond Trufant

6'0"

190

31 1/4
37.5
125
4.38
3.85

Robert Alford

SE Louisiana

5'10"

188

32
40
132
4.39
4.23

David Amerson

NC State

6'1"

205

32 5/8
35.5
127
4.44
DNP

BW Webb

William and Mary

5'10"

185

30 1/4
40.5
120
4.46
3.84

Steve Williams

Cal

5'9"

181

30 1/2
40.5
128
4.42
4.10

Dwayne Gratz

Conneticut

5'11"

201

31 1/8
38
125
4.47
4.15

Jamar Taylor

Boise State

5'11"

192

30 3/4
35
127
4.39

4.06

5-year Avg.

5'11'

193

31 1/2
35
121
4.55

4.15
Keep Reading

Indianapolis Colts: Like this team?