Indianapolis Colts: What to Watch for at the 2013 NFL Combine
Joe Robbins/Getty Images
He didn't have to, but he did, 'nuff said.
"Measurables"...the NFL combine's contribution to American sports' jargon.
This weekend, more than 300 NFL prospects are invited to come and be measured by every NFL team.
Most of the measuring will be televised live from Indianapolis— with video replays available on the Internet.
The 2013 NFL combine is methadone for NFL fans already going through withdrawal three weeks after the Super Bowl.
The Indianapolis Colts are coming off a surprisingly good season and Colts' fans are already jonesing for the next hit of the good stuff. Their fans will have to make do with NFL prospects running, jumping, lifting, and shuttling for the Colts' brain trust.
With fewer NFL Draft picks in 2013, the pressure is on Ryan Grigson, Chuck Pagano and their crew to make each pick count. The Colts will also be panning for gold, sifting through the silt for hidden talent that will fall off the draft board and into the Colts' training camp as rookie free agents.
Given the contract announcements made by the Colts this week I'd bet a silver horseshoe that Grigson and Pagano have a solid player strategy mapped out and the NFL Combine is the first step in implementing their master plan.
How will the Colts measure this phase of their scheme?
Begin Slideshow

»
Measurables are the quantifiable characteristic of NFL prospects.
Height, arm/hand span, vertical/horizontal jump —all measurable with a ruler.
Speed, quickness and agility are measured by time. Strength and body mass are measurable with a scale.
Brains were measured by the Wunderlic test in years past. This year a new measurement tool developed by the NFL will be implemented for the first time.
Measurables are not the only characteristics of NFL prospects on display in the NFL Combine showroom. Teams will also conduct face-to-face interviews with as many prospects as they can squeeze through the door.
Doctors will poke, prod and manipulate the athlete's joints as they try to determine if their frame can take an NFL pounding.
In the philosophy of science—these two ways of knowing, or epistemologies—are known as objective and subjective knowledge.
Measurables are objective and a coach's judgment of a player's character is subjective.
To prove that nothing in the real world fits neatly into philosophic categories, NFL player personnel often have different subjective judgments about objective measurables.
Some measurables will be considered more valuable than others and often how a player performs a particular drill is more important than what the measurement reads.
Position-specific drills are not measured with a common metric at all and function more like a dance audition where each director may be looking for different things.
As players audition for the Colts and every other NFL team—what will their player personnel be looking for?
A lot of electrons have been fired discussing which positions the Colts will target this off season. Most of the Colts player acquisitions will come from free agency but the draft and rookie free agents will fill out the training camp roster.
The Colts drafted two tight ends and two wide receivers in the 2012 draft and signed rookie free agent Griff Whalen, one of Luck's targets at Stanford. With veteran superstar Reggie Wayne healthy, hale and signed, the Colts' released fan favorite Austin Collie telling him that the Colts had "completed their plan for next season's wide receivers."
The Colts will always keep an eye out for talent at tight end and wide receiver but this offseason these positions are not high on the Colts' priority list.
You'd figure the Colts are set at quarterback with superstar talent Andrew Luck coming off an impressive rookie season, but it is likely that the only other QBs on the Colts' roster will have a combined zero NFL snaps.
The Colts were look for an inexpensive veteran QB in free agency but the only measurable they will care about is NFL starts.
The Colts return two serviceable running backs who will both get time next season. However, the Colts could use a bulldozer fullback to lead block, pass protect and catch the occasional dump-down in the flat.
Colts' punter Pat McAfee is an unsigned free agent but everyone expects him to stay in Indy.
Kicker Adam Vinatieri had an off-year in 2012 and he's as old as the hills, but he is still has some mileage left in him and will face no more than the usual pressure from rookie free agents in training camp.
The consensus positional needs for the Colts are in the trenches.
OL is clearly a priority and the DL needs a serious upgrade from a unit that gave up nearly 140 rushing yards per game.
The secondary—particularly at CB--should be the top priority for upgrade.
With Dwight Freeney moving on the Colts will be looking for a pass-rushing OLB for Pagano's 3-4 scheme.
Besides a player's physical dimensions, what other aspects will the Colts be studying for these positions during the NFL Combine?
The 40-yard dash is to measuring football players what cholesterol levels are to middle-age men—lower numbers are better but they are no guarantee for longevity.
Players start with a hand on the ground and time intervals are taken at 10, 20 and 40 yards.
The 10-yard mark measures a player's explosiveness and is more vital for linemen—since getting off the line first is the first step to success.
20-yard times can be interpreted as acceleration after the start. Whether you're looking at a WR running a hesitation move or the DBs ability to stick with him—they must be able to accelerate and change speeds while in motion.
40-yard time is what is called "long speed". On most plays from scrimmage no player on the field runs 40-yards at top speed. Long speed is more evident on special teams, deep passes or breakaway runs.
In 2012 the Colts' draft picks posted the following top times at their position:
Andrew Luck, QB, 4th, 4.67 seconds
Dwayne Allen, TE, 8th, 4.89 seconds
LaVon Brazill, WR, 14th, 4.48 seconds
Here is the range of the 15 fastest 2012 times at the Colts' 2013 priority positions:
Offensive Line: 4.94-5.28 seconds
Defensive Line: 4.50-4.87 seconds
Cornerback: 4.33-4.55 seconds
Safety: 4.50-4.66 seconds
Linebacker: 4.47-4.74 seconds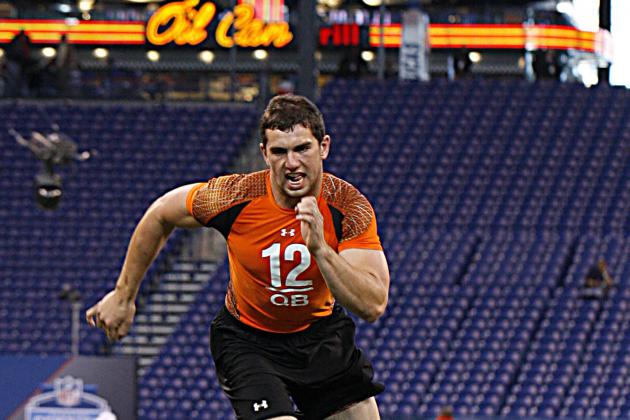 Brian Spurlock-USA TODAY Sports
Andrew Luck working it out on the short shuttle.
Athletes at the combine run two different timed workouts requiring them to change direction and accelerate.
The 20-yard shuttle, or "5-10-5"—tests lateral quickness and acceleration over a short distance. This measurable is particularly important to assessing linemen and linebackers.
The 60-yard shuttle is five touches at distances of 5, 10 and 15 yards. This test also measures quickness and acceleration after a change of direction but the athlete has more room to accelerate to his top speed. Linemen and quarterbacks do not perform this workout.
Player personnel are subjectively looking to see how low players can get their center of gravity when they touch. Look for good ankle, knee and hip flexibility compared to players who have to bend at the waist.
In 2012 the Colts' draft picks posted the following top times in the 20-yard shuttle at their position:
Chandler Harnish, QB, 4th, 4.15 seconds
Dwayne Allen, TE, 5th, 4.37 seconds
Vick Ballard, RB, 7th 4.19 seconds
Here is the range of the 15 fastest 2012 times at the Colts' 2013 priority positions:
Offensive Line: 4.53-4.74 seconds
Defensive Line: 4.03-4.38 seconds
Cornerback: 3.90-4.15 seconds
Safety: 4.03-4.29 seconds
Linebacker: 4.09-4.35 seconds
The three-cone drill combines speed with change of direction. While the shuttle requires players to start and stop on the change of direction, the three-cone drill adds three turns at full speed around two cones.
Players begin the drill much like the shuttle run with two five-yard starts and stops. After the second touch the athlete makes a high-speed turn to the right around the second cone, a 180-degree turn around the third cone, and finally a high-speed left turn around the second cone to the finish.
The three-cone drill measures how quickly an athlete can change direction while running and how fast they accelerate coming out of the turns.
In addition to looking for players who can get low on the starts and stops—player personnel are watching the athletes' footwork as they execute the two 90-degree turns and 180-degree turn.
In a sign of the apocalypse, Tim Tebow ran a 6.66 in 2010.
In 2012 the Colts' draft picks posted the following top times in the three-cone drill at their position:
Chandler Harnish, QB, 2nd, 6.78 seconds
Dwayne Allen, TE, 5th, 7.12 seconds
Vick Ballard, RB, 8th 7.03 seconds
Here is the range of the 15 fastest 2012 times at the Colts' 2013 priority positions:
Offensive Line: 7.30-7.73 seconds
Defensive Line: 6.70-7.19 seconds
Cornerback: 6.55-6.94 seconds
Safety: 6.63-7.21 seconds
Linebacker: 6.84-7.26 seconds
This event use to be in the Olympics and my neighbor's daughter set a Kentucky state record for eight-year olds.
Players start with both feet toeing a line, squat, and jump forward as far as they can while landing on both feet simultaneously and maintaining balance.
This tests lower body strength and the ability to flex and explode using just the leg and core muscles.
It's also a test of balance as the athlete's feet remain directly under his center of gravity. If the athlete takes an extra step or touches the ground with a hand he must perform the jump again.
Note Andrew Luck's top broad jump distance below and consider what it meant all of those times he shook off a would-be sacker.
In 2012 the Colts' draft picks posted the following top distances at their position:
Andrew Luck, QB, 1st, 10'4"
Dwayne Allen, TE, 8th, 9'2"
Vick Ballard, RB, 15th, 9'7"
Here is the range of the 15 longest 2012 leaps at the Colts' 2013 priority positions:
Offensive Line: 8'6"-9'6"
Defensive Line: 9"5"-10'4"
Cornerback: 10'0"-11'1"
Safety: 9'11"-10'8"
Linebacker: 9'9"-10'7"
The vertical jump is similar to the broad jump in that it tests the strength and explosiveness of the lower body. It is also an indicator of reach or extension, how far can the athlete coil and then completely straighten the body.
Athletes are first measured at the highest point of their standing reach. They then stand under a set of pivoting "flags" set at half-inch increments—highest flag to move is the athlete's upper mark. Subtract the upper mark from the standing mark and you have the athlete's vertical leap.
Everyone expects the DBs and WRs to get big vertical air. DBs need to be able to jump up and knock balls down—especially if height-deficient. Vice-versa for WRs—you have to go up and get that ball
While the big boys don't elevate as high, a big, strong man that can get up in the air will turn some heads.
In 2012 the Colts' draft picks posted the following top distances at their position:
Andrew Luck, QB, 4th, 36"
Dwayne Allen, TE, 8th, 32"
Here is the range of the 15 highest 2012 scores at the Colts' 2013 priority positions:
Offensive Line: 29"-35.5"
Defensive Line: 33.5"-38.5"
Cornerback: 34.5"-39.5"
Safety: 33"-38.5"
Linebacker: 34.5"-39.5"
Upper body strength and conditioning are measured on the bench press. Athletes press 225 pounds as many times as they can without bending their back or bouncing the bar off their chest.
An NFL prospect is expected to be able to bench 225 pounds—heck there was a time when I could bench 225.
The difference maker is the number of consecutive presses.
Player personnel need to know if an athlete will be as strong on the 12th play of a drive as they are on the first play—will they be as strong in the fourth quarter as they are in the first?
This is also a test of the amount of work a player has put into his strength and conditioning during college. Building up stamina in large muscle groups like those used in the bench press takes considerable time and effort.
Work ethic and the ability to wear down one's opponent and physically dominate him are two of the characteristics shared by all great NFL players.
In 2012 the Colts' draft picks posted the following top reps at their position:
Dwayne Allen, TE, 2nd, 27 reps
Vick Ballard, RB, 5th, 23 reps
Here is the range of the 15 highest 2012 reps at the Colts' 2013 priority positions:
Offensive Line: 29-41 reps
Defensive Line: 30-44 reps
Cornerback: 15-24 reps
Safety: 15-22 reps
Linebacker: 22-36 reps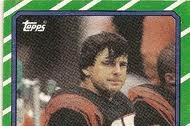 Former Bengals punter Pat McInally is the only NFL player to ever post a perfect score on the Wonderlic test.
Tom Landry, Hall of Fame coach of the Dallas Cowboys, introduced the first cognitive tests to the NFL back in the 1970's.
Since the NFL combine's inception the Wonderlic Cognitive Ability Test has been used to measure a player's decision making and personality traits.
The Wonderlic test has come under a lot of scrutiny for its ability to accurately measure the cognitive and personality traits NFL teams are looking for. One study found that scores on the Wonderlic test are completely unrelated to NFL performance.
It has also come to the attention of NFL officials that players were prepping for the test in much the same way they were training for the other measurables.
In response, the NFL developed their own test—with the help of a leading industrial psychologist in consultation with various front office officials and former NFL players.
The new test is longer than the Wonderlic test, lasting a full hour rather than the traditional 12-minute Wonderlic.
According to an NFL memo—the new test is supposed to be a "more robust and comprehensive assessment of a player's non-physical capabilities, aptitudes and strengths."
The test is designed to measure "a wide-range of competencies, including learning styles, motivation, decision-making skills, responding to pressure or unexpected stimuli, and core intellect."
Scores will only be made available to one or two people in each organization in order to protect player confidentiality.
NFL fans won't be able to monitor this measurable but there is a reason that the NFL is trying to improve this metric and no doubt the Colts' front office will make sure to know the scores.
Brian Spurlock-USA TODAY Sports
The Blues Brothers got nothin' on the Colts GM.
Measurables will capture the attention of NFL fans—but coaches, scouts and front office player personnel will also be paying close attention to facets of a player's game that are not easily measured.
Every position at the NFL Combine has a position-specific drill.
QBs will make several different throws while dropping back to different depths.
WRs run a gauntlet where they run 50 yards down a straight line and receive five consecutive passes from opposite directions.
RBs run head-up over a set of obstacles and change direction at the end according to a signal.
CBs and LBs will also get a test simulating pass coverage.
At the Colts critical positions the keys are lateral movement and change of direction. Linemen run a series of cone drills simulating game movements.
In one, the linemen get to line up and race to a cone representing the QB. The OL is moving back while the DL is coming straight up field.
There is an interesting spectacle where the biggies start on their backs, leap up on a whistle, and follow a series of signals to move in all four directions. Watching a man pushing 400 pounds get off his back is comical and the millions of dollars on the line make it more so.
In these workouts the player personnel are looking for basic technique, a player's ability to stay focused under changing conditions and their overall athletic ability. Different teams will be looking for specific things in these drills.
Another subjective assessment comes from personal interviews with the players. Ryan Grigson puts a lot of stock in these interviews and believes that his coach can get a player to feel comfortable enough in the interview to reveal whatever it is the Colts' are looking for in their locker room.
As with any kind of measurement the results are only as good as the metric. At the end of the day the only way to measure NFL success is on the field.
There are plenty of (in)famous busts from the NFL Combine and teams have to be careful not to fall in love with measurables.
Even so, every year the Combine turns up some good talent that was flying under the radar.
Then there are the players who attend the Combine but do not post any measurables on the field. Some of these players are concerned about injury while others worry that a poor performance could cause them to fall in the draft.
It is often the case that the very top prospects do not work out as they figure that everyone already knows what they are capable of doing. They show up and do the interviews, maybe take the cognitive and personality tests, but rigorously avoid anything that looks athletic.
Last year's top prospect, Andrew Luck, was considered to be an automatic number one draft pick but he bucked the trend and went through the full workout anyway.
In 2012 the Colts saw for themselves how this kind of warrior mentality plays out on the field.
Tune in this weekend for live broadcasts from Indianapolis. If you're not lucky enough to get the NFL channel in your home, check back here for my recap.
All combine results courtesy of NFL.com.