Teams That Are Set to Make a Big Splash in Free Agency This Offseason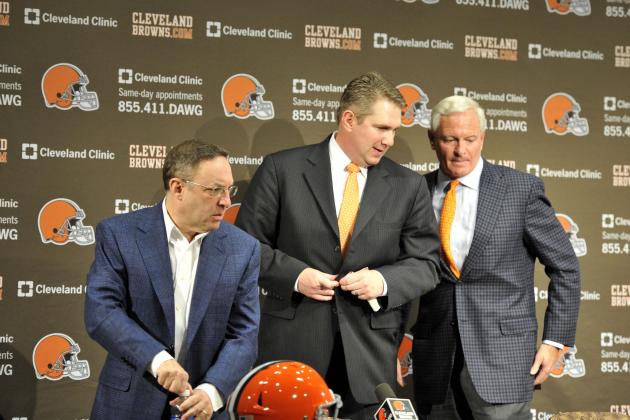 David Richard-USA TODAY Sports
The Cleveland Browns front office should be very busy in free agency.
Roughly two weeks from now, on Tuesday, March 14, the NFL offseason enters into free agency. Free agency will represent a time period where a few select teams that happen to be sitting on a large amount of available salary cap space will be the envy of the rest of the league.
The teams with the most available salary cap space will have wrapped up new deals with some of their own key free agents, but will no doubt have money left over to target key positions of need.
March 12, two days prior to the start of free agency, every team will need to be under the salary cap limit. With so many teams facing a negative situation with their salary cap, expect to see a number of veteran players either released or agreeing to restructure their 2013 contracts to give their teams some cap relief.
Last month, John Clayton of ESPN wrote an article about the amount of available money teams decided to carry over from 2012 that will impact their salary cap space for 2013. Based on those figures, we highlight the 11 teams that have the most cap space available to try to determine which of these teams will be in the best position to make a splash in free agency.
For the remaining 21 teams, none of them had more than $17 million, so it is highly doubtful that any of them are in a position to make a major splash in free agency.
With regards to the 11 teams, we will rank them according to how much of a splash we think they will make regarding signing free agents from other teams.
Note that every salary cap figure used in this article is courtesy of the John Clayton article we referenced earlier.
Begin Slideshow

»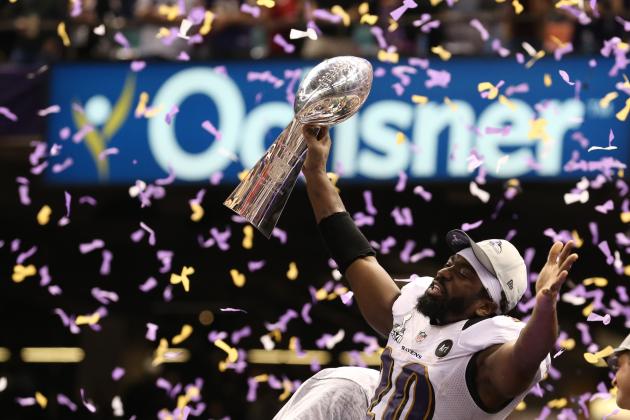 Matthew Emmons-USA TODAY Sports
Will Bill Belichick have enough money left to sign Ed Reed in free agency?
The New England Patriots were able to carry over $5.6 million from 2012 to boost their available salary cap space to $18.6 million. The problem is that the Patriots have some of their own talented free agents whom they would like to sign, so the $18.6 million can only be stretched so far.
Between Wes Welker, Sebastian Vollmer and Aqib Talib, the Patriots have some expensive free-agent decisions to make. Then there are role players like Julian Edelman and Danny Woodhead who are also free agents who could further limit the ability of New England to make a splash in free agency.
The Patriots' ability to bring in outside talent will depend on how many of these free agents they sign and how much money they still have left over to wheel and deal.
You know that Bill Belichick would love to bring in safety Ed Reed to boost his secondary, but Reed won't be cheap. He demands top dollar, and anything less than that would be insulting. But now that Reed has a Super Bowl ring, he might be OK with shaving a little bit off of his demands to try to win another ring. That remains to be seen.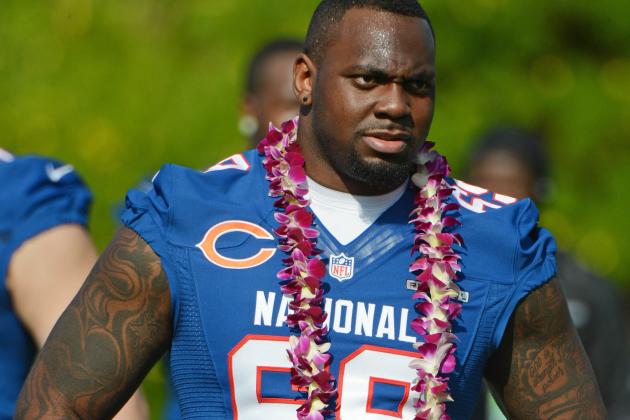 Kyle Terada-USA TODAY Sports
If Denver could land Henry Melton, that would be a big splash.
For the Denver Broncos, they were less than one minute away from reaching the AFC Championship Game in 2012. The Broncos figure to be contenders again in 2013 and may just need to add one or two key players to take the next step.
At the end of the 2012 season, Denver carried over $11.5 million to help push their available salary cap total to $18.5 million.
One area that Broncos fans would like to see addressed is a better backup quarterback to serve as insurance if Peyton Manning ever gets injured. Look for Denver to also go after a defensive tackle in free agency. If the Bears allow Henry Melton to test free agency, the Broncos should try to lock him up.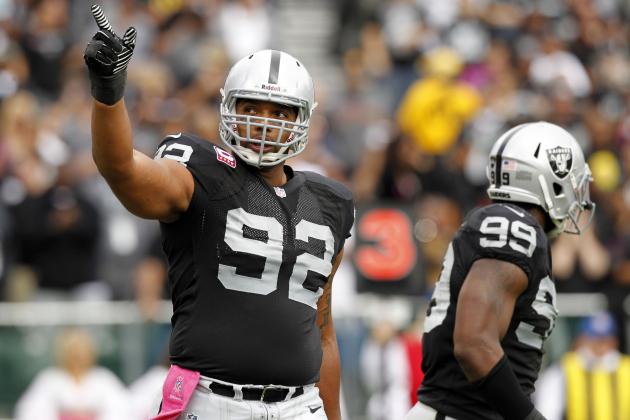 Cary Emondson-USA TODAY Sports
How good would Seattle's defense be if they added Richard Seymour?
With the 2012 season that the Seattle Seahawks turned in, you would think that free agents will view Seattle as an up-and-coming team to consider playing for.
Seattle carried over $13.2 million from 2012 to push their total available salary cap to $18.6 million.
The Seahawks are in decent shape with respect to their own free agents in 2013. The list seems rather manageable, as they need to decide on who to bring back from Steven Hauschka, Alan Branch, Jason Jones and Marcus Trufant.
What areas could the Seahawks address with $18.6 million available to spend?
They should still have enough money left to find another wide receiver for Russell Wilson to throw to. There are some quality tackles in free agency to upgrade the offensive, line or they could look to add some depth to the defensive line. Options along the defensive line could include Richard Seymour, Randy Starks and Henry Melton.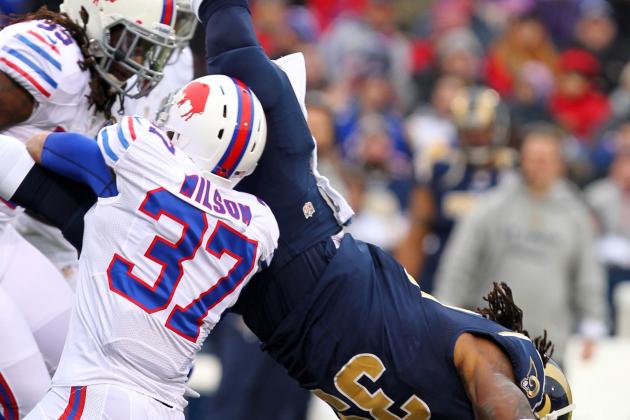 USA TODAY Sports
The Titans got an early start on 2013 free agency by signing George Wilson.
The Tennessee Titans carried over $12.8 million from 2012 to give the team a favorable cushion to work with in 2013 free agency. That boosted their total available salary cap for 2013 to $19.4 million, which means that they should be players in free agency.
The Titans already made a splash to a certain degree when they signed free-agent starting safety George Wilson to a deal last week. Tennessee landed Wilson on a two-year deal for $4 million, which seems like a great deal for the Titans. Wilson turned in a solid 2012 season, as attested by his final ranking as the No. 8 best safety in the NFL last year by Pro Football Focus.
As for the Titans' own free agents, they need to decide what they want to do with Rob Bironas, Jared Cook and Sen'Derrick Marks. Signing one or two of them will reduce their available cash, with Cook being the player many teams would be interested in due to his potential upside.
The Wilson deal still leaves the Titans with enough cash to find an upgrade at guard over the likes of free agents Deuce Lutui or Leroy Harris. The top guards in free agency are Andy Levitre and Louis Vasquez, and either one would represent an upgrade.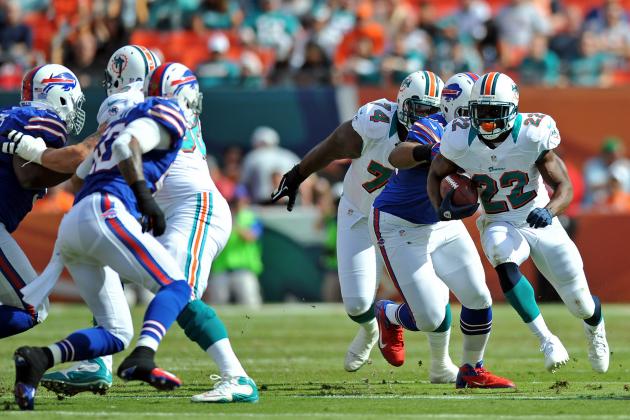 USA TODAY Sports
Could the Jaguars convince Reggie Bush to stay in Florida?
The Jacksonville Jaguars have $22.1 million available in free agency to make a splash to give new head coach Gus Bradley better talent to work with. It will be up to new general manager Dave Caldwell to make that happen.
The Jaguars carried over $19.5 million from 2012, which was the second-highest total in the NFL, trailing only Philadelphia, who carried over $23 million. While that sum bailed the Eagles out of a negative salary cap situation, it really boosted the Jaguars, who were already in a positive salary cap space to begin with.
So, what can the Jaguars do with their $22.1 million? One area they could address is to improve the play at right tackle. The 2013 free-agent class offers up a wide variety of good tackles, so the Jaguars should be able to find a good one with the kind of money they can spend. Tackle options include Sebastian Vollmer, Andre Smith and Gosder Cherilus.
Another position to address is running back. Maurice Jones-Drew will be a free agent in 2014, and who knows what kind of physical shape or attitude he will have in 2013 for Jacksonville? Having his replacement lined up, as well as having somebody to work into the mix, makes tremendous sense. Perhaps the Jaguars can convince Reggie Bush to remain in Florida?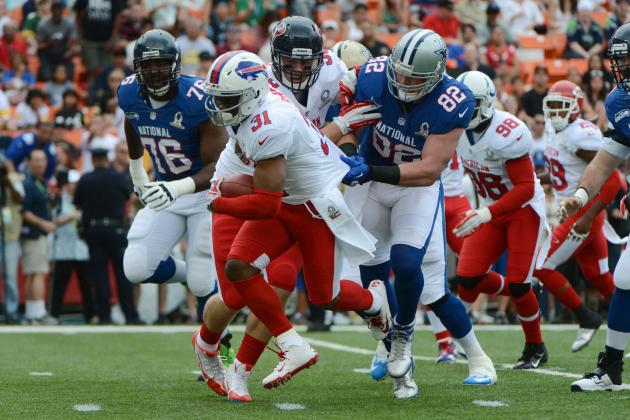 Kyle Terada-USA TODAY Sports
The Bills have two weeks left to work out a deal with Jairus Byrd.
From the John Clayton story, we knew that the Buffalo Bills had $20.6 million available in salary cap space back in January. But since then, the team has released three veterans who were under contract for 2013: Nick Barnett, George Wilson and Terrence McGee. The moves will free up even more salary cap space for Buffalo to make a splash again in free agency.
For the record, Buffalo carried over $9.8 million from 2012 to boost their salary cap situation.
The Bills have recently signed free-agent quarterback Tarvaris Jackson, but the 2013 base salary was only $1.75 million with a signing bonus of $500,000.
Having another quarterback with starting NFL experience allows the Bills to have somebody on the roster to push Ryan Fitzpatrick, if the Bills decide to keep him. There has been speculation that the Bills might release Fitzpatrick, but they could just as easily let him return and compete for the starting job with Jackson along with the quarterback they take in the draft.
The Bills made one of the biggest splashes in free agency in 2012 when they signed a pair of free-agent defensive ends in Mario Williams and Mark Anderson. They don't have the ability to land a player of Williams' pedigree in free agency this year, but they have enough space available where they can land a solid wide receiver and/or a starting inside linebacker.
Buffalo has two weeks left to sign free agents Andy Levitre and Jairus Byrd to new deals or lose them to another team in free agency. The Bills will use the franchise tag on Byrd only as a last resort. If the team is able to sign both, their salary cap space will be roughly cut in half.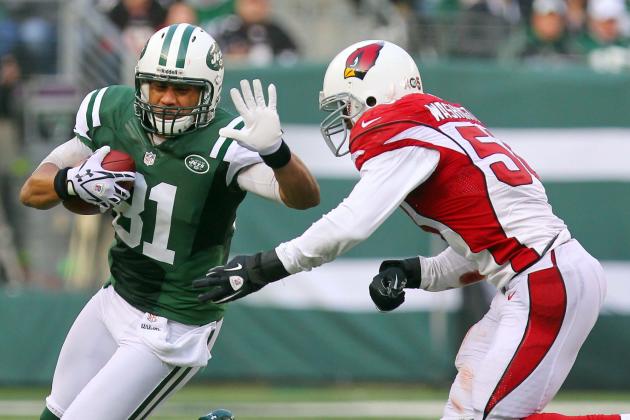 Ed Mulholland-USA TODAY Sports
Dustin Keller should be available in free agency for Tampa Bay.
The Tampa Bay Buccaneers have $31.3 million available in salary cap space for 2013 free agency. The Bucs made one of the largest splashes last year in free agency when they signed WR Vincent Jackson, CB Eric Wright, G Carl Nicks and QB Dan Orlovsky.
Tampa Bay carried over $8.5 million from 2012 to help swell their available cash totals for this year to reach $31.3 million. Regarding their own free agents, decisions will have to be made on Ronde Barber, Michael Bennett and Dallas Clark. That would cause a dent in their available salary cap space, but should still leave plenty to land several key free agents.
To help out the pass rush, free-agent options include Cliff Avril, Osi Umenyiora, Anthony Spencer, Michael Johnson and Dwight Freeney. Finding younger, more productive tight ends could land them Jared Cook, Dustin Keller or Fred Davis.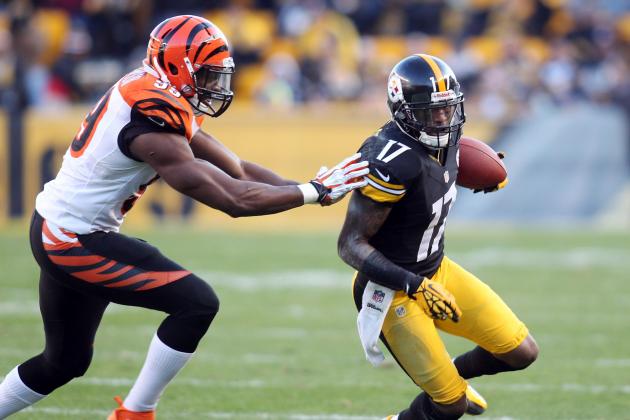 Charles LeClaire-USA TODAY Sports
The Dolphins are very high on WR Mike Wallace.
The Miami Dolphins carried over $5.3 million from 2012 to boost their overall salary cap space to a healthy sum of $35.8 million.
The size of a splash that the Dolphins can make in free agency could wind up being negligible at best depending on how many of their own free agents the team decides to bring back for 2013. This is a pretty long list: Chris Clemons, Sean Smith, Reggie Bush, Anthony Fasano, Jake Long, Brian Hartline, Nate Kaeding, Matt Moore and Randy Starks.
There is no way that the Dolphins will bring all of them back, and the lack of any meaningful negotiations with Bush leads to the belief that he will walk away in free agency. But with each veteran who leaves in free agency, that creates a new hole that the Dolphins will have to plug with their $35.8 million.
One area for sure we know that Miami wants to address in free agency is to sign a No. 1 wide receiver. The Miami Herald reported that the Dolphins are targeting Pittsburgh WR Mike Wallace, and that he is their No. 1 priority in the offseason. Wallace wants to be paid handsomely, and the Dolphins are in a position to do that.
Aside from Wallace, the remaining splash the Dolphins make in free agency will be directly tied to whatever veteran free agents the team decides not to bring back for 2013.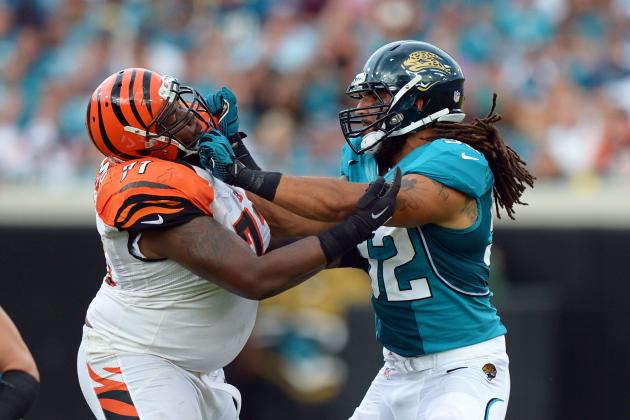 Jake Roth-USA TODAY Sports
Will the Bengals bring back Andre Smith or let him walk?
Even though the Cincinnati Bengals have the most salary cap space available of all 32 teams at $55.1 million, they are going to see a big chunk of those resources devoted to signing their own key free agents. That is why they wound up being ranked No. 3 overall in this presentation.
By last count, the Bengals have 19 unrestricted free agents in 2013 and can only use the franchise tag one time. That means there will either be a number of Bengals veteran players signing a new deal to stay in Cincinnati, or they will be allowed to walk away and test the market.
There are too many free agents to list, so we will highlight some key players, such as Chris Crocker, Wallace Gilberry, Michael Johnson, Andre Smith, Adam Jones and Terrance Newman to name a few.
Once the start of free agency rolls around, it will be interesting to learn exactly how much of that $55.1 million is still available for the Bengals to spend. Mike Brown isn't exactly known for throwing millions of dollars around freely.
But with the Bengals now appearing in the postseason in two straight seasons, perhaps Brown is now convinced of how close this team is to being a legitimate contender. If he thinks they are only a few key players away from being that kind of team, then maybe he will surprise us all and sign some expensive star players to help guide the team to the next level.
Because there is the potential for so many new holes to spring up on the Bengals roster over which players they let walk away in free agency, it is difficult to predict who they will be going after in free agency. Once we know what holes they have, we can start focusing on the best free agents available.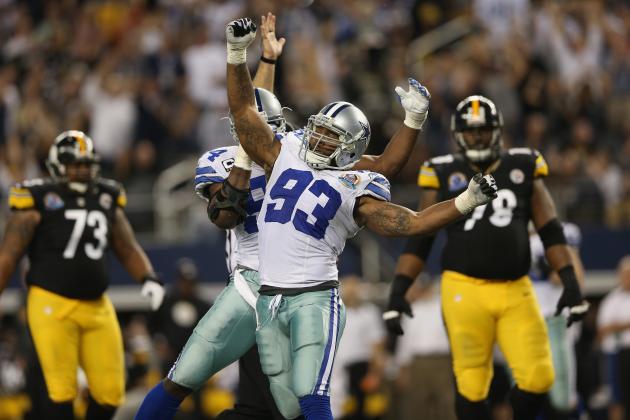 Ronald Martinez/Getty Images
Anthony Spencer would be considered a big-splash move by the Colts.
The Indianapolis Colts are also in a very favorable salary cap space scenario in 2013. The team opted to carry over $3.5 million from 2012 to bump up their total available space to $46 million. You can make a really big splash in free agency with $46 million.
In addition, one of the key free agents in 2013 for the Colts was DE/OLB Dwight Freeney. The Colts already decided to part ways with Freeney, so that will free up considerable salary cap space to go towards signing key free agents from other teams.
With such a young roster due to the turnover that general manager Ryan Grigson engineered, the Colts may decide to add some other veteran leaders to help Robert Mathis and Reggie Wayne in guiding the younger Colts.
The Colts could look to boost their offensive line and add another target or two for Andrew Luck. As for offensive linemen, they could look at guards Andy Levitre or Louis Vasquez to upgrade over Mike McGlynn. At outside linebacker, the Colts could sign Anthony Spencer or Paul Kruger. Any of those four players would help to create a splash for the Colts.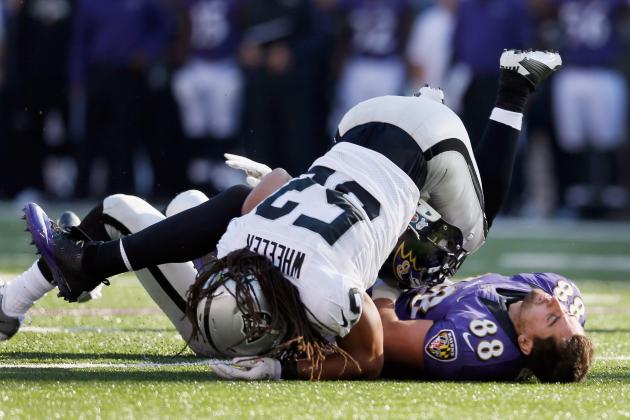 Rob Carr/Getty Images
Philip Wheeler would be an upgrade at OLB for Cleveland.
The Cleveland Browns are very much in the driver seat with regard to making a splash in 2013 free agency. Cleveland carried over $14.3 million from 2012 to boost their overall total of available cap space to $48.9 million.
While the Cincinnati Bengals have more cap space, a larger percentage of their cash will be devoted to signing a number of their own free agents, which reduces the size of the splash they can make on their own. That is not the case with the Browns, as the number of key free agents they have is clearly less. Their key free agents are Sheldon Brown, Kaluka Maiava, Juqua Parker, Phil Dawson and Ben Watson.
For Michael Lombardi, the Browns new director of player personnel, he has the opportunity to apply some of these funds to upgrading positions of need up and down the Browns roster. If Lombardi doesn't come out of free agency with a number of young stars signed to play for Cleveland in 2013, then you would have to conclude that he missed the boat.
The Browns could use some help at outside linebacker and at wide receiver. With the money that the team has available to spend in free agency, they could look at free agents like Philip Wheeler and Nick Barnett for the defense. At wide receiver, they could make things more interesting in the AFC North by signing Mike Wallace. Other options are Dwayne Bowe, Greg Jennings, Wes Welker and Brian Hartline.
Thanks for checking out the presentation. If you are interested in following me on Twitter, you can do so @DanVanWie.