How High Marks at the Scouting Combine Can Ruin NFL Careers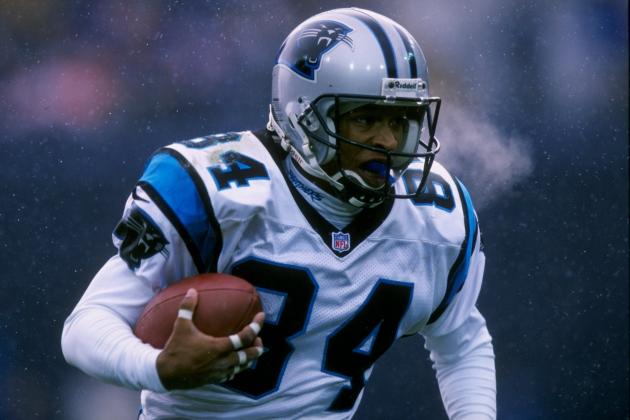 Brian Bahr/Getty Images

The NFL Scouting Combine can be a major boon for prospects who light up stop watches, jump out of the stadium or put up eye-popping feats of strength. It can also be a bane for aspiring pros, and not just for those who perform poorly.
Many a career has been started with high expectations thanks to incredible performances at the combine or subsequent pro days. In some cases, the player is merely a bust. In some others, the expectations set by these performances can ruin careers.
Begin Slideshow

»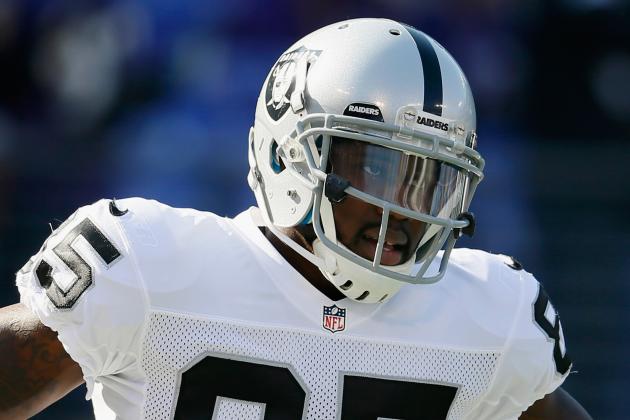 Rob Carr/Getty Images

Darrius Heyward-Bey blew away scouts and fans alike at the 2009 combine. His 40-yard dash time of 4.30 seconds and 38.5 inches in the vertical leap garnered the attention of one Al Davis despite concerns over a lack of production in college.
DHB was drafted sixth overall in the first round with some rather lofty expectations—he was even taken before the much-heralded Michael Crabtree—but he has failed to live up to them.
He has picked things up a bit over the past two seasons, but he has never lived up to his billing.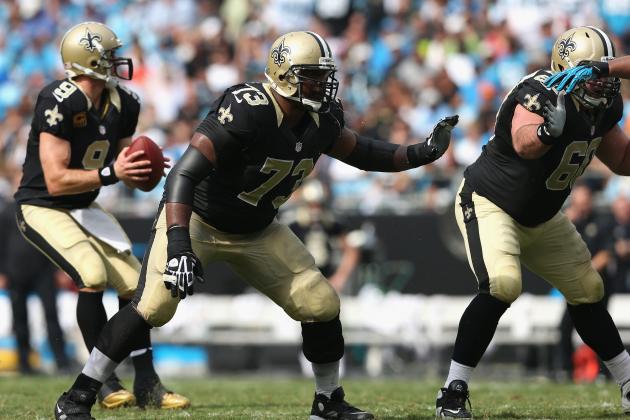 Streeter Lecka/Getty Images

Just a scant three years ago, a hulking offensive lineman stepped onto the carpet in Indianapolis and dominated the combine. His name was Bruce Campbell, and he was there to kick butt and chew bubble gum.
He was all out of gum.
His combine performance vaulted him into the top 10 in many an expert's eyes, and there was some shock when he fell all the way into the fourth round. Even that was too high, though.
Campbell would need to attach a chainsaw to his arm to be at all effective in the NFL. It is the reason he has appeared in just 10 games throughout his three-year career.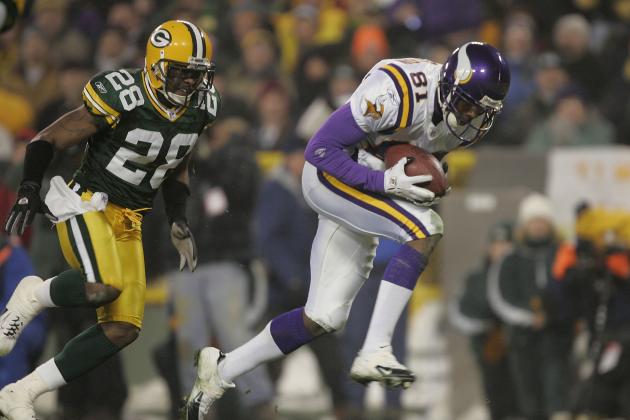 Brian Bahr/Getty Images

Perhaps the biggest combine-hype bust came out of Arkansas.
The Packers took Ahmad Carroll with the 25th pick in the draft after his monster combine. Carroll ran a 4.34 40-yard dash and jumped up 41 inches in the vertical leap.
Carroll was burned so badly and often that the Packers cut him in the middle of his third season. The Jaguars—the great judges of talent and character that they were around this time—picked him up, but cut him during the following offseason following an arrest.
The Arkansas product was fast, but he couldn't outrun his hype.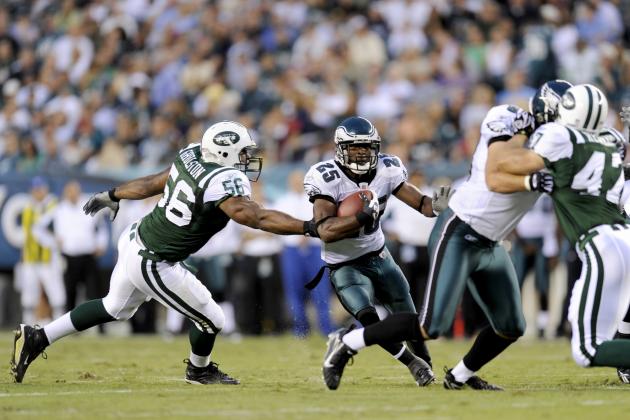 Rob Tringali/Getty Images

Sixteen tackles.
"What is Vernon Gholston's career high for a single game?" you ask.
No, that is how many tackles Gholston has for his career. Now, Gholston had a fine career at Ohio State, tying the school record for most sacks in a game with four and breaking the season record with 14.5 in 2007.
But he cemented his top-10 status with an insane workout that included running a 4.58-second 40-yard dash, bench-pressing 225 pounds 37 times and jumping a 41-inch vertical leap and 10'5" broad jump.
The Jets took him sixth overall, and he has been one of the bigger busts of the past decade. He was cut after three seasons and hasn't seen an active roster since.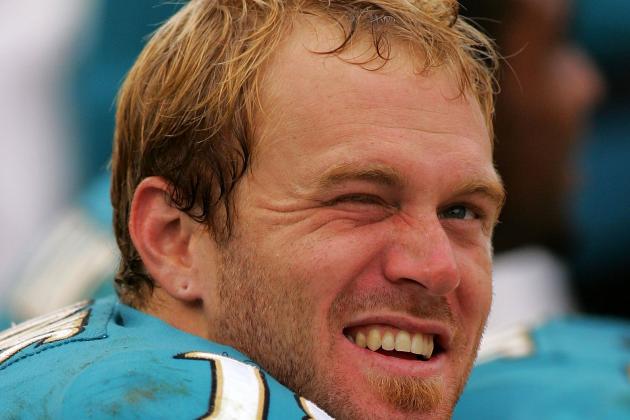 Sam Greenwood/Getty Images

There are few bigger examples of drafting hubris than the one Jacksonville provided in taking Matt Jones as a first-round pick.
Jones played quarterback in college, but he wasn't good enough to play the position in the NFL. So he switched to wide receiver.
After some lackluster production through his first few seasons in the league, Jones was arrested for alleged possession of cocaine. He was sent to rehab rather than prosecuted, but later Jones would be arrested again for having alcohol in his system, which violated his probation.
Needless to say, the Jaguars cut him and his career was essentially over.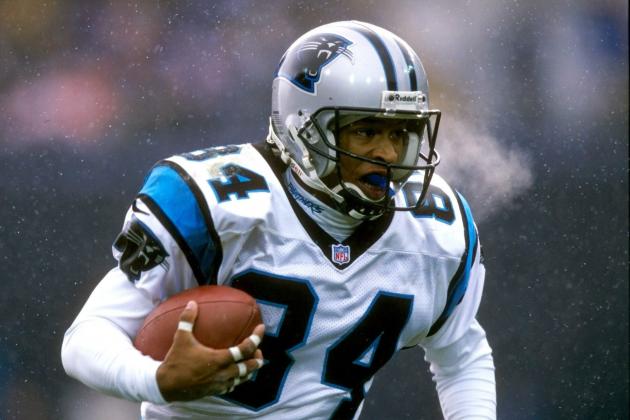 Brian Bahr/Getty Images

Rae Carruth was an unassuming wide receiver prospect out of Colorado in 1997. He was sure to be drafted, but it wasn't until that year's combine that he made a name for himself.
Carruth ran the 40-yard dash in 4.17 seconds. That was enough to vault him into the first round, where the Panthers took him with the 27th pick.
He was a fine player for the Panthers, but perhaps the social pressures of all that money affected him off the field.
There was really no foreseeing the horrific events surrounding the speedy receiver in November of 1999. Carruth had grown weary of paying for child support, and his girlfriend, Cherica Adams, was eight months pregnant with a child he had implored her to avoid having.
The surreal became reality when Carruth had his eight-month-pregnant girlfriend shot. She survived long enough to finger him for the evil deed, and his career came to an abrupt end. He was sentenced to almost 19 years in prison for the crime.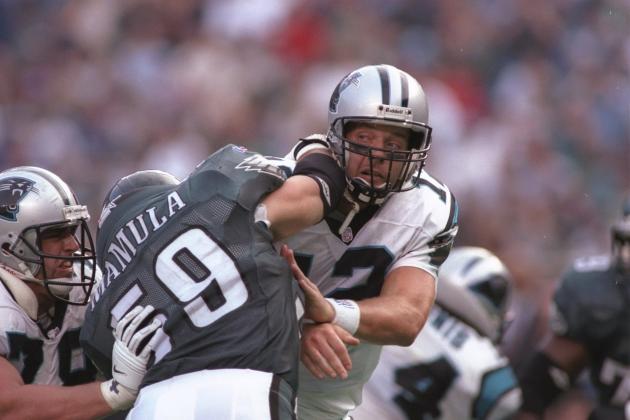 Rick Stewart/Getty Images

When we talk about "workout warriors" that do or will not pan out as NFL players, Mike Mamula is often cited as the poster boy.
Mike Mamula was a pretty good prospect coming out of college. He was a projected first-rounder, but nowhere near the top. Then he dominated the combine.
His 4.58 40-yard dash and a 38.5-inch vertical leap to go along with 28 reps on the 225-pound bench press were enough to impress the Eagles into trading up to take him with the seventh-overall pick.
His career was anything but top-10-pick worthy, however. Mamula totaled 31.5 sacks in a six-year career, never living up to that incredible combine workout.