After the Buzz Died Down: Looking Back on the Giants Super Season
March 30, 2008
On a February night in Arizona, Tiki Barber was silenced. Tom Coughlin's job was secured. The Eli Manning draft-day trade was justified.
Less than six months earlier in New Jersey, 78,701 fans witnessed the New York Giants suffer a miserable Week Two defeat at the hands of Brett Favre and his Green Bay Packers, 35-13. The G-Men allowed two rushing touchdowns to a rookie running-back and only managed to sack Favre once. Meanwhile, Favre threw for nearly 300 yards with three touchdowns and seemed to have a resurgence that would carry him throughout the season. 
The Giants leading rusher? With Brandon Jacobs sidelined by a Week One injury, fairly unknown back Derrick Ward had to take over RB duties. He actually filled in nicely with nearly a hundred yards rushing. But as a third-string running back, fans were still left wondering: Where's Tiki when you need him? Around this time Tiki Barber had actually seemed omnipresent amongst New York football conversation as he publicly called out Quarterback Eli Manning and Head Coach Tom Coughlin after retirement. Barber criticized Manning's leadership abilities and Coughlin's coaching methods.
The usually soft-spoken Manning decided to fire back at Tiki, saying he was wrong in speaking out against his former colleagues only after he left the team. Unfortunately for Eli, his leadership abilities deserved to be questioned due to his inconsistent play. Critics were calling for his job. And the constant comparisons to big brother Peyton, Super Bowl MVP the year before, weighed on Eli.
Wide Receiver Plaxico Burress had become Eli's favorite target but many questioned Burress' work ethic as he missed numerous practices during the season. Burress was also not afraid to voice his opinion and some wondered if he had attitude issues. 
To add another distraction, Michael Strahan had begun his season only a week before after skipping all of training camp. He debated whether to return to New York or opt for retirement. Many thought he was being selfish and lazy for making the Giants wait so long for a decision while not attending required team practices.
As for Coughlin, he was in a tough spot and barely hanging onto his job after the previous season. He had been widely criticized for being too tough a disciplinarian and after Week Two it appeared he would soon be replaced. 
Yet the G-Men were able to regroup and come up with a huge road victory in Washington and then proceeded to win six of their next seven games. Eli Manning looked better and critics began to believe in the young gunslinger.
Then Week 12 came around, a week that Eli would surely like to forget. It was another embarrassing home loss for the Giants and another setback for Manning. Eli threw almost 50 passes, only completing 21 as he dished out four interceptions to the Vikings secondary. The Giants went down 41-17 to Minnesota at the Meadowlands and Manning was thrown back into the fire.
New York recovered somewhat against a few mediocre teams and was then slated for a Week 17 matchup against 15-0 New England. The Giants had clinched a playoff spot but were not content to mail it in against the Pats. They fought valiantly, even gaining a 12 point advantage (the largest Patriot deficit of the season) and flustering golden boy Tom Brady. However, the perfect Patriots came back to win the game by three and complete the regular season undefeated.
It was time for playoff season and the Giants, coming off of a loss, felt like they were coming off a huge victory. They stuck with the best team in the NFL and knew that if they played their best game they could go deep. Critics, including me, doubted. They were an underdog against Tampa Bay in their first post-season game, a game in which the Giants dominated, winning by a score of 24-14. 
Next they traveled to Dallas and took on the best of the NFC and a team that had beaten them twice before that season. But New York was a different team now and the Cowboys couldn't handle them. The Giants slowed the prolific Dallas passing attack and Eli Manning added two touchdown passes in a 21-17 victory.
The Giants played every playoff game on the road, and as the underdog. Playing the Packers at historic(ally cold) Lambeau Field for the NFC Championship was no different. It was an intense playoff match-up that had the Giants looking for Week Two revenge.
The game wouldn't end in regulation because of a missed field goal attempt by Giants kicker Lawrence Tynes late in the fourth quarter. New York was that close to a most improbable Super Bowl run. However, it would have to wait as the teams remained deadlocked. 
The young-again Brett Favre would have one more shot in OT at another NFC Championship of his own. But just as Favre began his resurgent play, he ended it. Favre threw a crucial interception in overtime which eventually led to Lawrence Tynes' second attempt to propel New York into the Super Bowl. This time Tynes was true, and the Giants shocked the NFC by winning the Conference Championship and booking a trip to Arizona. Wide receiver Plaxico Burress played hero on this day as he caught 11 passes for 151 yards.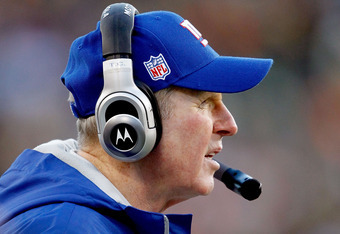 Matthew Stockman/Getty Images
The 2001 Patriots looked similar to these Giants after Week Two as they carried two losses on their record and a questionable quarterback situation. They too made an impressive in-season comeback and got hot at the right time. They too faced a daunting point spread against them in the Super Bowl. They too faced a team that dominated the league that season. They too were more physical with their Super Bowl opponent than any other team had been all season. They too received a brilliant late fourth quarter drive from a young quarterback to win the Super Bowl.
The rest is history. Manning miraculously escapes a sack on the final drive and hurls it up to David Tyree (Syracuse alum) who pins the ball against his helmet to make the catch. Then Plaxico Burress catches the game winning touchdown pass with less than 30 seconds left. The Giants lost six games in the regular season and beat the now 18-1 New England Patriots. A Pats team that would have been the best team ever had they not lost the only game that matters.
The Giants had been criticized in recent drafts for taking too many defensive lineman. They planned on replacing the aging Michael Strahan with younger talent yet Strahan was still around. Osi Umenyiora, Justin Tuck, and Mathias Kiwanuka were all defensive ends drafted in a short span by New York. But with five sacks tallied against Tom Brady, defensive line pressure led the Giants to a Super Bowl victory.
Just like that, Eli went from bust to Super Bowl MVP. The Phillip Rivers trade was instantly brilliant for New York. Tom Coughlin said he somewhat changed his methods in-season and received a new contract for it, making him one of the highest paid NFL coaches. The Giants, not Tiki Barber, had the last laugh as they became world champs the first year after Tiki retired. Michael Strahan won a Super Bowl in the same season he debated even playing. The power of a Super Bowl ring has proved to be overwhelming. Everyone criticized and doubted the Giants until they put on that ring.
Fans around the globe wanted to see history— the perfect season. Just as the Patriots went through New York to cap off their perfect regular season, they had to do the same in the postseason. However this time, the G-Men didn't just come close to a monster upset. The Giants pulled off one of the biggest upsets in Super Bowl history. The fans wanted history, and that's exactly what they got. What a difference six months make.