2013 NFL Mock Draft: Pre-Combine Projections and Prospect Rankings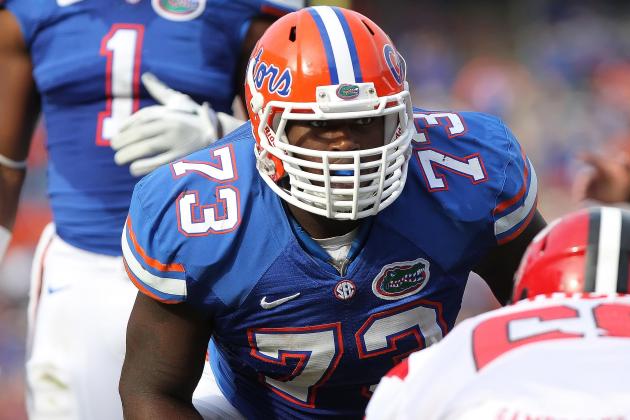 Kim Klement-USA TODAY Sports
Is Florida's Sharrif Floyd worthy of being the No. 1 overall pick of the 2013 NFL draft?
In recent years, by the time the NFL Scouting Combine rolled around, it was usually pretty clear who is destined to be the No. 1 overall pick in the NFL draft.

This year is different. With just two months to go before the draft, there's still a ton of mystery surrounding what the Kansas City Chiefs intend to do with the first selection.

In the past four drafts, a quarterback has been the first player taken, but there's a very good chance that streak could come to an end this year.

With the combine and the all-important free-agent period on the horizon, there's still plenty that will change in terms of the stock of the top prospects as well as the team's individual needs. Nevertheless, here's a look at the current pre-combine projections and predictions for all 32 first-round picks, along with prospect rankings for each individual position.
Begin Slideshow

»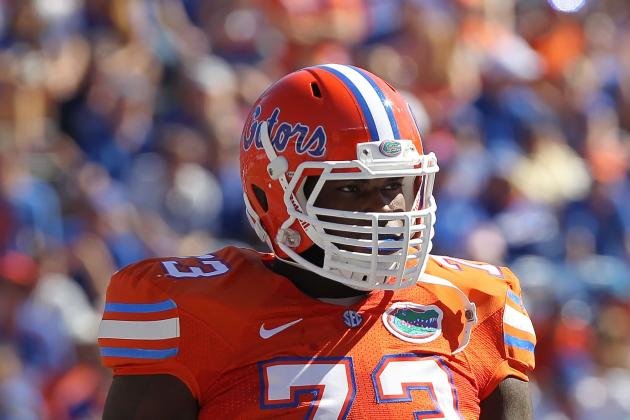 Kim Klement-USA TODAY Sports
Sharrif Floyd
Sharrif Floyd, DT/DE, Florida
The Chiefs clearly need to find a new starting quarterback. However, if Andy Reid doesn't think Geno Smith is the right player to build around, then they could choose to spend the first overall pick to upgrade another area of need, such as the defensive line.
The team has a quality young nose tackle in Dontari Poe, but it lacks a real difference-maker at defensive end.
Florida's Sharrif Floyd has all the physical tools to develop into a dominant 3-4 defensive end in the NFL. The 6'3'', 300-plus pound Floyd is a big, powerful and agile lineman, who showed plenty of flashes of dominance as a junior in 2012.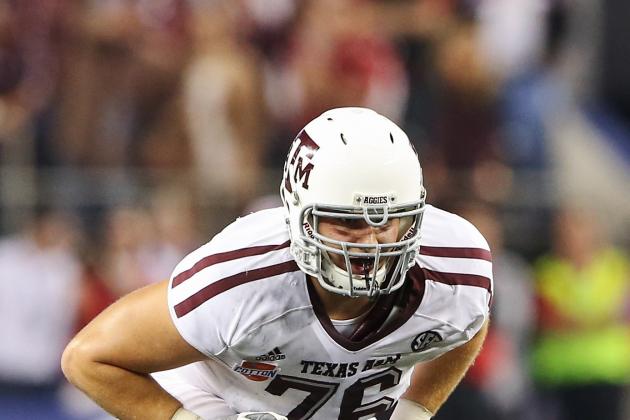 USA TODAY Sports
Luke Joeckel
Luke Joeckel, OT, Texas A&M
In a recent interview with The Florida Times-Union, new Jaguars GM David Caldwell was quoted as saying that he would like to try to build around young QB Blaine Gabbert.
What Caldwell really needs to do is give Gabbert some better bodyguards up front. Jacksonville ranked 30th in the NFL with 50 sacks allowed in 2012.
Texas A&M's Luke Joeckel, the 2012 Outland Trophy winner, is the type of gifted young tackle who could come in and immediately help fix the Jaguars' struggling offensive line.
Geno Smith, QB, West Virginia
The Raiders' decision to trade for Carson Palmer has turned out to be an epic disaster, as Palmer has been dreadful in Oakland. The team now needs to find a new offensive leader for the future.
Although they have an intriguing young developmental quarterback in Terrelle Pryor, it still wouldn't be surprising to see the Raiders take the top QB in the 2013 draft class, Geno Smith.
Smith may not be a truly elite prospect. However, he possesses the type of size, arm talent, leadership qualities and football IQ to become a highly successful signal-caller in the pros.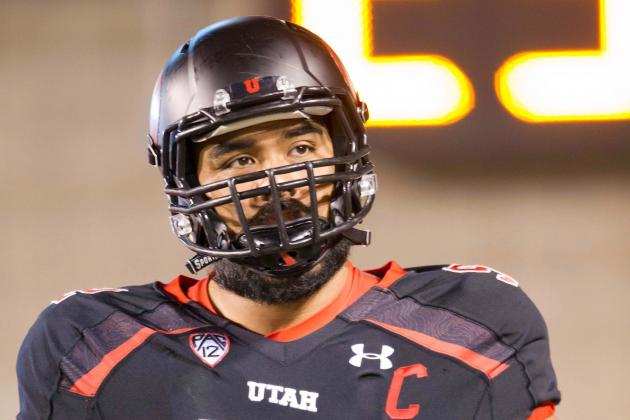 Russ Isabella-USA TODAY Sports
Star Lotulelei
Star Lotulelei, DT, Utah
Philadelphia will switch to a 3-4 defense under new head coach Chip Kelly. That means that the Eagles will now be looking for front-seven personnel to fit the new scheme.
One position of need is nose tackle, where projected starter Antonio Dixon is nothing more than average.
Utah's Star Lotulelei is a big, physical run-stuffer who has the versatility to line up at either nose tackle or defensive end in a 3-4 front. The 6'4'', 325-pound beast shares many of the same physical traits as another tackle of Tongan descent, Baltimore's Haloti Ngata.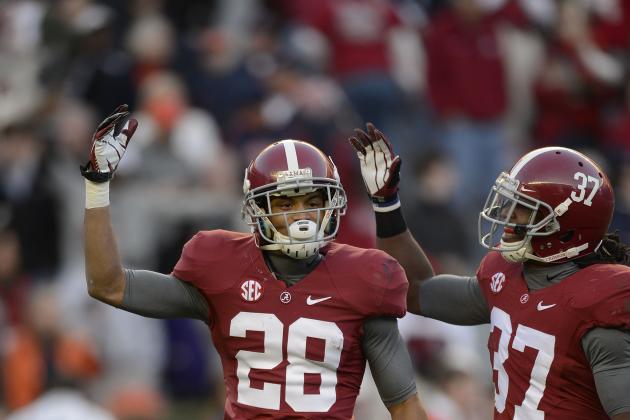 John David Mercer-USA TODAY Sports
Dee Milliner
Dee Milliner, CB, Alabama
Detroit found a starting-caliber cornerback, Bill Bentley, in last year's draft. The problem is, other than Bentley, there's still a ton of uncertainty at the position, especially since Chris Houston, Drayton Florence and Jacob Lacey are all free agents.

Drafting a premier young corner prospect such as Alabama's Dee Milliner would really help to solidify the Lions' shaky secondary.

Milliner shined in his one year as a full-time starter in Tuscaloosa. He ranked first in the nation with 22 total passes defended and locked down almost every receiver he squared off against.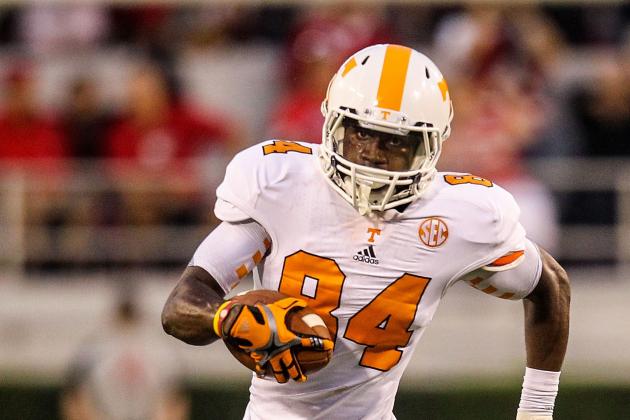 Daniel Shirey-USA TODAY Sports
Cordarrelle Patterson
Cordarrelle Patterson, WR, Tennessee
Cleveland has two very physically gifted young wideouts in Josh Gordon and Greg Little. But neither appears to be a true No. 1 target.

That's why the Browns could decide to take the best receiver prospect in the 2013 class, Tennessee's Cordarrelle Patterson, with their first-round pick.

The supremely athletic receiver showed tremendous explosiveness, playmaking ability and versatility in 2012. He ranked second in the country with an average of 18.8 yards per play and scored 10 touchdowns in four different ways (receiving, rushing, kickoff return and punt return).
Mike Glennon, QB, NC State
Arizona has the weakest group of quarterbacks in the NFL. That's why the Cardinals will have to consider spending their first-round pick on a young signal-caller, even if it's not the best value pick.
NC State's Mike Glennon is a quarterback who would fit in well in Arizona.
Glennon went just 15-11 in his two years as a starter in college, and his decision-making was spotty at times. Still, he's got the combination of size, arm strength and natural passing skills that scouts look for in a prototypical pro-style passer.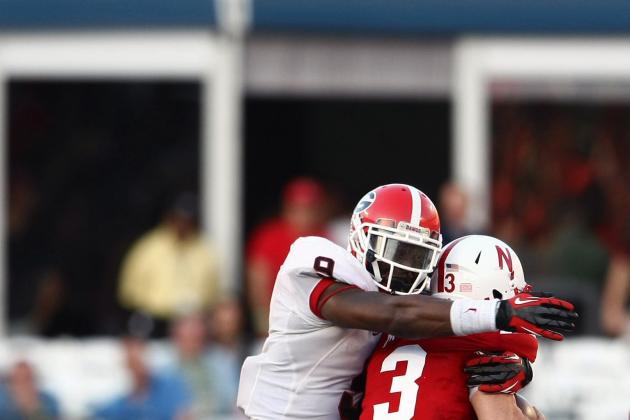 Douglas Jones-USA TODAY Sports
Alec Ogletree
Alec Ogletree, ILB/OLB, Georgia
Buffalo currently has one of the weakest linebacker corps in the NFL, which is a big reason why the team ranked second to last in the league in run defense in 2012.

This year's most talented linebacker prospect, Georgia's Alec Ogletree, is the type of difference-making defender who could come in and instantly give the unit a big boost.
Admittedly, Ogletree does have some off-the-field red flags that will concern teams. However, the extremely athletic 'backer shined on the field in 2012, racking up 111 tackles in just 10 games of action.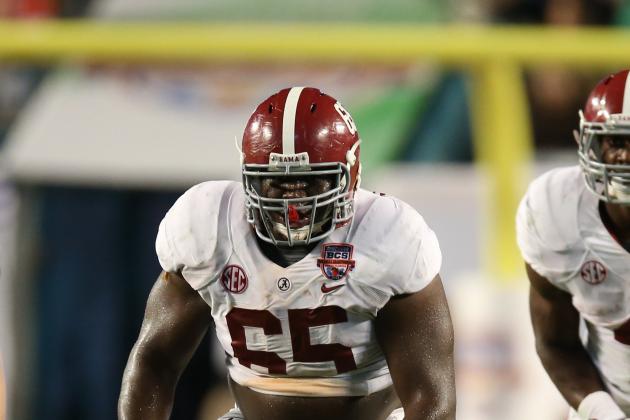 Matthew Emmons-USA TODAY Sports
Chance Warmack
Chance Warmack, OG, Alabama
Both of the Jets' starting offensive guards, Matt Slauson and Brandon Moore, are free agents. Given the team's cap problems, it's doubtful that it'll be able to keep both, and there's a chance that neither may return.
If they lose both guards, the Jets could look to the 2013 draft to fix up the interior of the offensive line.
This year's top guard prospect, Alabama's Chance Warmack, is the type of big, physical and powerful run-blocker who could come in and be a solid starter from Day 1.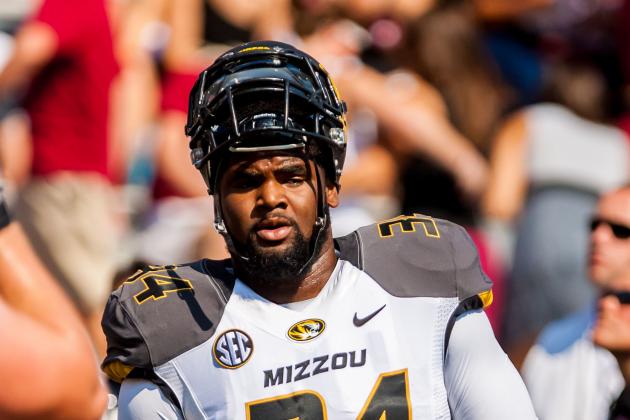 Jeff Blake-USA TODAY Sports
Cheldon Richardson
Sheldon Richardson, DT, Missouri
Tennessee has a talented young defensive tackle trio comprised of Jurrell Casey, Mike Martin and Karl Klug. However, the Titans lack a true standout at the position, which is a big reason why they ranked just 24th in the NFL in run defense in 2012.
Adding a disruptive penetrator like Missouri's Sheldon Richardson to the interior would really help to strengthen the middle of the defense.
Richardson looked simply unblockable at times in 2012, racking up 75 total tackles, including 39 solo stops, 10.5 tackles for loss and four sacks.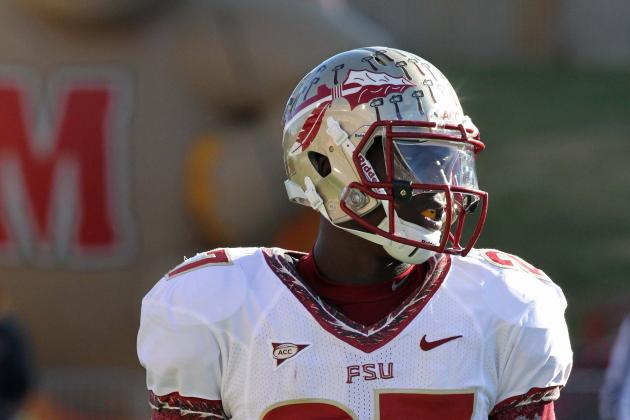 Mitch Stringer-USA TODAY Sports
Xavier Rhodes
Xavier Rhodes, CB, Florida State
Both of San Diego's starting cornerbacks, Antoine Cason and Quentin Jammer, are free agents, and it seems like a long shot that both will be back with the Chargers in 2013.
Although the team has two intriguing young corners in Marcus Gilchrist and Shareece Wright, more help will be needed, especially if both Cason and Jammer leave.
Florida State's Xavier Rhodes is the type of big, speedy corner who would be a perfect replacement for Cason. Rhodes is still very raw, but his remarkable physical ability is certainly tantalizing.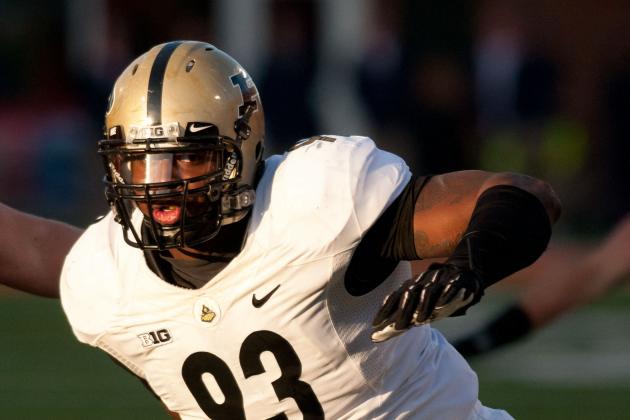 Bradley Leeb-USA TODAY Sports
Kawann Short
Kawann Short, DT, Purdue
Miami's defense allowed just four yards per carry in 2012. However, it will be almost impossible to remain that stout against the run next season if the Dolphins lose their top DT Randy Starks in free agency this offseason.
If the team is unable to re-sign Starks, then it could turn to the draft to find his replacement.
Purdue's Kawann Short would be a perfect replacement. Like Starks, the 6'3'', 315-pound Short possesses the combination of size, quickness and strength to flourish in Miami's 4-3 defense.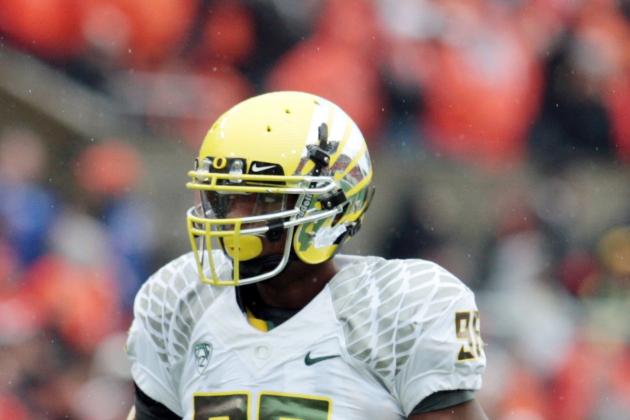 Scott Olmos-USA TODAY Sports
Dion Jordan
Dion Jordan, DE, Oregon
Both of Tampa Bay's young defensive ends, Adrian Clayborn and Da'Quan Bowers, have some serious durability issues to worry about.
The Bucs could select one of the top edge-rushers in the 2013 draft, such as Oregon's Dion Jordan, to add stability at a key position and boost a pass-rush tied for 29th in the league with just 27 total sacks in 2012.
Jordan is a converted tight end who possesses the type of big, long frame and outstanding athletic ability to grow into a dynamic defender in the NFL.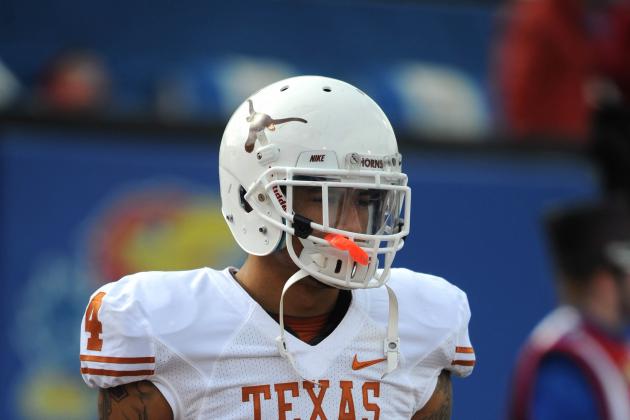 John Rieger-USA TODAY Sports
Kenny Vaccaro
Kenny Vaccaro, FS, Texas
Carolina has some holes to fill at a few critical spots on defense. One of the most glaring problems is in the back end of the secondary, where Haruki Nakamura is one of the worst starting free safeties in the NFL.
If this year's top safety prospect, Texas' Kenny Vaccaro, is available when the Panthers are on the clock, they should snatch him up, because he would be a huge upgrade over Nakamura.
Vaccaro is an experienced three-year starter who has shown great leadership ability, natural playmaking instincts and all the skills it takes to be a Pro Bowl safety in the NFL.
Eric Fisher, OT, Central Michigan
There's a good chance that free agent left tackle Jermon Bushrod has played his last down in a Saints uniform.
New Orleans certainly won't have an easy time re-signing the sought-after two-time Pro Bowl lineman. In fact, in a January interview with the Baton Rouge Advocate, GM Mickey Loomis called Bushrod the team's "No. 1 tough deal."
If the Saints lose Bushrod, they could turn to the draft to find their franchise tackle of the future. They wouldn't be able to find a much better tackle than Central Michigan's Eric Fisher, who is one of the fastest-rising prospects in the 2013 class.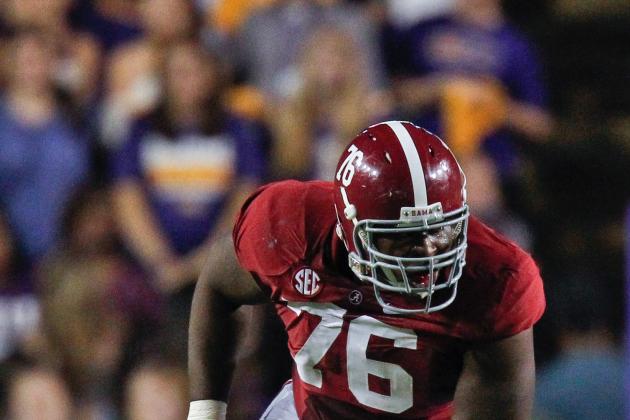 Derick E. Hingle-USA TODAY Sports
D.J. Fluker
D.J. Fluker, OT, Alabama
The Rams' offensive line wasn't nearly as bad in 2012 as it was during its embarrassing performance in 2011. However, it's clear that St. Louis needs more help up front, as the line still gave up 35 sacks and 81 quarterback hits this past season.
Alabama's D.J. Fluker is a physically gifted and experienced three-year starter, who could come in and help solve the team's problems in the trenches right away.
Fluker's pass-blocking skills still need some fine-tuning. But he's got the size, strength and tenacity to develop into one of the premier run-blockers in the NFL early on in his pro career.
Jarvis Jones, OLB, Georgia
Adding more young playmakers to a rapidly aging defense has to be one of Pittsburgh's top priorities this offseason. One area where the team could certainly use some fresh blood is at outside linebacker, since soon-to-be 35-year-old James Harrison's skills seem to be quickly deteriorating.
Georgia's Jarvis Jones is a player who would fit in perfectly on the edge of the Steelers' 3-4 defense.
Jones isn't the same caliber of elite athlete as some of this year's other top pass-rushing prospects. But the two-time All-American displayed a knack for making huge, game-changing plays during his outstanding collegiate career.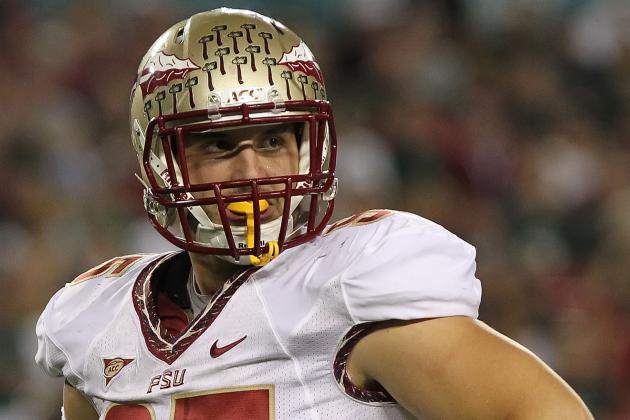 Kim Klement-USA TODAY Sports
Bjoern Werner
Bjoern Werner, DE, Florida State
It's going to be very interesting to see what type of personnel moves the Cowboys make this offseason, now that the defense will be transitioning from a base 3-4 defense to a 4-3 scheme under new defensive coordinator Monte Kiffin.
We know that DeMarcus Ware already has one defensive end spot locked down, but Dallas could still benefit from finding another young pass-rusher to complement him on the other side of the line.
Florida State's Bjoern Werner is a powerful, athletic and instinctive end who would form a terrific tandem with Ware. The German native is still noticeably raw and unrefined, but he's got the physical skills to become the next Jared Allen.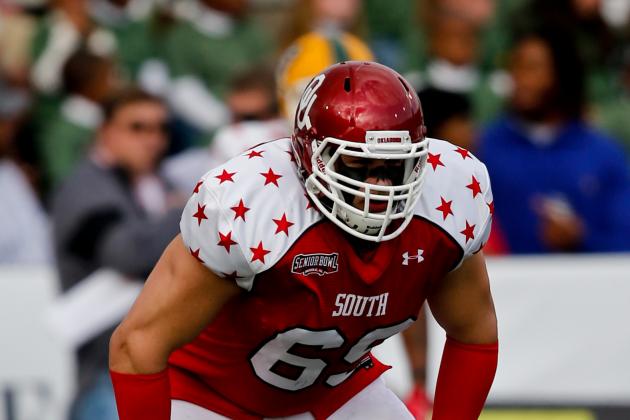 Derick E. Hingle-USA TODAY Sports
Lane Johnson
Lane Johnson, OT, Oklahoma
It's really been surprising how much success the New York Giants offense has had in recent years, considering the team has had one of the least talented offensive lines in the league.
GM Jerry Reese has failed to properly address the team's weakness up front, especially at tackle. Now, it's finally time for Reese to go out and find a top-notch young tackle that the team can build around for the future.
Oklahoma's Lane Johnson, a 6'7'', 303-pound former tight end, is a huge, athletic left tackle who would give QB Eli Manning the type of protection he desires.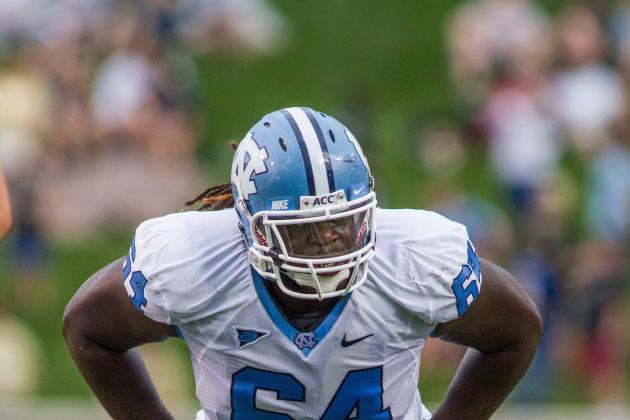 Jeremy Brevard-USA TODAY Sports
Jonathan Cooper
Jonathan Cooper, OG, North Carolina
Chicago's offensive line has been one of the team's main weak spots for the past few years, and there's still plenty of holes that need to be filled in the trenches.
If the Bears want to find a lineman in the draft who could come in and start right away, they'll likely be targeting a prospect such as North Carolina's Jonathan Cooper.
Cooper flourished during his four years as a starter in Chapel Hill. The athletic and fundamentally sound interior lineman showed that he has the versatility and physical skills to dominate as both a run-blocker and a pass-blocker.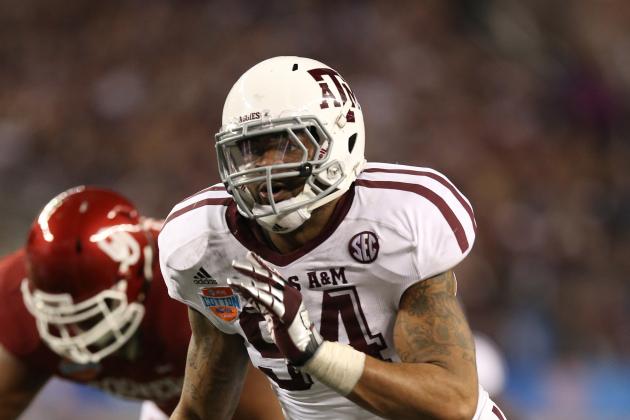 USA TODAY Sports
Damontre Moore
Damontre Moore, DE, Texas A&M
During a recent interview with NFL AM, DE Michael Johnson said he wants to remain in Cincinnati. But after the performance he just had in 2012, there are surely going to be plenty of teams that will be looking to throw big money his way in free agency.
If the Bengals are unable to keep Johnson, they'll likely look to the draft to find a pass-rusher to make up for his loss.
Texas A&M's Damontre Moore would be a perfect replacement. Moore is a high-motor player who really came into his own during his final collegiate season, racking up 12.5 sacks and 21 tackles for loss.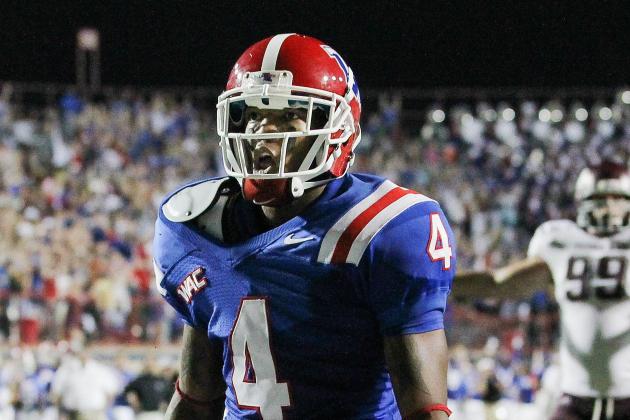 Kevin Jairaj-USA TODAY Sports
Quinton Patton
Quinton Patton, WR, Louisiana Tech
St. Louis drafted both Brian Quick and Chris Givens in last year's draft. However, the team could still use some more dangerous pass-catchers, especially since Brandon Gibson, Steve Smith and Danny Amendola are all free agents.
Louisiana Tech's Quinton Patton is a pass-catching prospect that the Rams could become seriously interested in.
Patton, who had 104 catches and 13 touchdowns in 2012, is one of the fastest and most athletic players in the entire 2013 draft class. The speedy 6'2'', 205-pound senior is an explosive playmaker who would add a valuable new dimension to the team's offense.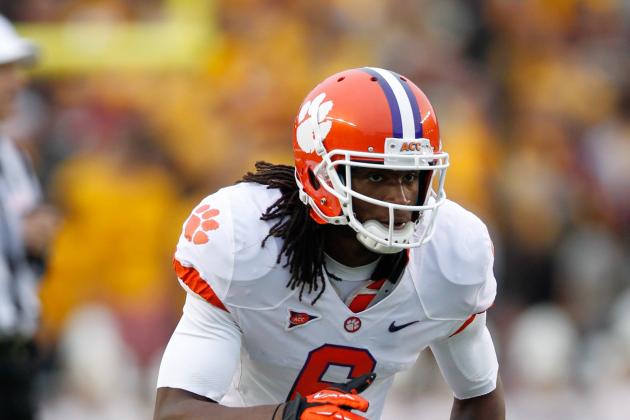 Greg M. Cooper-USA TODAY Sports
DeAndre Hopkins
DeAndre Hopkins, WR, Clemson
It remains to be seen whether Minnesota will actually trade its top WR Percy Harvin. However, even if the Vikings end up holding on to Harvin, it's obvious that they still need more help at the position.
The team needs a big-play receiver on the outside who is capable of consistently making explosive game-changing plays in the passing game.
Clemson's DeAndre Hopkins can do just that. Hopkins is coming off a brilliant breakout junior campaign, in which he averaged 17.1 yards per catch and scored 18 touchdowns.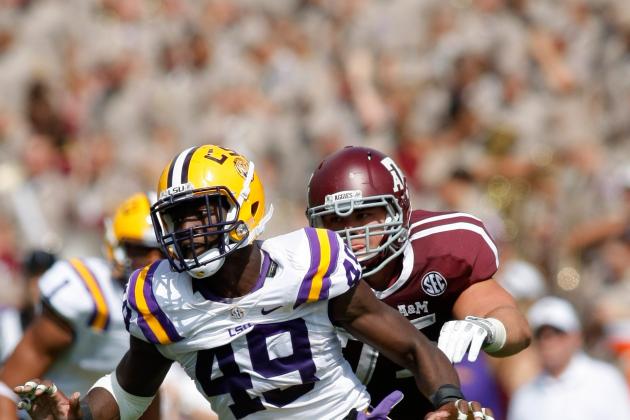 Brett Davis-USA TODAY Sports
Barkevious Mingo
Barkevious Mingo, DE/OLB, LSU
Indianapolis has parted ways with one of the longtime faces of the franchise, Dwight Freeney. The move has now left an opening on the edge at outside linebacker that will need to be filled this offseason.
Luckily for the Colts, there are going to be a few versatile "tweener" pass-rusher prospects available in the 2013 draft that could fit into the team's 3-4 defense. One of them is LSU's Barkevious Mingo.
Mingo is a Kamerion Wimbley clone who has been blessed with remarkable and rare athletic gifts. With the proper development and coaching, he could become a star pass-rusher in the NFL.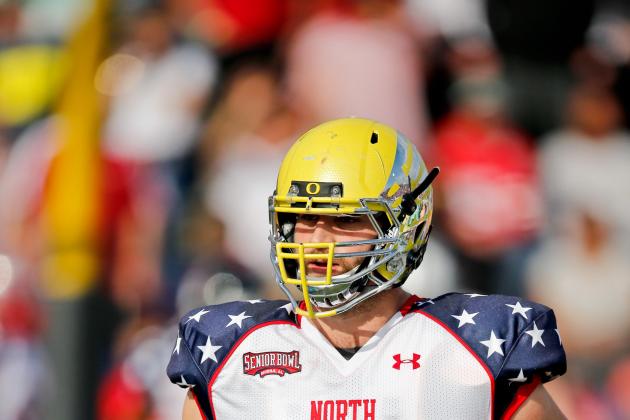 Derick E. Hingle-USA TODAY Sports
Kyle Long
Kyle Long, OG, Oregon
Seattle's found its franchise quarterback of the future in Russell Wilson. Now, it's time for the team to invest in keeping him safe, which means fortifying the offensive line.
Paul McQuistan and James Carpenter are one of the weakest guard duos in the NFL, and the team could clearly use an upgrade at the position.
Oregon's Kyle Long, the son of Hall of Famer Howie Long, is one of this year's most talented interior linemen. He's also a player who coach Pete Carroll is very familiar with. Back when he was coaching at USC, Carroll was impressed with Long and offered him a scholarship to play for the Trojans.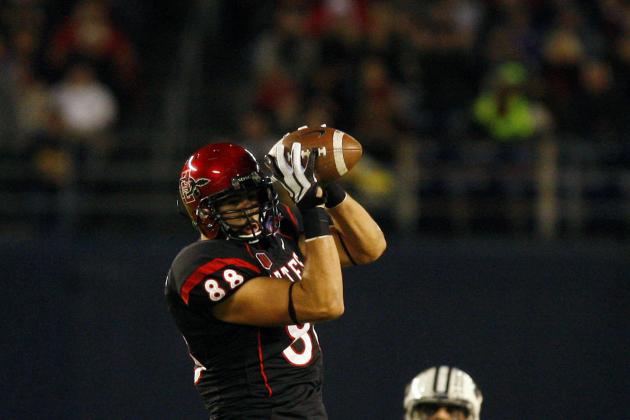 USA TODAY Sports
Gavin Escobar
Gavin Escobar, TE, San Diego State
Tyler Eifert and Zach Ertz are the two tight ends in the 2013 draft who have generated the most publicity so far. However, if you're looking for the tight end that's going to generate the most buzz in the next two months, it's San Diego State's Gavin Escobar.
Escobar is a super-athletic 6'6'', 255-pound receiving weapon, who will create some major matchup problems for opposing defenses in the NFL.
Green Bay, which could part ways with TE Jermichael Finley before the draft, could be one of the teams that targets Escobar in the latter part of the first round.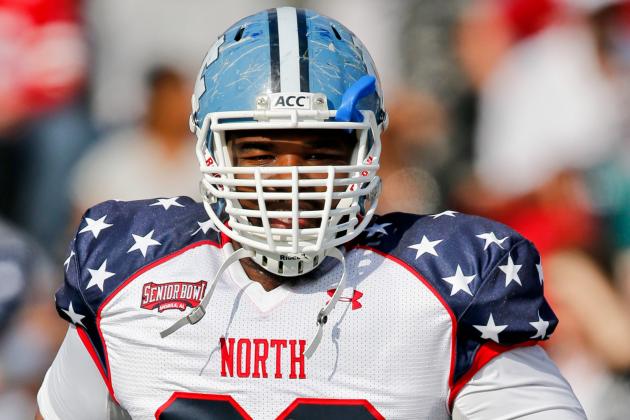 Derick E. Hingle-USA TODAY Sports
Sylvester Williams
Sylvester Williams, DT, North Carolina
Wade Phillips has worked wonders with the Texans' defense since he arrived in Houston back in 2011 and switched the unit to a primarily base 3-4 front.
Even though the defense has been highly successful with Phillips at the helm over the last two years, the team still lacks a truly dominant nose tackle.
That's why the Texans could look to add a young monstrous middle man like North Carolina's Sylvester Williams in the 2013 draft. Williams is an agile and powerful 6'3'', 315-pound run-stuffer capable of causing havoc in the interior.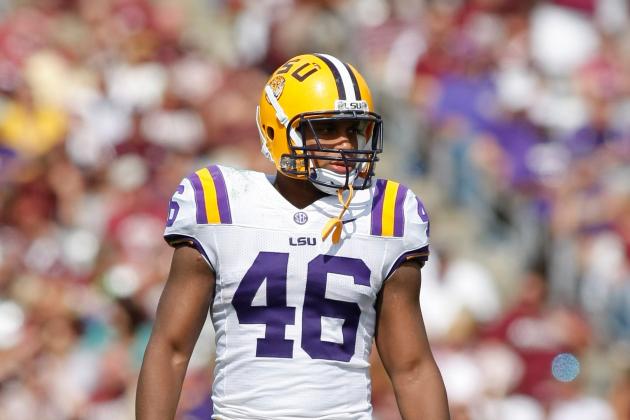 Brett Davis-USA TODAY Sports
Kevin Minter
Kevin Minter, ILB, LSU
Denver's defense was able to survive with 37-year-old Keith Brooking at middle linebacker in 2012. However, the team will have to find a more capable starter at the position this offseason.
Luckily, there should be a few quality inside 'backer prospects available when the Broncos are picking late in the first round. One player that the front office could have its eye on is LSU's Kevin Minter.
The 6'2'', 245-pound Minter is an outstanding run-stopper who put together a terrific performance as a junior in 2012, racking up 130 tackles, including 55 solo stops, 15 tackles for loss and four sacks.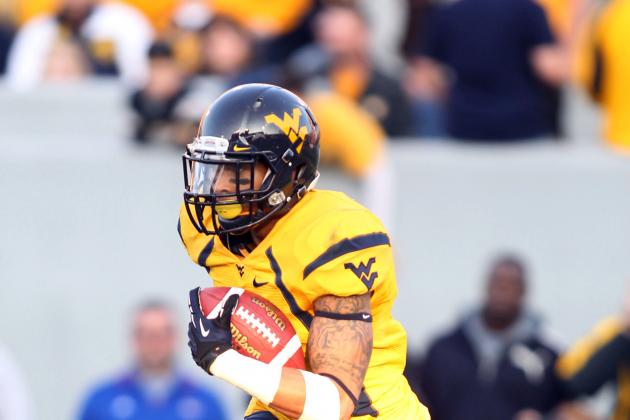 Charles LeClaire-USA TODAY Sports
Stedman Bailey
Stedman Bailey, WR, West Virginia
New England's top two wide receivers from 2012, Wes Welker and Brandon Lloyd, will both turn 32 this offseason. Even if the Patriots decide to re-sign Welker, who will be a hotly pursued free agent, it's clear that the team needs to add more young playmakers in the passing game.
West Virginia's Stedman Bailey is a player who would fit in perfectly in New England's offense.
Bailey, who hauled in 114 catches and scored 25 touchdowns in 2012, is one of the most physically gifted and technically sound prospects in the 2013 draft class. He's got the potential to become an even more dangerous weapon than Welker.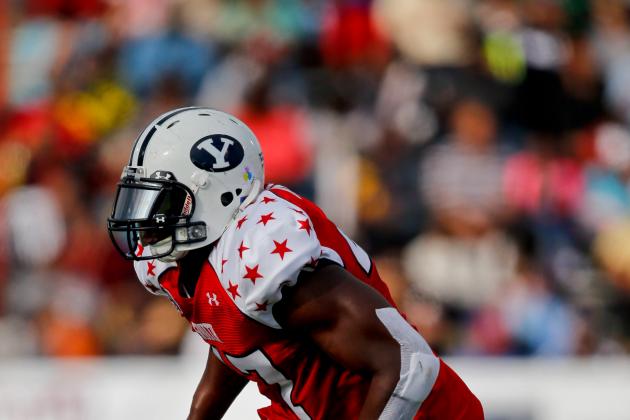 Derick E. Hingle-USA TODAY Sports
Ezekiel Ansah
Ezekiel Ansah, DE, BYU
Atlanta's top pass-rusher, John Abraham, put together one of the best seasons of his career in 2012, racking up 10 sacks and forcing six fumbles. However, it's unlikely that the soon-to-be 35-year-old DE will be able to keep up the pace for much longer.
The Falcons need to find Abraham's eventual replacement, and BYU's Ezekiel Ansah could be just the player to fit that role.
Ansah, a native of Ghana who has only been playing football since 2010, is still an extremely raw project. But he's got the type of rare athleticism and physical ability that you just don't see very often from a 6'6'', 270-pound player.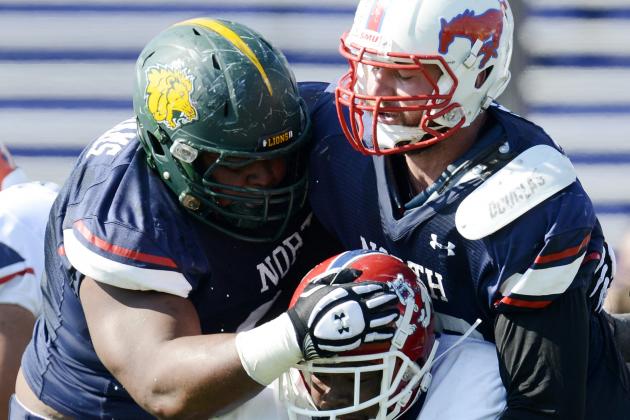 USA TODAY Sports
Brandon Williams
Brandon Williams, DT, Missouri Southern
San Francisco had one of the strongest defenses in the NFL in 2012. However, coach Jim Harbaugh knows that if he wants to ensure the unit's success for the future, the team will have to continue to add young dynamic defenders to the mix.
One defensive position that the team could look to solidify with its 2013 first-round pick is nose tackle, where 31-year-old Isaac Sopoaga will be a free agent.
Small-school stud Brandon Williams is the type of player who is starting to surge up draft boards, and he could end up being a late first-round prospect that a team like the 49ers covet.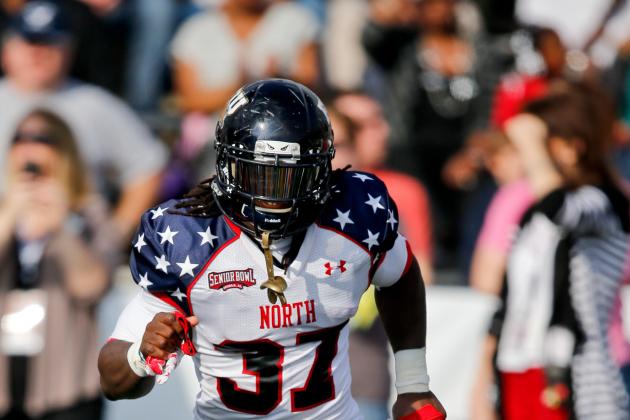 Derick E. Hingle-USA TODAY Sports
Jonathan Cyprien
Jonathan Cyprien, FS/SS, FIU
We know Ray Lewis' career in Baltimore has come to an end, but it's also likely that Lewis' longtime teammate Ed Reed has also played his last down in a Ravens uniform as well.
If Reed either retires or signs with another team this offseason, the Ravens will need to find a new starter at free safety, since there doesn't currently seem to be a player on the roster who could fill that job.
Jonathan Cyprien is a big, physical ball-hawk who could start right away as a rookie. Cyprien's stock is soaring after a fantastic performance during Senior Bowl week, and it wouldn't be shocking to see him end up in the first round when all is said and done.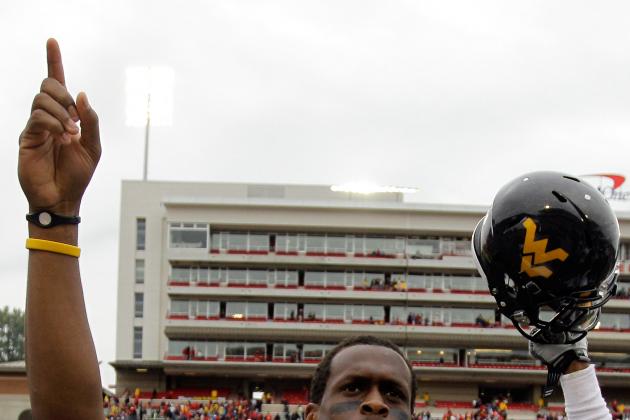 Rob Carr/Getty Images
Geno Smith
1. Geno Smith, West Virginia

2. Mike Glennon, NC State

3. Matt Barkley, USC

4. Ryan Nassib, Syracuse

5. EJ Manuel, Florida State

6. Tyler Wilson, Arkansas

7. Landry Jones, Oklahoma

8. Tyler Bray, Tennessee

9. Zac Dysert, Miami (Ohio)

10. Matt Scott, Arizona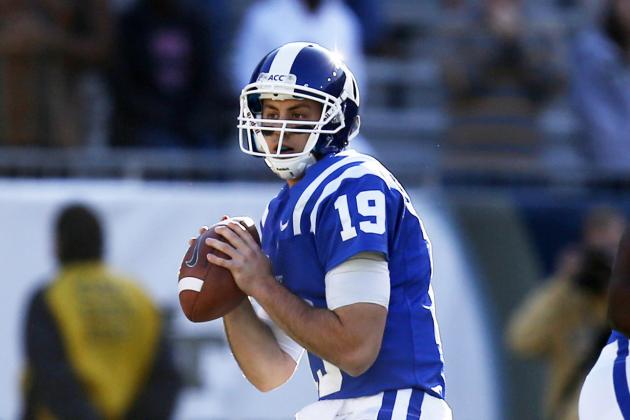 Josh D. Weiss-USA TODAY Sports
Sean Renfree
Brad Sorensen, Southern Utah

Colby Cameron, Louisiana Tech

Collin Klein, Kansas State

Jordan Rodgers, Vanderbilt

MarQueis Gray, Minnesota

Matt McGloin, Penn State

James Vandenberg, Iowa

Ryan Griffin, Tulane

Sean Renfree, Duke

Seth Doege, Texas Tech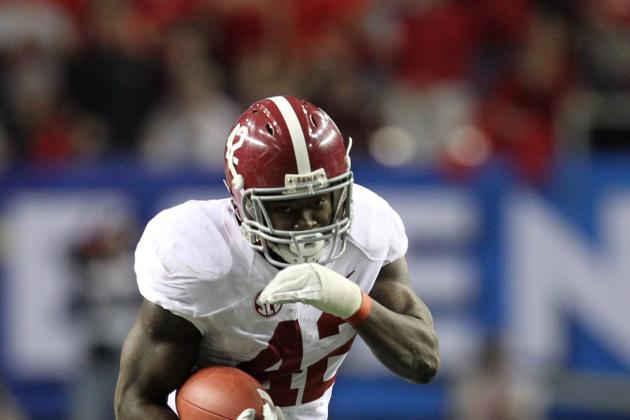 USA TODAY Sports
Eddie Lacy
1. Eddie Lacy, Alabama

2. Montee Ball, Wisconsin

3. Giovani Bernard, North Carolina

4. Kenjon Barner, Oregon

5. Mike Gillislee, Florida

6. Andre Ellington, Clemson

7. Marcus Lattimore, South Carolina

8. Stepfan Taylor, Stanford

9. Joseph Randle, Oklahoma State

10. Johnathan Franklin, UCLA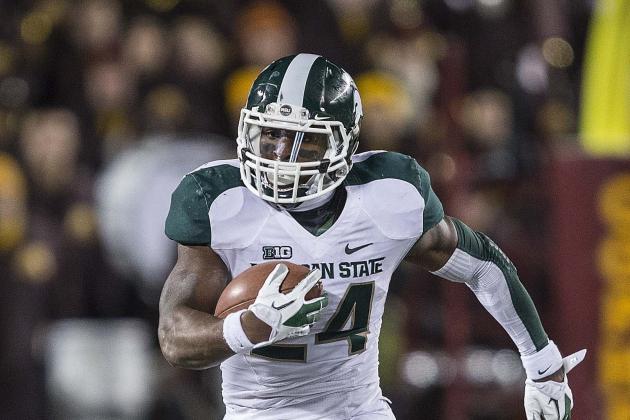 Jesse Johnson-USA TODAY Sports
Le'Veon Bell
Christine Michael, Texas A&M

Cierre Wood, Notre Dame

Jawan Jamison, Rutgers

Kerwynn Williams, Utah State

Knile Davis, Arkansas

Le'Veon Bell, Michigan State

Mike James, Miami

Ray Graham, Pittsburgh

Robbie Rouse, Fresno State

Zac Stacy, Vanderbilt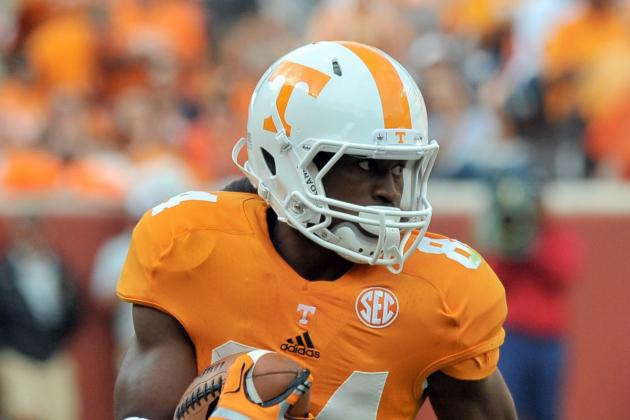 Jim Brown-USA TODAY Sports
Cordarrelle Patterson
1. Cordarrelle Patterson, Tennessee

2. Quinton Patton, Louisiana Tech

3. DeAndre Hopkins, Clemson

4. Stedman Bailey, West Virginia

5. Keenan Allen, California

6. Terrance Williams, Baylor

7. Tavon Austin, West Virginia

8. Justin Hunter, Tennessee

9. Markus Wheaton, Oregon State

10. Robert Woods, USC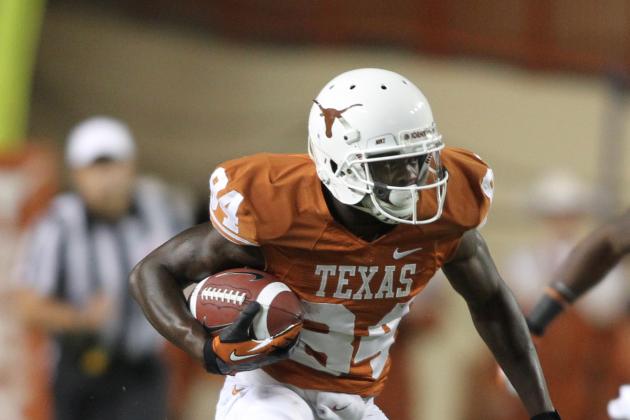 Tim Heitman-USA TODAY Sports
Marquise Goodwin
Aaron Dobson, Marshall

Chris Harper, Kansas State

Cobi Hamilton, Arkansas

Conner Vernon, Duke

Da'Rick Rogers, Tennessee Tech

Denard Robinson, Michigan

Josh Boyce, TCU

Kenny Stills, Oklahoma

Marquise Goodwin, Texas

Ryan Swope, Texas A&M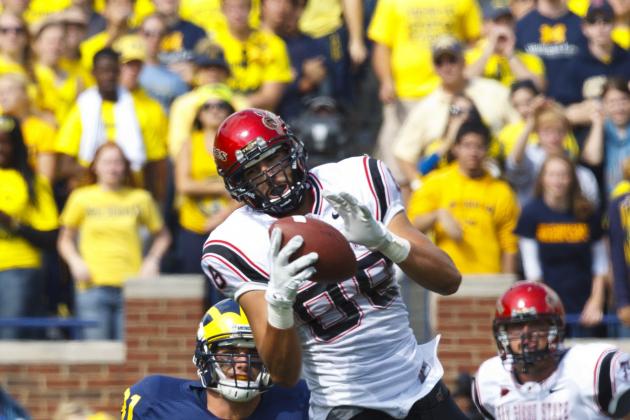 Rick Osentoski-USA TODAY Sports
Gavin Escobar
1. Gavin Escobar, San Diego State

2. Tyler Eifert, Notre Dame

3. Zach Ertz, Stanford

4. Vance McDonald, Rice

5. Travis Kelce, Cincinnati

6. Jordan Reed, Florida

7. Ryan Otten, San Jose State

8. Levine Toilolo, Stanford

9. Dion Sims, Michigan State

10. Zach Sudfeld, Nevada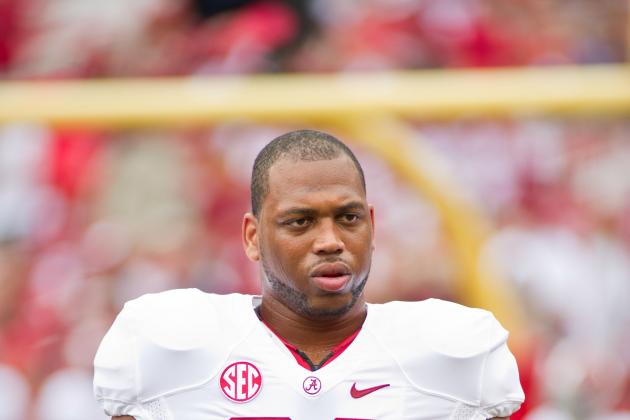 USA TODAY Sports
Michael Williams
Chris Gragg, Arkansas

Jack Doyle, Western Kentucky

Jake Stoneburner, Ohio State

Joseph Fauria, UCLA

Matt Furstenburg, Maryland

Michael Williams, Alabama

Mychal Rivera, Tennessee

Nick Kasa, Colorado

Philip Lutzenkirchen, Auburn

Ryan Griffin, Connecticut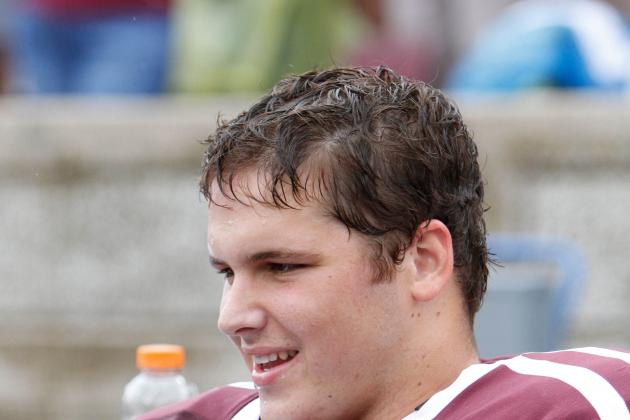 Brett Davis-USA TODAY Sports
Luke Joeckel
1. Luke Joeckel, Texas A&M

2. Eric Fisher, Central Michigan

3. D.J. Fluker, Alabama

4. Lane Johnson, Oklahoma

5. Justin Pugh, Syracuse

6. Menelik Watson, Florida State

7. Jordan Mills, Louisiana Tech

8. Brian Winters, Kent State

9. David Bakhtiari, Colorado

10. Oday Aboushi, Virginia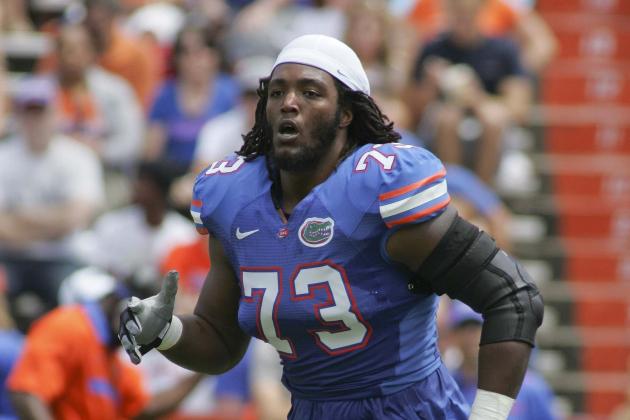 Phil Sears-USA TODAY Sports
Xavier Nixon
Brennan Williams, North Carolina

Chris Faulk, LSU

LaAdrian Waddle, Texas Tech

Luke Marquardt, Azusa Pacific

Manase Foketi, West Texas A&M

Nick Becton, Virginia Tech

Reid Fragel, Ohio State

Ricky Wagner, Wisconsin

Terron Armstead, Arkansas-Pine Bluff

Xavier Nixon, Florida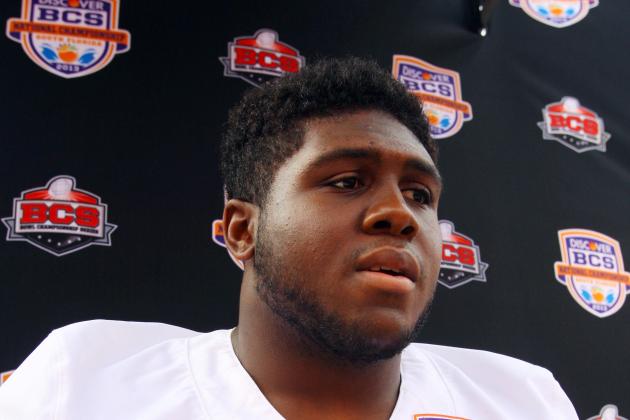 Brian Spurlock-USA TODAY Sports
Chance Warmack
1. Chance Warmack, Alabama

2. Jonathan Cooper, North Carolina

3. Kyle Long, Oregon

4. Larry Warford, Kentucky

5. Travis Frederick, Wisconsin

6. Barrett Jones, Alabama

7. Dallas Thomas, Tennessee

8. David Quessenberry, San Jose State

9. Brian Schwenke, California

10. Alvin Bailey, Arkansas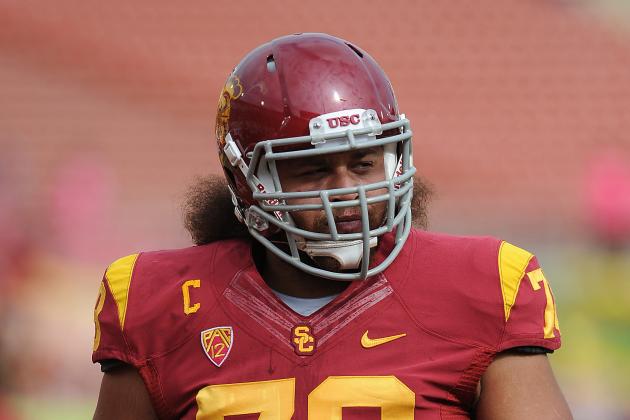 Jayne Kamin-Oncea-USA TODAY Sports
Khaled Holmes
Braxston Cave, Notre Dame

Chris Barker, Nevada

Hugh Thornton, Illinois

Jeff Baca, UCLA

J.C. Tretter, Cornell

Khaled Holmes, USC

Lamar Mady, Youngstown State

Omoregie Uzzi, Georgia Tech

Oscar Johnson, Louisiana Tech

Travis Bond, North Carolina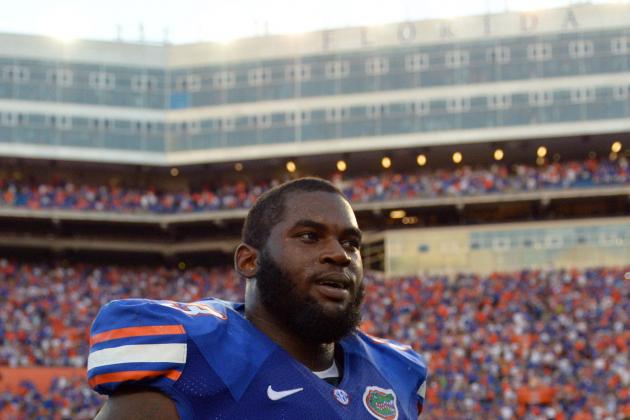 Jake Roth-USA TODAY Sports
Sharrif Floyd
1. Sharrif Floyd, Florida

2. Star Lotulelei, Utah

3. Sheldon Richardson, Missouri

4. Kawann Short, Purdue

5. Sylvester Williams, North Carolina

6. Brandon Williams, Missouri Southern

7. Johnathan Hankins, Ohio State

8. Jesse Williams, Alabama

9. John Jenkins, Georgia

10. Bennie Logan, LSU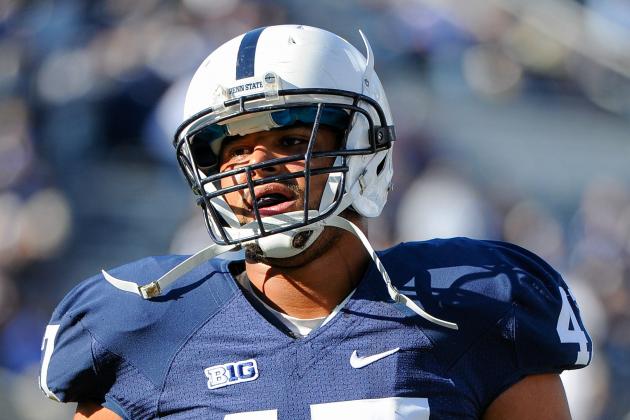 Rich Barnes-USA TODAY Sports
Jordan Hill
Akeem Spence, Illinois

Chris Jones, Bowling Green

Cory Grissom, South Florida

Everett Dawkins, Florida State

Jamarkus McFarland, Oklahoma

Jordan Hill, Penn State

Josh Boyd, Mississippi State

Kwame Geathers, Georgia

Montori Hughes, Tennessee-Martin

William Campbell, Michigan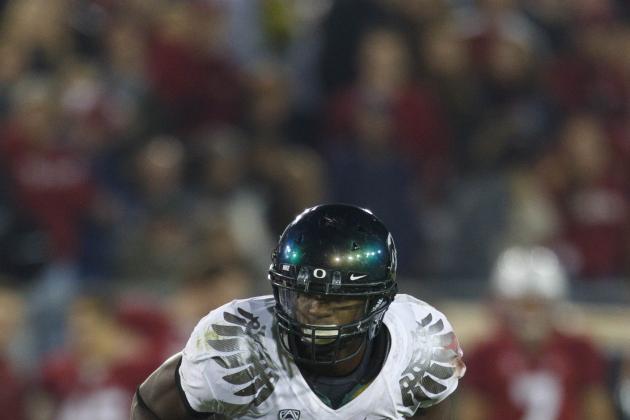 Jason O. Watson-USA TODAY Sports
Dion Jordan
1. Dion Jordan, Oregon

2. Bjoern Werner, Florida State

3. Damontre Moore, Texas A&M

4. Ezekiel Ansah, BYU

5. Alex Okafor, Texas

6. Sam Montgomery, LSU

7. Datone Jones, UCLA

8. Margus Hunt, SMU

9. Michael Buchanan, Illinois

10. William Gholston, Michigan State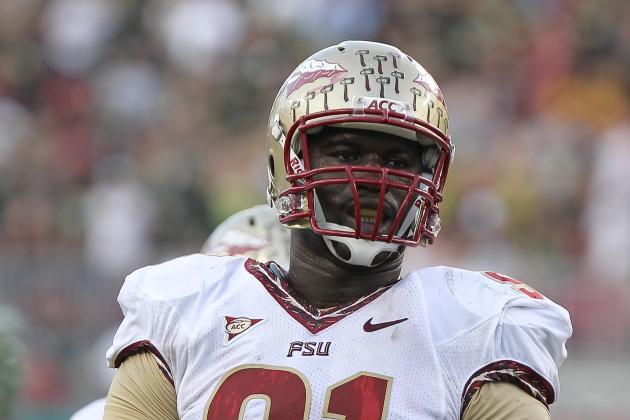 Kim Klement-USA TODAY Sports
Tank Carradine
Brandon Jenkins, Florida State

Corey Lemonier, Auburn

Cornelius Washington, Georgia

David Bass, Missouri Western

Kapron Lewis-Moore, Notre Dame

Lavar Edwards, LSU

Malliciah Goodman, Clemson

Quanterus Smith, Western Kentucky

Tank Carradine, Florida State

Ty Powell, Harding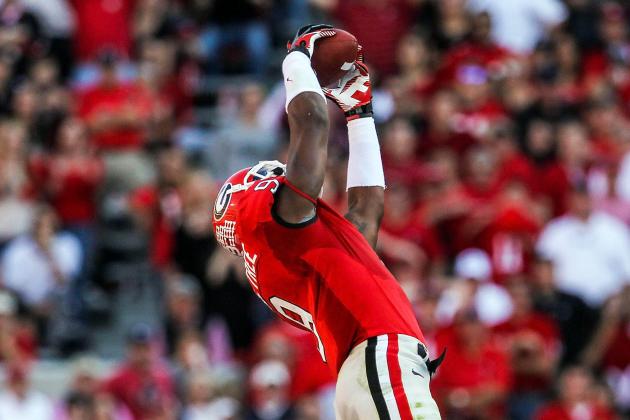 Daniel Shirey-USA TODAY Sports
Alec Ogletree
1. Alec Ogletree, Georgia

2. Jarvis Jones, Georgia

3. Barkevious Mingo, LSU

4. Kevin Minter, LSU

5. Manti Te'o, Notre Dame

6. Arthur Brown, Kansas State

7. Zaviar Gooden, Missouri

8. Chase Thomas, Stanford

9. Khaseem Greene, Rutgers

10. Keith Pough, Howard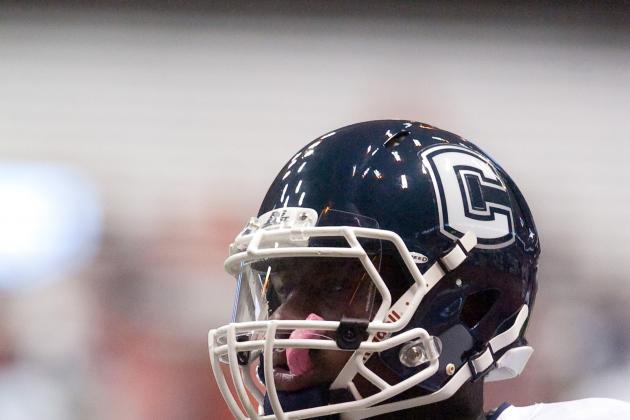 Mark Konezny-USA TODAY Sports
Sio Moore
DeVonte Holloman, South Carolina

Jamie Collins, Southern Miss

Jelani Jenkins, Florida

Kevin Reddick, North Carolina

Kiko Alonso, Oregon

Nico Johnson, Alabama

Sean Porter, Texas A&M

Sio Moore, Connecticut

Trevardo Williams, Connecticut

Vince Williams, Florida State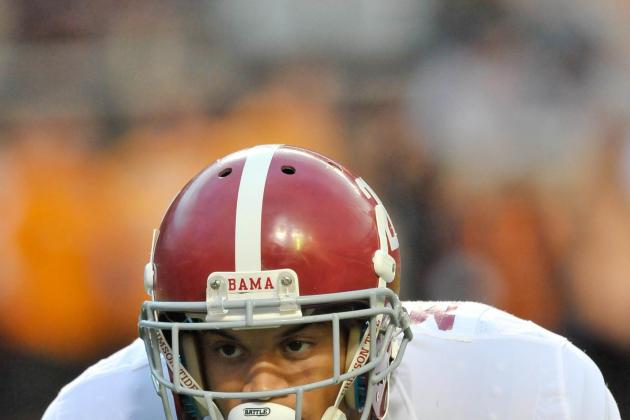 Jim Brown-USA TODAY Sports
Dee Milliner
1. Dee Milliner, Alabama

2. Xavier Rhodes, Florida State

3. Desmond Trufant, Washington

4. Johnthan Banks, Mississippi State

5. Jordan Poyer, Oregon State

6. Jamar Taylor, Boise State

7. Blidi Wreh-Wilson, Connecticut

8. Leon McFadden, San Diego State

9. Darius Slay, Mississippi State

10. B.W. Webb, William & Mary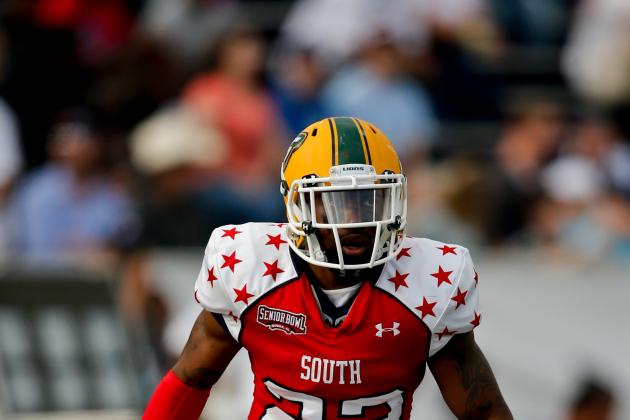 Derick E. Hingle-USA TODAY Sports
Robert Alford
David Amerson, NC State

Dwayne Gratz, Connecticut

Logan Ryan, Rutgers

Melvin White, Louisiana-Lafayette

Nickell Robey, USC

Robert Alford, Southeastern Louisiana

Terry Hawthorne, Illinois

Tharold Simon, LSU

Tyrann Mathieu

Will Davis, Utah State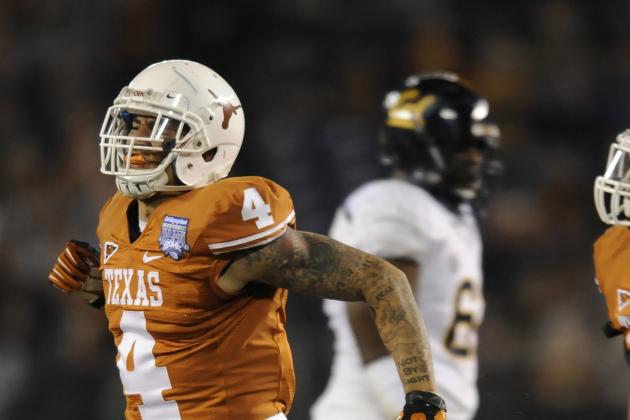 Christopher Hanewinckel-US PRESS
Kenny Vaccaro
1. Kenny Vaccaro, Texas

2. Jonathan Cyprien, FIU

3. Eric Reid, LSU

4. Matt Elam, Florida

5. D.J. Swearinger, South Carolina

6. Philip Thomas, Fresno State

7. Duke Williams, Nevada

8. Zeke Motta, Notre Dame

9. J.J. Wilcox, Georgia Southern

10. Shamarko Thomas, Syracuse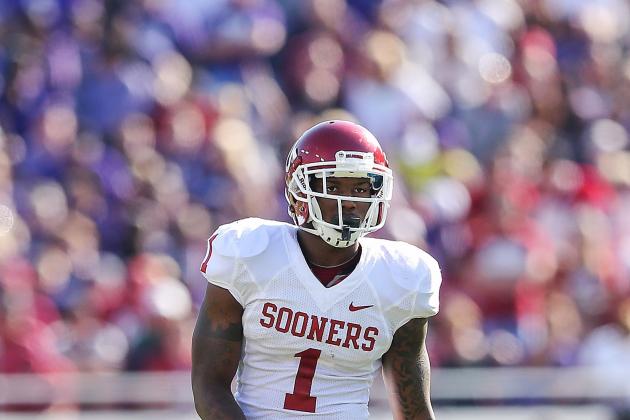 Kevin Jairaj-USA TODAY Sports
Tony Jefferson
Bacarri Rambo, Georgia

Bradley McDougald, Kansas

Cody Davis, Texas Tech

Daimion Stafford, Nebraska

Kemal Ishmael, UCF

Micah Hyde, Iowa

Robert Lester, Alabama

Shawn Williams, Georgia

T.J. McDonald, USC

Tony Jefferson, Oklahoma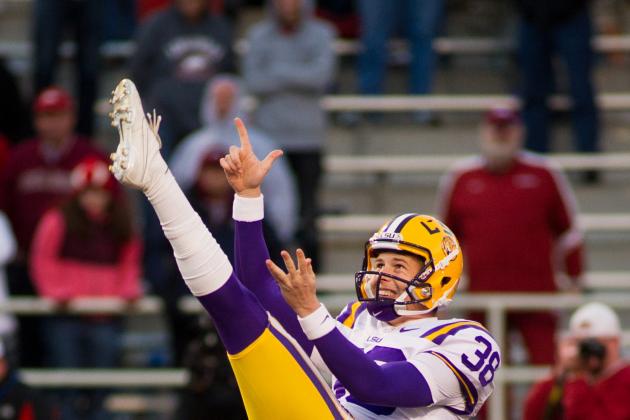 USA TODAY Sports
Brad Wing
1. Brad Wing, LSU

2. Quinn Sharp, Oklahoma State

3. Dustin Hopkins, Florida State

4. Jeff Locke, UCLA

5. Ryan Allen, Louisiana Tech

6. Bobby Cowan, Idaho

7. Caleb Sturgis, Florida

8. Zach Brown, Portland State

9. Dylan Breeding, Arkansas

10. Brett Maher, Nebraska