Why This Year's QB Draft Class Pales in Comparison to the 2012 Class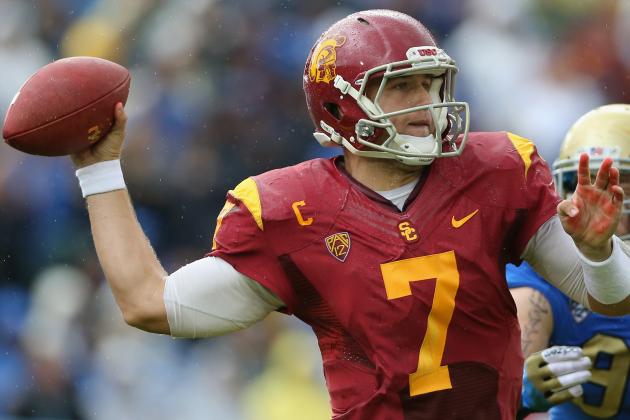 Jeff Gross/Getty Images

There is no Andrew Luck in this year's NFL draft. There's no Robert Griffin III, either.
And in our lifetimes, we may never again see a draft class with two such elite prospects.
We'll certainly see draft classes produce elite talent. But to see two prospects enter the same draft with such high expectations for immediate success is a rarity.
That doesn't mean this year's class can't be great, however.
It's easy to look back at the 2012 draft class and think this year's group pales in comparison. But to truly compare the classes, we have to analyze them from the perspective of their draft stocks.
Remember, at this time last year, respected draft analysts were projecting that Russell Wilson "likely won't be drafted." So to now hold Wilson's success over the prospects in this year's class would be unfair.
To fairly compare these two draft classes, let's imagine that they all entered the 2012 draft.
The following slides will present a hypothetical 2012 mock draft for the top 10 quarterbacks from the previous two draft classes.
Along with an assessment of each quarterback, I will also provide my draft grade for each prospect. The grades are on a scale of 100, with 90 and above being equal to a first-round grade, 80-89 as a second round grade and so on.
Begin Slideshow

»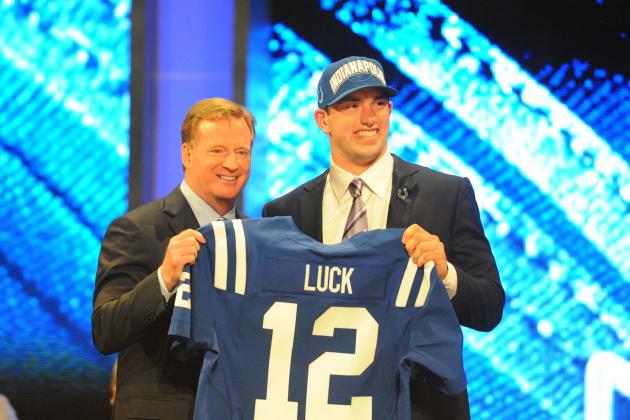 James Lang-USA TODAY Sports

Andrew Luck is in a class of his own.
Few, if any, quarterback prospects have ever entered the NFL with such high expectations. He could be placed in nearly any draft, from any era, and would still be the No. 1 selection.
Luck's poise, accuracy, arm strength and athleticism all impressed scouts and set him apart from all other prospects on this list.
Even in this redraft, the Colts' decision to select Luck No. 1 overall would be an easy one.
2012 draft projection: No. 1, Indianapolis Colts
Draft grade: 99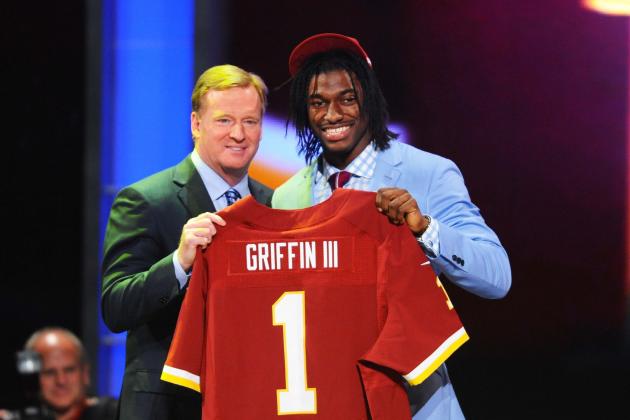 James Lang-USA TODAY Sports

Despite a few contrary analysts' claims, Griffin was never in the same class as Luck as a prospect. Injury concerns and only a limited amount of elite college success put him a notch below Luck.
But Griffin was still a rare prospect, and he would have been the No. 1 selection in nearly any other year.
Quarterbacks with similar athletic abilities had entered the draft before, but we had never seen one with such poise and intelligence in the pocket.
There were legitimate reasons to compare Griffin to Michael Vick but just as many reasons to compare him to more traditional quarterbacks such as Drew Brees.
That combination made him a special prospect and head-and-shoulders above anyone in the 2013 class.
2012 draft projection: No. 2, Washington Redskins
Draft grade: 97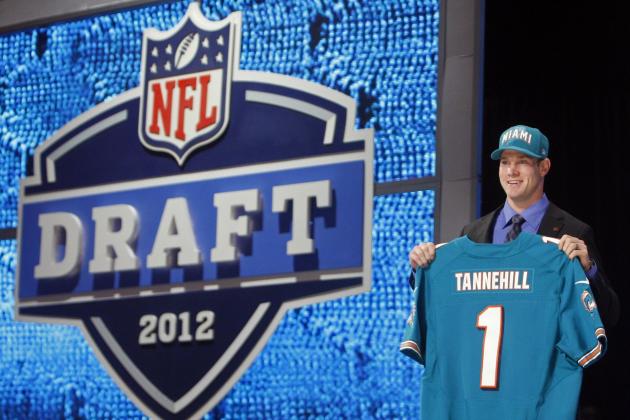 Jerry Lai-USA TODAY Sports

While Ryan Tannehill landed in the Top 10 of the 2012 draft class, there were plenty of draft analysts who doubted his ability to succeed in the NFL.
He was one of the more polarizing figures in last year's class, and many felt that his status as a top-10 pick occurred solely because of his connection to Dolphins offensive coordinator Mike Sherman, Tannehill's college head coach.
Personally, I evaluated Tannehill as a third-round prospect.
At Texas A&M, Tannehill showed a tendency to lock on to his primary receiver and struggled to read defenses after the snap.
Additionally, he played in a fairly simplistic scheme under Sherman, which featured an inordinate number of curls and comeback routes, which require only a minimal amount of timing and accuracy.
But, due to the Sherman connection and his raw physical tools such as his athleticism and arm strength, Tannehill would likely still end up going eighth overall to Miami.
2012 draft projection: No. 8, Miami Dolphins
Draft grade: 72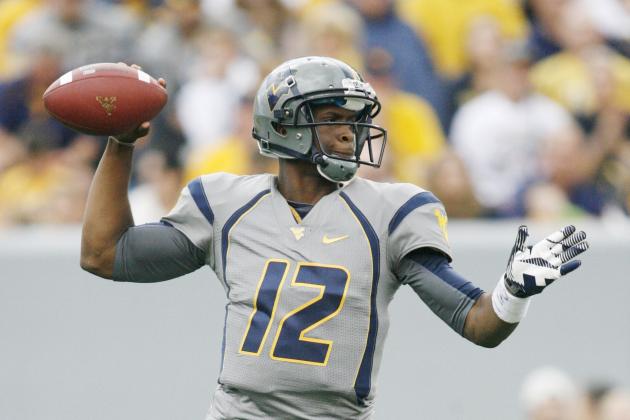 Charles LeClaire-USA TODAY Sports

While the Chiefs desperately need a quarterback, there are enough concerns about Smith's game that will likely prevent him from going No. 1 overall in 2013.
But in 2012, the Chiefs owned the 11th pick in the draft, making it much easier to justify rolling the dice on a quarterback such as Smith.
Smith possesses all the physical tools to start in the NFL. However, he comes from a simplistic college offense which features a heavy dose of short passes such as screens, hitches and quick slants. This scheme limited the need for him to develop an ability to read defenses.
Smith will experience some growing pains, but in this redraft, he falls to the middle of the first round where there would be less pressure to start him immediately.
2012 draft projection: No. 11, Kansas City Chiefs
Draft grade: 81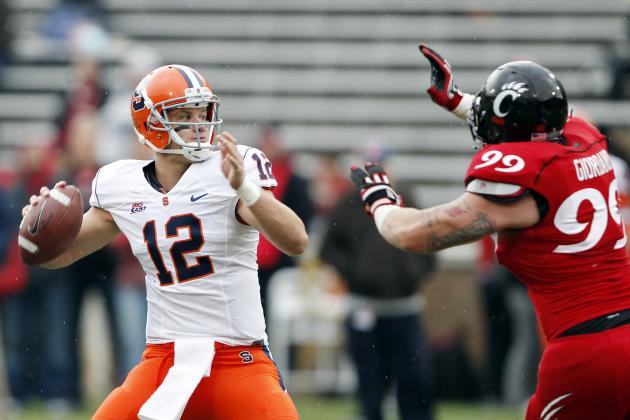 Frank Victores-USA TODAY Sports

After Luck and Griffin, Nassib is my highest-rated quarterback from either the 2012 or 2013 draft class and the only other one to earn a first-round grade.
While Nassib doesn't quite qualify as an elite prospect, he does possess all the physical tools necessary to immediately step into a starting role.
Of the remaining quarterbacks, only Nassib has demonstrated the ability to consistently read defenses and avoid pressure in the pocket. His awareness on the field compares favorably to Luck's and should allow for immediate NFL success.
In our 2012 redraft, he would likely be considered by the Browns in the late first round.
Cleveland selected Brandon Weeden in a desperation move, hoping to replace Colt McCoy as quickly as possible.
While Weeden was the only remaining quarterback deemed capable of stepping in as an immediate starter, when the 2012 and 2013 classes mix together, there's no longer a need to reach for the 28-year-old.
2012 draft projection: No. 22, Cleveland Browns
Draft grade: 94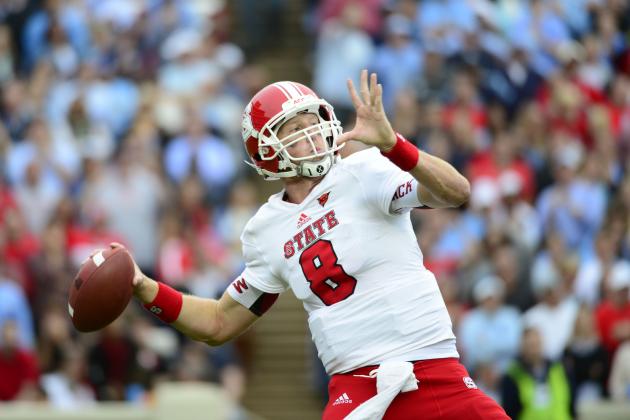 USA TODAY Sports

The 2012 draft class dropped off significantly once Luck, Griffin and Tannehill came off the board in the Top 10, so the run on 2013 quarterbacks in our redraft continues.
Bills general manager Buddy Nix has yet to find his franchise quarterback, but in this super-class, he should have no problem finding a signal caller to his liking.
Mike Glennon lands in the second round in this mock draft, which is a safe spot for him to be selected.
Glennon clearly possess the raw physical attributes of an elite quarterback but needs to spend some time learning the nuances of the game. As a second-round pick, he could sit for a year and learn behind Ryan Fitzpatrick in Buffalo.
2012 draft project: No. 41, Buffalo Bills
Draft grade: 80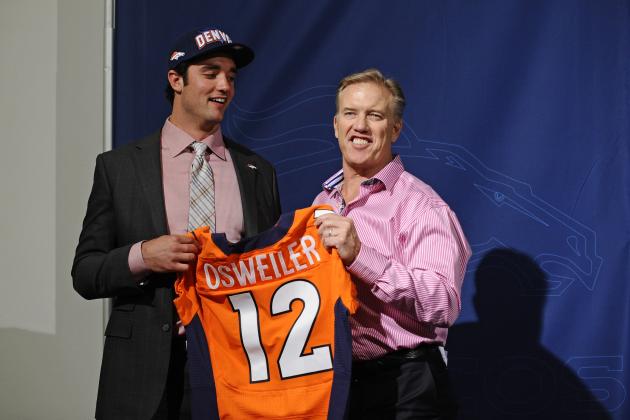 Ron Chenoy-USA TODAY Sports

After a run on 2013 prospects, we're back to the 2012 class.
The Broncos picked up Brock Osweiler for the sole purpose of developing him behind Peyton Manning.
While I had a fourth-round grade on Osweiler, I understand the reasoning behind this selection.
Osweiler possesses some similar physical attributes to Manning but needs to learn the mental side of the game. And they hope he learns from spending a few years on the bench behind one of the all-time greats.
Even with other viable options on the board in our redraft, it's unlikely the Broncos would change their mind on Osweiler.
2012 draft projection: No. 57, Denver Broncos
Draft grade: 67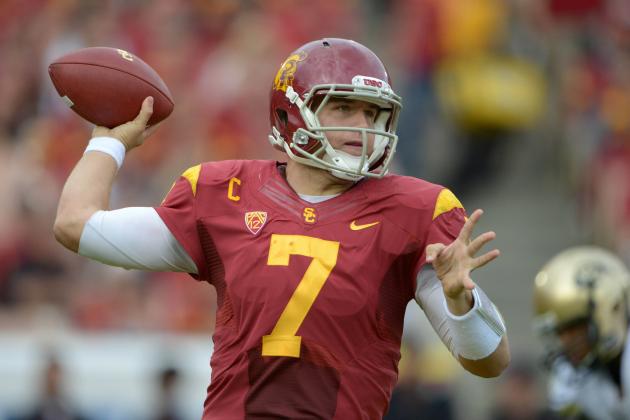 Kirby Lee-USA TODAY Sports

Due to the lack of elite talent in the 2013 class, Matt Barkley is being mentioned as a potential top-10 pick. But in this 2012 redraft, he falls all the way to the late second round.
Barkley's limited physical tools—mainly his average arm strength and downfield accuracy—limit his upside as a prospect.
But in the late second round, he would be worth the risk for a team such as the Eagles who were looking to groom a prospect for the future behind Michael Vick.
The Eagles eventually gambled on Nick Foles in the late third round, taking him a least a full round before most draft analysts had expected him to be selected.
2012 draft projection: No. 59, Philadelphia Eagles
Draft grade: 77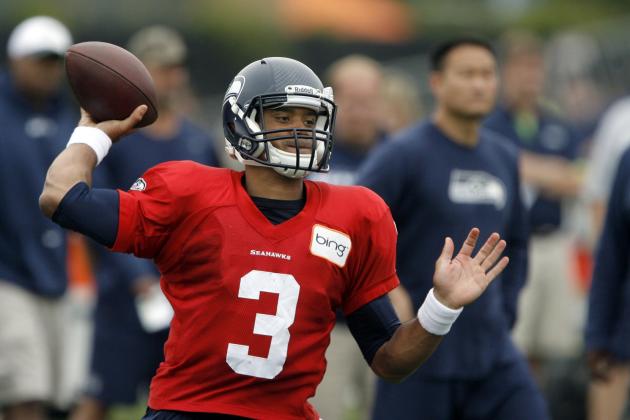 Joe Nicholson-USA TODAY Sports

Few expected what we eventually saw from Russell Wilson in 2012.
While I liked Wilson and had him as my fifth-rated quarterback in last year's draft, I viewed him as an average starter at best.
So while we now know just how good he can be, when comparing draft classes, we have to view Wilson as the prospect he was prior to the 2012 season.
In this redraft, Wilson lands in the same slot he did in the real draft.
When the Seahawks drafted him in the third round, it could have been considered a reach. So it's tough to justify placing him any higher in our redraft.
2012 draft projection: No. 75, Seattle Seahawks
Grade: 68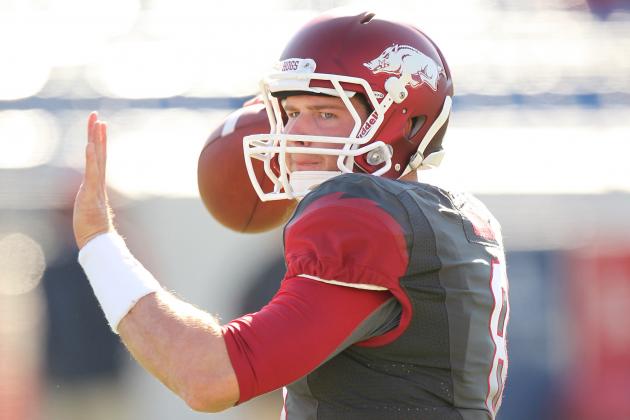 Nelson Chenault-USA TODAY Sports

Tyler Wilson is another prospect getting bumped into the 2013 first-round discussion, despite possessing second- or third-round skills.
But in this double class, he lands in a more realistic position in the late third round, where he could be stashed on the bench for a year or two as he develops.
The Cowboys would be a logical landing spot for Wilson, especially this late in the draft where there is little risk involved.
As a late third-round selection, Wilson wouldn't pose an immediate threat to Tony Romo, but would give the Cowboys someone to groom behind him.
In 2012, this wasn't an option for Dallas, as teams had already reached for Osweiler and Wilson.
2012 draft projection: No. 81, Dallas Cowboys
Draft grade: 67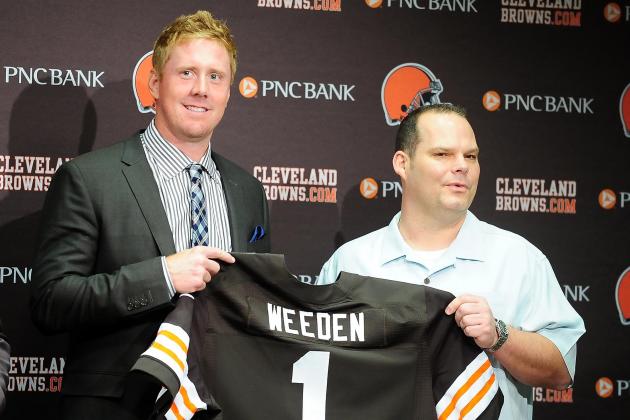 Andrew Weber-USA TODAY Sports

Brandon Weeden, Oklahoma State
The Browns reached for Weeden in the first round, but when combining the two draft classes, he falls far. With very little upside as a 28-year-old rookie, Weeden only fits with a team looking for an immediate starter.
Zac Dysert, Miami OH
Dysert is the top-rated 2013 prospect not included in the redraft. I actually have Dysert rated slightly higher than Tyler Wilson, and he could come off the board in the third round.
Nick Foles, Arizona
The Eagles selected Foles in the third round in 2012 but had better options on the board in the redraft. Foles would likely fall into the third day of the draft in this scenario.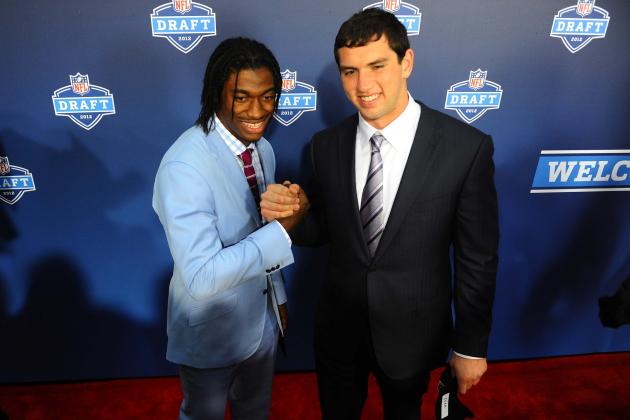 James Lang-USA TODAY Sports

This 2012 redraft shows us a few things about the 2012 and 2013 draft classes.
The most obvious difference is the lack of elite talent in 2013. None of this year's prospects have a legitimate argument to be selected in the Top 10 of the redraft, and three 2012 prospects come off the board before the first 2013 prospect.
But once the elite prospects were off the board, the depth of the 2013 class showed.
Of the final seven picks in the redraft, five were from the 2013 class.
So while this year's class won't produce the next Luck or Griffin, there is plenty of talent available for teams willing to be patient and wait until the second day of the draft.