New York Giants' Top 5 First-Round Draft Picks Ever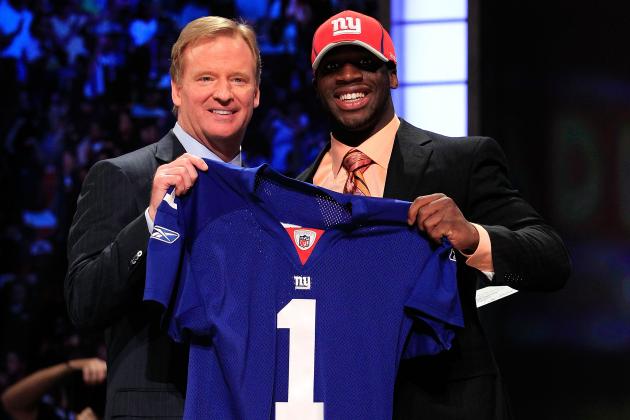 Chris Trotman/Getty Images

With more than two months to go before the Giants make their selections in this year's NFL draft, fans will find themselves studying college players and reviewing mock drafts to find out how the team plans to improve.
Jerry Reese, New York's respected general manager, and a number of scouts and other decision-makers will gather to try to gain the best talent they can. With the team's recent cap-cutting measures, young, inexpensive talent will be crucial, especially first-round picks. Reese has shown a knack for picking the right players, but how has the franchise done historically?
Pretty well, actually. The team has taken three players who wound up in Canton in the first round of the draft, and at least one more who will inevitably join them. Here, we'll recap the top five first-round picks the New York Giants ever made.
Begin Slideshow

»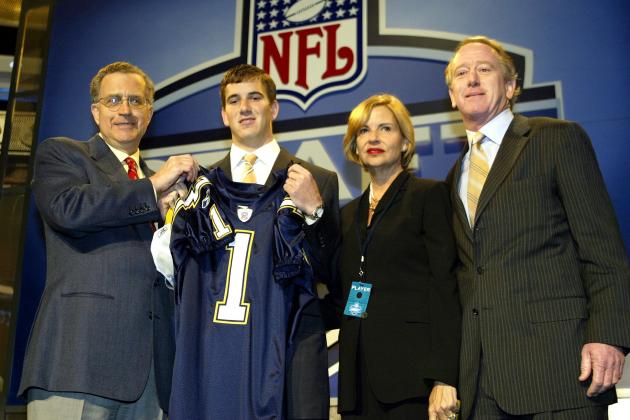 Chris Trotman/Getty Images

First, let's work out this small technicality: the Giants got Eli Manning as the result of a draft, but he was not actually drafted by the franchise.
Manning had expressed to the San Diego Chargers, who held the first pick in the 2004 draft, that he would not play for them. The Chargers drafted him anyway, and a last-minute trade for Philip Rivers, orchestrated by San Diego and then-Giants GM Ernie Accorsi, landed Manning in New York just three picks later.
The move was derided by some as tampering with the draft, but at the very least, it did provide us with this extremely uncomfortable looking photo of Eli holding a Chargers jersey.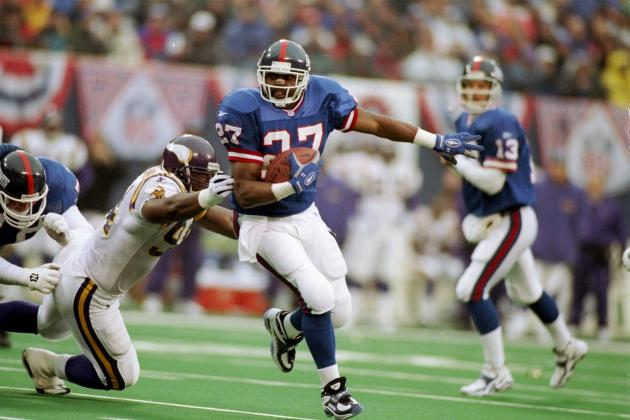 Al Bello/Getty Images

Rodney Hampton, drafted late in the first round in 1990, played only seven full seasons with the New York Giants, but had an extremely successful career with the team.
Hampton nearly averaged 1,000 yards a season rushing, settling in with 6,897 yards on the ground for his career. He also added 1,300 yards receiving. He was elected to two Pro Bowls, first in 1992—a season in which he scored 14 touchdowns—and then 1993. Hampton was in the top 10 in rushing yards for five consecutive years of his career, from 1991 to 1995.
The Giants won the Super Bowl Hampton's rookie year in 1990, although Hampton was largely playing behind Ottis Anderson that season.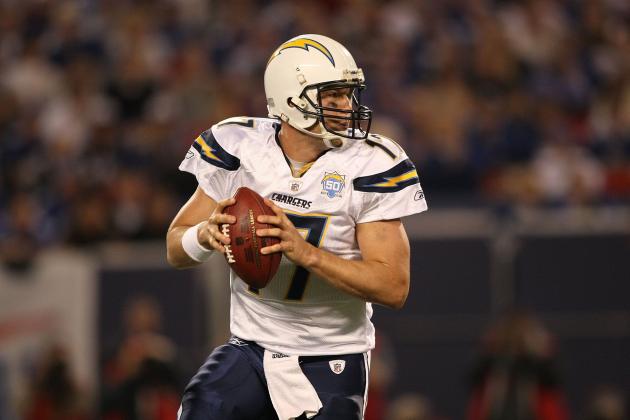 Nick Laham/Getty Images

Philip Rivers, despite not playing a single down for the Giants, was still their first-round draft choice in 2004, so he qualifies on that end.
His performance is the other reason he is on this list.
Rivers, who became the Chargers' starter in 2006, has amassed some impressive numbers thus far in his career. In his seven full years at the helm, he has passed for nearly 28,000 yards, and has thrown for over 4,000 yards four times. Despite his struggle to lead his team deep into the playoffs, he has led them to the postseason four times.
Rivers has thrown 189 touchdowns and 93 interceptions, a rate of better than two to one, and has a career completion percentage of 63.6. Despite being overshadowed by two quarterbacks from the same draft class, Eli Manning and Ben Roethlisberger, Rivers still has plenty of time to add to his distinguished career.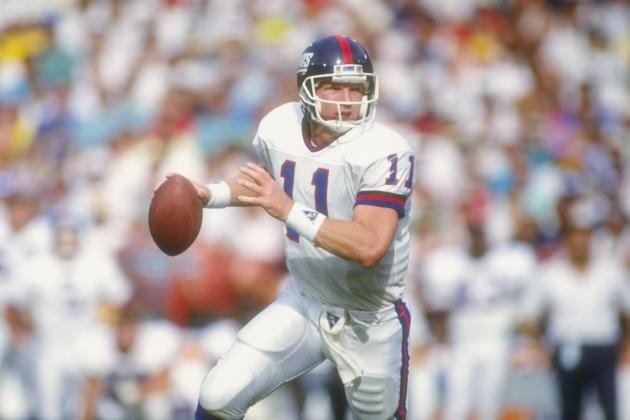 Mike Powell/Getty Images

Phil Simms was taken seventh overall by the Giants in the 1979 draft after his promising college career at Morehead State University in Kentucky.
Simms did not disappoint.
Staying with the franchise for the entirety of his 14-year career, Simms would accumulate nearly every Giants passing record at the time. For his career, Simms threw for over 33,000 yards and fell one touchdown short of 200.
While not always the flashiest player, Simms was consistent and efficient. In Super Bowl XXI, Simms gave perhaps the finest quartbacking effort ever in a title game, going 22-for-25 passing for 268 yards and three touchdowns. He was named the MVP of the game, which the Giants won 39-20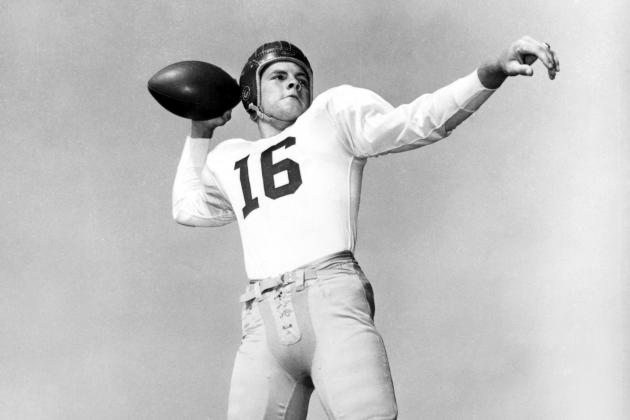 University of Southern California/Getty Images

The Giants drafted Frank Gifford in 1952 out of the University of Southern California. His career, which landed him in the Hall of Fame, was a remarkable one that saw him not only play offense and defense, but play both well enough to gain Pro Bowl nods.
As a left-halfback, he ran for over 3,600 career yards and picked up 5,400 more yards in receiving. He also threw 14 touchdowns, the most by any player not playing as a quarterback.
In 1956, a year in which he would lead the Giants to a national championship, Gifford gained 1,422 yards total from the line of scrimmage. Broken down for the 12-game season, his 118 yard average earned him MVP honors that year.
Gifford, who also had an illustrious broadcasting career, retired in 1964 and was inducted into Canton in 1977.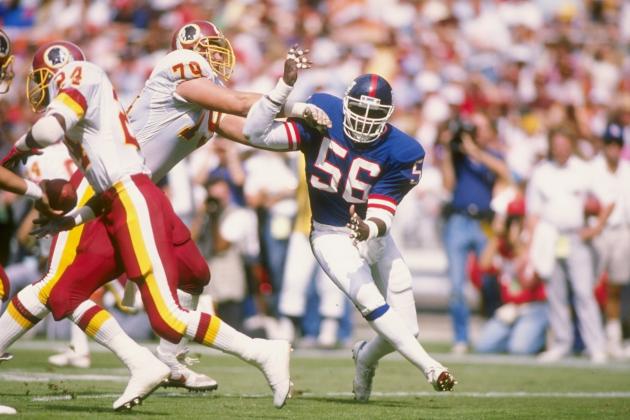 Mike Powell/Getty Images

Drafted by the Giants with the second overall pick in 1981, Taylor changed not only every game he played in, but also how the game was played moving forward.
Numbers can't begin to tell the story, but we'll provide them anyway.
Taylor amassed a career total of 132.5 sacks in his eleven seasons with the Giants, including the 20.5 he picked up during the 1986 season. He was named the MVP that season. He was elected a First Team All-Pro every year from 1981 to 1989, and was the NFL's Defensive Player of the Year in 1981 and 1982.Taylor was a key member of two Giants Super Bowl efforts in 1986 and 1990.
But mostly, Taylor was an intimidating threat to opposing quarterbacks.