2013 NFL Draft: 7-Round Baltimore Ravens Mock Draft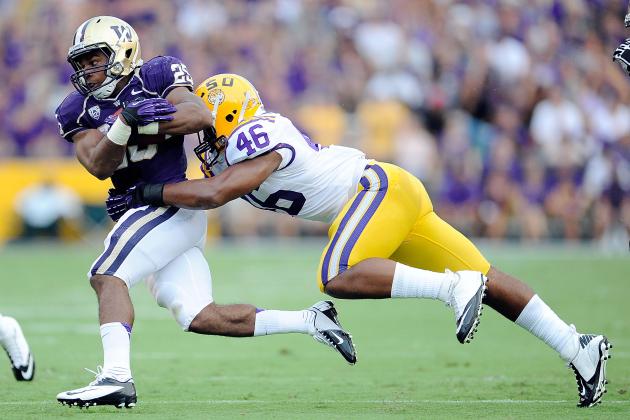 Stacy Revere/Getty Images

Think back to a long time ago when Ravens fans were on the verge of rioting.
Nope, not that long. You're thinking of the post-Super Bowl Party.
I'm talk about around five days ago when every major news organization was trading Ravens stock for scrap metal and Ravens diehards could barely look at M&T Bank Stadium in the same way.
Then came Sunday night.
In the post-Dumervil world, everyone has suddenly remembered one thing: Ozzie Newsome is an absolute genius. Let's quickly recap before we get to the draft: Lewis and Birk retired, Boldin was traded to San Francisco, Kruger and Ellerbe were overpaid in free agency and Pollard was cut. Oh yeah, and some guy named Ed Reed took a bigger deal in Houston.
Fast-forward a few days and Ravens fans should be smiling. Newsome signed Dumervil, a proven veteran and three-time Pro Bowler, a solid Chris Canty and Marcus Spears for less than the Browns paid for Paul Kruger. (Kurger is 27 and Dumervil is 29, by the way.)
Now the Ravens look poised to sign Michael Huff, another dependable veteran and an ideal Pollard replacement.
Let all of that slowly digest. Then think about the fact that Newsome is going into the 2013 NFL draft with 12 draft picks. Yes, you read that right. A one followed by a two.
Please explain to me again, Jeffri Chadiha, why Dumvervil was so wrong to pick the Ravens?
Let's look at how the Ravens could use those picks.
Begin Slideshow

»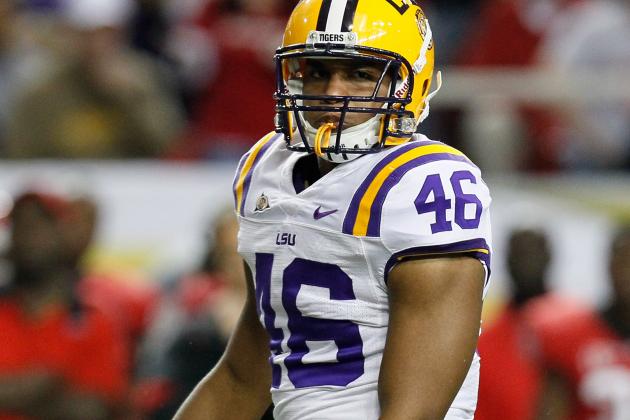 Kevin C. Cox/Getty Images

Newsome has lined this pick up from a mile away.
He could've overpaid to keep Ellerbe, but held back. He could've courted a veteran like Karlos Dansby, but he has so far looked to sure up the defensive line instead.
In my mind, Minter is an absolute slam dunk at No. 32. This is a guy who played on a loaded LSU defense and was a standout all of last season.
Put on the Florida tape: Twenty tackles (including 17 solo) and two sacks
Or the Chick-fil-a Bowl against Clemson: Nineteen tackles and 1 sack.
Minter is a stud and fills an immediate need for the Ravens. He's strong, instinctive and has excelled against great competition. He would start alongside Jameel McClain at inside linebacker from day one.
At 6'0" and 246 pounds, he's a little thick, and his 4.8 40 at the combine showed that. But his consistency and work ethic trumps questions about his lateral speed.
Ozzie will gladly select Minter at the bottom of Round 1.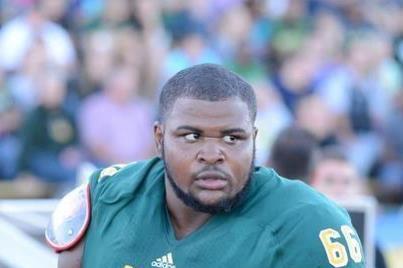 Don't worry. I know you've never heard of him. Trust me on this one.
If you watched the Senior Bowl (and particularly the practices), he was a monster. He put up 38 reps on the bench at the combine.
Ozzie Newsome is looking to rebuild the middle of the Ravens defense. Jesse Williams from Alabama would be an alternative pick here, but I think he will be gone by this point. I also think Brandon Williams will be a better fit for the Ravens.
Williams is 6'1" and 335 pounds. He is a short run-stuffer who can eat some space and allow Haloti Ngata, Art Jones, Chris Canty and co. to operate freely.
From what I saw in the Senior Bowl and combine, people are dramatically underestimating Williams. He is a three-time All-American who could fit very well into the Ravens' 3-4 scheme.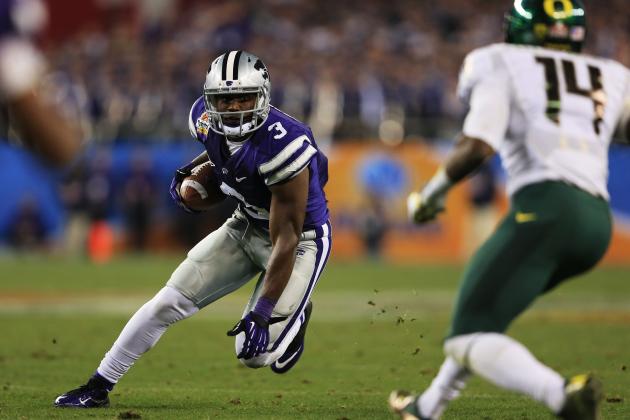 Doug Pensinger/Getty Images

Now that Anquan Boldin is in the Bay Area, I really think the Ravens will try to replace him in the draft. Chris Harper would be a very good place to start. He's only 6'1" but weighs 234 pounds. He looks like Boldin and with a little route running work could play like him as well.
Except for one thing. Harper can run. Despite a slow combine 40 that had people thinking he was a fourth- or fifth-round pick, his pro day brought him back into the third-round discussion. His new 40 time (reports range from 4.38 to 4.47) is seriously quick for a guy that size.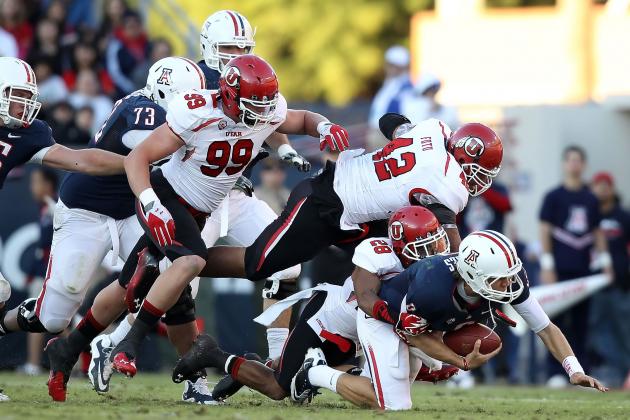 Christian Petersen/Getty Images

This might be a little late for him, but the Ravens let go of Joe's older brother, Paul, in fee agency and would do well to replace him with another Kruger from Utah.
Joe Kruger is a massive 6'6" and ran a 4.8 40. That is on par with many of the top-rated LBs in the draft (including Kevin Minter). Some scouts are saying he will hear his name called within the first 100 selections, but I'm not sure I buy that. Every year, players drop for seemingly tenuous reasons and the Ravens usually to snap them up.
Kruger is an athletic freak, but he plays too high and lacks a second move if his speed rush is accounted for. Still, he would work well in Baltimore and add another element to those two Cleveland games next year.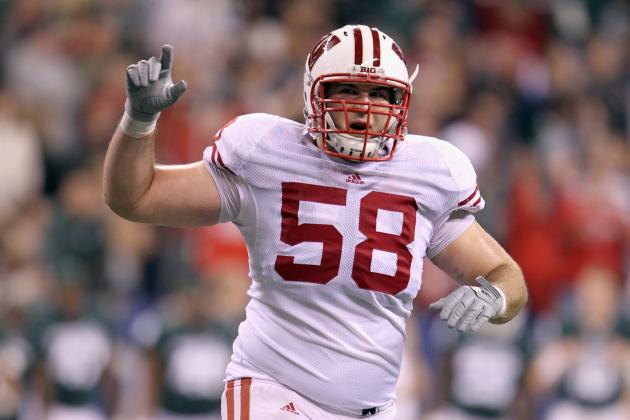 Andy Lyons/Getty Images

At some point, the Ravens really need to consider looking to the future at LT. It remains unclear if Bryant McKinnie will be re-signed, and even if he is, I think the Ravens will try to get younger on the offensive line.
Wisconsin is an offensive linemen factory and Wagner could prove to be a tremendous value pick at the back end of the fourth round. He might be able to start at left tackle right away.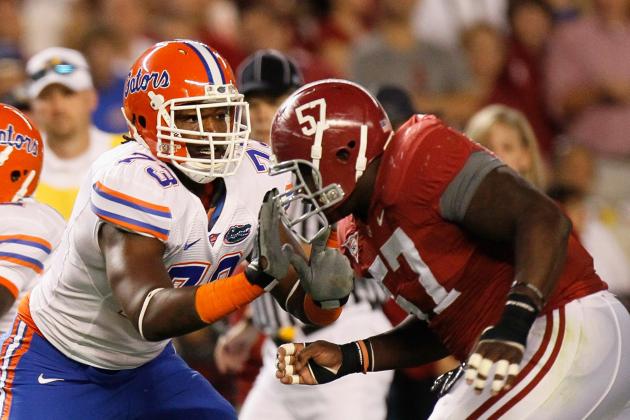 Kevin C. Cox/Getty Images

With back-to-back picks, I love the idea of the Ravens double dipping with a potential left tackle of the future. They chose two TEs in Ed Dickson and Dennis Pitta in the same draft in 2010 and I don't think they would be afraid to add depth at this position.
Nixon is tall and athletic and with a little work, he could develop into an impressive left tackle.
He has underachieved for the most part in his career since consistency has been a concern. But if he is not expected to be a starter right away, I think you could get a lot of Nixon.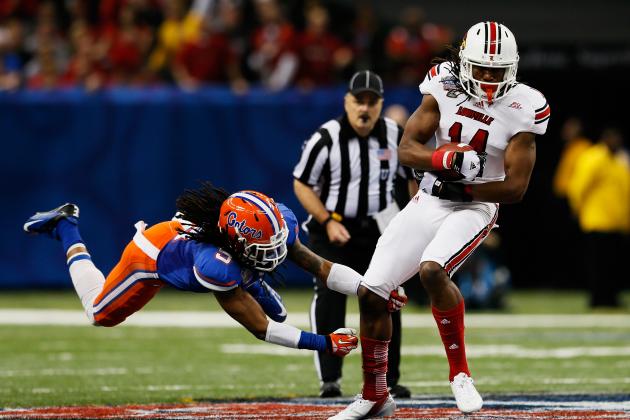 Kevin C. Cox/Getty Images

I would have had a safety much sooner, but I am thinking that once the Ravens get Michael Huff into town later this week, they are unlikely to let him leave.
Evans led the Gators in tackles last season and fills a big need for the Ravens. He is tall, lean and has good ball skills. If they do sign Huff, the Ravens will have the potential for a much deeper secondary next year, despite how difficult it will be to replace No. 20.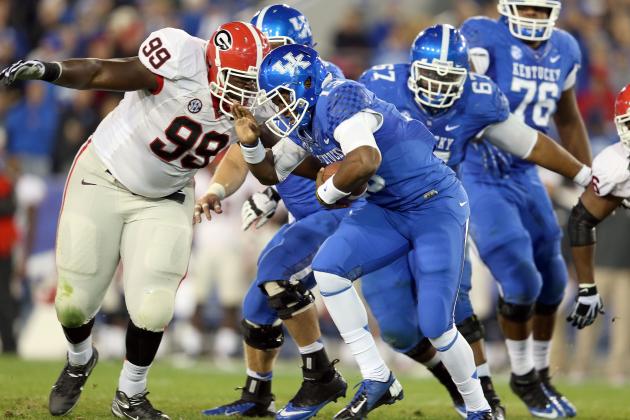 Andy Lyons/Getty Images

No sugar-coating what Kwame Geathers is. He is a wide, wide load. At 342 pounds, he would be one of the heaviest Ravens on the roster, and with Terrence Cody underachieving, I'm going to stick with Ozzie's theme of solidifying the middle of the Ravens defense.
In recent years, pundits have lamented the losses of players like Jarret Johnson, Ben Grubbs and Dawan Landry. But the Ravens always seem to lose a big, big nose tackle as well. Kelly Gregg, Dwan Edwards and Brandon McKinney have moved on over the past few seasons and Geathers is of the same mold.
Except...Geathers is 6'5". This makes him even more valuable in the sixth round—he can bat balls down and block the quarterback's sight line.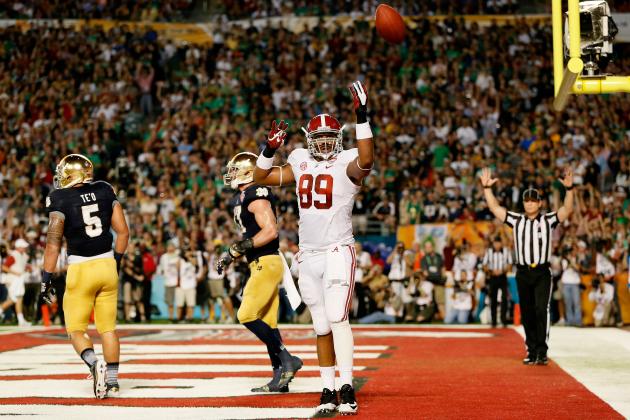 Kevin C. Cox/Getty Images

Yet another underrated free-agent pickup last offseason was blocking tight end Billy Bajema. The journeyman tight end allowed Jim Caldwell to run some different formations and provided solid depth behind their young pair of TEs.
Even though Ed Dickson and Dennis Pitta have been retained for the upcoming season, I believe the Ravens will target a tight end in the later rounds to replace the departing Bajema.
Michael Williams is a winner coming from Alabama. He is big (6'5") and knows how to block. He fits the bill.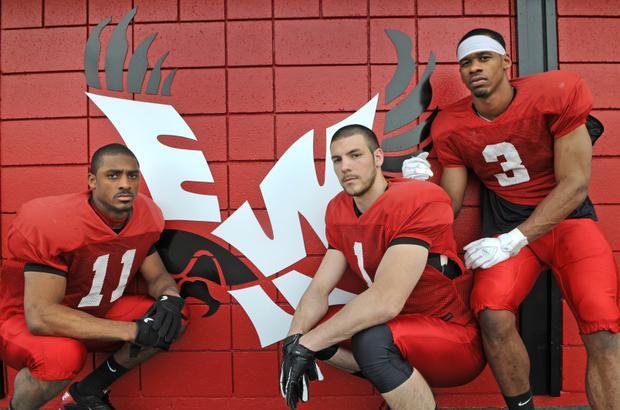 I love Brandon Kaufman (center in the picture above).
He is my favorite pick of this mock draft. It's not just because he went to Eastern Washington and has great beard potential.
I am a fan of Brandon Kaufman because he can play. The 6'5" WR went for over 100 yards in 11 of 13 games last season. He runs great routes and works well over the middle of the field.
What really sells me on him is that he fits what the Ravens need right now.
Tommy Streeter (last year's sixth-round pick) spent the season on IR and could turn out to be a solid player. But beyond Streeter, all of the Ravens' unproven receivers are small. Undrafted Deonte Thompson works best in the slot, Tandon Doss doesn't have good enough hands to overcome his lack of speed and David Reed is a nothing more than a returner.
Kaufman dominated as a redshirt senior, albeit against inferior competition. But as countless wideouts have shown, no-name receivers on draft day frequently end up as reliable starters once the pads come on.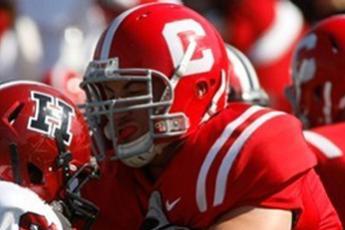 Matt Birk retires and the Ravens pick up another Ivy League offensive lineman.
As with many small school guys, the combine was important for draft stock. Tretter did not disappoint, putting up a respectable 29 bench reps and measuring at 6'4". He is athletic and might be a guy the Ravens can look to develop.
Harry How/Getty Images

Brown had a nice career at Stanford and didn't do himself any favors by leaving with one year of eligibility left. The thing I really like about Terrence Brown is that he is long. At 6'1", he fits the prerequisites of an NFL corner today.
He has been clocked at a 4.5 40, which is a little slow, but plenty of bigger corners make up for a lack of speed by using their size and physicality. That is Brown's style.
With Cary Williams headed to Philadelphia, the Ravens could use more corner depth.