Buffalo Bills Mock Draft: Updated 7-Round Projections After the Senior Bowl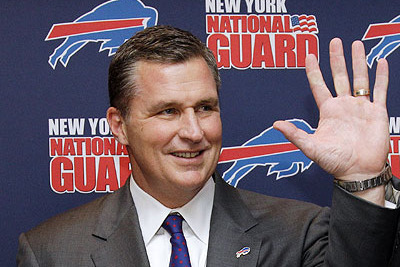 Photo Credit: Associated Press David Duprey
With the 2013 Senior Bowl in the books—the South defeated the North 21-16 in a sloppily played game—it's time for me to update my Buffalo Bills mock draft.
I watched the game closely, focusing primarily on all six quarterbacks in the game. My hope was that Tyler Wilson or Mike Glennon would blow me away and force me to take them in the first round.
Well this certainly didn't happen, but due to Buffalo's need for a QB, I found myself taking a quarterback much earlier than I had hoped.
Truthfully, the only quarterback with whom I came away impressed was E.J. Manuel. The Florida State QB won Most Outstanding Player by throwing for one touchdown and running for a second. That being said, I still see Manuel as a third- or fourth-round prospect. Manuel has plenty of talent but is very raw and inconsistent.
In my last Bills mock draft, I had Buffalo selecting Jarvis Jones and Ryan Nassib in the first two rounds. Neither made this mock. That said, I still do believe there is a chance that Jones is available at No. 8. If he is, Buffalo would have to take the phenomenal OLB to upgrade its defense.
Please keep in mind that the Bills do not have a seventh-round pick as they traded it to the Seattle Seahawks for Tarvaris "Inactive" Jackson.
Begin Slideshow

»
Stacy Revere/Getty Images
Wilson is one of the best QBs in a down class.
Let me say this from the get-go, Tyler Wilson did nothing to blow me away at the Senior Bowl.
Overall, the QB play in the game was lackluster except for the play of the aforementioned E.J. Manuel.
So why Wilson? Simple. I've had Geno Smith and Tyler Wilson as the only top-tier quarterbacks available in this year's draft. No other quarterback in this year's draft has consistently proven himself to be a franchise QB, so Buffalo will have to take its quarterback of the future as soon as possible in the draft.
To many scouts and pundits, the former Razorback had a letdown of a 2012 season. He threw for 3,387 yards in 11 games with 21 TDs (to 13 INTs)
All things considered, the numbers truly weren't that bad. Wilson lost his top three wide receivers to the 2012 NFL draft (Joe Adams, Greg Childs and Jarius Wright).
On April 11th, Wilson's head coach, Bobby Petrino, was fired by Arkansas after he misled the university about a relationship he had with an Arkansas athletic department employee.
All things considered, Wilson had a solid senior season on a poor Arkansas team.
In Buffalo, Wilson would have a great chance to start immediately and win over the Bills fanbase. Recently, Mel Kiper Jr. compared Wilson's toughness to Bills legend Jim Kelly. Wilson is known for his poise in the pocket and accuracy under pressure.
Doug Marrone knows that the Bills are built to win now, and he needs to fill the QB spot as soon as possible. For that reason, the Bills would be wise to take Wilson with the eighth overall pick.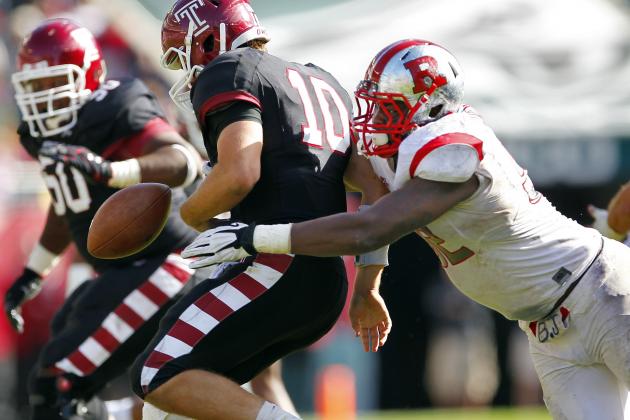 Rich Schultz/Getty Images
Khaseem Greene would be a nice fit in Mike Pettine's defense.
After finding their quarterback of the future, the Bills need to turn their attention to improving their defense, especially at the linebacker position.
In Round 2, Buffalo turns to Khaseem Greene out of Rutgers.
Greene is one of the most athletic linebackers in the draft. To some analysts, Greene's size is worrisome, but at 6'1" and 236 pounds, he is a good fit as a weak-side linebacker.
Greene is also known for his excellent speed, agility and open-field tackling ability. Greene notched double digits in tackles in eight of thirteen games this season. His highest total came against Army, when he finished with 22 total tackles.
By taking Greene, Buffalo brings in an athletic OLB whom defensive coordinator Mike Pettine can develop into a speed-rusher.
Buffalo is expected to blitz significantly more in 2013, so a player like Greene would be a great fit.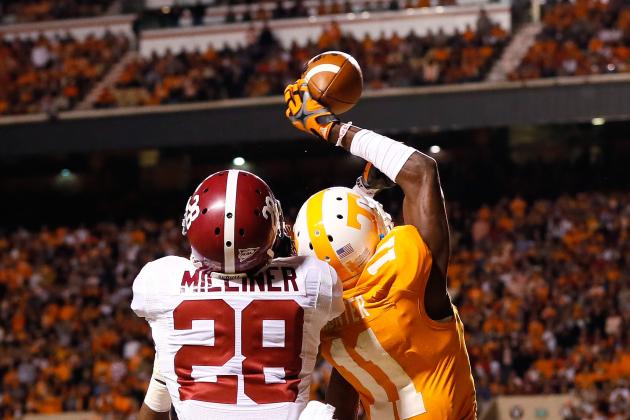 Kevin C. Cox/Getty Images
Hunter has the ability to outjump cornerbacks with his size and athleticism.
While I wouldn't blame the Bills for sticking with defense, a wide receiver like Justin Hunter would almost be too good pass up in Round 3.
Buffalo's biggest problem is that they are stacked with slot receivers and have no true outside receiving threats. That is meant as no disrespect to Stevie Johnson, who has done a very good job on the outside, but he fits best in the slot. The same could be said for Donald Jones and David Nelson.
T.J. Graham has incredible speed, but his size limits him on the outside as well.
At 6'4" and a 4.49 40-time, Hunter possesses a great combination of size and speed.
Hunter caught 73 passes for 1,083 yards and nine touchdowns for the Volunteers in 2012. He moves well for his size and possesses great footwork and body control.
The biggest knock on Hunter is that his only 100-yard games came against the likes of Georgia State, Akron, Troy and Missouri, but in the third round you can't ask for a much better prospect.
Pugh is a good fit at offensive guard. Photo Credit: si.com
Pugh played as an offensive tackle at Syracuse, but realistically he'll be a guard in the NFL. If there was any doubt, the Senior Bowl practices and the game itself showed that Pugh cannot play offensive tackle effectively.
That said Pugh is very athletic and has excellent body control. At guard, Pugh has plenty of NFL potential.
The biggest weakness in his game is his strength.
Doug Marrone and new Bills offensive coordinator Nathaniel Hackett know what Pugh does best and whether he would be a good fit at OG. With Andy Levitre potentially leaving as a free agent, Buffalo will need to find someone in the draft to possibly fill his shoes.
Matthew Holst/Getty Images
A.J. Klein plays with a chip on his shoulder.
It took five rounds, but we're finally going to see some consistency between my previous mock draft and my post-Senior Bowl mock!
Klein, the former Iowa State Cyclone, is known to play well against the run. Klein also hardly ever misreads plays and has terrific instincts.
Based on film that I've watched and his performance in the East-West Shrine Game, Klein takes good angles and pursues well despite lacking elite speed.
Klein is best in zone coverages on defense, as he does a great job of reading the opposing quarterback's eyes.
The biggest knock on Klein is that some feel that he doesn't have the athleticism you look for at the next level.
In Round 5, there's nothing wrong with taking a chance on a player like A.J. Klein. At best, he proves everyone wrong and succeeds as a starting ILB for many years. At worst, Klein provides depth on a team that desperately needs it at ILB.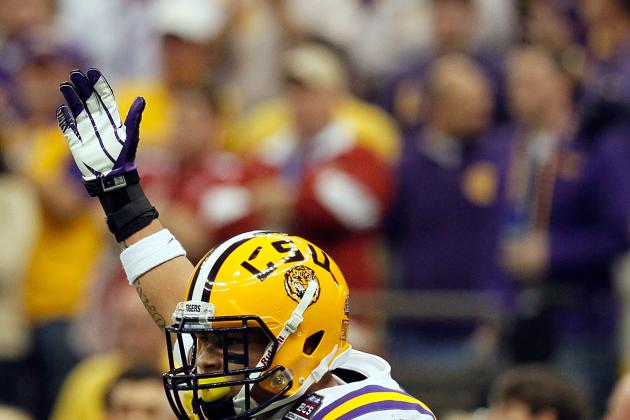 Kevin C. Cox/Getty Images
Mathieu deserves a second chance and has plenty of ability at CB.
I'm sticking with the Honey Badger!
As I said last week, Mathieu has plenty of character concerns, but he also has plenty of talent.
Mathieu didn't play football this season after being suspended from the LSU Tigers after failing a drug test. And while there are some red flags attached to Mathieu, you can't ignore his ability. In Round 6, someone should take a flyer on Mathieu, so why not Buffalo?
All eyes will be on the former Heisman finalist at February's NFL Scouting Combine. Still, Mathieu's height (5'9") and the fact that he sat out for one season will deter some NFL clubs from drafting him, regardless of his Combine performance.
Mathieu has admitted that he abused marijuana, but he wouldn't be the first NFL player to have used the substance. Not only that, but I'm a big believer in people getting second chances.
Since the Bills need as much help as possible at CB, Mathieu would have an opportunity to contribute immediately in certain packages and on special teams. He'd also be reunited with former teammate Ron Brooks.