2013 NFL Draft: Quarterback Preview for the Buffalo Bills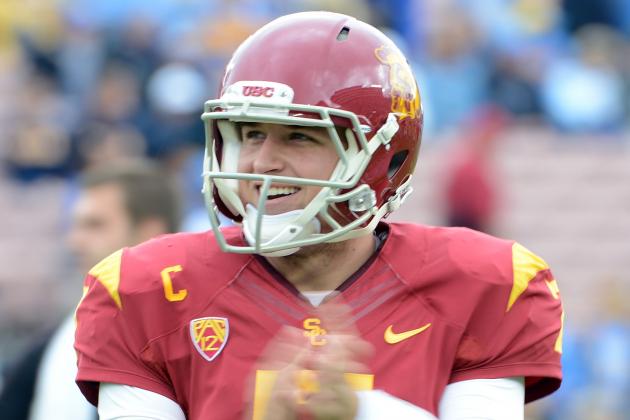 Harry How/Getty Images
USC QB Matt Barkley
For Buffalo Bills fans, many have had no choice but to start thinking about the 2013 NFL Draft months ago. It was apparent from early on that the league's 2012 off-season champion would conclude another disappointing season without playing in the postseason.
The only solace for losing often in the NFL is being able to bring in a blue-chip prospect that can be the cornerstone of a franchise. Bills fans have been looking for good quarterback play since Jim Kelly retired. How many times do you hear that during the broadcast during this playoff-less streak?
Unfortunately, this is not the year to have a high draft pick. Many of the "elite" prospects have question marks, especially at the quarterback position. Couple that with General Manager Buddy Nix's fixation on getting one this year and the Bills will have to walk gingerly through a minefield of potential busts to unearth the best candidate for the job. One could make the argument that, regardless of need, this isn't the year for the Bills to take a signal caller early. However, that doesn't mean the prospects shouldn't be heavily analyzed.
The following is my grading of the quarterback prospects for the 2013 NFL Draft.
While the quarterback premium in the NFL will cause many of the following players to be over-drafted, I assign value to them based on their value at their respective position:
10.0-9.5 (Top Five):
The player demonstrates the ability to become one of the league's best at his respective position. He is a cornerstone for the franchise that the team can build around.
9.4-9.0 (1st Round):
The player demonstrates the ability to develop into a Pro Bowl-caliber player at the next level and should be one of the upper-tier players at his respective position. He should be able to come in and start early in his career.
8.9-8.5 (2nd Round):
The player demonstrates the ability to develop into an above-average-to-solid starter. He should be able to make an impact on the roster early. [The 8.5-8.6 range indicates a dirty starter that can start, but has issues that will limit him]
8.4-8.0 (3rd Round):
The player shows the potential of becoming a starter, but needs some polishing to get to that point. Usually, this will mean they need to find a little more consistency in their game. They may also be a valuable contributor.
7.9-7.5 (4th Round):
Flashes ability, but needs improvement if he's ever going to break into a starting lineup. The prospect has upside, but is a few years off from potentially starting (if ever). These players should at least be valuable contributors and provide depth to a roster.
7.4-7.0 (5th Round):
The player has limited upside. He is mostly a contributor that provides depth. Their impact will primarily be on special teams and filling out the 2nd or 3rd strings of the roster.
6.9-6.5 (6th Round):
This player is a project. He may lack production or the measurables, but has redeeming qualities that could equate to him developing into something more.
6.4-6.0 (7th Round):
This is a player that hasn't produced a lot of good tape at this stage in his development. He is a flier that you hope can be coached into something more.
For each prospect, I'll explain their grade, scouting report, summary and potential fit with the Bills.
Begin Slideshow

»
Jeff Gross/Getty Images

Grade: 8.8
Scouting Report:
When he broke his collarbone in high school during a quarterfinal playoff game, he calmly decided "It's O.K. It's God's Plan." He's a deeply religious guy. It's been said his faith and character prevent him from answering media questions without honesty, which could up end being a notable attribute
When the program was falling apart, he started calling recruits from his apartment and when he needed more numbers, he went to the football office and set up a makeshift phone bank. "He was the spokesman for the university and he was 19," said punter Kyle Negrete.
Has started since his true freshman campaign; Was first sophomore ever named team captain at USC
Active in the community. Spent his Christmas break in Nigeria doing construction work, distributing supplies and gifts and sharing daily fellowship. In high school, he played guitar in church and built homes in Mexico
Doesn't disappear in big games. As a true frosh in his first bowl game, he went 27 of 37 (73 percent) for 350 yards 2-2 in a 24-13 win over Boston College
Can be accurate throwing off-balance. It's an important skill to have, but he has to learn to set his feet more. He makes some throws much harder for himself than they have to be
Has the arm strength to make all the throws, but it's not a cannon
Puts some zip on his passes, though not all of them. He can fit it into some tight windows
A few of his passes flutter on him a bit, but he throws a nice ball for the most part
Shows good touch on fade passes
Good at throwing anticipatory routes; good ball placement, can put the ball back shoulder; above-average accuracy at all levels
Can make throws on the run
Intelligent enough to make checks at the line of scrimmage
Will stare down his receiver at times. I think, while he makes checks at the line, he often knows where he's going with the football before the snap, regardless of the coverage he gets. That's the cause of some of his poor decision-making with the football
On other occasions, he will go through the progressions
Has some mobility to keep the sticks moving
Quick feet
Good pocket awareness, stepping up and evading the rush. Keeps his eyes downfield
Willing to toss it up and let his guy make a play on the ball.
Summary:
Barkley needs work in several facets of the game, but he should still end up a solid NFL starter. He's a leader with strong intangibles, as well as extensive experience in a pro-style scheme. My biggest concern with him is that he's intelligent pre-snap, but occasionally turns it off post-snap. He locks in to where he wants to go before he gets the ball, which will result in bone-headed plays at the next level. That's a very tough quality to change, which is why I don't think he's a first-round quarterback. The upside is there, but you have to keep your expectations in check with him, even if he looks and talks the part. He'll be at his best in a balanced offense where the team isn't trying to have him throw the air out of the ball.
Fit with the Bills:
With a centerpiece like C.J. Spiller on offense, Barkley could help the Bills become a run-oriented, yet balanced attack. While I have my reservations about whether the offensive line talent will translate to a more balanced scheme, there are pieces in place for that offense to work. Provided I'm wrong about the offensive line, the missing piece would be a dynamic receiver to pair with Stevie Johnson. If the Bills grab Tennessee WR Cordarrelle Patterson with the 8th pick, then trade back into the first for Barkley, I believe the offense would have a lot of potential.
Think about the scheme: Patterson opens up the field with his ability, while Johnson works the middle. Teams weren't afraid to go Cover 1 or Cover 0 last year, stacking the box and making Fitzpatrick try to beat them over the top. Barkley had Marqise Lee and Robert Woods playing those roles at USC, but what he didn't have was an explosive back like C.J. Spiller to wreak havoc in the minds of defensive coordinators everywhere.
Of course, this could end up being a Christian Ponder-esque scenario on draft day. Despite second-round projections for Barkley, teams will fall in love with him during interviews and he could end up going much earlier than expected.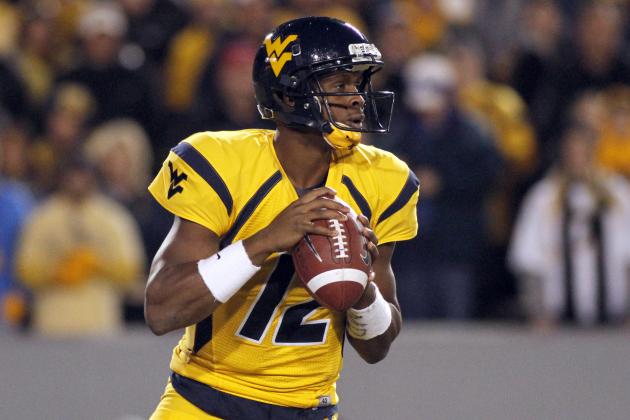 Justin K. Aller/Getty Images

Grade: 8.6
Scouting Report:
Cousin of former "U" player Melvin Bratton
Has been starting since 2010
He's a very competitive guy, but he also loses his composure at times when he gets frustrated. He's also described as a film junkie
"I feel like I don't see it as myself against those defensive players because they don't come up with their game plan. I see it as myself against the defensive coordinator. So I'll get plays and I'll get looks and I'll figure out what they're doing, which formations, which personnel and I'll figure out ways to counter it, so the next time I got that look, I would know exactly what to do."
In January 2012, Smith had a lights-out performance in the Orange Bowl. He went 32-43 for 407 yards and six touchdowns. Disappointing Bowl Game vs. Syracuse after the 2012 season, however
Bit of a winding delivery that causes some passes to rise on him
Can put zip on his throws. Throws a tight ball
Comes from a spread offense, with quick drops and reads. Solid decision-making, but he still gets caught forcing some into tight spots and double-coverage. He will stare down his primary receiver at times. It's amazing to me that he's done such a good job of taking care of the football
Pretty good with play fakes
Needs to learn to step up in the pocket; displays little use of footwork that he'll have to develop, though there was never really a need for him to USC's offense.
Has some mobility. Flashes the ability to extend plays in the pocket
He has poor accuracy on the run
Good feel in the pocket. Doesn't panic under pressure
Can make off-balance throws, adjusting to the position of the pass rush
Overall, he has above-average accuracy, but it runs hot and cold at times. Bit of a rhythm passer that can start getting rattled if you take away his primary option. He's at his best passing in between the hashes. When he gets time and he's in the zone, he can drop dimes
He doesn't play defense too, but after the Texas Tech loss, the team spiraled out of control, losing five straight
Summary:
Smith has the tools to develop into a good starter at the next level, but I'm not convinced he's going to make the jump, though. He has moments of brilliance and others, not so much. Personality-wise, you have to love his competitiveness and passion for the game, but he seems to get down and frustrated when things aren't going well. Bottom line: Smith has the physical tools and protects the football, meaning I think a coordinator can manufacture an offense around him even if he doesn't take that next step.
Fit with the Bills:
If the Bills are targeting Smith, the team would be best served maintaining many elements of last year's offense. For the time being, he needs to be in a similar scheme: spread with quick reads.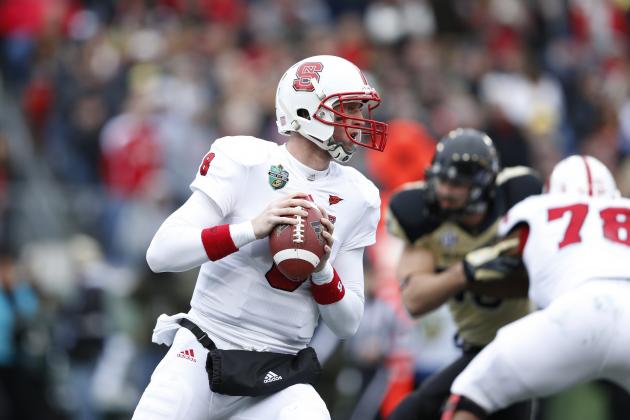 Joe Robbins/Getty Images

Grade: 8.4
Scouting Report:
Once a highly rated recruit
Not a vocal leader
Bit of an elongated delivery due to his longer arms
Good production his two years as a starter. 15-10 record. 1-1 in bowl games
He's got the arm strength to cover the field. He can really shoot it
Likes to show it off, too. He loves pushing the ball deep
Makes poor decisions at times. Will just make boneheaded decisions trying to make a play. Forces passes regardless of coverage, trusting his arm strength. Also has a tendency to either chuck it deep, or go for the safe dump off. It's led to inopportune turnover-on-downs
His accuracy inconsistencies result from his footwork. He isn't forced to use it much given the scheme at NC State, and makes throws flatfooted. His receivers drop plenty of passes on him, though
When he plays with good fundamentals, he can be effective on crossing patterns, delivering the ball on time between the hashes. Overall, he has pretty good anticipation and accuracy in the short-to-intermediate game when he does so
With proper fundamentals, he's a guy that can make all the throws
Has some pocket mobility. Can slide left, right and step up in the pocket to evade the rush
Doesn't feel the rush. It's good in the sense that he's willing to hang in there and keep his eyes downfield
When defenders can get pressure in his face, he contorts his body away, but still fires up an inaccurate ball
Looks ungainly when he tries taking off, but he has underrated wheels on rollouts. He's not Mike Vick, but it's not like watching Drew Bledsoe outside the pocket, either
Poor with his ball fakes
Can make throws on the move
Recognizes the blitz and finds his hot
Good defenses can expose him. If you give him two-deep, you know he's going to look for the dump off or hit a crossing pattern between the hashes. I'd try to make him beat me outside the numbers on a regular basis
Summary:
When Glennon's fundamentals are sound, he can make elite throws. However, he needs to develop more consistency with both his decision-making and his footwork. If he can put it all together, Glennon has a high ceiling. He's the type of prospect that will likely leave a team scratching its head, trying to figure out whether or not he's a franchise QB.
Fit with the Bills:
If the Bills are going with Glennon, they need to identify and acquire some legitimate deep threats. He likes pushing the ball downfield and the closest thing the Bills have to a field-stretcher is the undersized/stone-handed former North Carolina State teammate of his, T.J. Graham.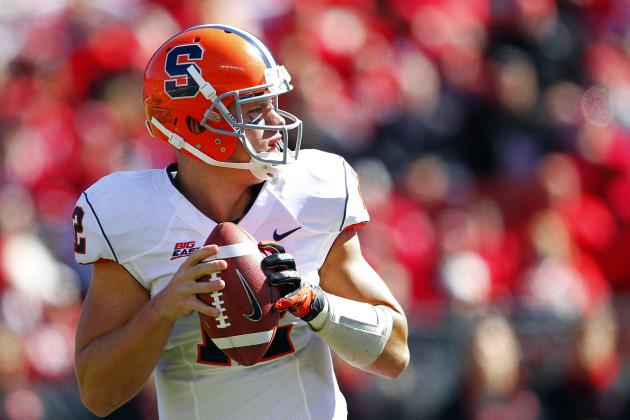 Rich Schultz/Getty Images

Grade: 8.2
Scouting Report:
Starter since 2010; Captain in 2012
Grew up in a very competitive family. Loves the game
Said he enjoys playing in the dome. He feels he throws better inside and pines to practice indoors
He's never cracked 64 percent accuracy. I think that number is influenced by the fact he doesn't have much talent around him, but he is inconsistent. He can fit some passes into tight windows, but misfires on others he should make
As could be expected, it's usually footwork related, something that's not easily corrected
His throwing mechanics are similar to Aaron Rodgers
Can get through his reads
Will make poor decisions with the football trying to make something happen
Above-average accuracy rolling out to his right, though he'll occasionally put it over the guy's head
Struggles with consistency on deeper throws. Has a tendency to not put enough juice on it, but also has flashed the ability to drop it in the bread basket
Pretty good arm strength. He can really rifle it in there
Good pocket mobility. He can step up and slide, buying himself time
Average mobility outside the pocket
He doesn't have wheels by any stretch of the imagination, but he's not a statue
Pretty good with play fakes
Summary:
Nassib can be frustratingly inconsistent. He has moments of looking like a future elite QB, but others of looking like a backup. I like him as a developmental pick that could potentially become a starter if he can put the pieces together. It's obviously very hard to improve accuracy at the next level, though. It's more likely he can be a good backup that will steal some games off the bench. One could argue that he looks the part more than anyone else in the class, but that can only get you so far.
Fit with the Bills:
Bringing in his former head coach and offensive coordinator, the writing appears on the wall that Nassib will be the Bills' target in April. Assuming that the new offense will have many of the components just used by Marrone and Hackett, one could make the logical leap that Nassib would be a perfect fit. Personally, I think over-drafting for familiarity leads to mistakes, but he does flash on tape. If you just watched his throwing motion, you'd think he could be the next Aaron Rodgers. If you saw where the ball ended up, you wouldn't make that comparison again.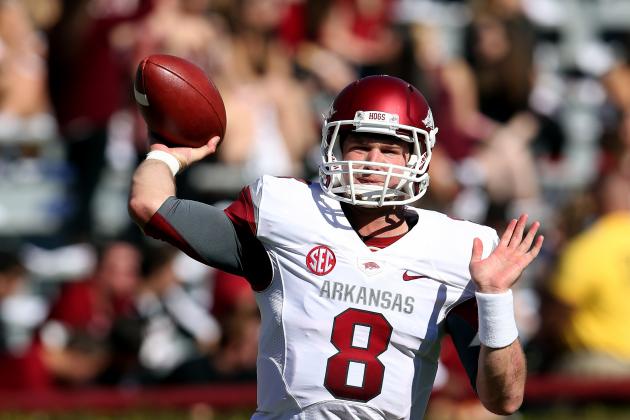 Streeter Lecka/Getty Images

Grade: 8.0
Scouting Report:
Viewed as a leader. Stuck with the program and his teammates as it was crumbling
Called out teammates and coaches for quitting after the Alabama loss
His delivery has a bit of a hitch
He'll have to make the adjustment to a more pro-style offense, proving he can play in any scheme. While Arkansas is considered a pro-style attack, he spent a lot of time in shotgun and he looked much more comfortable as opposed to being under center. It would suit him best to leave him in the shotgun spread, in my opinion
Stares down receivers. Doesn't see the whole field or go through all of his reads consistently
Not much mobility, but he's not afraid to take off if things break down
Inconsistency with deep passes. He has issues with both over and under-throwing
In general, his accuracy is below average on all levels of the field. It's largely inconsistent
His ball flutters on him. He doesn't consistently throw a clean spiral
Has the arm strength to make the throws, but doesn't shoot it on a regular basis. Of course, part of that has to do with the fact that some of his passes are complete ducks
Can make throws on the run and keep plays alive
When the pocket starts breaking down, he keeps his eyes down field
Pocket mobility, can slide and climb the pocket. When he steps up though, he has a tendency to dump it off quickly as opposed to extending the play
Improved on pocket presence, and staying within the pocket when the protection is there. He had a tendency to drift and be a bit skittish in '11, but hung in there more often in '12
Tough. He took a beating in 2012 and kept getting himself up. Attempts throws while staring down the gun barrel
Can get defenders to bite on his play fakes
Has struggled with decision-making at times
Summary:
Wilson is a difficult read. He looked destined to be a good one after his promising 2011 campaign, but took a step backwards in '12. Of course, there were a lot distractions at Arkansas this past season, as well as the loss of most of his receiving corps. Wilson has some raw tools and intangibles, but he has a lot of work to do if he's ever going to develop into a consistent passer at the next level. You want to like him, but he has major flaws and inconsistencies working against him.
Fit with the Bills:
This depends on whether or not Nix feels he has the time to take a developmental prospect. If Wilson was hoping his NFL home would have more weapons than he had to work with last year, he's probably not exactly going to have his fingers crossed that he ends up in Buffalo. Wilson is a prospect that I think will need a year or two of seasoning.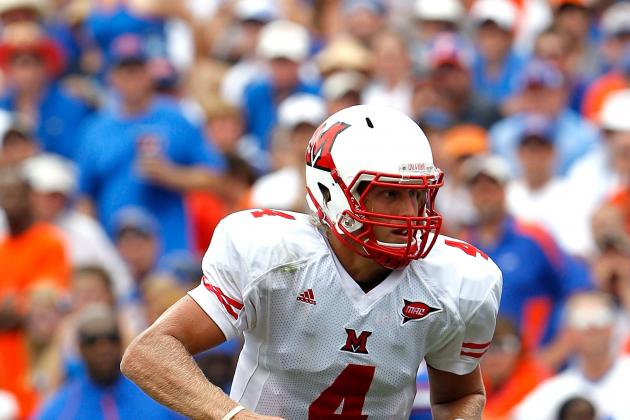 Sam Greenwood/Getty Images

Grade: 7.9
Scouting Report:
Quite an athlete in high school. In addition to football, he was an all-star in hockey before he gave it up to play football; captained the baseball and basketball teams
Three-time captain at Miami
Took over as the starter in 2010. He suffered a lacerated spleen that year after starting 10 games
One of his eventual goals is to become a college coach
Brutally stares down his receivers at times
Can make throws with touch
Good arm strength overall
Can put some zip on his passes
Needs to improve his footwork a little bit. Doesn't always set his feet when he can and it leads to inaccuracy
Below-average, inconsistent accuracy on shorter routes. I think he treats them as if they're too easy, not setting his feet, leading to inaccuracy
Better at hitting intermediates when he can drive the ball in between the hashes
Demonstrates anticipation
Shows nice touch on deeper patterns, a strength of his game
His passes tend to rise on him and shoot high a bit
Can make throws on the run
Handles pressure well. He keeps his eyes downfield and can make the occasional guy miss. Good pocket mobility. Also makes some throws with defenders dragging him down
Shows the ability to improvise when things break down
Doesn't always see the field or account for closing speed
Summary:
Dysert needs to prove he can make it through his reads. His decision-making also leaves a lot to be desired at times. That being said, the physical talent is certainly there. If you're looking for a sleeper to root for in the 3rd-4th round, this is your guy. He might not be a sleeper come draft day, though. I've seen him projected even higher than that by some. He's a #2 with upside.
Fit with the Bills:
This is the type of prospect that coaches that consider themselves "gurus" love to work with. All the tools are there, but he's going to need a coach to develop the mental side of his game. He clearly loves it if he'd like to be a coach himself someday.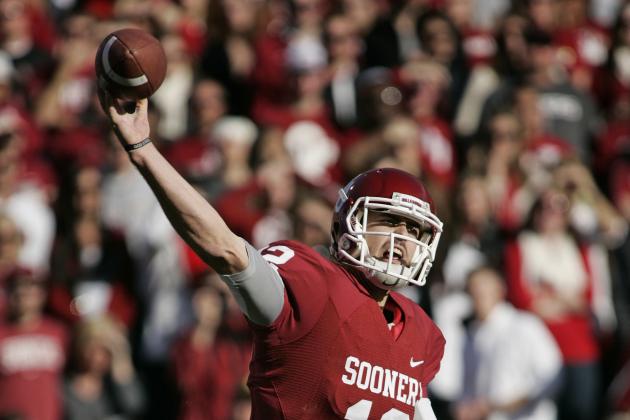 Brett Deering/Getty Images

Grade: 7.8
Scouting Report:
Thinner build; durability might become an issue if he doesn't bulk up a bit
Coming from a spread offense
Jones has a penchant for showing up when the lights are brightest. In 2009, he played Stanford in the Sun Bowl, passing for 418 yards and 3 TDs in a win. In 2010, in the Big XII Championship Game, OU overcame a 17-point deficit against Nebraska (23 of 41 342 56.1 percent 1 TD, 1 INT). Then, in the Fiesta Bowl, Jones and OU routed UConn 48-20 (34 of 49 342 69.4 percent 3 TDs, 1 Int). Didn't have a great game vs. Texas A&M in the Cotton Bowl, completing 72.9 percent but for only 278 yards, 1 & 1
It's hard to determine how clutch he is, considering he's also been upset a few times as the No. 3 team in the country. Personally, despite his erratic play overall at times, I think he doesn't panic in crunch time. Says Jones: "As a competitor, you want these moments in your life. When it's all on the line. And the ball's in your hands"
Has some mobility to keep the drive moving
Makes some head-scratching decisions throwing into coverage
Tendency to lock onto his primary receiver. Forces throws he shouldn't be making. Not sure he can read and dissect defenses
Solid at play-fakes. He could keep the ball out there a little longer
Doesn't put a lot of zip on his throws. He's not tossing up ducks, but you'd like him to have a little more velocity on his throws
Can make throws on the run
I think his accuracy numbers are inflated by the scheme. Average accuracy overall
Summary:
His ability to raise his play in big games is so tempting, but I'm concerned that Jones doesn't process information fast enough. Combining that with an average arm, and Jones will probably struggle as a starter. He does stay cool under pressure, though. At this point, I like him as a No. 2. I don't think his skill set will allow for him to ever be a full-time guy, but having a backup quarterback who doesn't get bothered by the situation can be an asset.
Fit with the Bills:
Nix has made it clear that the Bills are intent on finding their future starting quarterback in this draft, which, in my opinion, won't be Jones. He can fill out the depth chart, but I think he's already maxed out on his potential. He's just too inconsistent.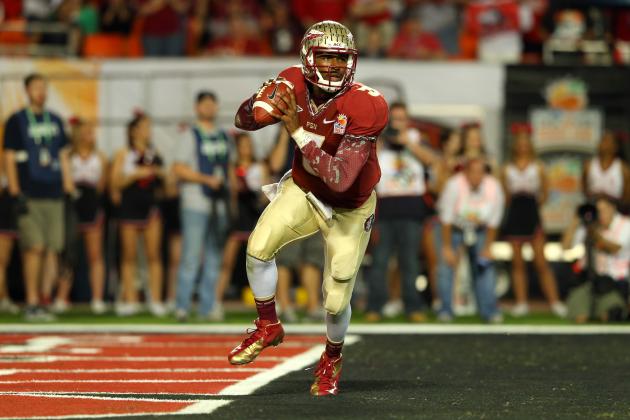 Mike Ehrmann/Getty Images

Grade: 7.8
Scouting Report:
Given name is Erik
Won Gator Bowl MVP honors as a freshman, taking over for an injured Christian Ponder
He's 4-0 in bowl games (only started three). Compiled a 25-6 record
Off the field, his mom has been receiving chemo for breast cancer
Stands tall in the pocket, hanging in there and willing to take a hit to complete the pass
I think he has a strong enough arm, but he's a soft thrower. Doesn't put much zip on his passes
Doesn't consistently throw a tight spiral
Doesn't get through his reads. Has a tendency to stare down his targets
Has mobility and can extend plays. He runs well for a guy with his size
Shows touch throwing to the outside
Likes pushing the ball downfield
Has made poor decisions when he plays against faster, more-talented defenses
Holds the ball high and tight
Good with play-fakes
Inconsistent accuracy at all levels
Does a good job protecting the football for the most part
Summary:
Manuel's inconsistencies will probably prevent him from ever developing into a consistent starter, but he can be an effective #2 that can steal some games. His ability to win when the lights are brightest is a valuable attribute and tough to ignore. Bottom line is that, even if it doesn't always look pretty, Manuel has had a knack for winning games. If he can protect the football and has the mobility to extend plays, he has a chance to keep defenses on their heels and off-balance.
Fit with the Bills:
He's had plenty of experience to develop, but simply hasn't taken that next step. He's more of a backup. He has the physical tools that may lead a coach to believe he can develop him.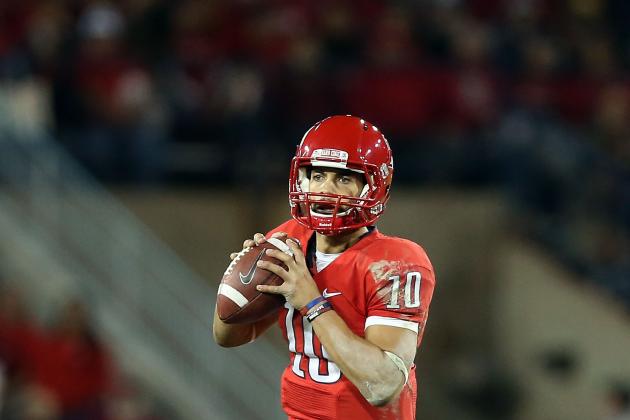 Christian Petersen/Getty Images

Grade: 7.5
Scouting Report:
Fifth-year senior. Spent most of his collegiate career buried behind Nick Foles
Started two games in 2010 and went 2-0, putting up good numbers. He accumulated 688 yards of offense in those two games. Overall, heading into 2012, he had a 4-1 record as a starting QB
Went 8-5 in 2012. He completed 60.3% of his passes, tossing 27 TDs vs 14 picks
Thinner build
Willing to take a shot in the pocket. He'll hang in there, but he'll take a few steps back to protect himself
Bit of an elongated delivery. It's almost side-arm at times
Can make throws rolling out to his right
It doesn't seem like it because of his delivery, but he throws his passes with some zip
Has a tendency to stare down his targets
Doesn't consistently progress through his reads
Above-average speed, but doesn't flash the ability to extend plays in the pocket. He uses his quickness to evade a defender, but, more often than not, his eyes are on the rush at that point
He'll make a handful of throws a game that make you think he has potential
Bit of a rhythm passer who can be inaccurate if his timing is thrown off
His accuracy at all levels can be a little hit-or-miss for that reason
Summary:
Scott will flash a couple of times on tape, but he needs to do the good things on a more consistent basis. He didn't have a great supporting cast at Arizona, but he didn't always play that well, either. While he's most likely destined as a backup, he does have some tools and intangibles (namely, pocket courage) to continue developing.
Fit with the Bills:
After seeing what Marrone and Hackett did in developing Nassib, the belief inside One Bills Drive could be that Scott's potential could be harnessed by this coaching staff. Scott does have starting-caliber tools, he just needs to find consistency in his game. Remember, despite being a fifth-year senior, he hasn't had that much starting experience to date. While I think he's a backup, his draft stock is on the rise.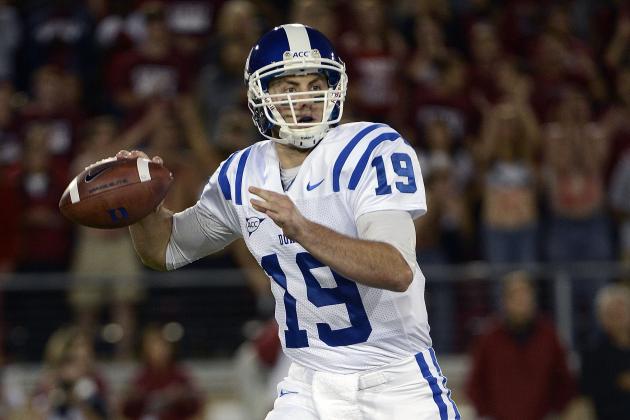 Thearon W. Henderson/Getty Images

Grade: 7.2
Three-year starter
Tore his pectoral muscle his final game
Coach David Cutcliffe, who has spent time around some good QBs (Peyton & Eli Manning), declared Renfree the steal of the draft
Two-time team captain
Earned his master's degree in December
Known as being fiercely competitive
Has yet to have a very good season stat line, but there wasn't a lot of talent around him
His pocket presence is questionable. He doesn't feel the outside rush at all and rarely climbs the pocket, which leads to vicious looking sacks. When things start getting dicey in front of him, he's not the type to extend plays in the pocket. He'll bail
Doesn't display much pocket mobility. Doesn't slide
Throws with anticipation and timing
Doesn't really drive the football, but he can throw with touch. When the window is there and he has a throwing lane, he'll step into it
Has decent feet, but he has a tendency to throw off his back foot if there's even moderate pressure
Far too often, though, he rocks back and leans backwards while throwing downfield. It causes him to be late on throws he should be making
Only above-average arm strength, but he finds a way to put it where it has to be
As is usually the product of being on a bad team, he'll make bad decisions trying to make something happen
Doesn't consistently throw a tight spiral
Above-average with play fakes
Has shown the ability to look off defenders, but he often only goes through two reads. Will stare down his targets at times
Renfree has great intangibles and can be accurate, which should allow for him to stick as at least a #3 QB in the league. Guys that have to make a living with timing and anticipation need time more than anything else, meaning he may have to start off on a taxi squad for a year.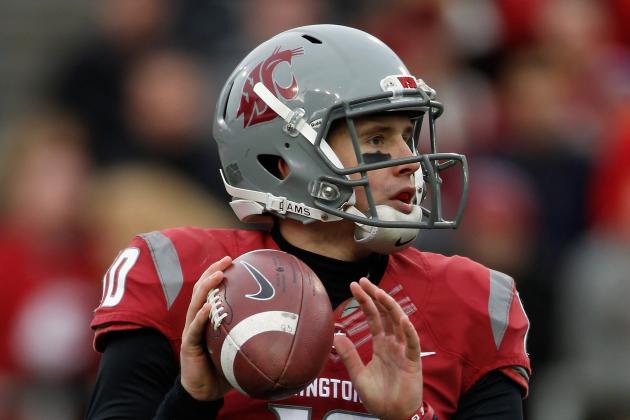 William Mancebo/Getty Images

Grade: 6.9
He has yet to have a productive season despite starting 26 games
Missed extensive time in 2011 with a broken collarbone that was then subsequently re-aggravated
Has some mobility to extend plays in the pocket
Can slide in the pocket and keep his eyes downfield. Seems cool in the pocket at times, but once he starts feeling the rush behind that porous line he'll start bailing early
Creates, rolling to his left or right and making a throw to keep the drive alive
Throws an arching deep ball
Soft thrower. Doesn't put a lot of zip on his passes on a consistent basis
Above-average mobility
Pretty good with play fakes
Average arm talent. Not a ton of strength
Flashes the ability to make touch throws
Overall, he has inconsistent accuracy
He can get through his reads when he has more time
Tuel has flashed some potential, but lacks the talent to really develop into a true starter. I could see him developing into a solid backup QB, but he's way too inconsistent to even call him that at this point. Working in Tuel's favor is the fact that he didn't have much talent supporting him at Washington State. While he's likely not an NFL quarterback, his ability to extend plays and pocket presence may allow for him to develop into a #3 or even #2 QB in time.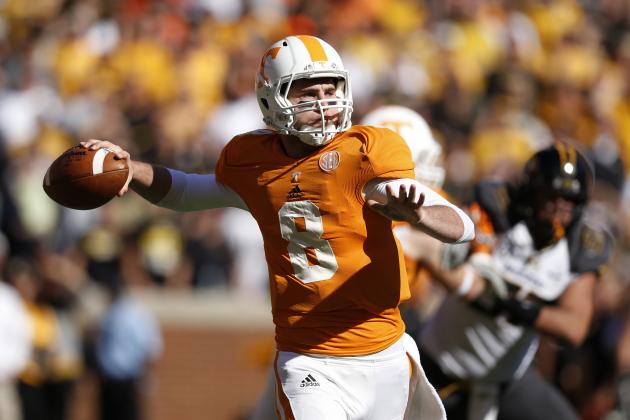 Joe Robbins/Getty Images

Grade: N/A (Undraftable)
Scouting Report:
With his frame, he could stand to add some weight.

I'd like to see him bulk up to about 230 pounds
Has big-time maturity issues.

His coach once alluded to him being overly concerned with his stats during a game.

Got in trouble for throwing beer bottles off his balcony at cars.

Then the window of the whistle-blower was smashed in.

It all got resolved without charges
Just comes across as not caring about anything.



As a sophomore in 2011, he broke Peyton Manning's single-game completion percentage record with a 34 of 41 (82.9 percent), 405-yard, 4 TD outing.

He's had moments of putting up monster numbers in games. Hasn't really ever won an important game though.

He can't shoulder all of the blame, but it is still noteworthy
Lacks clean mechanics on every snap.

He'll throw sidearm, off-balance, etc.

Just doesn't do it the right way snap to snap
He can shoot it.

He'll put some velocity behind his passes
Has that arrogant arm attitude, where he will force a ball into a terrible situation.

He feels he can fit it into any window

As a result of that and poor reads, he'll make poor decisions

Can be accurate in the short-to-intermediate game, but that runs cold

Inconsistent with his accuracy on deeper passes.

It's one thing to be careful, but he struggles putting the ball where his receiver has any chance to make a play on it at times

Good with his timing on crossing patterns

Can really spin it. Throws a clean spiral for the most part

Slides well in the pocket to create more time

Good with play-fakes.

He can get defenses to bite
Summary:
Character issues aside, Bray has the talent to be an above-average starter with upside, especially if the young QB can develop his deep passing game. However, you can't put them aside. I think he's immature and won't take the position seriously enough. There's legitimate question whether or not he really has that competitive fire to find a way to win at all costs or if he just likes football for what it is. I don't think he has the personality type to be a successful signal caller, but he certainly has the natural arm talent. I wouldn't want him.
Fit with the Bills:
This will be an interesting test for Buddy Nix. It's no secret he loves the SEC and Bray has had some shining moments playing in it. It's sad how much better Bray should be than he is.