NFL Quarterbacks on the Hot Seat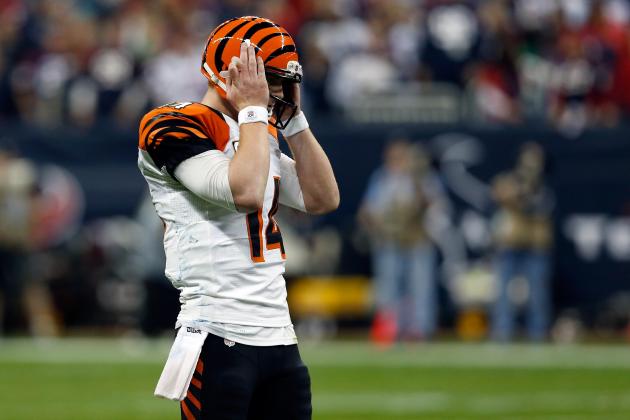 Scott Halleran/Getty Images

The 2013 NFL season is bound to see more than a few teams change their starting quarterbacks.
It is not just the worst teams in the league that may look in new directions. Andy Dalton's 127-yard, one-interception showing against the Houston Texans in the Wild Card Round proved that even playoff teams may need changes.
So, how safe is Dalton's job, and what about those QBs at the helm of the NFL's cellar-dwellers?
Let's take a look at every quarterback that will begin the 2013 on the hot seat and project their job security.
We start with the aforementioned leader of the Bengals...
Begin Slideshow

»
Scott Halleran/Getty Images

There is a great QB/WR relationship growing between Andy Dalton and A.J. Green, but aside from that connection, there seems little reason to like Dalton.
All too often the Cincinnati Bengals seem to be winning in spite of Dalton rather than because of him. He struggles with accuracy deep down the field, and his mental strength was questionable on more than one occasion down the stretch this year.
The fact that the Bengals have made the playoffs in back-to-back years is a big deal, but Dalton needs to show more—and fast. A certain QB named Mark Sanchez made the playoffs early and often in his career, too, and no one is calling him a franchise QB right now.
2013 Job Security: Secure, but Dalton has a lot to show in 2013 to prove he is the long-term answer.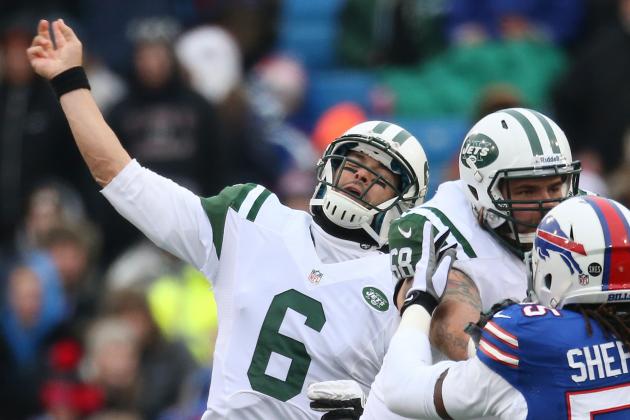 Tom Szczerbowski/Getty Images

Is Mark Sanchez technically the starter for the New York Jets?
It's a question with no real answer, and the QB carousel in New York desperately needs to end. Sanchez had the lowest completion percentage of any starting QB this season and has shown little-to-no progression since entering the NFL in 2009.
With a new GM coming on board, the franchise's faith in Sanchez has to be waning. The entire Rex Ryan tattoo story aside, a player like Matt Flynn or Alex Smith should be looking pretty good to the Jets at this point.
2013 Job Security: The lowest of any QB...ever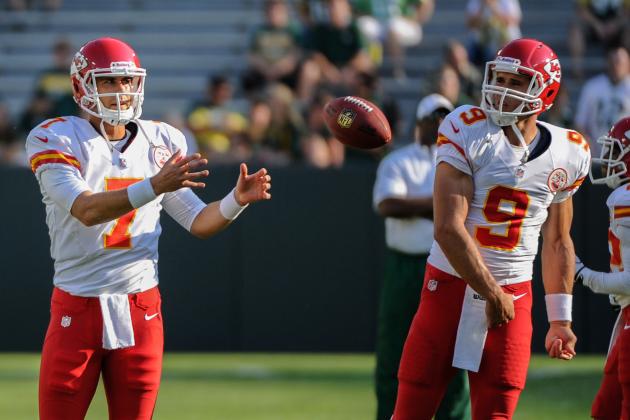 Benny Sieu-USA TODAY Sports

The new Andy Reid-led regime for the Kansas City Chiefs is highly unlikely to put much faith in either Matt Cassel or Brady Quinn as the future of the franchise.
With the No. 1 pick waiting in the wings and a new direction sorely needed, the seat could not be hotter for the duel incumbents at quarterback.
Cassel has failed to assert himself as a legitimate starter since taking over the job, and KC has floundered terribly in recent years. A player like Geno Smith or Matt Barkley could easily become the No. 1 selection.
2013 Job Security: It's Brady Quinn and Matt Cassell. Need I say more?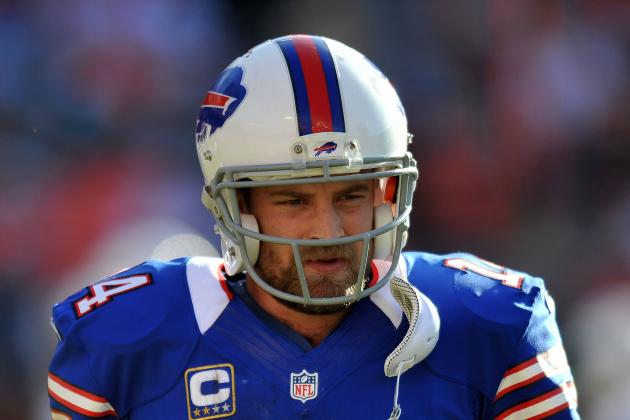 USA TODAY Sports

It seems as if every time Ryan Fitzpatrick takes a step forward, he takes two steps back. All cliches aside, Fitzpatrick refuses to have a breakout season that solidifies himself as the Bills leader.
Too often, he makes costly mistakes under pressure and turns the ball over. He has at least 15 interceptions in each of the past three seasons, and the fanbase is losing faith in him.
Fitzpatrick's job security likely hinges on what other options present themselves to Buffalo. He currently has a decent-sized contract, and there is no head coach in place, so this is a situation in constant flux, but Fitzpatrick should be worried.
2013 Job Security: Depends largely on what the new coach is looking for. Call his security "average" for now.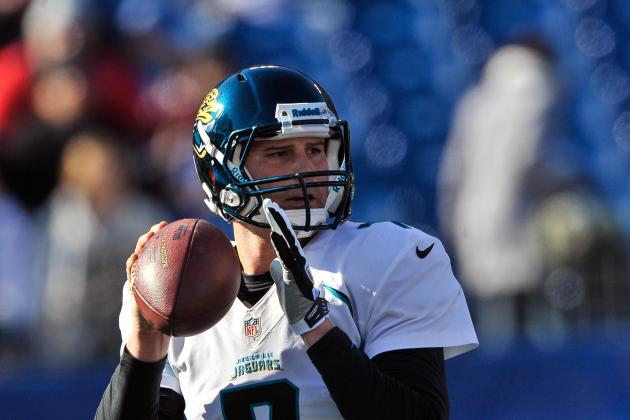 USA TODAY Sports

Blaine Gabbert is about as close to being labeled a "draft bust" as possible. I only avoid that label because some guys turn things around with a mere change of scenery. However, his time in Jacksonville has been noteworthy only because of his lack of arm strength and jittery nature in the pocket.
His replacement, Chad Henne at least showed moments of brilliance. Henne has a strong arm and quickly built up great chemistry with rookie WR Justin Blackmon. The problem was his 11 interceptions in just 10 starts.
If the Jaguars cannot find a solid free agent then Henne should be the guy. Going back to the draft will only enrage the fanbase. Jacksonville cannot wait for another guy to develop, but bringing in veteran competition for Henne would be nothing but positive.
2013 Job Security: Non-existent for Gabbert but decent for Henne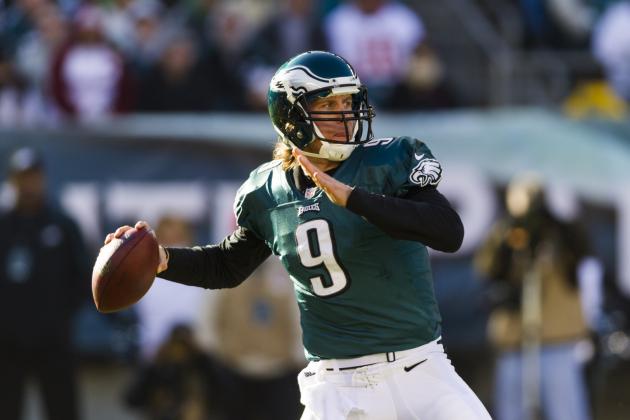 USA TODAY Sports

The Philadelphia Eagles' head coaching position is still up for grabs, and that means the status of quarterback Nick Foles has to be the same.
Foles showed some development in his short time as the Eagles starter, but a bigger body of work is clearly needed to know exactly what he brings to the table. Will the new coach see potential in Foles?
Of course, Michael Vick is still under contract. Maybe the new coach would rather turn to the veteran signal-caller.
A lot of pieces still needed to be placed in this puzzle, so that means Foles job security is far from certain.
2013 Job Security: Completely dependent on the new coach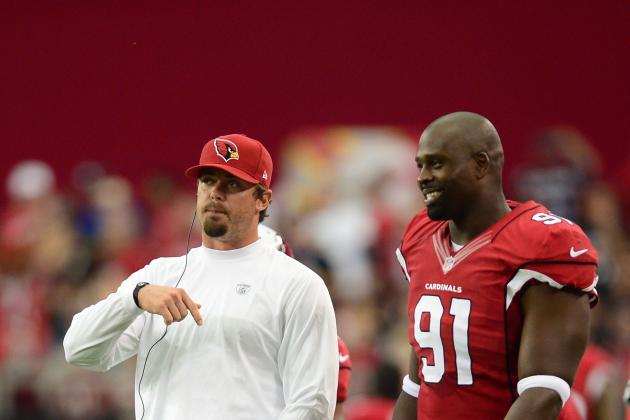 Mark J. Rebilas-USA TODAY Sports

Kevin Kolb, John Skelton and Ryan Lindley.
The Arizona Cardinals have been riding the world's worst merry-go-round at quarterback this season and are unlikely to take another turn in 2013.
Kolb has the best chance to compete for the starting job yet again, but with a new regime headed to the desert, even his chances seem low. Kolb's outlook was much better just a few days ago when Andy Reid was rumored for the coaching job, but Reid is headed to KC and Kolb does not have as much favor from the rest of the league.
The Cardinals could be in the Alex Smith or Matt Flynn trade talks and also make sense as a team that may turn to the draft for a solution to their woes.
2013 Job Security: Extremely Low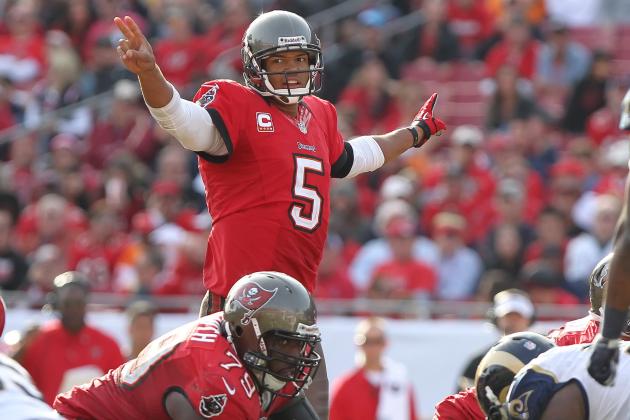 Kim Klement-USA TODAY Sports

Josh Freeman has all the physical tools required to be a good NFL quarterback. At times, he flashes brilliance on the field. Freeman has a strong and accurate arm and mobility that keeps defenses on their toes.
However, Freeman also goes through proverbial cases of Dr. Jekyll and Mr. Hyde.
When he is bad, he is terrible. Freeman has thrown 39 interceptions the last two seasons and managed just a 54.8 completion percentage in 2012. Freeman will undoubtedly be the Buccaneers QB when the 2013 season opens, but his leash will be short.
2013 Job Security: Safe, but he can ill afford another poor season.