5 Biggest Draft Needs for Oakland Raiders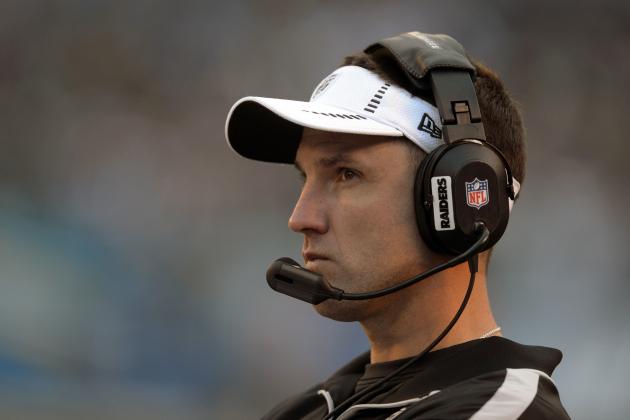 USA TODAY Sports

The 2013 NFL draft will be a pivotal time in Reggie McKenzie and Dennis Allen's rebuild of the Oakland Raiders franchise.
Heading in, there are plenty of areas to address, and you can bet that trades to acquire even more picks will be explored throughout. Once again up against the cap, the draft will be the main avenue in which to address their many needs on the roster.
Here are the Oakland Raiders' five biggest draft needs.
Begin Slideshow

»
Carson Palmer isn't necessarily playing poorly, but he isn't getting any younger. As the Raiders continue to rebuild for the future, they are going to need a quarterback at some point.
Whether they find a quarterback that they like enough to select in this draft still remains to be seen. This QB class is considered to be relatively weak overall, but all it takes is one player for any given team to fall in love with leading up to the draft.
Should a player like Geno Smith be available to them in the first round, the Raiders could make him their pick and play him behind Carson Palmer for a year or two.
If not, QBs such as NC State's Mike Glennon and Syracuse's Ryan Nassib could be had later on for a similar kind of role and development.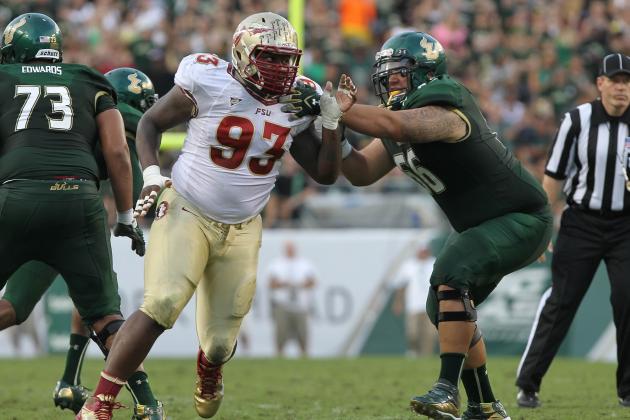 Kim Klement-USA TODAY Sports
FSU DT Everett Dawkins.
Year in and year out over the past decade, one of the Raiders' top priorities has been addressing the run defense. Defensive tackle is a need once again, but not exactly for the same reason.
As much as the run defense struggled at times in 2012, DC Jason Tarver's unit really seemed to come together down the stretch. It may not have been reflected in the win column, but the defense played quite well in the last month of the season.
This offseason, Richard Seymour's contract will void, and Tommy Kelly has the kind of contract numbers that make him a candidate for release. As a result, both of their spots may need to be filled.
Some defensive tackles that could be available in the mid-rounds include the likes of Everett Dawkins (FSU), Bennie Logan (LSU) and Josh Boyd (Mississippi St.).
Scott Halleran/Getty Images
Texas A&M OT Luke Joeckel.
With Greg Knapp out as offensive coordinator of the Raiders, we could see the zone-blocking scheme make an exit as well. Whichever blocking scheme the Raiders decide to go with, a need for upgrades on the offensive line is still extremely apparent.
Texas A&M OT Luke Joeckel is by far the best offensive line prospect in the draft and could very well be the top prospect overall. Selecting third overall, he could still be available to the Raiders in the first round.
Should the Raiders opt to address one of their other glaring needs in the first round instead, there are still many other quality offensive lineman to be had later on.
One of the more interesting names, and especially so for Raiders fans, would be Oregon OL Kyle Long. The son of former Raiders DE Howie Long, Kyle is relatively inexperienced but is thought to have extremely high potential moving forward.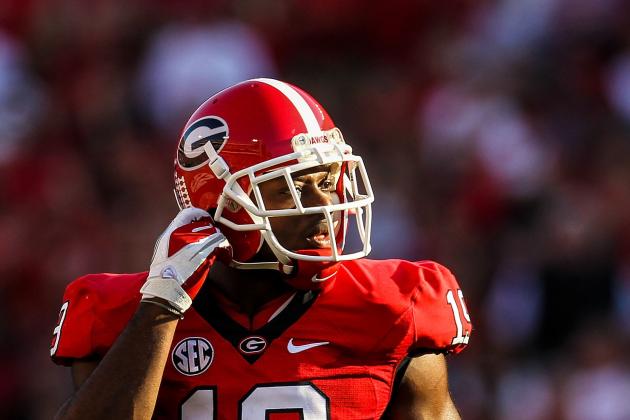 Daniel Shirey-USA TODAY Sports
Georgia CB Sanders Commings.
Near the top of the list of needs in this draft for the Raiders is a cornerback. In fact, they could use more than one.
The veteran stop-gap signings of Ron Bartell and Shawntae Spencer did not work out for the team in 2012. Both spent most of the year injured, resulting in others having to step up.
Considering where the Raiders are drafting in the first round, they aren't likely to address this need there. However, there is plenty of time to do so later on.
Some mid-round options at cornerback include players like Sanders Commings (Georgia), Desmond Trufant (Washington) and Logan Ryan (Rutgers).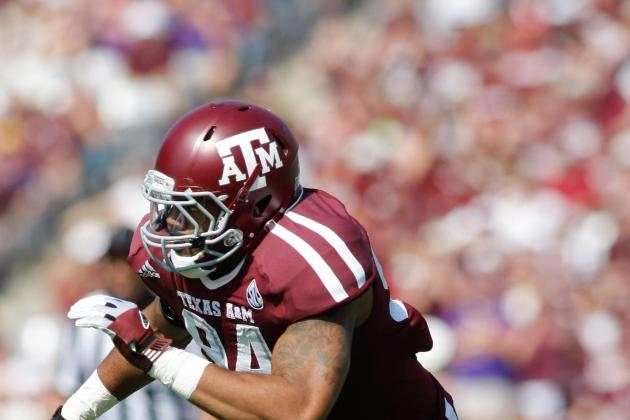 Brett Davis-USA TODAY Sports
Texas A&M DE Damontre Moore.
The most glaring need for the Raiders heading into the 2013 offseason is finding a productive pass-rusher. The good news for them is that this draft is extremely deep with pass-rushing talent.
Scheme is flexible and versatile moving forward, so the Raiders could opt for one of the draft's elite pass-rushing defensive ends or one of the linebackers instead.
This—as the Raiders' biggest need and constantly becoming one of the more important positions on a football team—could be where they look with their first-round pick.
If so, players like LB Jarvis Jones (Georgia), DE Bjoern Werner (FSU), DE Damontre Moore (Texas A&M) and DE Dion Jordan (Oregon) should be at the top of their list.