Ranking the 50 Biggest Fantasy Football Studs of 2012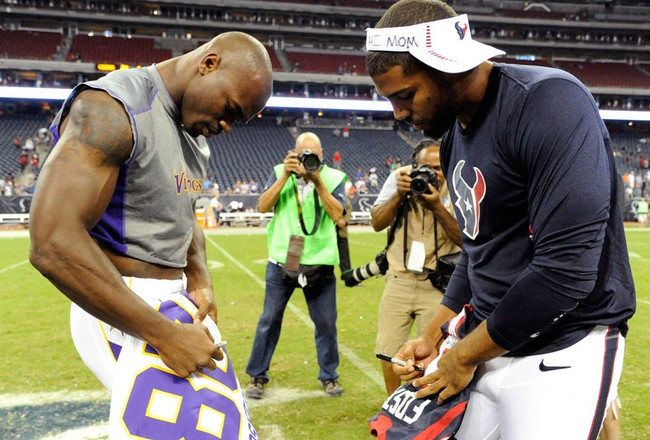 Would you rather own Adrian Peterson or Arian Foster in 2013?
Scott Halleran/Getty Images
As we turn our attention toward the 2012 NFL playoffs and the 2013 draft, it's important we take a moment to reflect on our fantasy seasons. If you play in a fantasy league that counts Week 17, please vote to change that next year.
That is your first lesson, and that one is free. Technically, this is all "free," but the lessons learned in the making of this list cost many of us dearly. Names like Dez Bryant, Adrian Peterson, Jamaal Charles and...Danario Alexander?!
These types of players either won you a championship or delivered your death blow.
Were you on the right or wrong side of it? Here we rank the 50 biggest fantasy football studs of the NFL's 2012 season.
1-10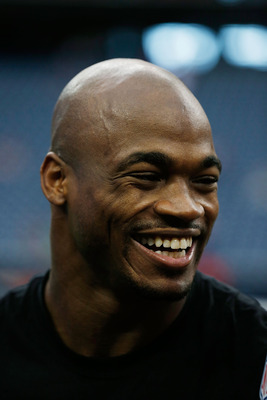 Scott Halleran/Getty Images
1. Adrian Peterson, RB, Minnesota Vikings
Peterson only twice failed to accrue double digits for his fantasy owners during the 2012 NFL season. In those two instances, his outputs were 8.0 points and 9.0 points.
Peterson had the perfect touchdown dependency ratio on the season at 24.6 percent, while the average among top-50 running backs was around 25.5. In fantasy, you don't want touchdown dependency, but you also don't want touchdown deficiency.
Peterson is the Bentley in every dynasty league's garage. As I said in my B/R column from Wednesday, we might be witnessing the best in history.
2. Arian Foster, RB, Houston Texans
I foresee a day in the near future when there will not be a consensus pick at first overall. I see that day coming in our real 2013 NFL draft, and I also see it coming in 2013 fantasy drafts. Foster tailed off at the end of the season and became very touchdown-dependent in much the same way Trent Richardson did.
In an unfortunate set of events for both Foster and his fantasy owners, he had to leave Week 16's fantasy championship game early with an irregular heartbeat. Before that, however, he was nails on the stat sheet. Foster racked up double digits in all but one game outside of Week 16, and he put up a very serviceable 8.5 points in that one.
3. Doug Martin, RB, Tampa Bay Buccaneers
Doug Martin is too good a player to have such a horrible nickname. I'm not even going to write it. I've been saying it since last year's Senior Bowl, and Martin's skills have translated to the NFL level as expected. He averaged his owners 16.7 points per game on the season and showed potential for monster upside in future years by putting up an elusive 50-zilla at Oakland in Week 9.
4. Robert Griffin III, QB, Washington Redskins
What's most amazing about RG3's rookie campaign is that he really basically missed only one game. Even given the style of offense that consistently put him in risky positions, he was durable. And he was electric. Five 30-plus-point explosions and only one stinker on the season.
RG3 was a key component in many a championship team in 2012 and should be thought of as one of the first, if not the first, quarterbacks off fantasy draft boards next summer.
5. Drew Brees, QB, New Orleans Saints
Brees managed to finish out the 2012 fantasy season as the top QB in fantasy points per game, inching by Tom Brady by a .01 per-game margin. Brees only had two sub-15-point performances on the season and managed over 30 points in five of 16 games played.
6. Tom Brady, QB, New England Patriots
Captain America was steady at the helm of fantasy cruises to the championship as usual this season. Brady didn't put up one true stinker for his owners all season. His 11-point Week 13 was by far his worst showing of 2012.
7. Ray Rice, RB, Baltimore Ravens
Ray Rice was his usual 14.3-point-per-game-type producer in 2012 that fantasy owners are used to seeing. While his touchdown dependency was a small bit higher than average, it was nowhere near the level of players like Arian Foster, Trent Richardson or Mikel Leshoure. Rice will remain a top-five pick in 2013 fantasy drafts.
8. Marshawn Lynch, RB, Seattle Seahawks
Beast Mode. Plain and simple. Lynch came through for fantasy owners even in Seattle's recent run of blowouts where starters were pulled early.
9. Alfred Morris, RB, Washington Redskins
The perfect fit in Washington's new zone-read scheme, as well as its very established zone-blocking scheme, Morris is the epitome of a one-cut runner who can take what the defense will offer while it accounts for Griffin. Morris will be a first-round pick in 2013 fantasy drafts.
10. Calvin Johnson, WR, Detroit Lions
Megatron started the first half of 2012 with only one touchdown. He rounded into form, however, and his yardage totals were at a sky-high level, making scoring plays icing on the cake. The epitome of a non-touchdown-dependent stud and still the best wide receiver in fantasy.
11-20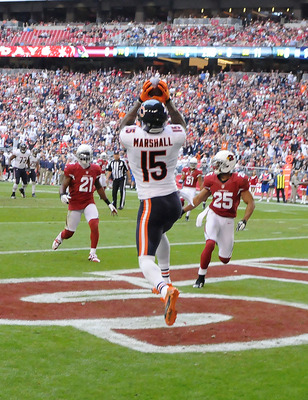 Norm Hall/Getty Images
11. Brandon Marshall, WR, Chicago Bears
Marshall was poised for a breakout season in reuniting with ex-quarterback Jay Cutler, but the 11 targets per game he racked up in 2012 were startling to even the most hopefully optimistic and led Marshall to produce WR2 overall numbers.
12. Trent Richardson, RB, Cleveland Browns
Richardson came into the NFL and became the player fantasy owners hoped he would be, thanks in large part to great contributions in the run-blocking game from previously unproven linemen.
Richardson petered off badly in yardage production to end the 2012 season, and during the three weeks preceding the traditional Week 16 fantasy championship he was dependent on touchdowns for a whopping 62.27 percent of his production.
13. A.J. Green, WR, Cincinnati Bengals
Green had a fantastic season as the only real threat in a young receiving corps struggling to establish an identity. If the metrics my radio co-host, Byron Lambert, laid out during preseason are correct (as they have been thus far), Green will be even better in 2013.
14. Dez Bryant, WR, Dallas Cowboys
Well, Dez's Daycare Service worked. Bryant was a true stud in 2012, tallying 12 touchdowns during the NFL's first 16 weeks. Bryant had never had a 20-point fantasy day coming into the 2012 season. He will enter next season having done so five times, one of which was a 35-point, championship-winning spectacle in Week 16.
15. Aaron Rodgers, QB, Green Bay Packers
Rodgers finds himself here for two main reasons: First, he was drafted in the first five picks of any given draft. Second, when he was not producing giant fantasy outputs (which he did—ask the Houston Texans), his stats were relatively pedestrian. Rodgers put up between 9.1 and 16.0 points in seven out of 16 games this season.
16. Randall Cobb, WR, Green Bay Packers
There are few positions more coveted in fantasy football than the WR1 in an Aaron Rodgers offense. Cobb took advantage of the opportunity presented by constant injuries to veterans Greg Jennings and Jordy Nelson to acquire this status for the 2012 season, and very likely moving forward.
17. Jamaal Charles, RB, Kansas City Chiefs
I did not own Jamaal Charles in any fantasy leagues this year because I was worried about his knee and about Peyton Hillis. I was wrong—well, mostly. The problem was Brian Daboll and his face-palm-inducing offense. Charles had numerous huge games in 2012 but was also known for wetting the bed on occasion due to lack of involvement. Charles put up 6.6 points or less in one-quarter of his games this season but was solid with huge upside for the rest.
18. Frank Gore, RB, San Francisco 49ers
So much for the idea that San Francisco would transition away from being a team that ran through Frank Gore in 2012. Fantasy owners not scared of the five-headed backfield that the 49ers rolled into the season trolling the fantasy world with were rewarded with Gore's best season since 2009.
19. C.J. Spiller, RB, Buffalo Bills
While owning a piece of the Buffalo two-headed timeshare was frustrating at times, it was nowhere near as frustrating for Spiller's owners as it was for owners of his cohort, Fred Jackson. Spiller failed to put up double digits in only three games he played this season and became the first Buffalo Bill since Thurman Thomas to gain 100 yards from scrimmage 10 times in one season.
20. Cam Newton, QB, Carolina Panthers
Newton owners started out the season wondering if a sophomore slump was coming, and while Newton had his ups and downs, his 2012 fantasy season as a body of work was still more than adequate to carry many a team to the championship. Newton will represent great value in 2013, likely going first out of the "QB1b" group—a run most owners may wait until the late second or early third to get started.
21-50
Al Messerschmidt/Getty Images
21. Vincent Jackson, WR, Tampa Bay Buccaneers
V-Jax lived up to expectations and appears poised to continue doing so in a young, developing offense.
22. Stevan Ridley, RB, New England Patriots
Even with a maddening running back rotation in New England, Ridley was a consistent contributor to fantasy squads, only putting up less than 8.5 points in four games on the season.
23. Matt Ryan, QB, Atlanta Falcons
Ryan averaged an even 20 points per game for his fantasy owners in 2012 and did so in a steady fashion—going over 20 points exactly half the time and only wetting the bed once at Arizona.
24. Peyton Manning, QB, Denver Broncos
He means a lot more to the Denver Broncos than he did to his fantasy owners in 2012, but Peyton Manning proved this year he doesn't need to be his "old self" to command a brilliant offense.
25. Demaryius Thomas, WR, Denver Broncos
Thomas only let his owners down for less than 8.3 points twice in 2012, but the 1.3-pointer in the fantasy semifinals is the performance likely to stick with many an owner bounced one round early in the playoffs.
26. Matt Forte, RB, Chicago Bears
The arrival of Michael Bush slowed Forte down somewhat, as did injuries, but he was one of the steadiest contributors down the critical playoff stretch of any staple running back.
27. Andre Johnson, WR, Houston Texans
The epitome of a hot-and-cold performer, Johnson's upside and huge-play ability were apparent in 2012, and he should represent tremendous value in 2013 drafts. Don't let anyone convince you he's too old.
28. Willis McGahee, RB, Denver Broncos
McGahee was averaging over 11 points per game before the Week 11 injury and was a key in many teams' initial success operating out of their flex slots.
29. Julio Jones, WR, Atlanta Falcons
Inconsistent but always dangerous.
30. Roddy White, WR, Atlanta Falcons
Jones finished the season as the Falcon I would rather own, but I would take White any day due to the sheer volume of offense that gets thrown his way. A more dependable player than Jones with limited upside.
31. Chris Johnson, RB, Tennessee Titans
I am not a fan of owning Chris Johnson in fantasy, but he did average 11 points per game this season. It was a very inconsistent 11 points per game.
32. Tony Gonzalez, TE, Atlanta Falcons
The ageless wonder and a future Hall of Famer.
33. Danario Alexander, WR, San Diego Chargers
When you go for double digits in all but two games after being activated midseason and go for over 20 in three of those outings, you have proven you are the real deal. It will be interesting to see where Alexander ends up and if his knee holds up. One of the year's most pleasant surprises at the wide receiver position, along with...
34. Cecil Shorts, WR, Jacksonville Jaguars
All Shorts has done since the early midseason mark is score touchdowns, and he has been a true stop-gap savior for owners of injured players such as Percy Harvin, Greg Jennings and Pierre Garcon.
35. Reggie Wayne, WR, Indianapolis Colts
Wayne was a steady producer with limited upside in 2012, but he was also one of the safest plug-and-play WR2 options in fantasy for a near-guaranteed 10 points weekly.
36. Mikel Leshoure, RB, Detroit Lions
Mikel "LeScore" was one of 2012's most touchdown-dependent players, which I never like, but it's hard to deny a 10.96-point weekly producer that virtually every owner was able to acquire in the second half of fantasy drafts.
37. Tony Romo, QB, Dallas Cowboys
Romo's epic run in the second half of the 2012 NFL season single-handedly made playoff runs for some fantasy teams while squashing the hopes of others.
38. Wes Welker, WR, New England Patriots
So much for "phasing Wes Welker out of the offense." Whether that was the plan to begin with, we'll never know, as injuries required Welker to step up consistently. Welker logged a 10.87-point-per-game average in 2012.
39. Reggie Bush, RB, Miami Dolphins
Well, so much for breaking the NFL rushing record. Bush was frustrating to own in 2012, but the fact is he averaged 11.26 points per game and waited until the fantasy championship to unleash his biggest 28-point monster.
40. Eric Decker, WR, Denver Broncos
Decker became the fifth-best single-season touchdown scorer as a Bronco receiver in 2012. He tallied a team-leading 11 touchdowns. The issue with Decker was that he would disappear in games and appear to be completely out of the game plan, making him hard to depend on.
41. Shonn Greene, RB, New York Jets
I will never own Shonn Greene in fantasy, but those who survived his first five weeks (with four games garnering sub-4.7-point performances) were rewarded with above-average production from Greene for the majority of his remaining contests. Kudos to those who traded for him in Week 4.
42. Steven Jackson, RB, St. Louis Rams
Another case of a slow start many owners may or may not have been able to rebound from. Jackson ran like an old man to start the season but rattled off double-digit fantasy performances for seven of his last eight contests down the stretch.
43. Rob Gronkowski, TE, New England Patriots
Gronk would be much higher up the list had he not broken his forearm, probably top-15. When healthy, Gronkowski averaged 13.38 fantasy points per game. He will come into 2013 fantasy drafts, once again, as a player worthy of late-first-round consideration.
44. Victor Cruz, WR, New York Giants
Cruz was disappointing compared to expectations in 2012, going for two different multi-game skids in which he could not crack 10 points. During the most critical two weeks of the season—Weeks 15 and 16—Cruz put up a combined total of 3.6 points. Very few Victor Cruz owners won championships in 2012.
45. James Jones, WR, Green Bay Packers
I started the 2012 NFL season with the mindset that I did not trust James Jones any further than I could throw to him due to his extreme touchdown dependency for fantasy production. I am beginning to change my tune looking towards 2013, as Jones has become more multidimensional as the season has worn on.
46. BenJarvus Green-Ellis, RB, Cincinnati Bengals
The Law Firm looked great to start the season, then looked terrible, then rebounded during the last seven games of the season. Coming into the fantasy championship, he posted more than 10 fantasy points in six of seven games down the stretch.
47. Mike Williams, WR, Tampa Bay Buccaneers
The arrival of Vincent Jackson served as a jump-start to the slumping Williams, who seemed completely divorced from a miserable 2011 campaign, posting a 9.33-point fantasy average weekly for his owners.
48. Marques Colston, WR, New Orleans Saints
Colston started out the season in a lull and then had a three-game breakout and a subsequent (serviceable) cool-off period, followed up with a bunch of mediocre performances down the stretch.
49. T.Y. Hilton, WR, Indianapolis Colts
Another player I loved from the Senior Bowl, Hilton was always just one big play away from fantasy gold in Andrew Luck's offense, putting up a very serviceable 9.35 points per game.
50. Ahmad Bradshaw, RB, New York Giants
Infuriating to own, but as always, Bradshaw had his really big days. Hopefully, you knew when (and when not) to start him.
All points referenced based on standard scoring in Yahoo! leagues.
Keep Reading