NFL Power Rankings: Charting Each Team's Rank Throughout the Season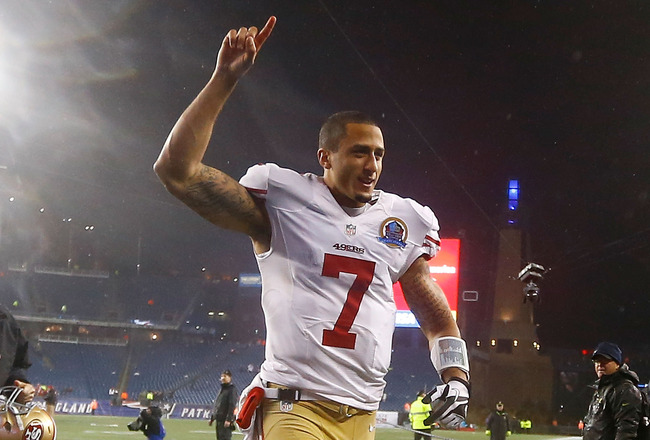 Jared Wickerham/Getty Images
With only two weeks left in the 2012 NFL season, the claim for the league's top spot is as competitive as ever.
Week 15 saw Atlanta embarrass the defending champion New York Giants, the Packers lock up the NFC North with a road victory against Chicago and San Francisco fight off a second half rally by Tom Brady and the Patriots to secure a tough win in Foxborough.
Were any of these marquee wins enough to catapult the winners to No. 1?
When was each team playing their best football? Was it in September, are they playing it now?
Remember, power rankings aren't solely a reflection of record, instead it's a list of who is playing the best football right now.
No. 32 Kansas City Chiefs: 2-12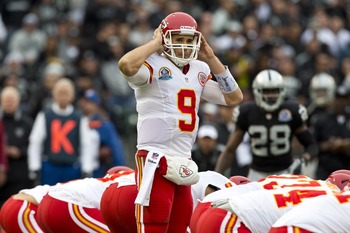 Jason O. Watson/Getty Images
High Points: Kansas City's 2012 campaign has been forgettable at best. A week 3 road win in New Orleans gave the Chiefs hope back in September. In week 13, the Chiefs won an emotional game at home against Carolina.
Low Points: Atrocious quarterback play has crippled the Chiefs. After beating the Saints, the Chiefs went on a subsequent eight game losing streak.
Kansas City has been blown out in games against winnable teams, losing 30-7 to Cleveland, 15-0 to Oakland and 31-13 against San Diego. With the season winding down, the Chiefs have glaring needs at multiple positions heading into the offseason.
No. 31 Jacksonville Jaguars: 2-12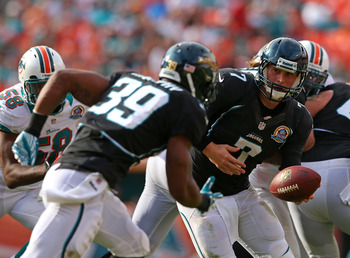 Mike Ehrmann/Getty Images
High Points: You know it's been a rough season when one of your high points was a loss, but in Week 11 their overtime loss against Houston may be their season highlight.
The realization that Blaine Gabbert is not their franchise quarterback can certainly be viewed as a positive as the team heads into the offseason.
Low Points: Where to begin? This season featured a midseason seven game losing streak, the NFL's worst rush defense, surrendering 41 at home against the Bears and nine starts from Blaine Gabbert, which translated to a dismal six touchdown passes.
No. 30 Oakland Raiders: 4-10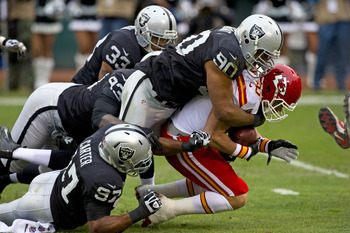 Jason O. Watson/Getty Images
High Points: The Raiders began the season 3-5 which included an upset victory against the Pittsburgh Steelers.
Carson Palmer is just 12 yards short of 4,000 this season as Oakland's passing offense ranks seventh in the league. This past week, a shutout against the Chiefs provided their lowly defense a game to hang their hat on.
Low Points: Darren McFadden has battled injuries all season, but even when he's been healthy he has only averaged 3.4 yards per carry. That isn't entirely his fault, as Oakland's offensive line has failed to provide holes.
Worse perhaps, the Raiders have surrendered 30 points or more in seven games this season.
No. 29 Arizona Cardinals: 5-9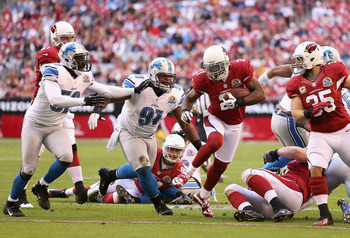 Christian Petersen/Getty Images
High Points: The Cardinals began the season 4-0 which included a road victory against the Patriots. This past week Arizona was finally able to snap a nine game losing streak by defeating Detroit.
Arizona's defense has been sound most of the season as their pass defense is ranked fourth.
Low Points: It speaks volumes when you have the fourth ranked pass defense yet you're ranked 29th. The Cardinals nine game losing streak following their great start featured some abysmal quarterback play.
This was illustrated in painful detail in their 7-6 week 13 loss against the Jets. It's a safe assumption that none of the three quarterbacks who have started for Arizona this year will be back next season.
No. 28 Philadelphia Eagles: 4-10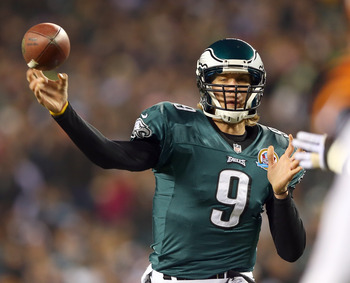 Elsa/Getty Images
High Points: The season started off well as the Eagles jumped out to a 3-1 record. The first quarter of the season featured victories against Baltimore and the New York Giants. The Eagles running attack has been a constant for the team, as they rank 11th in the league.
Low Points: After the strong start, the Eagles suffered a eight game losing streak. Michael Vick, it appears, has lost the confidence of the organization as the team has handed over the reigns to Nick Foles.
Many of the Eagles marquee free agent acquisitions have bottomed out defensively as their failure to create turnovers in combination with a sloppy offense gives the Eagles an NFL worst −22 turnover differential.
No. 27 Tennessee Titans: 4-9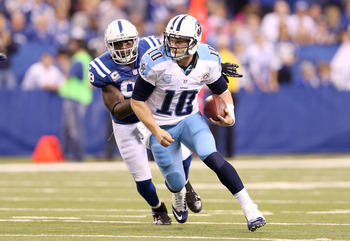 Andy Lyons/Getty Images
High Points: After a tough start to the season, Chris Johnson has returned to form as he is already over the 1,000 yard mark this season. In Week 3, the Titans won an overtime thriller against Detroit, scoring a season high 44 points.
Low Points: The Titans have lacked stability at quarterback due to the oft injured Jake Locker. The Titans defense has been vulnerable as it has allowed 34 or more points in five games this season.
No. 26 Buffalo Bills: 5-9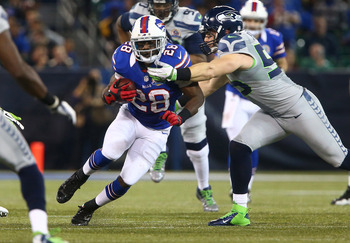 Tom Szczerbowski/Getty Images
High Points: The Bills season began promising with a 2-1 start. Before this season, the jury was still out on C.J. Spiller. That is no longer the case as Spiller has averaged 6.5 yards per carry and is over 1,000 for the season.
Low Points: Ryan Fitzpatrick, who was given a contract extension a season ago, has struggled this season accumulating a QBR of 45.
The defense, which made headlines in free agency this past offseason, has been torched this season, allowing 45 or more four times this season.
No. 25 New York Jets: 6-7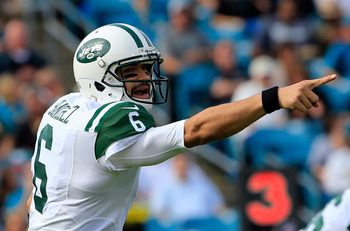 Sam Greenwood/Getty Images
High Points: Despite the deterioration of Mark Sanchez, the Jets enter tonight's game against Tennessee still in playoff contention.
Without Darrelle Revis for most of the season, the Jets defense has managed to be dominant, ranking second against the pass. Their playing their best football, as they have won three of the last four.
Low Points: The Tim Tebow experiment has been a complete and utter disaster. Not only has he failed to make an impact, but his presence can be linked to the atrocious play by Mark Sanchez.
The Jets have had some embarrassing home losses this season including a 34-0 tail-kicking from San Francisco and a 30-9 route against the Miami Dolphins.
No. 24 Cleveland Browns: 5-9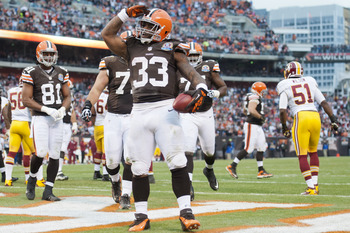 Jason Miller/Getty Images
High Points: Despite their record, the Browns have had plenty of positives this season. Their team is very young, as each offensive statistical category is led by a rookie. (Brandon Weeden, Trent Richardson and Josh Gordon.
Before losing this past weekend to Washington, the Browns had a three game winning streak. They have a impressive turnover differential at +7.
Low Points: The Browns were slow out of the gate this season, starting 0-5. The Browns aren't great at any one thing and their prone to penalties as they're 26th in penalty yardage assessed.
No. 23 Detroit Lions: 4-10
Christian Petersen/Getty Images
High Points: The Lions passing attack has put up staggering numbers again this season, as Matt Stafford has them ranked first in passing yards and Calvin Johnson is the league's leading receiver. Their run defense has been stout, ranking 11th this season.
Low Points: The Lions are currently on a nasty six game losing streak which includes surrendering Arizona their first win in three months. Possibly more concerning, is that the Lions rarely get blown out.
They struggle to finish games, as eight of their losses this season have been by seven points or less.
No. 22 San Diego Chargers: 5-9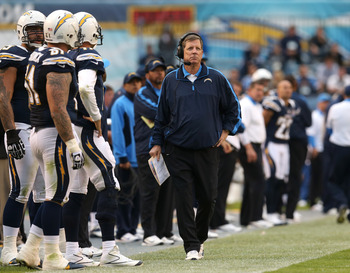 Stephen Dunn/Getty Images
High Points: The Chargers best football is in the rear-view mirror as they began the 2012 season 3-1. Their defense has played well this year, as they're ranked seventh against the pass. Their struggles may finally, cross your fingers Charger nation, bring about the end of the A.J. Smith and Norv Turner era.
Low Points: After a great start, the Chargers are a lowly 2-8. Their woes are not limited simply to losing, but more so by the fashion by which they're losing.
Blowing leads have become a past-time beginning with the embarrassing meltdown against Denver where the Chargers blew a 24-0 halftime lead.
No. 21 Carolina Panthers: 5-9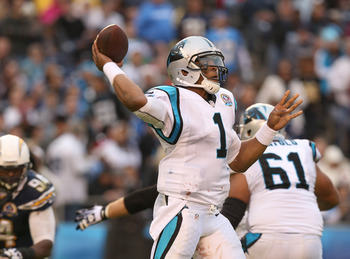 Stephen Dunn/Getty Images
High Points: Carolina's precarious season has stabilized of late as the Panthers have won three of their last four, including a win against the Atlanta Falcons.
Low Points: The season got off to a rugged start, as the Panthers began 1-6. Despite a bloated running back depth chart, Carolina has struggled to find a backfield mate to Cam Newton. Further, the Panthers have struggled in close games, as their point differential is −23 which doesn't reflect upon their record.
No. 20 Tampa Bay Buccaneers: 6-8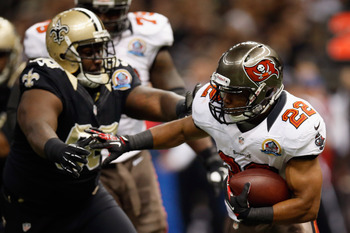 Chris Graythen/Getty Images
High Points: Tampa Bay's season looked promising during their 5-1 run. Rookie running back Doug Martin has been stellar as he currently has 1,250 yards rushing and 10 touchdowns. Defensively, Tampa Bay has the best rush defense in the NFL.
Low Points: Tampa Bay has been perplexing this season. A bumpy take-off had the Buccaneers at 2-5 and after their winning streak they have belly-flopped into a four game losing streak.
Their pass defense has been the only consistent aspect of their game, which isn't flattering as they allow a league worst 310 yards per game.
No. 19 Miami Dolphins: 6-8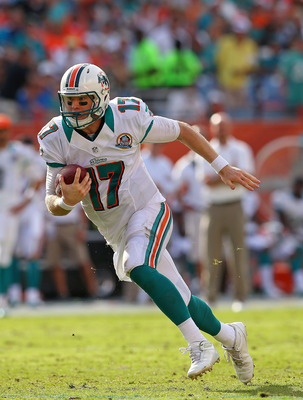 Mike Ehrmann/Getty Images
High Points: Ryan Tannehill has validated his first round selection this season, despite below average offensive counterparts. The Dolphins have been tough against the run, ranking eighth and Reggie Bush has had a strong season for the Fins offensively.
Low Points: They have exceeded the expectations of most, but the Dolphins have had their share of struggles. Their turnover differential is −12 and they have struggled against the pass ranking 25th.
No. 18 St. Louis Rams: 6-7-1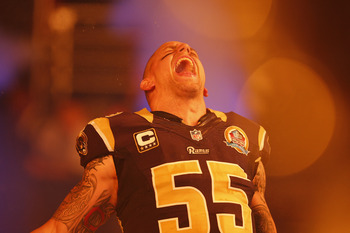 Joe Robbins/Getty Images
High Points: The Rams have surpassed expectations this season, as after 14 games the Rams are still playoff eligible. They have been sensational against San Francisco beating them once and tying them in the first meeting.
Jeff Fisher has changed the culture of the Rams defense, as they rank ninth against the pass.
Low Points: The first half of the season was grim for the Rams, as they started 3-6-1.The offense has not matched the defense's efforts as with their lousy 18.4 points per game (ranked 28th).
No. 17 New Orleans Saints: 6-8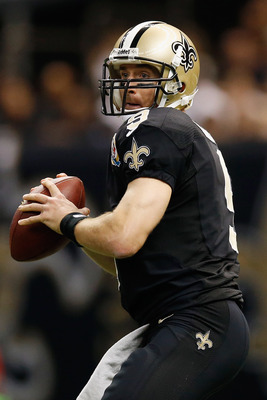 Chris Graythen/Getty Images
High Points: The middle of the season was kind to the Saints as they were 5-1 during a stretch. Drew Brees and the offense have amassed yards in a fury, as they rank second in the league.
Low Points: September was brutal for New Orleans as they began 0-4 which included losses to Carolina and Kansas City.
Throughout the season, the Saints have been deficient defensively as they rank 31st both against the run and the pass.
No. 16 Chicago Bears: 8-6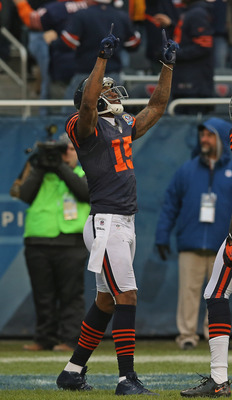 Jonathan Daniel/Getty Images
High Points: The Bears took care of business during the first half of the season streaking out to a 7-1 record. The acquisition of Brandon Marshall has proven genius, as he has already broken Chicago records in reception and yards.
Low Points: The Bears offense has been inept all season but the last six games have been especially pathetic as they have failed to score more than 17 during that streak.
The offensive line may be the league's worst, as Jay Cutler has been harassed the entire season. The defense, which was dominant during the first half, has been mediocre at best during the second half of the season.
No. 15 Minnesota Vikings: 8-6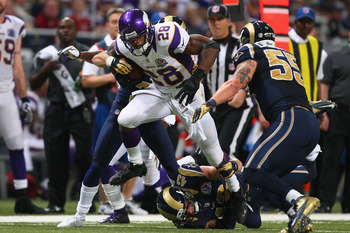 Dilip Vishwanat/Getty Images
High Points: As you might have heard, Adrian Peterson has defied science this season with his heroic effort. The Vikings are in playoff contention thanks largely to their 5-2 start and their current two game winning streak.
Low Points: The success of the running game has masked the NFL's last ranked passing offense and the alarming struggles of Christian Ponder. The Vikings had a nasty streak of games during the middle of the season as they lost four of five games during a stretch.
No. 14 Dallas Cowboys: 8-6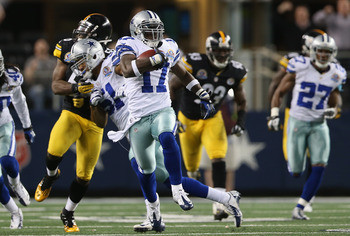 Ronald Martinez/Getty Images
High Points: The Cowboys are currently playing their best football as they are winners of five or their last six games. Tony Romo has silenced his critics this year as he powers the league's fourth ranked passing offense.
Low Points: The season didn't start according to plan as America's team started 3-5. Their turnover differential is −9 which ranks them at 25th. Despite the efforts of the passing attack, the lack of a running game has stymied the Dallas offense as they average a mere 80.4 yards per game rushing, which ranks 31st in the league.
No. 13 Pittsburgh Steelers: 7-7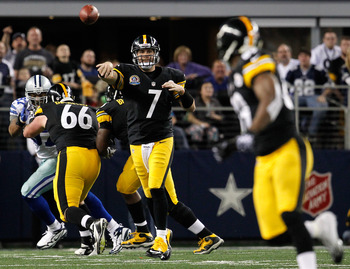 Tom Pennington/Getty Images
High Points: Pittsburgh jumped out to a 6-3 start backed largely by the NFL's top ranked pass defense. They were able to beat the Ravens in Baltimore with their third-string quarterback Charlie Batch which has allowed the Steelers to remain in playoff contention.
Low Points: The Steelers are struggling at the worst time. They have lost four of the last five which includes losses to Cleveland and San Diego.
No. 12 Indianapolis Colts: 9-5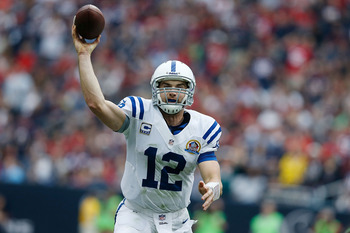 Scott Halleran/Getty Images
High Points: Andrew Luck has led this team in close games as eight of the Colts victories have come by seven or less. The Colts fired off a hot streak during the middle of the season winning seven of eight games.
Low Points: The Colts have overachieved, but late game heroics have hidden a below average defense. Also, the Colts have struggled to balance their offensive attack, as they rank 20th against the run.
No. 11 Baltimore Ravens: 9-5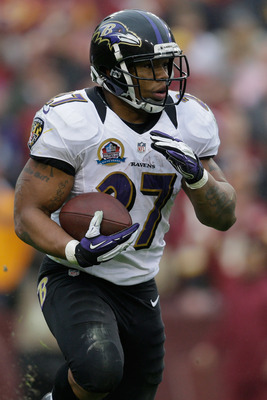 Rob Carr/Getty Images
High Points: The Ravens started the season with an impressive 9-2 record. Ray Rice's Herculean 4th-and-29 Week 12 against the Chargers might be the highlight of the season. The Ravens resume features some great wins including against New England and at Pittsburgh.
Low Points: The Ravens are falling fast. Their current three game losing streak has invited Cincinnati and Pittsburgh back into the divisional race. The Ravens record may be deceiving, as their rush defense ranks 26th against the pass and 21st against the run.
No. 10 Cincinnati Bengals: 8-6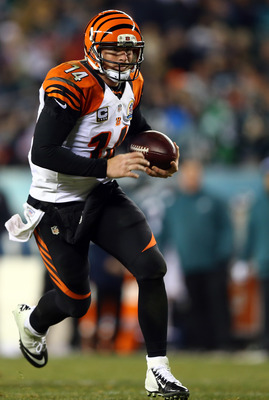 Elsa/Getty Images
High Points: The Bengals have picked the ideal time to get hot. Winners of five or six, Cincinnati is one of the hottest team's in the league. The Dalton A.J. Green express has been infallible this season and the running game has been strong of late.
Low Points: After a 3-1 start, the Bengals tripped into a four game losing streak.
They have had some bad losses this year as they have fallen victim to upset against Miami and Cleveland. Also, they have struggled against good teams as they're 2-4 against teams with a .500 record or better.
No. 9 New York Giants: 8-6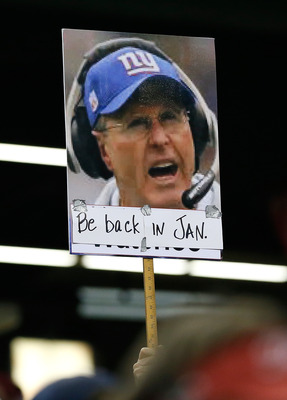 Kevin C. Cox/Getty Images
High Points: When they show up, the Giants are arguably one of the NFL's top teams. They beat San Francisco and Green Bay by a combined 51 points.
Low Points: The Giants defense has primarily the same make up as their Super Bowl team last year, yet have struggled. A lot. They're ranked 28th against the pass this season and against the run 22nd.
No. 8 Washington Redskins: 8-6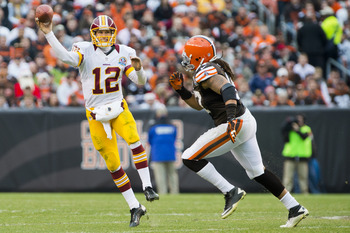 Jason Miller/Getty Images
High Points: The play of Robert Griffin III has justified trading the immense package he commanded. The Skins are red-hot as they're riding a five game winning streak. Even with RG III sidelined this past weekend, rookie backup Kirk Cousins led Washington to a victory. They now control their own destiny in NFC East.
Low Points: Washington got off to a slow start with a 3-6 record. Lost in the RG III hype is that Washington is the most penalized team in the NFL, something that must be corrected come playoffs.
No. 7 Seattle Seahawks: 9-5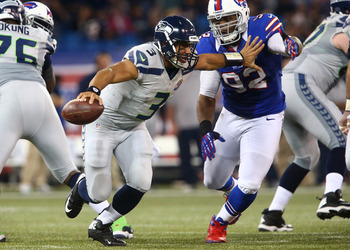 Tom Szczerbowski/Getty Images
High Points: Pete Carroll's decision to start Russell Wilson may be the best coaching move of the year in hindsight. Led by the over-looked rookie, Seattle has scored consecutive 50 plus point games. Their third ranked rushing offense and third ranked pass defense make the Seahawks legitimate contenders.
Low Points: Seattle has a number of bad losses on their resume: Miami, Arizona and Detroit. They struggled on the road this season going 3-5, which could be problematic come playoff time.
No. 6 Houston Texans: 12-2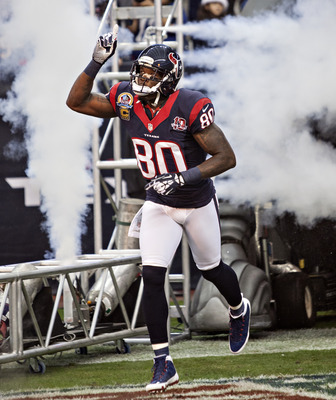 Bob Levey/Getty Images
High Points: The Texans started the season on the right foot going 11-1. Their balanced offensive attack keeps defenses perpetually guessing. J.J. Watt is rightfully garnering defensive MVP discussion as he has been a menace to opposing quarterbacks.
Low Points: It's difficult to find faults with a team that is 12-2, but the Texans two losses are concerning. Both have come to strong team, Green Bay and New England, and both were by alarming deficit (combined 46 points).
No. 5 Atlanta Falcons: 12-2
Scott Cunningham/Getty Images
High Points: The Falcons carried an unblemished record deep into the season as they began the year with eight consecutive wins.
They knock on Atlanta all season has been their struggles against top teams, which was quieted this weekend after the Falcons boat-raced the New York Giants 34-0.
Low Points: The Falcons struggle in the trenches on both sides of the ball. Their rush offense is ranked 28th and their rush defense ranked just 24th. Come playoff time this deficiency could be problematic.
No. 4 Denver Broncos: 11-3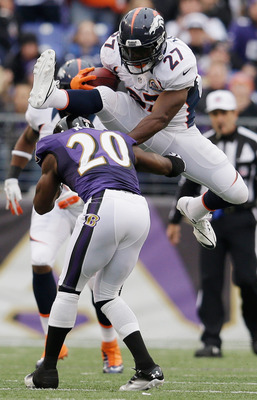 Rob Carr/Getty Images
High Points: Peyton Manning and the Broncos have the NFL's longest current winning streak with nine consecutive wins. The emergence of Knowshon Moreno makes this team extra dangerous heading into the postseason.
The NFL's second highest scoring team is balanced with a sensational defense.
Low Points: Denver got off to a rough start at 2-3 which included losses against New England and Atlanta, drawing into question Denver's ability to beat good teams.
They trounced Baltimore this past weekend, but the Ravens current struggles is certainly a caveat worthy of attention. Further, the Broncos have a turnover differential of zero, which given their record is concerning.
No. 3 Green Bay Packers: 10-4
David Banks/Getty Images
High Points: Green Bay are winners of eight of their last nine. Aaron Rodgers has quietly put together another MVP caliber season and week-by-week the Packers are getting healthier. Clay Matthews creates a one man pass-rush which forces opposing teams to alter their offensive blocking schemes.
Low Points: Green Bay began with a tough 2-3 start to the season which culminated in their bizarre loss against Seattle. The Packers don't rank in the top 10 in any of the four major statistical categories, pass offense, rush offense, pass defense and rush defense.
No. 2 New England Patriots: 10-4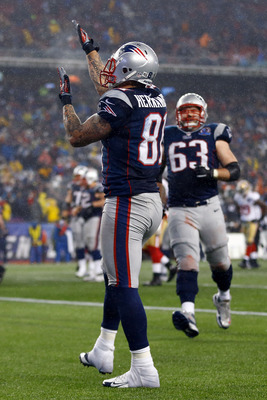 Jared Wickerham/Getty Images
High Points: New England is playing great at the right time as before last night's close loss to San Francisco, the Patriots had won seven consecutive games including a lopsided victory against Houston. Tom Brady continues to dazzle with his impeccable 30-6 touchdown to interception ratio.
Low Points: As evidence in last night's loss, the Patriots defense is vulnerable to the big play. The pass defense ranks 29th in the league. An early season loss to Arizona at home is the clear low point to the Patriots season.
No. 1 San Francisco 49ers: 10-3-1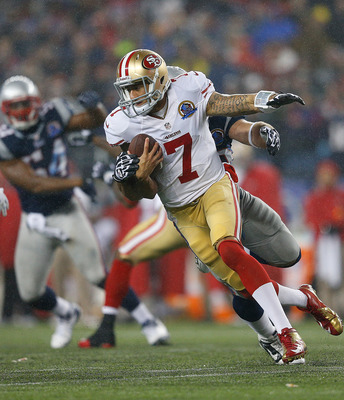 Jim Rogash/Getty Images
High Points: Last night's road victory against New England is evidence of the 49ers claim as the NFL's top team. Colin Kaepernick has brought a lethal dynamic to the 49ers offense, and the 49ers defense has allowed the fewest points in the NFL.
Low Points: For all the positives Kaepernick brings to the 49ers, his experience is a negative. In two overtime games against the Rams, Kaepernick failed to secure a win for the 49ers.
In addition to the two results against St. Louis, the 49ers have laid eggs against the Giants and Vikings, both resulting in a decisive losses.
Keep Reading