Fantasy Football: Week 14 Waiver Adds for Each Position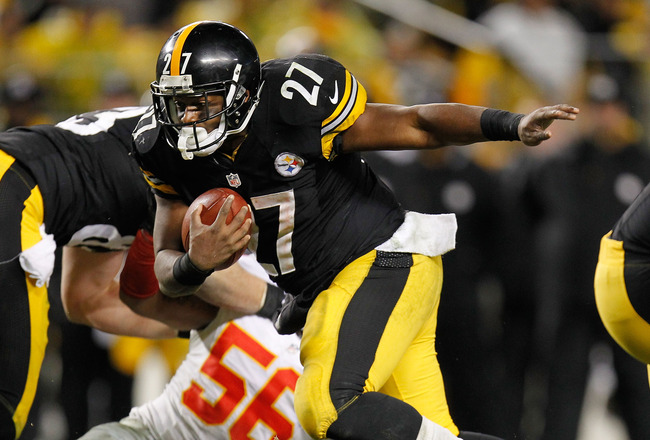 Gregory Shamus/Getty Images
The playoffs are upon us.
For many of you fantasy faithful, Week 14 marks the culmination of all your time in front of a computer screen. Seriously, how often can that be said?
It's not time to celebrate, though. The next few days could decide the fate of your season, and waiver-wire additions are more important now than ever.
Here is a list of things to keep in mind while priming for a playoff run:
Ride the horse that got you here. There's a reason you're in the playoffs, and there's no need to start making hasty decisions just because the format has changed.
Forget the big names. All too often, fantasy owners refuse to bench players like Antonio Gates and Eli Manning because of their performances in previous years. If there are better options available, pull the trigger. You play to win the game.
Go with your gut. All the advice in the world won't make a difference if you can't listen to that little voice in your head. Believe me, you will regret not taking your own advice.
The following list of waiver-wire additions for Week 14 contains a lot of names you've probably seen here before. Many of them have consistently produced for much of the season and could help you hoist that fantasy football trophy in a few weeks. Read on.
Quarterbacks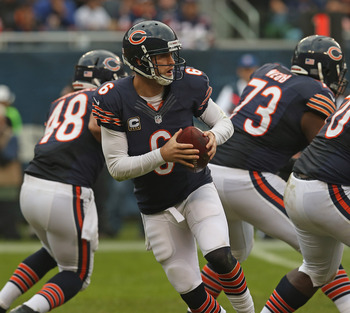 Jonathan Daniel/Getty Images
Cutler is one of the most inconsistent starting quarterbacks in the league, but if you're searching for a quarterback at this point in the season, you're probably willing to take a gamble.
The Bears face Minnesota in Week 14. The Vikings are in the middle of the league in total defense, but they've been torched before. In Week 10, Minnesota surrendered 329 yards and three touchdowns to Matthew Stafford and the Lions.
As long as Adrian Peterson continues to play like the best running back of his generation, the Bears will need to put up some offense in this one. Cutler is far from a sure thing, but expect him to throw close to 40 passes this week, which means plenty of opportunities for fantasy stat-padding.
Brandon Weeden
Kansas City provides a very favorable matchup for fantasy quarterbacks. The Chiefs have allowed more passing touchdowns than any team in the NFL (25) and have only picked off opposing quarterbacks seven times this season.
Weeden played one of his best games of the season last week against the Raiders, and his Browns have won their last two games. With Cleveland on a bit of a late-season roll, it's not out of the question for Weeden to parlay that momentum into another solid fantasy performance.
If Weeden rewards your risk this week, he's also looking at a decent matchup in Week 15. The Browns will face a Washington Redskins team that has allowed 24 passing touchdowns and an average of 299 passing yards per game this season.
Chad Henne
Henne hasn't matched his impressive Week 11 performance against the Texans, but he's done enough to provide a spark for the MJD-less Jacksonville offense. He may not throw for 354 yards and four touchdowns this weekend, but he will face a schizophrenic Jets team in a lot of turmoil.
Henne is owned in just 12 percent of Yahoo! leagues, so deep-league owners should have a fair shot at picking him up.
Cecil Shorts and Justin Blackmon have developed into consistent targets, especially with Henne at the helm. I wouldn't be surprised if Henne throws a touchdown pass to each of them this weekend.
Running Backs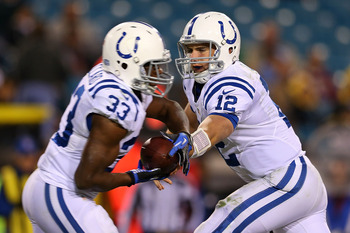 Mike Ehrmann/Getty Images
Vick Ballard
Ballard was Indianapolis' leading rusher against the Lions in Week 13. Donald Brown injured his ankle in that game, and if he misses any time, Ballard should be the lead back once again this weekend.
The Colts haven't relied on the run all that much this season, but Ballard was able to compile 62 total yards and his first rushing touchdown of the season, despite being part of a timeshare. Monitor Brown's injury status, but don't be surprised if Ballard shoulders most of the load in Week 14.
Ballard's matchup couldn't be much sweeter this weekend, either. Tennessee is No. 27 in the NFL against the run and has surrendered 4.3 yards per carry to opposing rushers.
Jonathan Dwyer
Dwyer took advantage of his opportunities with Rashard Mendenhall on the shelf, and after Mendenhall's shaky performance against the Browns in Week 12, Dwyer was given the nod as the starter in Pittsburgh.
Dwyer gained 57 total yards and a touchdown against the Ravens in Week 12, despite Baltimore keying in on the run with third-stringer Charlie Batch under center. Dwyer's rushing style is perfect for a Steelers team in need of a bruising back who can run between the tackles. Expect Pittsburgh to rely on him heavily in the coming weeks.
Dwyer is still available in 54 percent of Yahoo! leagues, so there's a good chance he's on the waiver wire in many smaller leagues. He will be a borderline RB2 play this week against the Chargers.
Knowshon Moreno
Moreno has seen a ton of touches the last two weeks, and you can't ask for too much more than that from a fantasy running back. His yards-per-carry average leaves a lot be desired (3.5), but the sample size is limited.
Oakland enters Week 14 No. 28 in the NFL against the run, and at this point in the season, Denver will likely want to limit how often Peyton Manning drops back to pass. Moreno has had 20 rushing attempts and four receptions each of the last two weeks, and he could easily match that total again this week.
Ronnie Hillman was the hot add when Willis McGahee went down a couple weeks ago, but it looks like Moreno has been given another chance to show what he can do. He's owned in 63 percent of Yahoo! leagues, so if he's still on the waiver wire in your league, it would be wise to take a flyer on Moreno.
Wide Receivers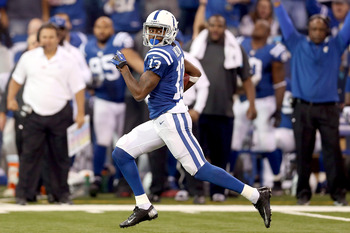 Matthew Stockman/Getty Images
T.Y. Hilton
Andrew Luck is quickly building a rapport with his fellow rookies. Hilton's looks have been wildly inconsistent this season, but he was a huge part of Indianapolis' offense in its comeback win over Detroit last week. Hilton was targeted a season-high 12 times, and he hauled in six of those passes for 100 yards.
Hilton is a deep threat by nature, but he's also developing into a quality route-runner. Luck has been looking for Hilton on quick slants in the middle of the field, which gives the diminutive wideout an opportunity to use his speed and quickness to break through the secondary and make big plays. Look for more of those situations going forward.
The Titans are No. 26 in the league against the pass, and this week offers another prime opportunity for Luck and the Colts to continue their push for the playoffs. Look for Hilton to be one of Luck's favorite targets in Week 14. He could easily top the 100-yard mark once again.
Josh Gordon
Gordon got off to a hot start after getting the starting nod a few weeks into the season, but his fantasy impact diminished in the following month. He had a big game last week, though, and could be another top fantasy receiver this week.
The Browns are riding a wave of momentum after dropping Pittsburgh and Oakland in consecutive weeks. Brandon Weeden played one of his best games of the season in Week 13, and Gordon was his favorite target.
Gordon has shown a lot of maturity this year, and he's also developing into a solid all-around receiver. Even if there is no place to play him right now, owners in keeper leagues should certainly consider taking a flyer on Gordon for next season.
Chris Givens
I've been on the Givens train for much of the season, but most fantasy owners haven't taken notice. He's still available in 86 percent of Yahoo! leagues, despite his consistency. Givens hasn't tallied less than 51 receiving yards more than once since Week 3.
Givens has wheels, and Sam Bradford isn't afraid of throwing it to him deep. Givens has five games this season in which he caught a pass of 50 yards or longer. In his last four games, Givens has also caught two touchdown passes.
Buffalo is No. 13 in the league against the pass, but the Bills have allowed 21 touchdowns to opposing passers. Givens should continue to be one of Bradford's favorite deep-ball targets, especially with Danny Amendola's status still up in the air.
Tight Ends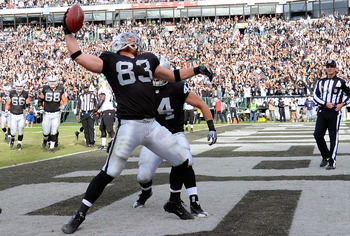 Thearon W. Henderson/Getty Images
Brandon Myers
I've said it nearly every week, and I'll say it again: Go get Myers.
In a season marred with mediocre tight end scoring, Myers has provided his owners with consistent numbers. He's currently ranked No. 5 among tight ends in standard scoring. He may not put up Jimmy Graham numbers, but Myers won't leave you with a goose egg, either. Somehow, he's still available in almost half of all fantasy leagues.
Myers is a huge red-zone target for Carson Palmer, and all four of his touchdowns this season have come in the last six games. As I alluded to before, this is the point in the season where names don't matter. He's not a marquee player, but Myers should be on your roster, if for no other reason than to keep him out of your opponents' starting lineup.
Coby Fleener
Fleener returned last weekend after missing four weeks with a shoulder injury, and although he caught just one pass, it was a big one.
Andrew Luck connected with Fleener on a 26-yard scoring strike to the left corner of the end zone. It was a beautiful pass and a great effort by Fleener to pluck the ball out of the air over top of his defender.
Luck trusts Fleener, and I wouldn't be surprised if he becomes a much larger part of the offense the rest of this season. The Colts face a bad Tennessee defense this week, so consider Fleener a decent flex option in deeper leagues.
Dallas Clark
Like Tampa Bay's offense as a whole, Clark has come on strong as of late. He's caught three touchdown passes in the last four games, and his fantasy value is at its highest point this year.
Clark isn't the same tight end he was with Peyton Manning in Indianapolis, but he still has value for fantasy purposes. The Bucs face a run-of-the-mill Philadelphia defense in Week 14 and an atrocious New Orleans defense in Week 15.
Clark is still available in 77 percent of Yahoo! leagues, and now might be the time to go get him. The Buccaneers are playing good football, and so is Clark.
Kickers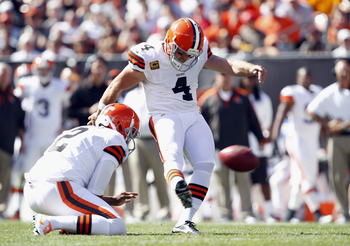 Matt Sullivan/Getty Images
Phil Dawson
Dawson has missed just one field goal the entire season, and he's not just taking chip shots. Dawson has converted on five field goals of 50-plus yards this year.
Cleveland has been playing pretty good football in the last couple weeks, and I expect Kansas City to have a hard time stopping Trent Richardson and the Browns offense in Week 14.
Rob Bironas
Bironas has converted eight of his last nine field-goal attempts in the last three weeks, and he should have a few more chances this week. Tennessee hasn't been able to find the end zone recently, but Indianapolis' defense is nothing to write home about.
Even if Tennessee can't get much going against the Colts, the Titans should spend some time in Indianapolis territory, meaning Bironas will have an opportunity to put together a nice fantasy performance.
Mike Nugent
Opposing kickers have converted 22 of 24 field-goal attempts against the Cowboys this season, including a perfect percentage from 40-49 yards. Nugent has made seven field goals of 40-plus yards this year.
Cincinnati's offense has been solid, and Nugent will put up some points whether or not the field-goal opportunities are there. He's made four extra points three of the last four weeks.
Defenses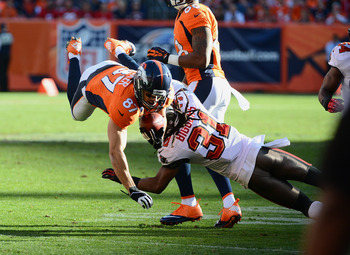 Garrett Ellwood/Getty Images
Tampa Bay Buccaneers
Andy Reid announced that Nick Foles will be Philadelphia's starter the remainder of the season, which should make Tampa Bay owners very happy this week.
Tampa is No. 2 against the run this season, and if the Eagles are unable to establish a running game, the Bucs can key in on the pass and wreak havoc on the rookie signal-caller.
Cleveland Browns
Kansas City is No. 21 in total offense this year, and it faces a Cleveland defense that has played very well in the last few weeks.
The Browns forced eight turnovers against the Steelers in Week 12, and they will get a crack at former Browns Peyton Hillis and Brady Quinn this week. Count on at least a couple Kansas City turnovers on Sunday.
Arizona Cardinals
The Cardinals' defense ranks No. 8 in standard fantasy scoring this season, but is still available in 42 percent of Yahoo! leagues.
Arizona faces Seattle this week, and while the Seahawks' offense has been solid as of late, Russell Wilson will struggle with Patrick Peterson and an impressive Arizona pass rush. His streak of four games without turning over the football will end this week.
Keep Reading