Giants vs. Redskins: Full Preview, Predictions & Analysis for Monday Night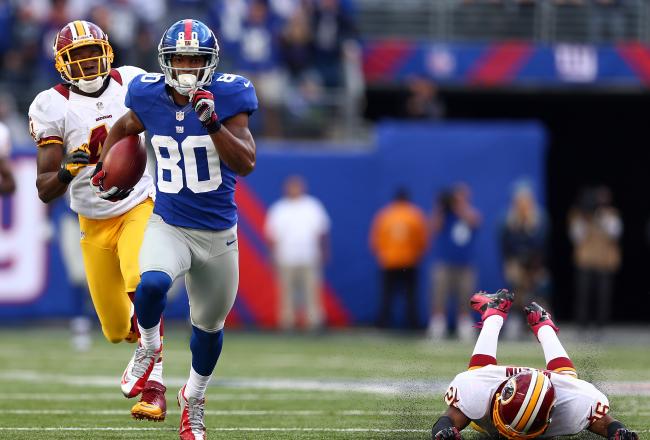 Elsa/Getty Images
Another big NFC East matchup in prime time as Eli Manning and the New York Giants head to Washington D.C. to take on Robert Griffin III and the Redskins.
The Giants (7-4) are the defending Super Bowl champions and are coming off of a convincing win over the Green Bay Packers. Before that, though, the Giants had dropped two straight to AFC North opponents and had won nail-biters against both Washington and the Dallas Cowboys. It's easy to write those off as regular-season speed bumps for a team that had much of the same before winning the Super Bowl last season. Still, it's a lot easier to imagine the Giants repeating when they win like they did against Green Bay.
The Redskins (5-6) are out of the playoff picture but would love to play spoiler in Week 14 and put the Giants' playoff seeding in jeopardy. RGIII and the Redskins have been a pleasant surprise in 2012 as each storm has been weathered and each obstacle overcome. This is a team that is in Year 1 of what should be a massive rebuild, but they look well on their way.
So who wins this Week 14 prime-time battle?
Enjoy this preview from our friends at NFL Films
Key Storyline No. 1: Is This the Start of the Giants' Repeat Run?
It won't be an easy end of the regular season with games against Atlanta and Baltimore, but the Giants have to flip the switch somewhere if they plan on having home-field advantage in the playoffs.
The Giants could—I repeat, could—back into the playoffs again this season, but they're not sneaking up on anyone like they did last year. November is over, and if the Giants want to get back to the mountain top, they need to take care of business.
RGIII took them to the edge last time these two played, so expect him to test them in a similar fashion on Monday Night Football.
Key Storyline No. 2: Can RGIII Keep Pace with Andrew Luck in ROY Race?
While the Redskins aren't in the conversation for the playoff race, their quarterback is in line for some pretty lofty accolades if his team can continue to put wins on the board and give him the help he needs.
A few months ago, it seemed absurd that anyone but Griffin would take home the Rookie of the Year award, but with Andrew Luck leading the Colts to the playoffs (and looking great doing it), Griffin won't be able to sit on his laurels.
Beating the Giants in prime time could be just the boost he needs.
Keys for the New York Giants
I don't say this often, but the Giants need to air it out and simply not quit until the Redskins raise the white flag. Then, for good measure, one more long bomb.
Who wins on Monday night?
Tom Coughlin has an almost absurd dedication to balanced offense. He envisions this team as a tough defense with a strong running game and Manning making plays when he has to. In reality, the Giants are at their best when they're running up the score, taking pressure off of a defense that has trouble getting stops and passing to set up the run.
If the Giants try to beat their heads against the brick wall that is the Redskins' rushing defense, they could easily lose on the road.
Defensively, it may sound crazy, but they have to commit extra players to the run game and make Griffin beat them through the air. If they're consistently caught in their nickel and dime packages, Griffin will either hand off and let Alfred Morris beat them or he will drop back and find plenty of running lanes for himself.
While the Giants' pass defense isn't great, it can match up with the weapons on the 'Skins.
Keys for the Washington Redskins
Take care of the ball! Stop being your own worst enemy!
Seriously, the Giants hardly beat the Redskins last time around as much as the 'Skins allowed themselves to be beaten. Three fumbles, three sacks, an interception, seven penalties, 0-for-2 in the end zone. Of course the Giants won that game.
The Redskins need to eschew the pass game until they've forced the Giants to put at least seven, maybe eight guys into the box. Even then, line up and run your zone schemes until they've proven it won't get three to four yards at a clip. If the 'Skins can impose their will and take their shots with play-action roll-outs, this should be an easy game to score a ton of points.
On defense, the Redskins need to hope that the Giants commit to running the ball as well and that Manning makes a few mistakes of his own. If he comes out slinging, there is little hope of getting stops. So, without stops, the Redskins need to take advantage of the chances that come their way. If blitzes don't connect or interceptions are dropped, it's game over for Washington.
Bold Prediction: Game Features 3 100-Yard Rushers and 2 300-Yard Passers
Overall, I'm expecting a big offensive output in prime time tonight. Also, as much as I think the Giants should throw out their running plays altogether, I know them better than that. My bold prediction is that they'll continue to bang their heads against the wall and bust a couple of late long gainers in what should be a close game.
In addition to Ahmad Bradshaw, Griffin and Morris should both eclipse the century mark on the ground.
All that said, this game is going to be won through the air, so I'm looking for a huge day for both passers through the air as well.
Player of the Game Prediction: Victor Cruz
The Redskins don't have the ability to match up with many good wide receivers, but they have zero chance of stopping Cruz. Last time around, he burned them for 131 yards, and he should be just as good this time around, if not better. Expect double-digit catches as these two teams run up the score.
Final Score Prediction: Giants 34; Redskins 31

Michael Schottey is the NFL National Lead Writer for Bleacher Report and a member of the Pro Football Writers of America. Find more of his stuff alongside other great writers at "The Go Route."
This article is
What is the duplicate article?
Why is this article offensive?
Where is this article plagiarized from?
Why is this article poorly edited?