NFL Free Agency 2013: Is It Time for the Raiders to Sign Another Running Back?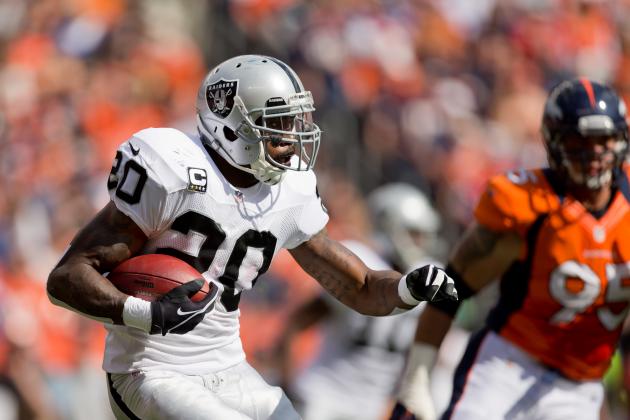 Justin Edmonds/Getty Images

As the Raider Nation knows well, their franchise running back has been unable to stay on the field throughout his young career.
After being selected fourth overall in the 2008 NFL Draft, fifth-year back Darren McFadden has not had a full season due to a variety of injuries. The most frustrating part about McFadden is that we have seen how explosive he can be when healthy.
Unfortunately for the Raiders, McFadden suffered another injury this season in Week 9 against the Buccaneers with a high-ankle sprain. The timetable for McFadden to return is 2-4 weeks. This leaves the Raiders in a steep hole at running back.
Prior to the 2012 season, the Raiders decided to let Michael Bush walk. He is now the backup for Matt Forte in Chicago. As the Raiders will likely continue to struggle with their running game, letting go of Bush may have been a big mistake.
Bush always filled in nicely when McFadden went down, especially last season when Bush rushed for a career-high 977 yards along with seven touchdowns.
Being that fullback Marcel Reece is more effective in the passing game and Taiwan Jones has not seen much playing time, there is one question the Raiders should ask themselves. Would McFadden be better off splitting carries?
Let's take a look at some of the free agent running backs for 2013.
Begin Slideshow

»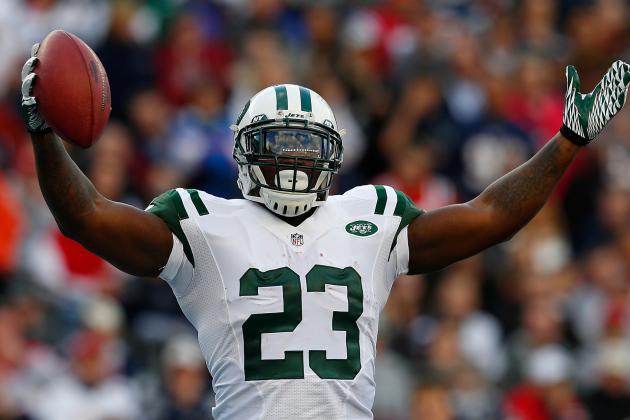 Jim Rogash/Getty Images

New York Jets fourth-year running back Shonn Greene is set to hit the market in 2013. He is a back that teams around the league will take a look at.
Greene has one 1,000-yard season in his young career, which came last year during the 2011 season. Greene rushed for a career-high 1,054 yards which included just two 100-yard efforts.
We have seen glimpses of the talent that Greene possesses, especially during his rookie campaign when he carried the load in the 2009 postseason. Greene ran all over the Bengals and Chargers and showed plenty of promise.
Fast forward to 2012, Greene is have a solid season, having rushed for 567 yards and five touchdowns.
Greene would serve as a nice change of pace for McFadden and could potentially take over as a starter when McFadden becomes a free agent in 2014.
2012 Stats:
Rushing Yards: 567

Touchdowns: 5

Receptions: 12

Receiving Yards: 96

Touchdowns: 0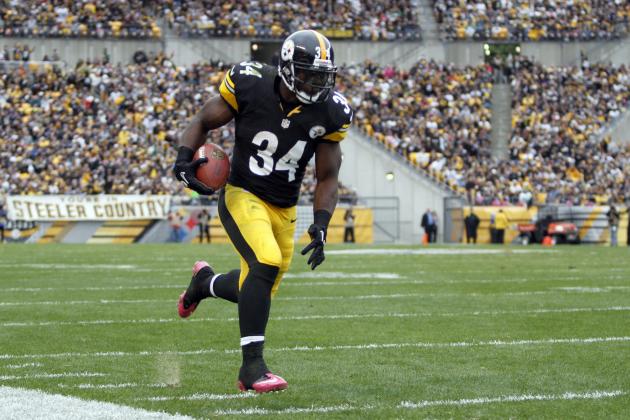 Justin K. Aller/Getty Images

With Rashard Mendenhall still feeling the effects of his season-ending torn ACL in 2011, he may be a bit of a risk for any team to sign, but we know how productive he can be when healthy.
Mendenhall has two 1,000-yard seasons under his belt and was on his way to three before he was injured last season. At 25 years of age, Mendenhall is going to be around for a while if he remains healthy. He may not be a bad signing for the Raiders.
Would he want to split carries with McFadden in 2013? It is unknown whether Mendenhall would accept this role, but it could be necessary to keep both backs healthy.
Mendenhall is extremely productive as a full-time starter and he could fill into that role come 2014 if the Raiders decide to let McFadden walk.
2012 Stats
Rushing Yards: 74

Touchdowns: 0

Receptions: 4

Receiving Yards: 44

Touchdowns: 1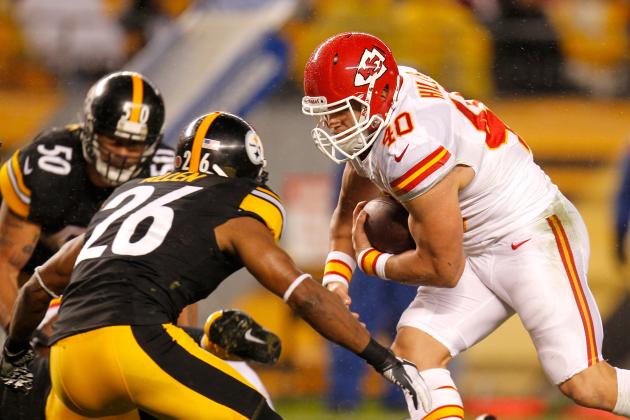 Gregory Shamus/Getty Images

Doesn't Peyton Hillis just look like a Raider? He's that tough and bruising running back that any coach would love to have on their team.
Although Hillis has just one standout season, what a season it was. Rumbling his way for over 1,100 yards and 11 touchdowns in 2010, Hillis also proved he can be a great receiver out of the backfield, catching 61 passes for the Cleveland Browns.
Hillis has struggled with injuries since and is now backup to Jamaal Charles, so his role has diminished since his breakout season in 2010. However, he can still serve as a short-yardage and goal-line back for many teams.
Hillis wouldn't be a long term answer for the Raiders, but he would be an excellent change of pace from McFadden and would get the job done in those short-yardage situations, especially in the red zone where the Raiders have struggled greatly in 2012.
2012 Stats
Rushing Yards: 160

Touchdowns: 0

Receptions: 8

Receiving Yards: 47

Touchdowns: 0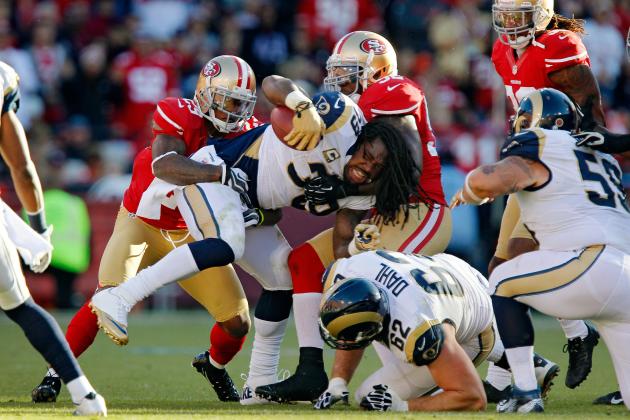 Brian Bahr/Getty Images

After carrying the ball 29 times for 101 yards and a touchdown against the 49ers in Week 10, Steven Jackson showed he can still get it done as a full-time running back.
Although he had the big game against the 49ers, Jackson is approaching 30 years old and has been on a time share with rookie back Daryl Richardson. This is probably the more appropriate role for Jackson as he enters free agency in 2013.
Jackson has been one of the top backs in all of football for the last eight seasons, including seven straight 1,000-yard seasons.
Jackson has the ability to run and catch the ball out of the backfield and runs hard every single down. No. 39 wouldn't be a bad option for the Raiders in 2013.
2012 Stats
Rushing Yards: 504

Touchdowns: 2

Receptions: 14

Receiving Yards: 124
Touchdowns: 0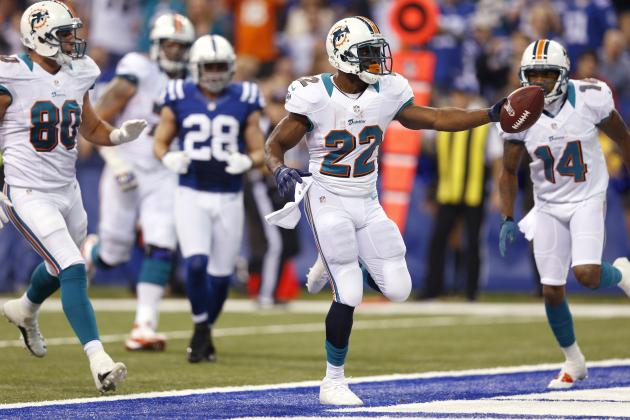 Joe Robbins/Getty Images

After five underachieving years with the New Orleans Saints, Reggie Bush finally broke out in his first season with the Miami Dolphins in 2011.
Bush proved in 2011 that he can carry the load by himself and if Miami decides not to bring him back, he may want that same role elsewhere.
Oakland probably wouldn't be the best match for Bush as they already have a speedster with McFadden.
2012 Stats
Rushing Yards: 555

Touchdowns: 4

Receptions: 21

Receiving Yards: 179

Touchdowns: 0