Ranking the 10 Best International Prospects Heading into 2013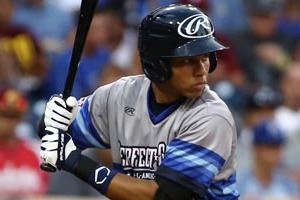 Jan Hernandez (Puerto Rico) // Courtesy of PerfectGame.org
Even though there has been a flurry of international signings in recent weeks, it's slim pickings for those organizations with the remaining salary cap space. With the defined commencement of the international signing period this past summer (July 2), almost all of the top eligible prospects were signed within a matter of days. Players such as SS/CF Franklin Barreto (Blue Jays), C Luis Torrens (Yankees), OF Gustavo Cabrera (Giants), LHP Jose Castillo (Rays), SS Amed Rosario (Mets) and SS Amaurys Minier (Twins) each received at least a $1.3 million signing bonus.
While the 2013 crop of international prospects lacks the overall talent of the 2012 class, there are numerous players that possess a high ceiling relative to their age (either 15 or 16 years old) and position.
Although we're only a few months removed from July's rash of signings, it's never too early to look ahead at next year's free-agent class. So, here's a preliminary ranking of the top international prospects headed into the offseason.
Lead image courtesy of collegebaseballdaily.com.
Begin Slideshow

»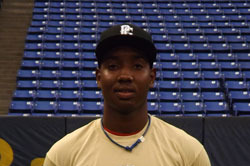 Courtesy of PerfectGame.org
DOB: 8/30/1996
Height/Weight: 6'3", 210
Bats/Throws: L/R
Origin: Haina, D.R.
6'3", 210-pounder is a physically developed 16-year-old who is already pegged as a first-base-only prospect; will continue to lose speed and athleticism as he develops and adds strength; plus bat speed and raw power that can be compromised by up-the-middle approach; power should develop with considerable experience and implementation of loftier bat path.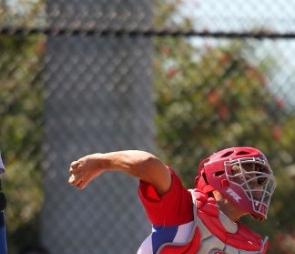 Courtesy of dplbaseball.com
DOB: 8/1/1996
Height/Weight: 6'1", 175
Bats/Throws: R/R
Origin: San Cristobal, DR
Some tools stand out more than others, but has highly projectable frame and athleticism at 6'1", 175 pounds. Agile and aggressive receiver and blocker behind the plate; registers sub-2.0-second pop times; potential above-average defensive catcher; struggles to drive through the baseball and generate power, but amount of contact is encouraging; needs to add strength.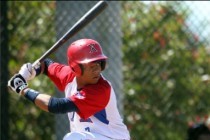 Courtesy of dplbaseball.com
DOB: 10/13/1995
Height/Weight: 6'3", 170
Bats/Throws: R/R
Origin: San Pedro de Macorís, DR
Brother Julio signed with Pirates in July for $700,000; has a taller and lankier frame than his brother; straight-line speed isn't impressive, but is an instinctual outfielder with long strides that lend to above-average range; showcases impressive raw bat speed from right side of the plate; exaggerated pre-swing load ruins timing and mechanics, and will need to be simplified; overall approach is poor and in need of significant refinement.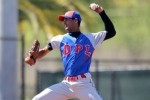 Courtesy of dplbaseball.com
DOB: 6/26/1996
Height/Weight: 6'2", 170
Bats/Throws: L/L
Origin: Cibao, DR
6'2", 170-pound left-hander has wiry build with highly deceptive mechanics; shows quick arm from three-quarters arm slot that's incredibly difficult to pick up; not ideal mechanics but is able to bring it in upper-80s; flashes a slider, curveball and changeup, none of which are particularly advanced or projectable; changeup could be average offering.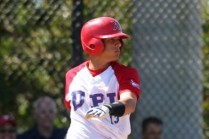 Courtesy of dplbaseball.com
DOB: 11/15/1995
Height/Weight: 6'1", 185
Bats/Throws: L/L
Origin: Tamboril, DR
Strong left-handed hitter at 6'1", 185 pounds who should add strength; can flat-out hit anything thrown around the plate, but his swing isn't exactly a picture-perfect lefty swing; always finds a way to barrel the baseball; will remain in outfield for as long as possible as a slightly below-average runner with a strong but inaccurate arm.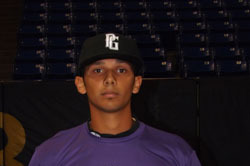 Courtesy of PerfectGame.org
Height/Weight: 6'1", 190
Bats/Throws: S/R
Origin: Caguas Military & Sport Academy (Humacao, PR)
Raw overall prospect who seems capable of adding strength in a hurry; athletic catcher who moves well in all directions and is above-average blocker; catch-and-throw skills and solid arm strength have produced sub-1.9-second pop times; footwork can be choppy and out-of-sync with upper-half; line-drive-oriented swing but tends to cast his hands around baseball; bat will probably always lag behind defense.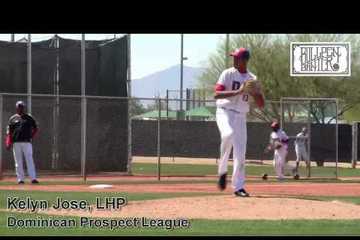 Courtesy of BullpenBanter.com
DOB: 5/19/1995
Height/Weight: 6'4", 185
Bats/Throws: L/L
Origin: Nagua, DR
Upside is obvious, but lack of mound experience scared off scouts last July; pop-up prospect who shot up international draft boards; tall left-hander works on downward plane with low- to mid-90s fastball; loose, fluid arm action gives him a chance to add more velocity; mechanics will be work-in-progress but got to love the size, handedness and live arm; curveball and changeup are raw, as expected, but he'll get it quickly with proper coaching.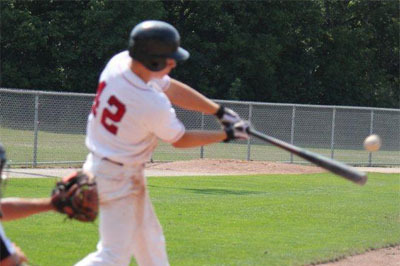 Courtesy of power-showcase.com
DOB: 6/22/1995
Height/Weight: 6'0", 200
Bats/Throws: R/R
Origin: Maple Ridge, British Columbia (Canada)
Has loads of athleticism and a highly projectable frame; present strength caters to plus bat speed from right side of plate; showcases advanced approach for his age; will likely develop average to above-average hit and power tool; above-average speed and arm strength, as well as high baseball IQ, led to move from catcher to shortstop; will probably return to original position once drafted; high-energy player with solid makeup.

Courtesy of laleysports.com
Height/Weight: 6'1", 190
Bats/Throws: R/R
Origin: Venezuela
Was signed by Blue Jays for $800,000 in July, but contract was voided after Castro failed a physical; 6'1", 190-pounder possesses solid-average speed at shortstop, but sound instincts make it less noticeable; has the smooth actions, sound glove and arm to stick at position; lack of range could prompt move to a variety of positions; will make his money with potential for above-average hit tool and surprising power; has an advanced feel for the strike zone relative to age; short, compact swing has resulted in hard contact to all fields.
Courtesy of PerfectGame.org
Height/Weight: 6'3", 190
Bats/Throws: R/R
Origin: Carlos Beltran Baseball Academy (San Lorenzo, PR)
6'3", 190-pound shortstop has drool-worthy frame with matching athleticism; impressive athlete in all facets of the game; under-control, natural defensive actions; slightly above-average speed and range, plus arm gives him chance to stick at shortstop; right-handed hitter has projectable swing with plenty of raw bat speed; loose wrists and explosive weight transfer could result in above-average power in a few years.
Be sure to read more of Mike's work and bookmark Prospect Pipeline. Want to chat about prospects or simply bother Mike? Follow him on Twitter.