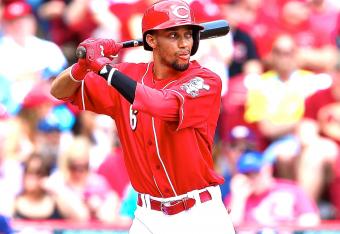 Getty Images
Don't look now, but Billy Hamilton is hitting.
The 23-year-old center fielder struggled out of the gate, batting just .140 through his first 12 games. Since then, however, he's quietly overcome the dismal start to his rookie campaign.
Headed into Thursday's series finale against the Pirates, Hamilton had hit safely in seven of his last eight games, with three multi-hit performances and a .355 average during that span. And yes, he also stole his share of bases—seven, to be exact.
The same question has followed Hamilton throughout his professional career: Will he hit well enough to stick as an everyday center fielder and leadoff hitter?