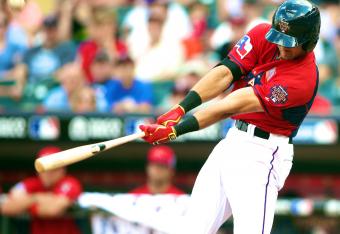 USA today
The SiriusXM All-Star Futures Game on Sunday night featured 50 of baseball's brightest young talents, but it was Texas Rangers prospect Joey Gallo who stole the show.
Serving as the designated hitter for the U.S. squad, Gallo, 20, provided the decisive blow in his team's 3-2 victory, as the slugger launched a monstrous, no-doubt, go-ahead two-run home run onto the concourse in right-center field with one out in the sixth inning.
Unsurprisingly, Gallo's tape-measure blast—measured at 419 feet, according to MLB Network's live broadcast—led to him being named the game's Most Valuable Player.
The baseball world already was buzzing about Gallo, whose 31 home runs headed into the event had him tied with teammate Kris Bryant for the highest total in the minor leagues.