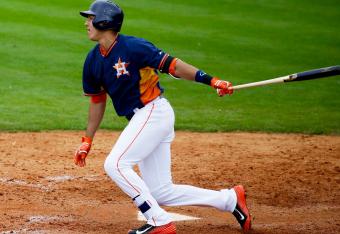 AP Images
The Carlos Correa countdown is on. The Houston Astros—check that, the AL West-leading Houston Astros, who sport the best record in the American League at 18-8 entering play Tuesday—suddenly find themselves in a position where promoting their young shortstop and No. 1 prospect to the majors might come sooner than expected and would make plenty of sense for a few reasons.
First, there's the recent injury to Jed Lowrie, the club's starting shortstop who will be out until after the All-Star break with a torn ligament in his right thumb, according to Evan Drellich of the Houston Chronicle.
Lowrie was playing very well in his return to the Astros, hitting .300/.432/.567 in 18 games. His loss means Houston has been forced to try to hold down the fort at short by turning to the likes of Jonathan Villar and Marwin Gonzalez, neither of whom is worthy of starting at the position for a team that actually is looking to return to relevance, if not contention in 2015.
Speaking of which, reason No. 2 has to do with just that. The Astros, of course, have been undergoing a necessary and extremely lengthy rebuilding process in recent years. They are coming off six straight losing seasons, tying them with the New York Mets for the longest active stretch of nonwinning campaigns in baseball.