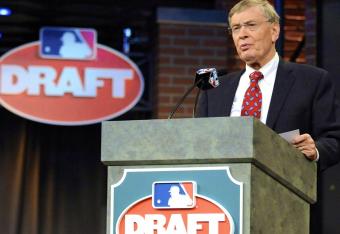 Bill Kostroun/Ap Images
It's never too early to start looking at the MLB draft.
This year's class is especially deep on the mound, with college pitchers such as right-hander Mike Matuella (Duke), right-hander Kyle Funkhouser (Louisville), righty Walker Buehler (Vanderbilt) and left-hander Nathan Kirby (Virginia) expected to come off the board early in the first round. Prep left-handers Brady Aiken, Kolby Allard and Justin Hooper are also in the mix.
However, impact hitters once again are few and far between in this year's class, as shortstop Brendan Rodgers and middle infielder Dansby Swanson (Vanderbilt) represent the top prep and college bats, respectively, and will likely be selected within the top 10 picks.
But with that said, endless changes are guaranteed in the class' player rankings between now and June, as countless names will fall out of consideration and be replaced by other up-and-coming draft prospects.