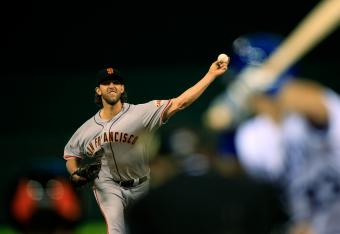 Jamie Squire/Getty Images
The Kansas City Royals' streak of eight consecutive wins to begin a postseason came to an end Tuesday night, as the American League champions dropped Game 1 of the World Series to the San Francisco Giants 7-1.
The Giants' stars stole Kansas City's postseason thunder in front of a electric crowd at Kauffman Stadium, as ace Madison Bumgarner turned in seven strong innings while Hunter Pence and Pablo Sandoval supported his cause at the dish.
Unfortunately, the Royals' dynamic lineup and pitching staff didn't shine as brightly in Game 1 of the Fall Classic as they did in previous series; starter James Shields' struggles continued, as he was chased from arguably the most important start of his career after just three-plus innings, while the Royals' offense combined for only four hits in 32 trips to the plate.
With Game 1 out of the way, it's now time to break down and rank both teams' top talents on display this October based on regular-season and postseason performances, as opposed to potential postseason impact or long-term potential in the major leagues.