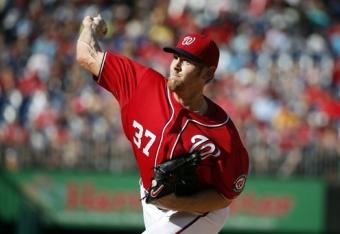 Alex Brandon/Associated Press
Two of the Nationals League's top teams will square off when the Washington Nationals take on the San Francisco Giants in the National League Division Series.
The series starts at Nationals Park, with Game 1 scheduled for Friday at 3:07 p.m. ET on Fox Sports 1.
The Nationals ran away with the NL East crown to make the postseason for the second time in the last three years, as the team won an NL-best 96 games while tying for the league's best home record (51-30). Beyond that, the Nationals offense ranked fifth in the NL in batting average (.253) and slugging percentage (.393), and fourth in home runs (152) and OPS (.714).
The Giants, meanwhile, are coming off an impressive win in the NL Wild Card Game, as they defeated the Pirates 8-0 behind a four-hit shutout from Madison Bumgarner.