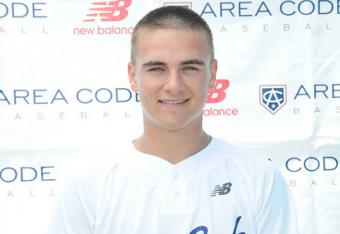 High school catcher Reese McGuire could end up being a top-10 pick. Courtesy of Area Code Baseball

Ask anyone what the most difficult position to draft in baseball is, and some might throw out pitching and shortstops. However, from the standpoint of being able to draft, develop and get a player to live up to their full potential, it has to be catcher.
A big reason it is so difficult to find catching is because the position is more physically and mentally demanding than any other spot on the field. These players have to know everything about their pitchers and how to call games, take a beating from foul balls and wild pitches, understand the strengths and weaknesses of opposing hitters and still make time to develop their hitting.
Since the offensive bar for catching is so low, and the value of an excellent defensive catcher is incredibly high, we seem to expect less production from the position.
Looking at the crop of catchers in this year's class, it is not a star-studded group, but there are a few names at the top of the heap who have the potential to be, at worst, solid regulars behind the plate. There is a huge drop after the top three, who all project to be first-round picks.