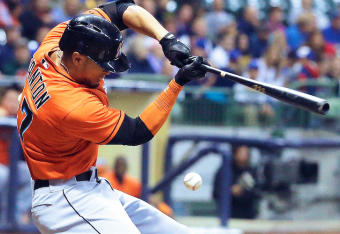 AP Images

And just like that, Giancarlo Stanton's MVP-caliber season came to a tragic end.
Batting in the fifth inning of Thursday's game against Milwaukee, Stanton was struck flush in the left cheek by an 88 mph fastball from right-hander Mike Fiers. The two-time All-Star fell to the ground immediately, clutching the left side of his helmet as blood streamed off his face.
After lying at home plate motionless—he did kick his foot while writhing in pain—for what seemed like an eternity, Stanton was transported off the field on an ambulance cart and immediately taken to the hospital.
The 24-year-old required stitches for facial lacerations and suffered multiple facial fractures as well as dental damage, per Yahoo Sports' Jeff Passan on Twitter. Passan also noted that Stanton still has a tooth lodged in his cheek and a hole in his lip so big the "doc's index finger fit in it."