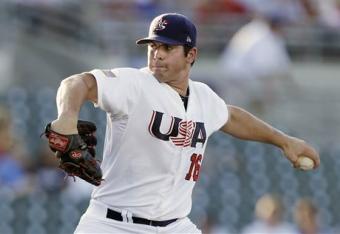 Charlie Neibergall/Associated Press
It will be several years until most of the 2014 draft picks are ready for the major leagues, but that doesn't mean we can't get excited about the professional debuts of some of baseball's brightest young players.
Thanks to an accelerated signing deadline in mid-July that was ushered in in 2012 as part of the new collective bargaining agreement—it used to be mid-August—draft picks are now encouraged to quickly begin their professional careers.
For some prospects, signing early gives them a head start on their development as well as the potential to debut in the major leagues ahead of schedule. At the very least, the half-season of experience this summer should improve their chances of receiving aggressive promotions to begin the following season.
Here's a look at 2014 draft picks who already turned heads in their professional debuts.