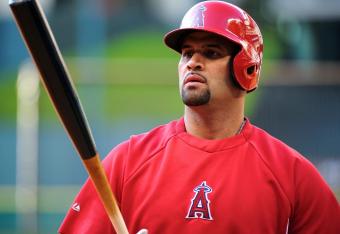 AP Images
After missing the final two months of the 2013 regular season due to injury, Albert Pujols is out to prove this year that he's still the same guy who won three NL Most Valuable Player awards in a five-year span.
Pujols was, without question, the most productive hitter in baseball during his time with the Cardinals (2001 to 2011), as his average season consisted of a .328/.420/.617 batting line, 41 doubles, 40 home runs, 121 RBI and a 64/89 strikeout-to-walk ratio.
Pujols continued to mash in 2012, his first season with the Angels, batting .285/.343/.516 with 50 doubles, 30 home runs and 105 RBI. But he also recorded more strikeouts (76) than walks (52) for the first time since his 2001 rookie campaign.
Last year, Pujols simply wasn't himself. He struggled out of the gate—at least by his standards—with a .762 OPS and four home runs in April/March, followed by a .703 OPS and four more long balls in May.