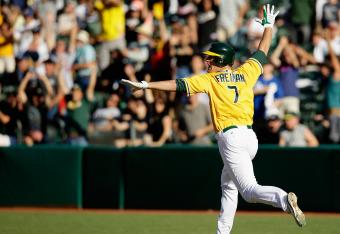 The A's Nate Freiman was last year's Rule 5 success story.
Ezra Shaw/Getty Images
After four days of wheeling and dealing at Major League Baseball's annual Winter Meetings, general managers and scouting directors will cap the week with the Rule 5 draft on Friday, Dec. 12.
Following the World Series, every team faced a Nov. 20 deadline to set their respective 40-man rosters so as to identify the prospects left unprotected for the December draft.
In a nutshell, minor league players become eligible for the draft when they reach their fourth of fifth draft since beginning their professional career, depending on their age before signing. A player can only avoid becoming eligible for the draft by being added to his team's 40-man roster before the aforementioned deadline.
Only teams with an available 40-man roster spot are eligible to participate in the event. Similarly, a team must pay $50,000 to claim a player in the draft.