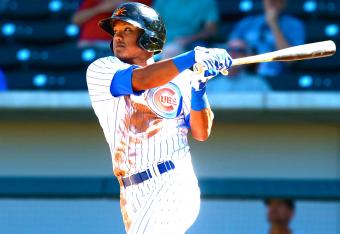 USA Today
A prospect usually becomes a household name either by making an impact in the major leagues or exceeding expectations and thriving at multiple minor league levels.
This past season, prospects such as Mookie Betts and George Springer were summoned from the minors in the middle of the year and made an immediate impact in the major leagues. Now, they're arguably two of the better second-year players in baseball heading into 2015.
On the other side of the spectrum, Joey Gallo is an example of a prospect who became a household name last season without reaching the major leagues.
Gallo began 2014 by posting an 1.119 OPS with 21 home runs at High-A Myrtle Beach, and the 21-year-old added another 21 bombs following a midseason promotion to Double-A Frisco. And after hitting at least 40 home runs in back-to-back seasons, Gallo is firmly on the major league radar heading into the 2015 season.