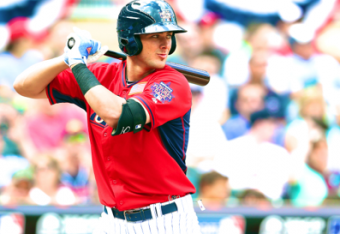 Getty Images
Twitter erupted Saturday night following news that Kris Bryant was pulled during the middle of Triple-A Iowa's game. He didn't appear to suffer an injury in the game, which only fueled speculation that the 22-year-old slugger was headed for The Show.
Unfortunately, it was learned soon thereafter that Bryant departed the game after aggravating a left-foot injury suffered earlier in the week, when he fouled a ball of his big toe, and would undergo an MRI the following day.
And just like that, the excitement regarding Bryant's potential call-up shifted to concern about the injury. With less than a month left in the minor league regular season, any injury requiring a trip to the disabled list would likely kill his chances of receiving a September promotion.
Thankfully, the MRI revealed no structural damage to Bryant's foot. The Cubs' top prospect returned to the lineup Tuesday.