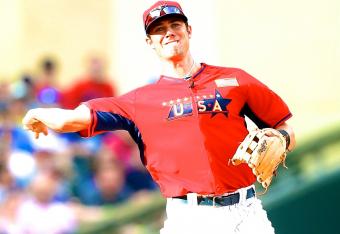 Getty Images
The 2014 season has seen a number of notable prospects receive call-ups to the major leagues. Even with the final month approaching, there will be more to come—and soon.
September brings with it expansion to 40-man rosters. Only a little more than a week away, that should allow for plenty of promotions of prime prospects.
Highly regarded youngsters like Marcus Stroman, Jonathan Singleton, Gregory Polanco, Ken Giles and Javier Baez have been seeing regular time for their respective clubs for quite some time now. Others, like Oscar Taveras and Taijuan Walker, have been shuttling up and down between the minors and majors for much of the year.
Earlier this week, the Boston Red Sox recalled outfielder Mookie Betts for yet another stint. He should stick for longer this time, considering they demoted incumbent center fielder Jackie Bradley Jr. to Triple-A Pawtucket to free up playing time for Betts.