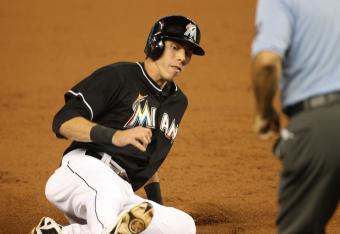 Marc Serota/Getty Images
Giancarlo Stanton and the Miami Marlins made sports history earlier this month when the two sides agreed to an unprecedented 13-year, $325 million contract extension through 2027.
While Miami's decision to offer Stanton, the runner-up in the voting for the 2014 National League Most Valuable Player Award, a contract of that magnitude may seem obscene, it also represented the organization's only opportunity to lock him up long term. After all, it's not as though 80-grade power grows on trees these days.
In general, teams have been more willing to give multiyear extensions to young players in the last two seasons, and especially to guys who made an immediate impact after reaching the major leagues and are likely to become increasingly costly once eligible for arbitration.
That was the driving force behind the Angels' decision to offer Mike Trout a six-year, $144.5 million contract extension last spring, as they essentially bought out his arbitration years while also securing subsequent years at a reasonable price.