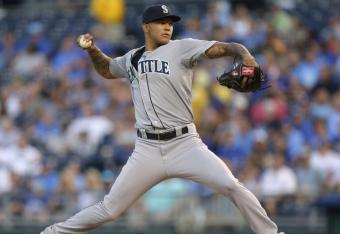 Will Taijuan Walker headline a prospect package to get David Price?
Ed Zurga/Getty Images
After coming up short in the sweepstakes for Prince Fielder and Josh Hamilton in each of the last two offseasons, respectively, the Mariners were determined to land one of the few elite hitters in this year's free agent class.
Well, they got one Friday.
According the Enrique Rojas of ESPNDesportes.com, Robinson Cano and the Mariners have agreed in principle on a 10-year, $240 million contract, which ties Albert Pujols for the third-largest deal in Major League history.
Though the Mariners will have the 31-year-old Cano under contract for the next decade, it's doubtful the organization would have pursued him so aggressively if they didn't plan on contending in the near future; they wanted Cano anchoring their lineup for the back-end of his prime years.
While Cano's contract will likely prevent Seattle from signing another big-name free agent this offseason, there is a growing belief that the organization will trade for Rays' ace David Price during next week's Winter Meetings.