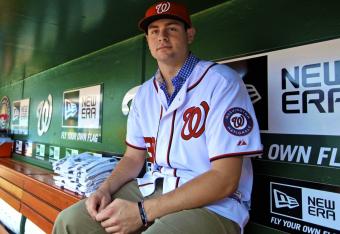 USA Today
The signing of free agent Max Scherzer to a seven-year, $210 million contract improved the Washington Nationals' starting rotation from arguably the best to undoubtedly the best in baseball.
The Nats will enter the 2015 season with three No. 1 starters in Scherzer, Jordan Zimmermann and Stephen Strasburg, with Gio Gonzalez, Doug Fister and Tanner Roark "filling out" the staff. However, the Scherzer signing also led to speculation that the Nats now might be more inclined to trade from their pitching depth.
Jon Morosi of Fox Sports tweeted that Washington would be willing to deal either Zimmermann or Strasburg if they landed Scherzer, which makes sense, as Zimmermann is set to become a free agent after the 2015 season and likely to command a monster free-agent contract, while Strasburg is set to follow in his footsteps the following year.
But there's one other major reason the Nationals seemingly are willing to consider dealing young talents such as Zimmermann and Strasburg: They have baseball's top pitching prospect in 20-year-old right-hander Lucas Giolito.