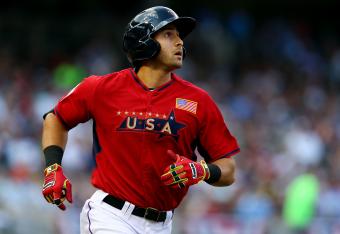 Elsa/Getty Images
Rangers prospect Joey Gallo introduced himself to a national audience at this year's All-Star Futures Game, as he put on an unbelievable power display during batting practice and followed it with a booming home run in the game.
The tape-measure blast—measured at 419 feet—led to the 21-year-old being named the game's Most Valuable Player. And given the scarcity of power in baseball right now, it surely put Gallo atop many teams' preferred trade lists.
At 6'5", 205 pounds, Gallo is a physical specimen with enormous, 80-grade raw power. The combination of his quick wrists, explosive bat speed and lofty swing give him effortless in-game power to all fields, making it easy to envision him being a true 35-home run threat at the highest level.
"He's got power. He's got the ability to even mis-hit a ball and be able to hit the ball to both sides of the ballpark. He doesn't have to be strictly a pull hitter to show power," said Rangers' short-season coach Rick Down, via Josh Norris of Baseball America.