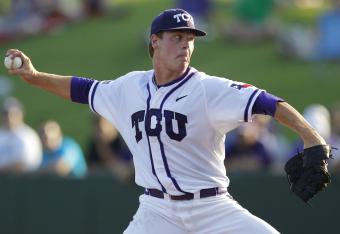 RHP Andrew Mitchell // Courtesy of Texas Christian University
Jim Cowsert-USA TODAY Sports
With roughly two weeks before the 2013 MLB Rule IV Draft, which begins on June 6, each team is trying to gauge the potential interest in certain players while keeping their own cards close to their chest.
As expected, the draft board continues to fluctuate with players moving in and out of first-round consideration. At the same time, a significant number of players have solidified their status as a potential Day 1 selection thanks to a strong showing this spring.
Due to the overall lack of impact talent in this year's class, it's conceivable that many teams will draft as a means of addressing their current needs in the high minors or at the major-league level. And as a result, there will undoubtedly be a large contingent of players who are both overvalued and, in turn, over-drafted.
Here's a look at the seven most overrated prospects in this year's class.