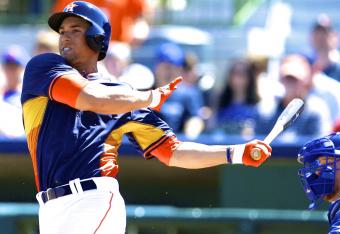 Getty Images
The Houston Astros are promoting top prospect George Springer before Wednesday's game.
The 24-year-old outfielder gets the call after a red-hot start this spring at Triple-A Oklahoma City, where he batted .353/.459/.647 with 17 runs, three home runs, nine RBI and four steals in 13 games. The promotion also comes in the midst of a six-game hitting streak, during which he batted .478 (11-for-23) with three home runs, three steals and six RBI.
"We feel pretty good with the reps he's got in Spring Training and the reps he's gotten so far during the season that defensively he's ready to go," Astros general manager Jeff Luhnow told Brian McTaggart of MLB.com. "Offensively, he's been heating up the last week or so, and we want to get a guy when he's hot."
If Springer spends the rest of the season in the major leagues, he will accumulate 166 days of service time and remain under team control through the 2020 season, according to MLB Trade Rumors.