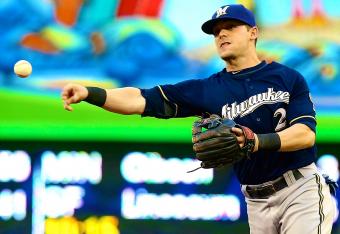 Getty Images
The first-place Milwaukee Brewers have been an unexpected surprise this season, and the same goes for the team's second baseman, Scooter Gennett.
Scooter, whose real name is Ryan Joseph Gennett, is in the midst of an under-the-radar breakout season, as he currently leads all National League second basemen with at least 320 plate appearances in batting average (.301), slugging percentage (.475) and OPS (.813).
Gennett's combined success between the last two seasons has him pegged as the Brewers' long-term second baseman, especially with Rickie Weeks set to leave as a free agent after the season. He's still relatively young, at 24, and has room to improve, but the early return on Gennett's brief career suggests he's for real.
Overall, the left-handed-hitting Gennett has now played 160 games since arriving in the major leagues last year, which is essentially a complete season.