NFL Predictions Week 10: Six NFL Favorites That Should Be on Upset Alert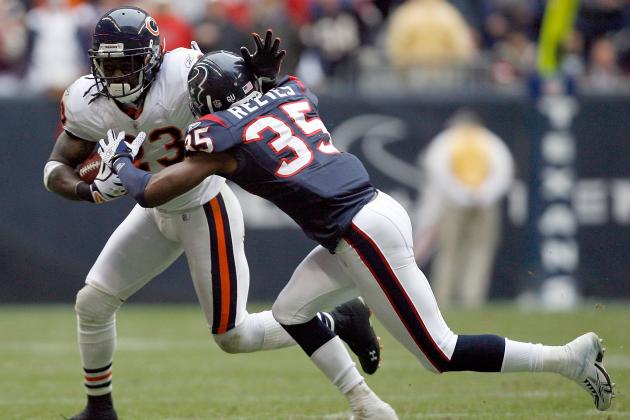 Harry How/Getty Images
Houston vs. Chicago is game of the week. Will it be an upset?
Today we are predicting six favored NFL teams that need to be on upset alert status for Week 10. This week offers up five games with a home underdog. Anytime you have five home dogs, there is an excellent chance that one or more will come through and pull off the upset.
The five home underdogs this week are the Cincinnati Bengals, Minnesota Vikings, New Orleans Saints, Carolina Panthers and Philadelphia Eagles.
In total there are eight games on the slate in Week 10 that offer up a team with a winning record going up against a team with a losing record.
After looking at every game on the schedule this week, we have determined that the underdog teams in these six games have enough reasons to think they have a reasonable chance to win.
Predicting upsets can be a rather tricky proposition, so we will provide ammunition for our choices. Let's see how many of these come to fruition. All line spreads used in the presentation are courtesy of ESPN.com.
Begin Slideshow

»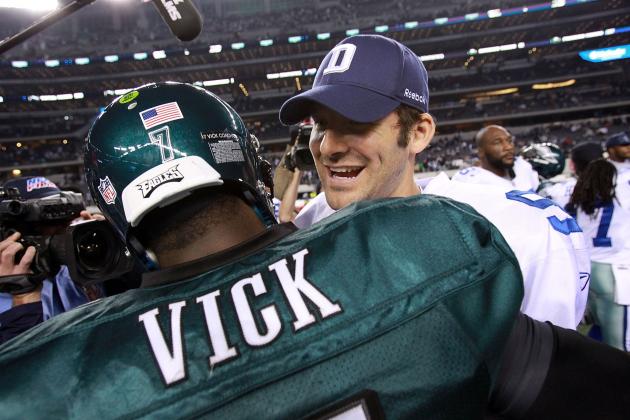 Ronald Martinez/Getty Images
Who steps up in Week 10, Michael Vick or Tony Romo?
Whenever NFC East teams square off with each other, you know it will be an entertaining game. The Week 10 contest between the Dallas Cowboys (3-5) visiting the Philadelphia Eagles (3-5) features two teams that have lost a combined six games in a row.
Dallas owner Jerry Jones and Philadelphia owner Jeffrey Lurie have been losing patience with the failures of their teams to appear in the postseason. For Andy Reid and Jason Garrett, whichever coach loses this game, they will be taking one step closer towards receiving a pink slip.
A win doesn't guarantee that either team will suddenly put together a long winning steak, but at least it will temporarily stop the internal bleeding. Call it a boost in team morale, but both teams really need this game.
Since Philadelphia is the home underdog and trying to overcome a four-game losing streak, it appears that they have the most on the line to lose. Michael Vick is battling to keep his starting job. The Eagles' patchwork offensive line has now had another week together to try to figure out how to keep Vick erect.
Philadelphia knows that they have to keep the ball in LeSean McCoy's hands, but sometimes they forget to follow through on that.
This game will more than likely be decided by turnovers, as neither team can be trusted to take good care of the football. These are the two worst teams in the NFC at turnover margin, so no lead is really ever safe. Dallas has a -11 margin, while Philadelphia is just slightly better at -9.
With just a one-point spread, this pick-em game will probably come down to the final minute deciding the winner.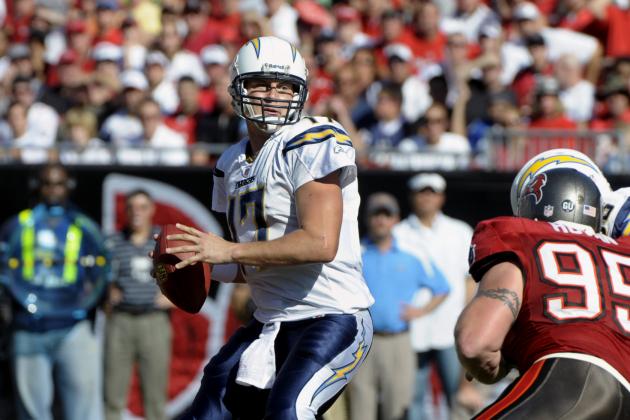 Al Messerschmidt/Getty Images
It will be strange when Philip Rivers sees Vincent Jackson in a Bucs uniform.
The San Diego Chargers (4-4) are visiting the Tampa Bay Buccaneers (4-4) this Sunday. One of the main highlights will be ex-Chargers WR Vincent Jackson facing his former team for the first time.
With both teams at .500 and coming off wins in their last game, this will be an interesting struggle to see which team can emerge with a 5-4 record. Tampa Bay is favored by three points in the contest.
Coach Greg Schiano has the Bucs playing a physical, disciplined style of football, and the team has responded by winning three of their past four games. Quarterback Josh Freeman has been on a roll with 16 touchdown passes. Freeman has already matched his TD total from the entire 2011 season.
San Diego on the other hand snapped a three-game losing streak in Week 9 and only trail Denver by one game in the AFC West. The Chargers have yet to defeat a team with a record of .500 or better, so this game will serve as a barometer for how good the Chargers are at the Week 10 mark.
This contest features strength against strength. The Chargers have the No. 4 rushing defense in the NFL, while the Bucs will counter with their sensational rookie RB Doug Martin. Martin set a Bucs franchise record by rushing for 251 yards and four touchdowns last week against the Oakland Raiders.
If San Diego's strong rush defense can find a way to contain Martin, the Chargers have an opportunity to come away with an upset win.
Rick Stewart/Getty Images
C.J. Spiller needs to come up big versus the Patriots.
On the surface, this game looks like it is a no-brainer. The New England Patriots (5-3) have the No. 1 overall offense in the NFL, and the Buffalo Bills (3-5) defense is ranked No. 31. New England has a +13 turnover margin, while Buffalo is -7. No contest, right?
The Patriots have enjoyed tremendous success against the Bills in the past decade. New England has never lost to the Bills in Gillette Stadium, so New England will have a lot of confidence coming into this game. That is exactly what the Bills are hoping for.
It's not like the Bills come into Gillette Stadium being in awe of the place. In this matchup last year, Buffalo actually rolled out to a 21-0 lead over New England, only to watch the Patriots storm back with 49-straight unanswered points.
For Buffalo to pull off the upset, they will have to game-plan for C.J. Spiller to come up with at least 20 touches. Spiller is their most dynamic weapon, and they need to give him more touches than they did last week against Houston.
The Bills can't afford to fall any deeper below .500 than where they are now, so they will be playing like a desperate team. When a team is desperate, and you are playing a divisional rival, anything is possible.
Consider that the Bills came out of their bye in Week 9 and played an inspired game against the Houston Texans. Houston has the best record in the AFC at 7-1. Buffalo was trailing by only 14-9 entering the fourth quarter.
Their offense usually doesn't have many red-zone issues, but they did against Houston. The biggest news was the improved play of the defensive unit against a very good offense.
One of the keys to the game will be the health of New England TE Aaron Hernandez. The Bills have problems with Rob Gronkowski, (then again who doesn't?), but if Hernandez is able to play on his bad ankle, the Bills' chances get even slimmer.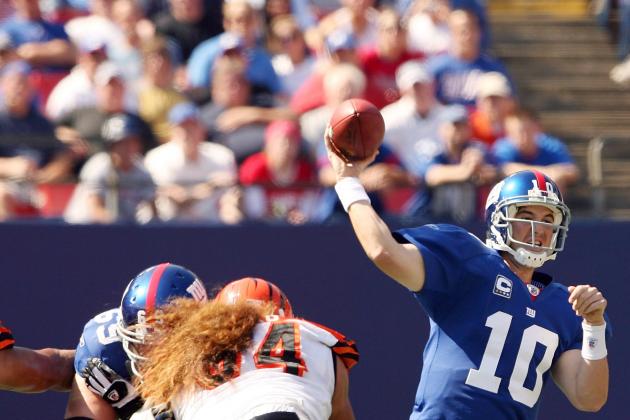 Elsa/Getty Images
Eli Manning hopes to extend the Bengals' losing streak.
We just discussed the Buffalo Bills being a desperate team. Well, how about the Cincinnati Bengals? The Bengals were one of the 2011 season underdog surprises, reaching the postseason led by rookies Andy Dalton and A.J. Green.
This year the Bengals (3-5) are in the midst of a four-game losing streak. They are in serious jeopardy of missing the playoffs and need a win in the worst way to keep their slim postseason hopes alive.
Did we mention that Cincinnati is a home underdog? Add up all of the above factors, and you have a number of valid reasons why the New York Giants (6-3) need to be on upset alert mode.
The Giants have been banged up in the secondary (seems like 2011 all over again), as Terrell Thomas went on I.R. and Kenny Phillips will sit out this game. The secondary will be asked to contain the talented A.J. Green, which will be one of the more intriguing matchups of this contest.
The Giants have entered their midseason swoon. They blew a 20-10 lead in the fourth quarter last week against Pittsburgh. Eli Manning has failed to top 200 yards in passing in three of the past four games.
Giants RB Ahmad Bradshaw ran for over 100-plus yards in two-straight games in Weeks 5 and 6, but since then his rushing totals have read 43, 78 and 48 yards. The Giants offense doesn't really have that much momentum coming into the game.
No doubt the Bengals realize that their backs are to the wall. The Giants have shown that they can be defeated, so look for Cincinnati to come out with an inspired game.
Chris Graythen/Getty Images
Drew Brees led the Saints to a 45-16 win over the Falcons in 2011.
The New Orleans Saints (3-5) are starting to turn things around, as they have won three of their last four games. The Atlanta Falcons (8-0) remain the only undefeated team in the NFL. Due to the Falcons' great start, the Saints are a three-point home underdog.
These teams met in New Orleans back in Week 16 last year on a Monday Night Football contest. Drew Brees led the Saints to a 45-16 rout of the Falcons, which proves that the guys making the odds have a very short memory. It also serves as a valid upset alert notice.
Things are slowly but surely getting back to normal for New Orleans this season, even though the 2012 season overall has been anything but normal. Joe Vitt is back and is now interim coach. General manager Mickey Loomis is back, as is LB Jonathan Vilma. The Saints finally decided to activate RB Chris Ivory last week, and he was one of the stars of the game.
The momentum that the Saints are building, combined with the knowledge that they easily handled the Falcons the last time the teams met in New Orleans, should give them plenty of confidence that they can pull off the upset win.
Atlanta will have to be on top of their game if they want to keep their streak going and knock the Saints back down a peg or two.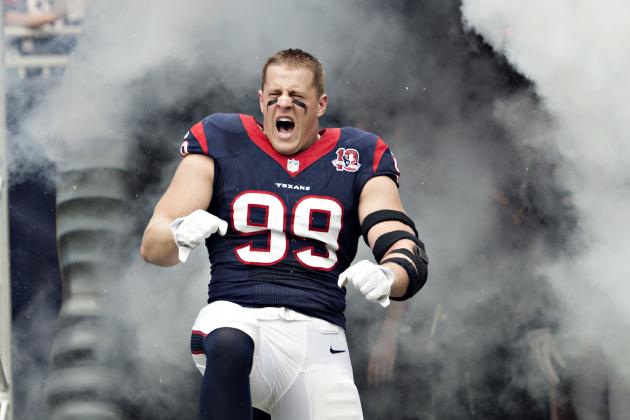 Bob Levey/Getty Images
Can J.J. Watt lead the Texans to an upset over the Bears?
Our final upset alert features the marquis matchup of Week 10 when the Houston Texans (7-1) visit the Chicago Bears (7-1) on Sunday Night Football. With a combined record of 14-2, these teams have been dominating in their respective conferences. The Bears are favored by just one point.
Home-field advantage in the playoffs is at stake, so there is a lot riding on this game. A national audience will be tuning in to see which team is able to make a statement. The winner will be one step closer to locking up a home playoff game.
Since these teams are so evenly matched, that is the main reason for the one-point spread. Both teams offer up a strong defense and a balanced offensive attack. It is not out of the question that these teams could wind up meeting again in the postseason. Of course, if that were to happen, it would be in New Orleans for Super Bowl XLVII.
There was a tweet from Tania Ganguli of the Houston Chronicle that provides a little preview of what Texans defensive coordinator Wade Phillips wants to do to Bears WR Brandon Marshall in this game.
"We double cover him every play. We're going to double cover him every play," Wade Phillips on @bmarshall#Texans
For the Texans to pull off the upset, the offense will have to do an excellent job of keeping the football away from the Bears defense. The Bears defense has been creating turnovers and scoring touchdowns at an alarming rate. Any time you have a pick-six, it is a huge momentum changing play. Chicago has turned the feat seven times this year.
Matt Schaub will need to keep the chains moving by handing the ball off to Arian Foster and by finding Andre Johnson and Owen Daniels down the field. Foster has a history of taking care of the football, but you know the Bears defense will be doing whatever they can to try to strip it away.
On defense, the Texans have a dangerous defensive line that offers multiple talents that can rush Jay Cutler.
The Bears' offensive line will be under the spotlight to see if they can prevent the Texans from picking up more than five sacks. If the Texans secondary applies tight pressure to take away the short passing game, J.J. Watt could have a field day with the Bears' offensive line.
This promises to be an entertaining game and will be a hard-hitting affair. This contest offers up a number of viable candidates for consideration of the NFL Defensive Player of the Year award.
It will be interesting to see who is able to step up and raise their game to another level. This could easily be viewed as a pick-em game, which is a testament to how good both teams are.
Thanks for checking out the presentation.