Fantasy Football's Biggest Winners and Losers from NFL Week 9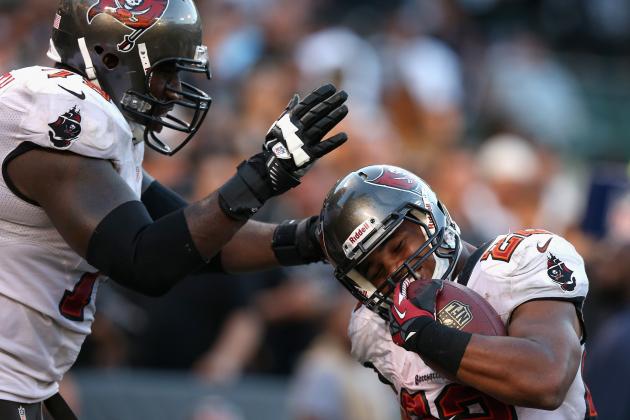 Ezra Shaw/Getty Images

We've almost hit the halfway mark of the 2012 NFL season, as every team in the league will have played at least half their games by the time Monday night's game has concluded.
That means that the fantasy football campaign is even farther along. Some teams are coasting their way toward a playoff berth, while others hurdle headlong into mediocrity.
Week 9 brought with it any number of fantasy performances that helped (or hurt) teams far and wide, including at least one showing that ranks with the best single-game outputs of all time.
Starting with that phenomenal effort, let's take a look at the best and worst of Week 9.
Begin Slideshow

»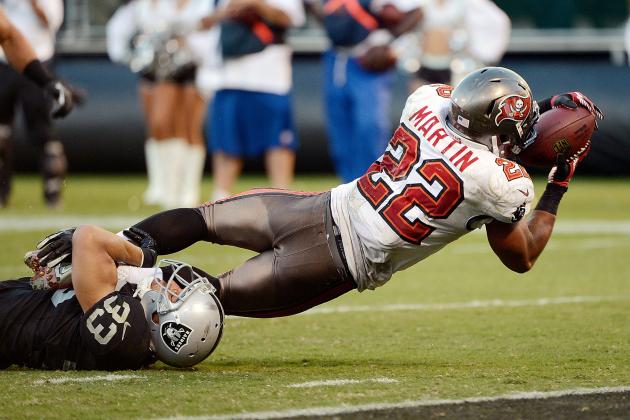 Thearon W. Henderson/Getty Images

There were any number of great performances by running backs in Week 9, from Detroit Lions ball-carrier Mikel Leshoure punching in three scores to Marshawn Lynch of the Seattle Seahawks and Adrian Peterson of the Minnesota Vikings combining for over 300 rushing yards at CenturyLink Field.
However, none of those games hold a candle to the outing Doug Martin of the Tampa Bay Buccaneers had against the Oakland Raiders on Sunday.
Martin racked up 251 rushing yards, scored four touchdowns, set an NFL record by scoring on three runs of over 45 yards in the same game and had one of the best fantasy football performances of the past decade.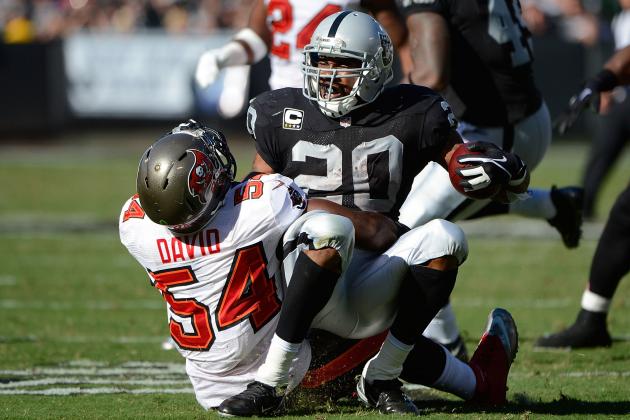 Thearon W. Henderson/Getty Images

While Doug Martin was having the game of his life, things weren't going so well for the other side.
Oakland Raiders running back Darren McFadden, who has been a major disappointment this year from a fantasy perspective, managed only 17 yards on seven carries before leaving the game with a leg injury.
Usually, I'm not one to fault players for getting hurt, but given McFadden's extensive injury history, watching the fifth-year pro limp off the field had to give his fantasy owners a very unpleasant case of deja vu.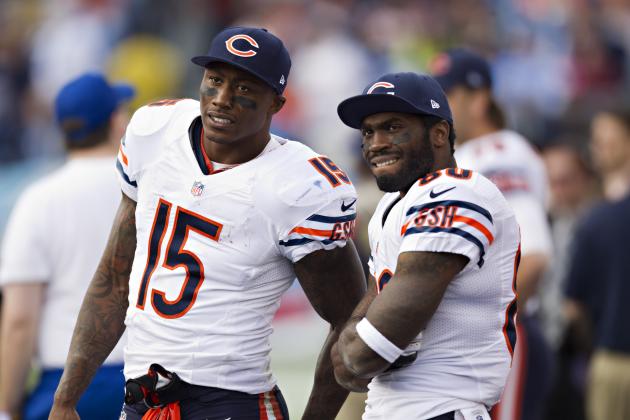 Wesley Hitt/Getty Images

It's hard to believe given the current pass-happy NFL, but it's been a decade since a wide receiver for the Chicago Bears had over 1,000 yards in a season.
If Week 9 was any indication, that drought is definitely ending this year.
Seventh-year veteran Brandon Marshall is primed to not only end the drought, but annihilate it, as he is now up to 797 receiving yards on the season after exploding for 122 yards and three touchdowns on nine catches in the Bears' demolition of the Tennessee Titans.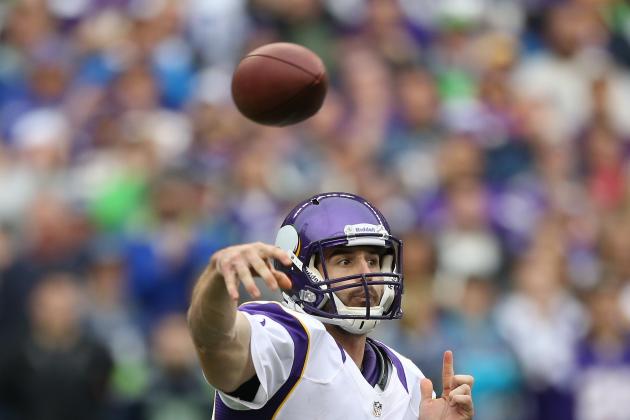 Otto Greule Jr/Getty Images

After a hot start to the 2012 season, second-year quarterback Christian Ponder entered the fantasy radar as a sleeper start at his position.
Now, it would appear that Ponder's fantasy prospects have slipped into a coma.
For the second time in three weeks, Ponder failed to top 75 yards passing for the entire game, managing only 63 yards and an interception in a loss to the Seattle Seahawks.
For the few unfortunate fantasy owners who were forced to start Ponder in deep leagues, you have my condolences.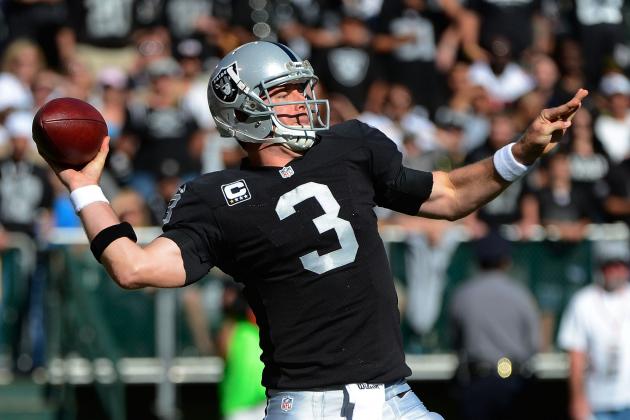 Thearon W. Henderson/Getty Images

Oakland Raiders quarterback Carson Palmer may not have been a winner on the scoreboard Sunday, but this is fantasy football, so we don't care.
When your team falls behind and your starting tailback goes down, what's bad in the NFL is beautiful for fantasy owners.
Forced to the air by that combination of circumstances, the 10th-year veteran attempted over 60 passes, throwing for over 400 yards and four touchdowns and finishing Week 9 as fantasy football's top passer.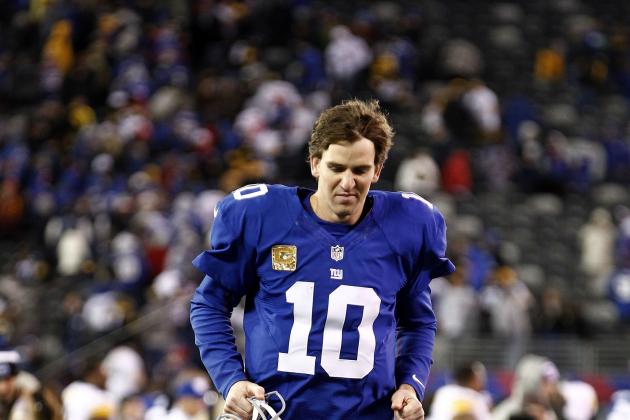 Jeff Zelevansky/Getty Images

If I didn't know any better, I'd swear this was an awards ceremony—I appear to be fixated on quarterbacks right now.
However, the performance of New York Giants quarterback Eli Manning in Week 9 isn't going to win any awards, unless it's a golden turkey.
For the second straight week, the two-time Super Bowl MVP had a rotten game statistically, throwing for only 125 yards with an interception in New York's loss to the Pittsburgh Steelers.
Hard to blame the Giants for looking a little flat Sunday, though. It's been a rough week.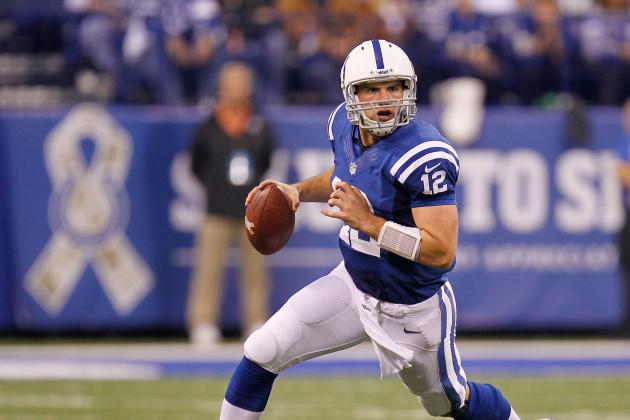 Gregory Shamus/Getty Images

One more quarterback, and then I'm done. I promise.
Granted, there have been quite a few signal-callers listed here for one reason or another this week, but if there's one quarterback who deserves the mantle of "winner" in Week 9, it's rookie Andrew Luck of the Indianapolis Colts.
Luck set an NFL record for passing yards by a rookie in leading the Colts to their fifth win of the season, throwing for 433 yards and two touchdowns in a victory over the Miami Dolphins.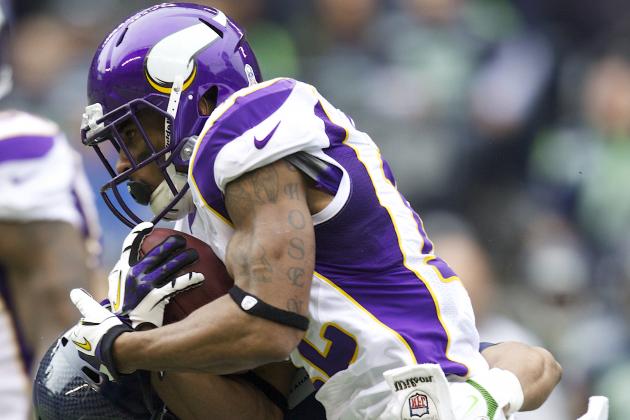 Stephen Brashear/Getty Images

Minnesota Vikings wide receiver Percy Harvin is one of the most dangerous players in the NFL with a football in his hands.
Unfortunately, when your quarterback can't top 75 passing yards in a game, it's rather difficult to get involved in the offense.
Sure enough, the fourth-year pro was nearly invisible in Sunday's loss in Seattle, and were it not for the fact that Harvin gained 24 yards on four rushes, his afternoon would have gone from paltry to microscopic.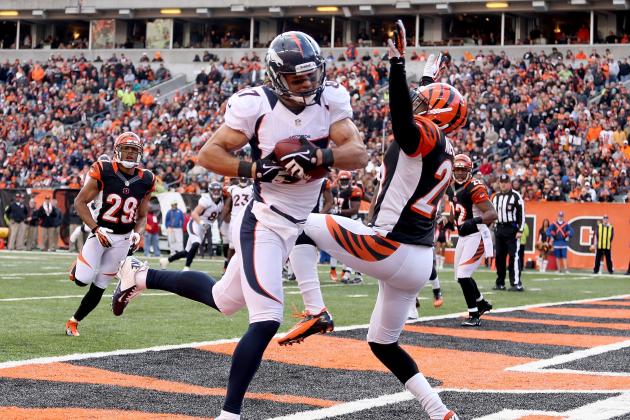 Andy Lyons/Getty Images

If there's one group of players that has to be the most pleased with Peyton Manning's play for the Denver Broncos, it's the wide receivers.
Not only have their stats gotten a nice bump, but they're no longer in as much danger of being hung out to dry by a Tim Tebow pass that leads them right into a concussion.
In Week 9, the main beneficiary of Manning's accuracy was Eric Decker. For the second straight game, the third-year pro caught two touchdown passes, reeling in eight passes for 99 yards in a win over the Cincinnati Bengals.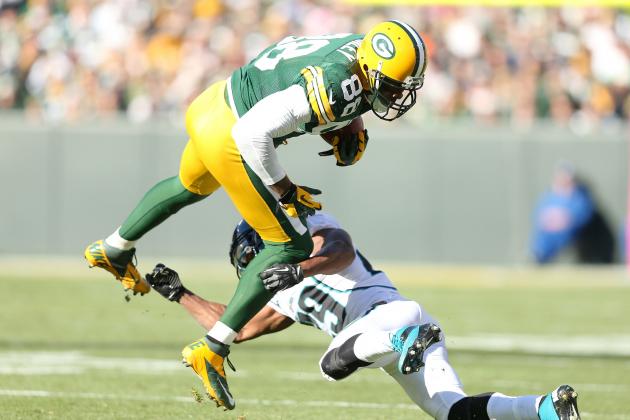 Andy Lyons/Getty Images

A physically gifted tight end playing on one of the NFL's most prolific offenses should be a productive fantasy asset.
That is, at least, unless their name is Jermichael Finley.
Whether it's due to his drops or his bellyaching, Finley has become a complete afterthought in the Green Bay Packers offense even with all their injuries at wide receiver, and after making all of one catch in Sunday's win over the Arizona Cardinals, the fifth-year pro now has seven catches for 73 yards over his past four games.
Rob Gronkowski of the New England Patriots gets that in a half—not even an especially good one, either.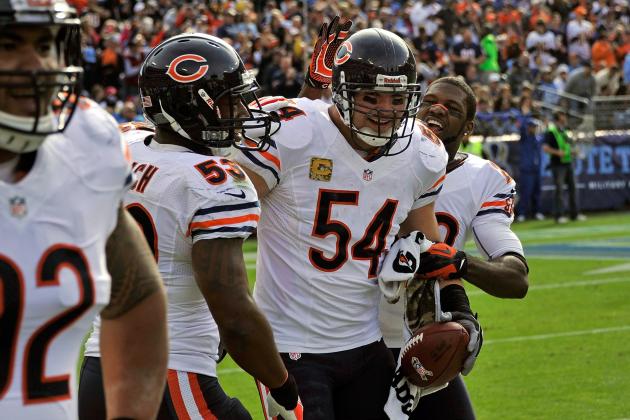 Frederick Breedon/Getty Images

To this point in the season, despite some stellar performances by defensive units, I had resisted requests to include a team defense on this list.
However, after the beating the Chicago Bears laid on the Tennessee Titans Sunday, I can resist no longer.
For the third time this season, the Bears defense and special teams scored a pair of touchdowns, this time on a blocked punt and interception return by linebacker Brian Urlacher.
Throw in a pair of sacks and five turnovers, and you have the team defense of Week 9 that posted the sort of fantasy score you would be happy to get from any position.
Jamie Squire/Getty Images

Every week, there are deserving players that for one reason or another don't make the cut, such as the running backs who didn't make this week's list due to the historic performance put on by Doug Martin of the Tampa Bay Buccaneers.
Then there are players who, in hindsight, should have made it, and that's the case with tight end Brandon Myers of the Oakland Raiders.
The 27-year-old, who is enjoying a breakout of sorts in his fourth NFL season, likely started for a number of fantasy teams this week due to Rob Gronkowski of the New England Patriots and Vernon Davis of the San Francisco 49ers being on a bye.
Those fantasy owners who did start Myers were handsomely rewarded, as he reeled in eight passes for 58 yards and a pair of scores in Oakland's loss to the Bucs.