Every NFL Team's Biggest Red Flag at Midseason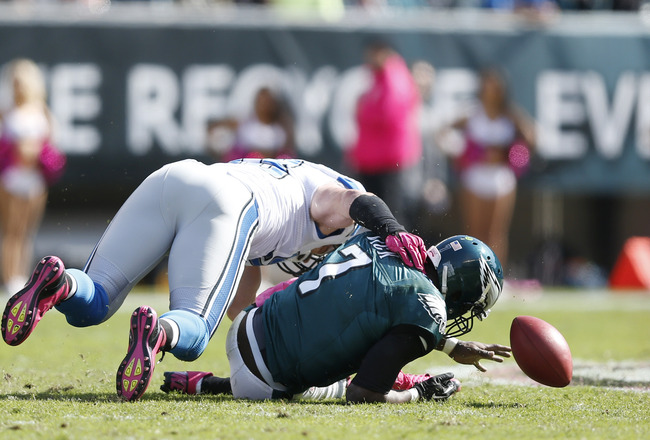 Joe Robbins/Getty Images
One NFL team ends each season as champion, but for the other 31 teams, the season ends up defined by their flaws. The outcomes of games hinge on what a team can't do well just as often as they hinge on what it can do better than most others.
Halfway into the season, it is painfully clear what the No. 1 obstacle to success will be for teams around the NFL. What problem areas are the biggest red flag for each NFL team?
New England Patriots: Pass Defense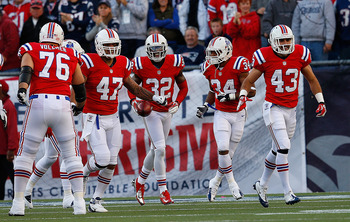 Jim Rogash/Getty Images
Not much has changed in a year for the Patriots pass defense. It is 28th in passing yards allowed and next to last in the NFL in passing touchdowns allowed.
The Patriots lost games to the Seahawks and Ravens because they let Joe Flacco and Russell Wilson each throw three touchdowns against them—season highs for both quarterbacks.
Injuries to starting safeties Patrick Chung and Steve Gregory have put rookies Alfonzo Dennard and Tavon Wilson on the field for opposing offenses to exploit. The Patriots were one of the few teams to address its problem area before the trade deadline, acquiring Aqib Talib from the Buccaneers.
Even if Talib flops, this team was a play or two away from winning the Super Bowl last year with an arguably worse pass defense, so it shouldn't fret too much about its Achilles' heel.
New York Jets: Consistency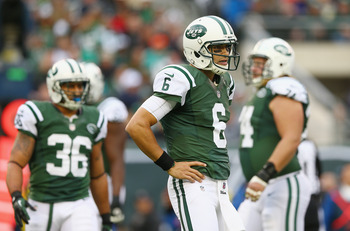 Elsa/Getty Images
Who can possibly say which Jets team will show up in any given week?
They've blown out divisional rival Buffalo at home and gotten blown out by divisional rival Miami. They outplayed New England in a tight loss and gave Houston all it could handle, but San Francisco disemboweled them. Running back Shonn Greene had more yards in a blowout win over the Colts in Week 6 than he had in Weeks 2-5 combined.
Surely losing top receiver Santonio Holmes and all-world cornerback Darrelle Revis hasn't helped matters, but inconsistent effort and ineffectiveness have plagued every unit of the Jets, making it impossible for them to build any momentum week to week.
Miami Dolphins: Pass Offense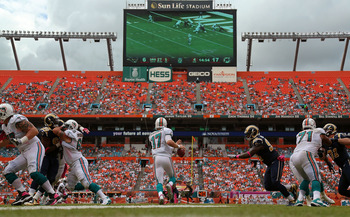 Mike Ehrmann/Getty Images
Rookie quarterback Ryan Tannehill, rookie head coach Joe Philbin and the Miami Dolphins are ahead of schedule, with a legitimate shot at a playoff berth this year in the mediocre AFC.
If they don't make it, expect a limp pass offense to be the culprit.
The Dolphins are in the bottom 10 in passing yards and tied for worst in the league in passing touchdowns. The team lacks a real No. 1 receiver, as Brian Hartline has been taken away too easily by teams with strong No. 1 cornerbacks.
When the Dolphins have to come from behind to win, their lack of a credible passing game will come back to haunt them.
Buffalo Bills: Run Defense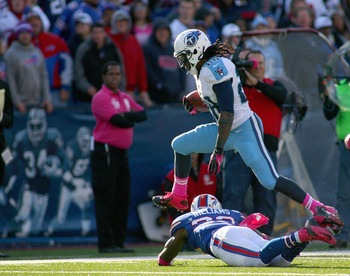 Rick Stewart/Getty Images
Buffalo Bills running back C.J. Spiller is No. 1 in the league in yards per carry at 7.3.
Anyone who has carried the ball against his team is No. 2, at 6.0.
Chris Johnson was reborn against the Bills after a terrible first month of the season. They are worst in yards allowed, worst in rushing touchdowns allowed (by four) and have given up over 200 yards rushing in three of their last four games.
Defensive coordinator Dave Wannstedt better come up with some answers quickly, because they face Arian Foster and the Houston Texans this week.
Tennessee Titans: Pass Defense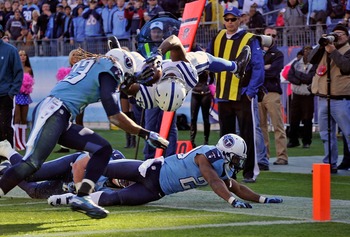 Frederick Breedon/Getty Images
The most accurate passer in the NFL isn't Alex Smith at 69.4 percent.
It's any quarterback facing the Tennessee Titans.
The Titans have allowed 72 percent of passes attempted against them to be completed. They are in the bottom five in the league in passing yards allowed, sacks and scoring defense. It doesn't help that they are also in the bottom five in run defense.
Letting Cortland Finnegan walk in free agency has been a disaster for the secondary, and an early-season ankle injury to anchor middle linebacker Colin McCarthy hasn't helped. The only solace for Titans fans is that weak pass offenses like Miami, Jacksonville (twice) and the New York Jets await them on the second-half schedule.
Houston Texans: Nickel/Dime Defense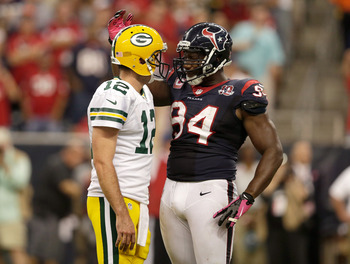 Scott Halleran/Getty Images
It isn't very often that a 6-1 team loses its only game by a score of 42-24, allowing six touchdowns in the process. The Houston Texans have allowed seven passing touchdowns in their other six games combined.
The Green Bay Packers forced the Texans to go their nickel and dime packages with a spread offense, which eliminated the physical edge their defense usually has over the competition.
The second half of the season will bring similar tests against New England, Detroit, Indianapolis and Buffalo, which will give defensive coordinator Wade Phillips a chance to fix the situational pass defense's flaws before the postseason.
Indianapolis Colts: Takeaway Shortage
Rob Carr/Getty Images
Rookie quarterback Andrew Luck and his plethora of rookie supporting-cast players on offense have situated the Colts with a chance to make the playoffs in his first year. If he can get some help from the defense, Luck and the Colts just might pull off one of the more stunning one-year turnarounds in NFL history.
The missing ingredient has been takeaways from the defense. The Colts are dead last in the NFL in interceptions (two) and fumble recoveries (two), due in large part to injuries to Dwight Freeney and Robert Mathis, whose pass rush was supposed to key the new 3-4 defense installed by Greg Manusky.
Freeney is back, but not producing. Perhaps the impending return of Mathis will make it easier on both of them to separate opposing quarterbacks from the ball or force them into bad throws.
Jacksonville Jaguars: Pass Offense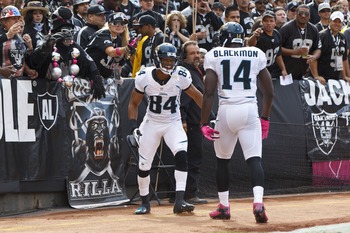 Jason O. Watson/Getty Images
This one might seem too easy, with league punchline Blaine Gabbert at quarterback, but he has actually been better than he was during his embarrassing rookie season.
The Jaguars' offseason investment at wide receiver has yielded disappointing results, with Laurent Robinson out for an extended period with a concussion and No. 5 overall pick Justin Blackmon barely showing up on game day.
Blackmon's uneven effort has been a stark contrast to that of second-year receiver Cecil Shorts, who has been routinely getting behind defenses for big plays. That hasn't stopped the Jaguars from ranking 29th in passing touchdowns and 32nd in passing yards.
Give an assist to the offensive line for allowing the eighth-most sacks in the NFL.
Pittsburgh Steelers: Big-Play Defense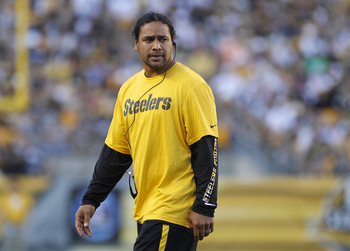 Justin K. Aller/Getty Images
The Steelers are No. 1 in pass defense, No. 2 in total defense and No. 5 in run defense. Good old Steel Curtain, right?
Wrong.
The Steelers have been lacking big plays on defense, and it will be a problem when they aren't facing offenses like those of the Jets, Eagles, Bengals and Redskins.
Only five teams have fewer than their 12 sacks, and only one has fewer than their three interceptions. Pittsburgh is also one of 12 teams than hasn't scored a defensive touchdown this year.
Safety Troy Polamalu has missed most of the season with a calf injury, and the team hasn't had both of its stud outside linebackers, Lamarr Woodley and James Harrison, on the field very often this season.
Baltimore Ravens: Run Defense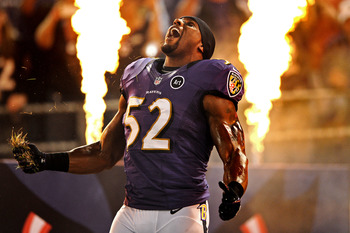 Patrick Smith/Getty Images
The recipe to beat the Ravens in the wake of Ray Lewis's season-ending triceps injury is clear: Run, run and then run some more.
The Ravens are 30th in the league in rushing yards allowed, and they have more rushing attempts against them than any other team in the league. In the last three games, the Chiefs and Cowboys have both gone over 200 yards rushing, and the Texans were over 175. Trent Richardson and Darren McFadden will test this unit in the next two weeks.
The Ravens could miss the postseason for the first time in the Joe Flacco era. Two contests against Pittsburgh and games against the Giants, Redskins and Broncos make up five of their last seven games.
Cincinnati Bengals: Running Game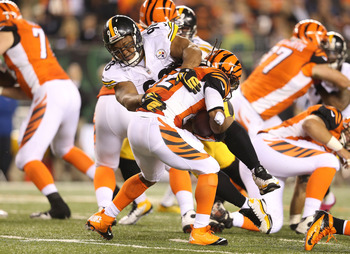 Andy Lyons/Getty Images
BenJarvus Green-Ellis was supposed to represent an improvement over Cedric Benson in the running game this year for the Bengals. Instead, Green-Ellis has looked worse than he ever did in New England.
The Bengals are under 100 rushing yards per game and four yards per carry. Take away the effective running in the season-opening blowout loss to the 30th-ranked Ravens run defense, and the picture gets even worse.
With change-of-pace back Bernard Scott on injured reserve, the picture isn't getting any rosier.
Second-year quarterback Andy Dalton needs to get out of 3rd-and-long situations or this team is going south quickly.
Cleveland Browns: Receivers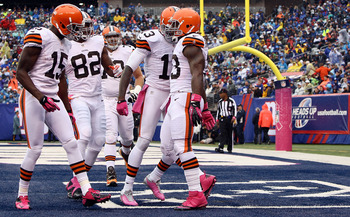 Alex Trautwig/Getty Images
Rookie quarterback Brandon Weeden got off to a shaky start, but he has righted the ship and clearly is not the problem with the Browns passing game.
The receivers, on the other hand, are a constant disappointment. The Browns are tied for the league lead for 22 dropped passes.
The Browns have been spending picks at the position, but players like Greg Little and Mohamed Massaquoi are failing to make impacts because of inconsistency and injuries. The tight ends are also mediocre, with Ben Watson providing little run-after-catch threat or matchup advantage.
Until Weeden has some quality weapons, the Browns offense will remain in the bottom half of the league.
San Diego Chargers: Philip Rivers' Average Play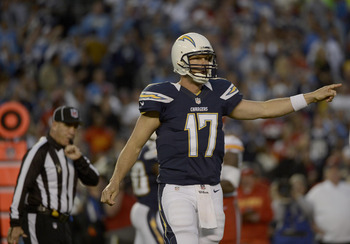 Donald Miralle/Getty Images
Sure, Philip Rivers was able to exploit a hapless Chiefs team on Thursday, but going into the game, he had been decidedly average. His 10-9 touchdown to interception ratio and 6.8 yards per attempt lead a set of statistics that have Rivers on pace to have his worst season in six years.
Some of the blame belongs at the feet of general manager A.J. Smith, who let Vincent Jackson walk in free agency in order to sign Robert Meachem. When Meachem missed the game versus the Chiefs, he was replaced by street free agent Danario Alexander, who looked better than Meachem has at any point this season.
The Chargers have been getting by during the Rivers era because he elevates the passing game, but that's not happening this season.
Kansas City Chiefs: Everything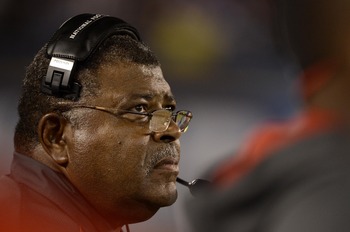 Donald Miralle/Getty Images
The statistic of the Chiefs not leading for a single play from scrimmage has been often repeated over the last few weeks (and it still holds true after a Thursday-night loss to the Chargers).
Still, there are plenty of other stats that show the systemic collapse of a team that contended for a division title last season without its best talent on each side of the football.
Kansas City is last in turnover margin, and its quarterback play has been so bad that Brady Quinn is actually first on the depth chart right now despite being injured.
Free-agent investments on the offensive (Eric Winston) and defensive (Stanford Routt) sides of ball and the returns of Jamaal Charles and Eric Berry have made little difference for a team that is going in the wrong direction.
Denver Broncos: Performances Against Best of AFC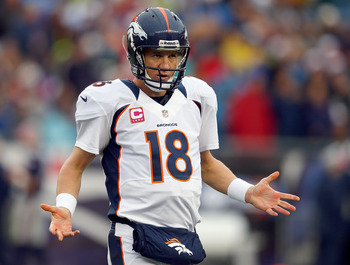 Jim Rogash/Getty Images
After the initial jubilation of the Peyton Manning signing died down, the Broncos were rarely mentioned as a Super Bowl contender, but they are back in the mix now after a dominant win over the New Orleans Saints.
That talk might be premature, because the Broncos lost to two of the AFC's best teams, Houston and New England.
The Broncos defense had no answer for the Patriots' relentless hurry-up offense, and Manning couldn't crack a Patriots defense that has been one of the worst against the pass all season.
The Broncos defense was kept off balance by the Texans' play-action passing, and Manning didn't do much until the game was basically out of reach.
Denver's biggest AFC test between now and the playoffs will come in Week 15 at Baltimore.
Oakland Raiders: Pass Defense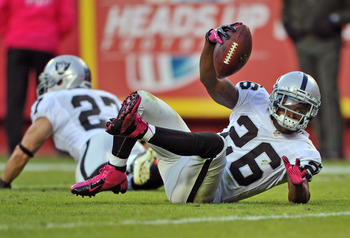 Peter Aiken/Getty Images
Quick, name the Raiders' best pass-rusher. How about their best cover corner?
After letting Stanford Routt and Kamerion Wimbley go because of ridiculous contracts signed during the Al Davis regime, the cupboard is empty for the Oakland pass defense. The Raiders have only 10 sacks and five interceptions, and they have allowed 67.3 percent of passes attempted against them to be completed.
There is hope; they have been the only team to contain Matt Ryan, Roddy White and Julio Jones, with their three-interception performance in Week 6.
Philadelphia Eagles: Sack Differential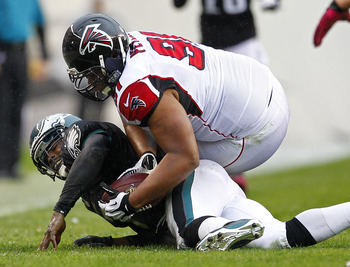 Rich Schultz/Getty Images
A lot of hay has been made of Michael Vick's turnovers, and coverage of the Eagles would lead one to believe that he is the focal point of their problems this year. That idea covers up the real problem with the Eagles, which is typified in the statistic of sack differential.
The Eagles have allowed 20 sacks, which is sixth worst in the league. They have notched only nine sacks, which is second worst in the league.
The offensive line has the excuse of losing left tackle Jason Peters and center Jason Kelce, but the defensive line has no excuses. It has one of the most fearsome sets of defensive ends in the league, Jason Babin and Trent Cole.
Until the Eagles protect their quarterback and harass the oppositions' passers, they will continue to struggle.
Dallas Cowboys: Finishing Games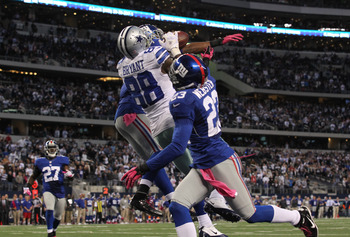 Matthew Emmons-US PRESSWIRE
Another year of Dallas Cowboys football brings another set of excruciating what-if questions.
What if Tony Romo had been able to get one more play off before an unsuccessful game-winning field-goal attempt versus the Ravens? What if Dez Bryant's fingertip had come down in-bounds instead of on the end line versus the Giants?
The Cowboys are talented enough to hang with any team in the league, but in crunch time, they find ways to lose.
You might chalk this up to bad luck, but the Cowboys have had inexplicable last-second collapses as a hallmark of the Romo era, and in just about every conceivable fashion.
New York Giants: Bend-but-Don't-Break Defense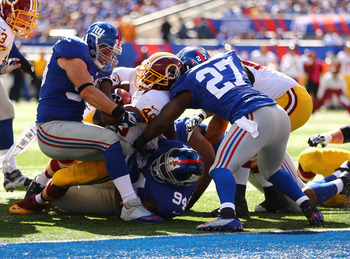 Al Bello/Getty Images
For a defending Super Bowl champ, the Giants sure have an easy defense to move the ball against.
They're 27th in yards allowed per carry, 29th in yards per completion and 30th in yards per play. Only lowly units like those of New Orleans, Kansas City and Buffalo rank below them in these categories.
The defense has been surviving with an unsustainable 16 interceptions. New York's second-half schedule features quarterbacks like Aaron Rodgers, Ben Roethlisberger and Matt Ryan, with no remaining matchups against Tony Romo, Alex Smith and Cam Newton, who threw 11 of those 16 interceptions.
Washington Redskins: Pass Defense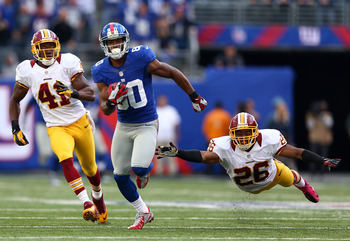 Elsa/Getty Images
It's hard to ignore a group of receivers that dropped 10 Robert Griffin III passes in last week's loss to the Steelers and doesn't feature a legitimate No. 1 or even No. 2 receiver, with Pierre Garcon out, but Griffin and the running game can mask that deficiency.
There is no help for a pass defense that has been the worst in the league.
The Redskins are 32nd in the NFL in yards and passing touchdowns allowed, and no quarterback had thrown for under 299 yards against them until Ben Roethlisberger last week, and that was only because the game was decided well before the fourth quarter.
The loss of Brian Orakpo has defanged the pass rush, so this could be a big problem until he returns in 2013.
Chicago Bears: Pass Blocking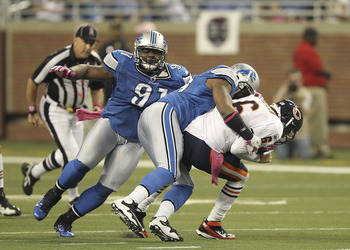 Leon Halip/Getty Images
The Chicago Bears are 6-1, but there is a huge hole on their team that will be a problem if their defense can't return an interception for a touchdown in seemingly every game. The offensive line has allowed the third-most sacks in the league, despite the team being 30th in pass attempts and playing from ahead for most of the season.
If the Bears fall behind and opposing defensive lines can tee off on their porous pass-blocking, Jay Cutler will be ineffective—or worse, hurt—as he was when Ndamukong Suh body-slammed him a few weeks ago.
Last year, Cutler's thumb injury spelled the end of Chicago's playoff hopes.
They must find a way to protect Cutler before they lose him again.
Detroit Lions: Offensive Balance
Leon Halip/Getty Images
When you pass more than the New Orleans Saints, you know that you need to mix in the run some more if you want to contend. The Detroit Lions are leading the league in pass attempts, with almost 47 per contest, with only 24 rushing attempts per game, which is basically a 2-to-1 pass-run ratio.
Matthew Stafford and the pass offense can't do all of the heavy lifting for this team.
Second-year back Mikel Leshoure and waiver-wire find Joique Bell need to provide balance and consistent gains from the running game in Scott Linehan's offense for the Lions to get back to the playoffs after a 12-year drought ended last season.
Minnesota Vikings: Schedule
Hannah Foslien/Getty Images
Remember when the Vikings were 4-1 with a signature win against 2011 NFC semifinalist San Francisco? That moment is getting smaller in the rear-view mirror, as the team approaches a second-half schedule as brutal as any in the league.
The Vikings are currently 5-3, but to even have a chance to get to 8-8, they will have to beat Seattle in Seattle, Houston in Houston or win one of four matchups against NFC North big brothers Chicago and Green Bay.
The Vikings had their worst game of 2012 in Week 8, which is a terrible trend heading into a very challenging second-half slate of games.
Green Bay Packers: Running Game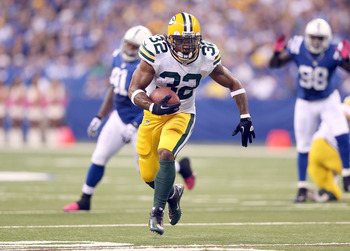 Andy Lyons/Getty Images
The Green Bay Packers have been successful without much of a running game to speak of for the last few seasons, but that changed earlier this year, when free-agent scrap-heap signing Cedric Benson gave them balance and quality carries against defenses geared to stop Aaron Rodgers.
Since Benson left with a foot injury, Alex Green hasn't even broken 2.5 yards per carry, even though the Packers are giving him ample opportunity to do so every game.
Benson can't return soon enough. He's eligible to come off injured reserve in Week 14, just in time for a run of three divisional games in the last four weeks of the season.
Carolina Panthers: Passing Game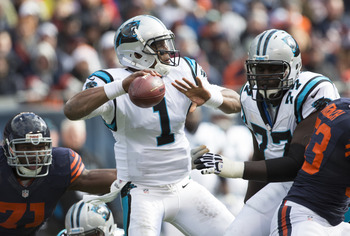 John Gress/Getty Images
A lot of the Carolina Panthers' problems this year intersect at Cam Newton.
There is a good argument that the running game hasn't been correctly conceived or utilized, but if Newton were passing more effectively and keeping defenses off balance, that deficiency could easily be hidden.
Newton has the Panthers 27th in completion percentage and tied for last in passing touchdowns. He never seems to get into good rhythms, making success sporadic.
When Steve Smith still hasn't found the end zone seven games into the season, something needs to change, and quickly.
New Orleans Saints: Defense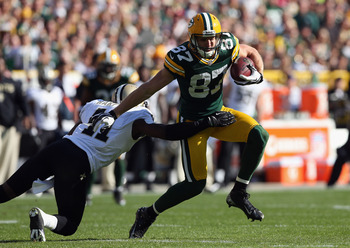 Jeff Gross/Getty Images
Perhaps the most damning evidence against Bountygate is the poor excuse for a defense the Saints are fielding in the wake of the scandal. The team is at or near the bottom of the league in almost every significant statistic: 31st in yards allowed, 27th in pass yards allowed, 31st in rushing yards allowed, 28th in interceptions.
The Saints are the only team to lose to the Kansas City Chiefs, mostly due to a 200-plus-yard performance by Jamaal Charles against their sieve-like run defense.
This week, Michael Vick and the Eagles get a chance to revive their season against this group.
Tampa Bay Buccaneers: Pass Defense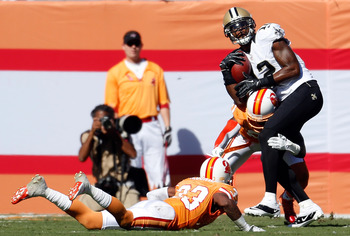 J. Meric/Getty Images
The Tampa Bay Buccaneers did the right thing spending their top-10 pick on safety Mark Barron, but he is still learning the ropes.
What is the excuse for the rest of the Tampa pass defense?
Ronde Barber has been active at the other position, but Aqib Talib was suspended for Adderall use and then traded to New England. The other opening-day starting corner, Eric Wright, is also facing a four-game suspension for using Adderall, according to Fox Sports' Jay Glazer.
Even with Wright, the Bucs are 28th in the league in pass yards allowed, and they're in the bottom five in sacks. That's ominous when they have two games left on the schedule against Matt Ryan, along with one each against Peyton Manning and Drew Brees.
Atlanta Falcons: Playoff Wins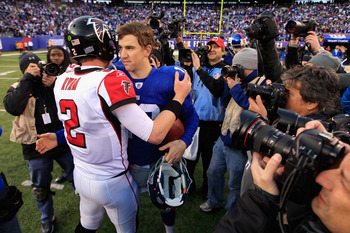 Chris Trotman/Getty Images
At 7-0, the Falcons are ticketed for the playoffs once again this season, but that hasn't been the problem for this team during the Thomas Dimitroff/Mike Smith/Matt Ryan era. They are 0-3 in the postseason, and a near-loss to the Raiders raised the specter of underperformance once again.
Matt Ryan has been efficient behind a maligned offensive line, but he threw three picks in that game and seemed to get timid in the second half. Michael Turner still looks like he is running in wet cement. Top corner Brent Grimes is lost for the season.
The Falcons have mastered winning in the regular season, but victories in January are still foreign territory, and an early-season schedule that featured four wins against the league-worst AFC West is no reason to think that they will get over the hump this year.
San Francisco 49ers: Come-from-Behind Offense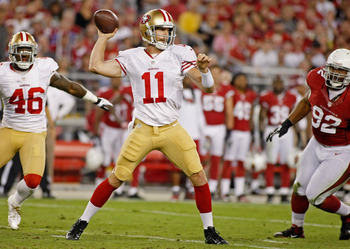 Ralph Freso/Getty Images
After a Monday night road win versus divisional rival Arizona that saw everything click, the 49ers look unbeatable.
The problem with the team is that when things don't click and they fall behind by a score or more, they look helpless.
In losses to the Vikings and Giants, the 49ers never came close to mounting comeback bids, as Alex Smith seems like the type of quarterback who is ill equipped to take the kinds of chances a quarterback has to take to lead his team to a comeback.
The 49ers defense and running game can carry the team into the postseason and even to the brink of the Super Bowl, as they did last year.
But if the 49ers want to hoist the Lombardi Trophy, Smith will have to show that he can spark the team when things aren't going its way.
Seattle Seahawks: 3rd-Down Defense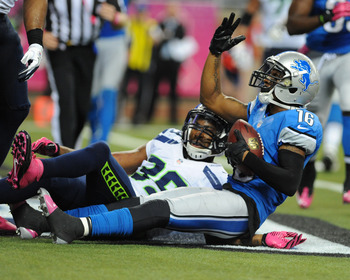 Al Messerschmidt/Getty Images
The Seahawks have assembled one of the best defenses in the league. Red Bryant anchors a run defense that makes it difficult to set up 2nd- and 3rd-and-shorts versus Seattle. The best young secondary in the league, led by cornerbacks Richard Sherman and Brandon Browner, makes it hard for opposing passing attacks to get in any kind of rhythm.
So why is it so hard for the team to stop opponents on 3rd-and-long?
The Seahawks allowed the Detroit Lions to convert 12 of 16 third downs last week, including six of seven or more yards. They have allowed almost 40 percent of third downs of seven or more yards to be converted this year, which is demoralizing when a defense has done such a good job on first and second downs.
Head Coach Pete Carroll has said that the problem is "disturbing," according to Danny O'Neil of The Seattle Times.
St. Louis Rams: Offense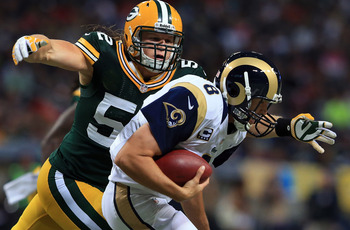 Doug Pensinger/Getty Images
Jeff Fisher's teams have never been known for their offensive prowess, but the 2012 St. Louis Rams are taking ineptitude to a new level.
The Rams have been forced to start rejects like Wayne Hunter at offensive tackle, and their most reliable target in the passing game is a slot receiver, Danny Amendola, who has missed the last three games with a collarbone injury.
Rookie receiver Chris Givens is coming on, with 50-yard receptions in five straight games, and Amendola should return in Week 10 after their bye, so a stronger second half could be in the cards for the Rams.
Arizona Cardinals: Offensive Line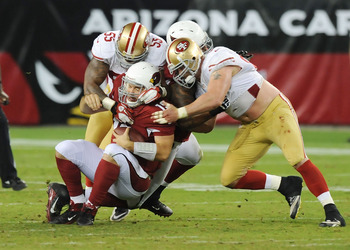 Norm Hall/Getty Images
The Cardinals have already had two quarterback injuries this year, and they're well on their way to a third, with an offensive line that can't keep the passer upright. Arizona has allowed 39 sacks; the next worst team has only allowed 28.
The pass offense has suffered across the board, with a sub-60-percent completion rate, and only nine passing touchdowns. The offensive-line woes are also contributing to their poor rankings in the running game and scoring offense.
The Cardinals haven't been addressing the offensive line in the draft or free agency lately, and it is coming back to bite them, as they have gone from 4-0 to 4-4, with Green Bay and Atlanta up next.
Keep Reading