The Top 5 Fantasy Football Waiver-Wire Adds at Every Position for NFL Week 9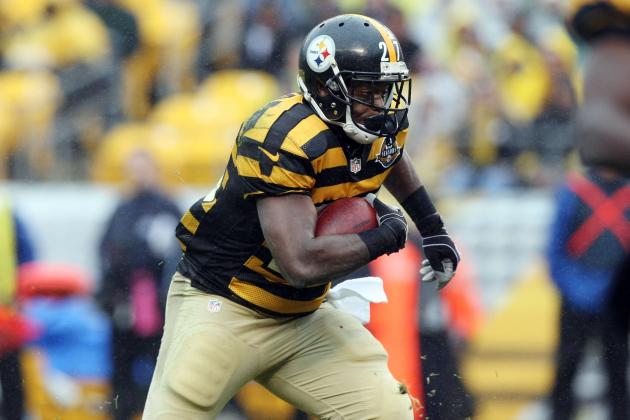 Jason Bridge-US PRESSWIRE

With the end of the fantasy football regular season around the corner, the time to stock your roster with as much talent as possible is now.
The waiver wire in Week 9 isn't as strong as it has been in past weeks, but there were a handful of breakout performances to keep working the waiver wire worth your while. Today, we'll take you through the top five additions at each position to help you make the playoffs in your league.
Begin Slideshow

»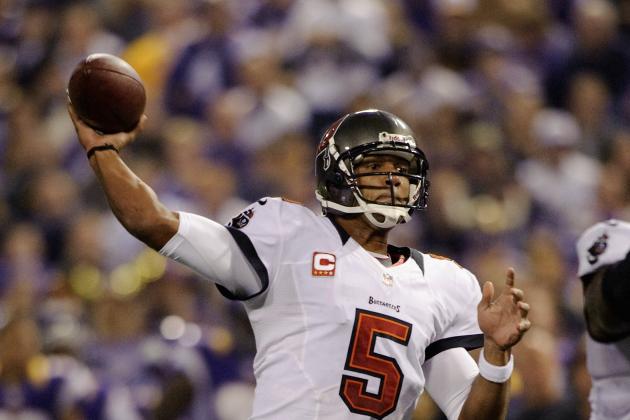 Hannah Foslien/Getty Images

1. Josh Freeman, Tampa Bay Buccaneers
Last week made it three straight weeks where Freeman threw for three touchdowns in a game. However, not only is he throwing for touchdowns, he is also adding a bunch of yards to his total fantasy points.
Freeman has plenty of talent around him in Doug Martin, Vincent Jackson and Mike Williams, and all these players are turning Freeman into one of the top quarterbacks in fantasy football right now.
2. Matt Hasselbeck, Tennessee Titans
Jake Locker is going to be out for quite some time with a shoulder injury, which means that Hasselbeck is the starter for the foreseeable future in Tennessee.
While he may never put up top points, it is hard to see him not being a quality option at quarterback because of the talent surrounding him. Both Kendall Wright and Kenny Britt are great playmakers, and as long as Hasselbeck can get the ball in their hands, he should be a successful option during bye weeks.
3. John Skelton, Arizona Cardinals
As hard as it is to say to grab Skelton off the waiver wire, this is the only week that I'd even think of doing it. The Cardinals play the Green Bay Packers this week—the same team that surrendered 303 passing yards to Blaine Gabbert in Week 8.
As long as Skelton can find Larry Fitzgerald in this game, he could be a pleasant surprise.
4. Brandon Weeden, Cleveland Browns
Weeden has been playing well the last few weeks, but the reason he ranks so low as an addition this week is because of his opponent. The Browns have a matchup against the Baltimore Ravens, and that simply isn't good for the rookie quarterback.
He's still a good option for the future, but I'd strongly suggest not starting him in Week 9 if you do pick him up.
5. Nick Foles, Philadelphia Eagles
The only reason you'd pick Foles up right now is to stash him on your bench for a week or two. With that said, if you have the roster space to make this move, it could end up paying off huge once the playoffs roll around.
With Michael Vick continuing to struggle in Philadelphia, Foles is only a few turnovers away from becoming the starting quarterback for the Eagles. Should he happen to start and produce like he did in the preseason, he could end up being the waiver-wire addition that wins you your league.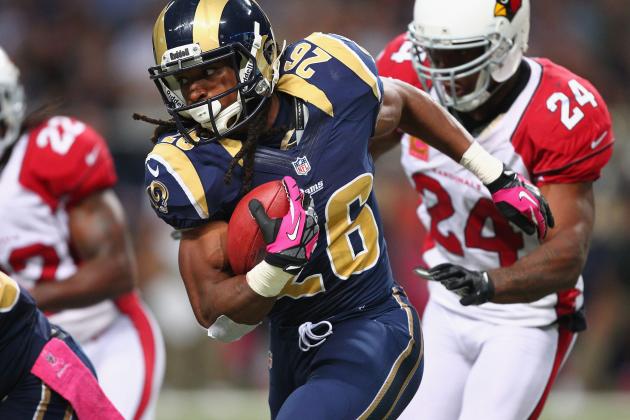 Dilip Vishwanat/Getty Images

1. Jonathan Dwyer, Pittsburgh Steelers
Even if Isaac Redman and Rashard Mendenhall are active on Sunday, Dwyer should still end up getting the bulk of the carries.
In Week 8, Dwyer had 17 carries for 107 yards and added an eight-yard reception to his total. Had Dwyer found the end zone on one of his runs, he would have had one of the better games of any running back in Week 8.
Dwyer has been a solid contributor for the season, and now that he is seeing the majority of the touches, he appears to be a legitimate RB2 in fantasy football.
2. Vick Ballard, Indianapolis Colts
Even with Donald Brown coming back from a knee injury, Ballard still has plenty of value in the world of fantasy football.
On Sunday, Ballard had 12 rushes and one reception for 71 yards and an amazing touchdown. While you don't get extra points for style in most leagues, the effort that Ballard put forth on that game-winning touchdown should help him see plenty of work in Week 9.
3. Donald Brown, Indianapolis Colts
If you can't land Ballard with your waiver-wire pickup this week, your next best option is to grab his teammate. Brown actually gained more rushing yards and had more carries than Ballard, but the two will definitely continue to split carries.
Brown looked especially good on his knee, which is a good sign for fantasy owners. He'll only be valuable at the flex position, but he could end up being a pretty solid start from here on out.
4. Joique Bell, Detroit Lions
Bell certainly didn't have an exceptional game in Week 8, but he did have 11 total touches and was a key member in both the running game and passing game.
The Lions offense finally seems to be clicking, and that means Bell could be in for some quality numbers in the near future.
5. LaRod Stephens-Howling, Arizona Cardinals
Despite being absolutely horrid this past week, he gets a pass for having to carry the ball against the San Francisco 49ers.
Don't let one bad week scare you away from Stephens-Howling, especially with the Green Bay Packers on the schedule in Week 9.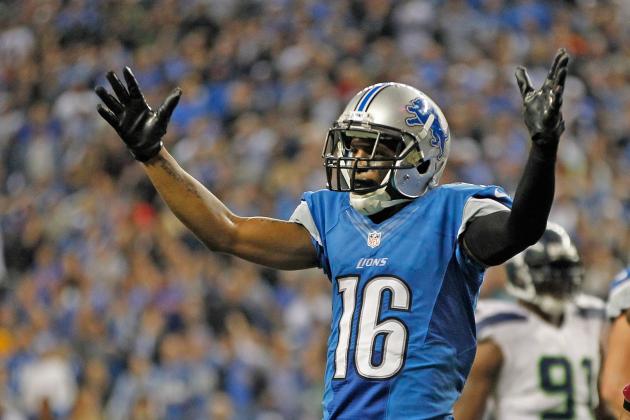 Leon Halip/Getty Images

1. Titus Young, Detroit Lions
Young's Week 8 performance was the game that the Lions had been waiting for from their second-year player. He had nine receptions, 100 yards and a pair of touchdowns in a win over the Seattle Seahawks.
With Nate Burleson out for the season, Young should continue to be a big part of the offense in Detroit moving forward. While he may never put up No. 1 or No. 2 numbers at receiver, he could become an elite flex option rather quickly.
2. Danny Amendola, St. Louis Rams
The Rams have a bye this week, but Amendola should be healthy enough to return in Week 10 for this team.
He should return as one of Sam Bradford's top targets and could instantly start producing at a high level.
3. Andre Roberts, Arizona Cardinals
The Cardinals play the Green Bay Packers in Week 9. Considering the fact that Green Bay gave up over 300 passing yards to the Jacksonville Jaguars, Roberts could be in for a big week.
Likely starter John Skelton has had difficulty finding Larry Fitzgerald, but he hasn't had trouble finding Roberts. He has back-to-back games with seven receptions and a combined 168 yards in those games.
Roberts will always run the risk of having a terrible week simply because of his quarterback, but Week 9 will be his best chance to put up monster numbers against a weaker secondary.
4. Cecil Shorts, Jacksonville Jaguars
With Justin Blackmon still struggling to find his footing in the league, Shorts has a chance to lock down the No. 1 spot in Jacksonville in the upcoming weeks.
He's had some success with Blaine Gabbert, and while Gabbert is a major liability, Shorts still has some potential to be a valuable player in most leagues.
5. Ryan Broyles, Detroit Lions
Like I said earlier, the Lions offense is beginning to get hot. They have Jacksonville on the schedule this week, which should definitely help them continue to stay hot on offense.
Broyles has only played in two games this season, but he has scored a touchdown in both games. He's a long shot to be a consistent producer, but he certainly has plenty of upside moving forward.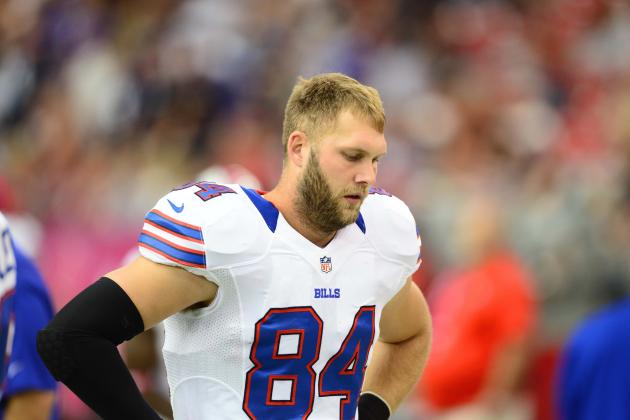 Mark J. Rebilas-US PRESSWIRE

1. Scott Chandler, Buffalo Bills
The Bills didn't play in Week 8, so many people either dropped Chandler or completely forgot about him heading into Week 9.
His matchup this week against the Houston Texans isn't ideal, but if Houston succeeds at shutting down Stevie Johnson, Ryan Fitzpatrick could be looking Chandler's way quite often during this game. If you need a long-term answer at tight end this week, Chandler is your man.
2. Dustin Keller, New York Jets
The Jets don't play this week, so don't grab Keller off the waiver wire if you need production this weekend. However, if you are planning for the future, Keller needs to be on your radar this week.
He's been extremely solid since he has come back from his injury, including back-to-back games where he recorded seven receptions. He'll continue to be a top target for Mark Sanchez, and while that may not sound like a good thing, he should continue to put up solid numbers for the remainder of the season.
3. Brandon Myers, Oakland Raiders
The only thing holding Myers back from being a consistent starter at tight end in fantasy football is touchdown receptions. He still hasn't found the end zone this season, which is a little concerning for owners.
However, the Raiders offense has looked rather good in the past few weeks, and it is only a matter of time before Myers finds pay dirt this season. Once he does that, he'll be a legitimate starting candidate every single week.
4. Dwayne Allen, Indianapolis Colts
Teammate Coby Fleener got all the attention heading into the season, but Allen is actually seeing more playing time. His versatility allows him to play a number of positions, and the Colts are taking full advantage of that.
As Allen continues to develop, he'll only become a more dangerous receiving option for Andrew Luck. If you have the space on your roster, pick him up now and watch him develop into a quality starter by the time the playoffs roll around.
5. Dennis Pitta, Baltimore Ravens
After a great start to the season, it seems that Pitta has become a forgotten man in fantasy football. A matchup against the Cleveland Browns this week could change that.
If the Ravens offense can finally get things going, Pitta could be in for a monster week.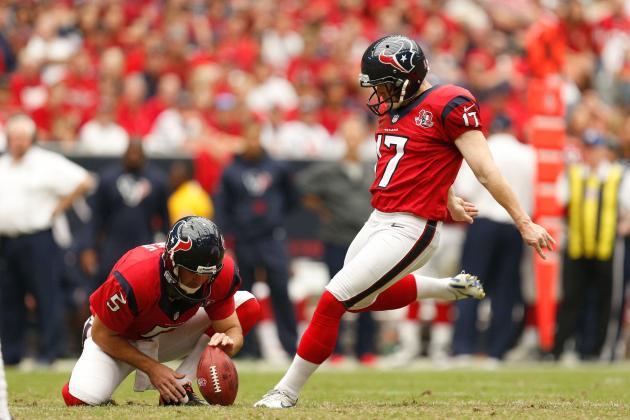 Thomas Campbell-US PRESSWIRE

1. Shayne Graham, Houston Texans
The Texans have the Buffalo Bills on the schedule for Week 9, which means they could easily put 50 points on the board this week.
Look for Graham to be extremely successful and one of the top-scoring kickers this week.
2. Connor Barth, Tampa Bay Buccaneers
Few teams have looked as good as Tampa Bay has in the past few weeks, and a trip to Oakland isn't likely to make them look bad.
If Josh Freeman can continue to play like a top quarterback, Barth will have no trouble putting points on the board in Week 9.
3. Justin Tucker, Baltimore Ravens
Anytime a team is going up against the Cleveland Browns, there is a possibility of an absolute blowout. The Ravens get the Browns this week, so look for Tucker to score early and often in his matchup.
4. Dan Bailey, Dallas Cowboys
While the Cowboys offense hasn't been as dynamic as expected so far this season, they still have the ability to score points in bunches.
With the Atlanta Falcons on the schedule for Week 9, it is very likely that they'll need to score just to keep up. If this game turns into a shootout, Bailey has a good chance to have a productive week.
5. Phil Dawson, Cleveland Browns
I know the Browns play the Ravens and that this game could turn ugly, so only grab Dawson if you're extremely desperate.
While the Ravens defense has the potential to completely shut down opponents, their last game saw them give up over 40 points. It's hard to imagine the Browns doing that this week, but there is always the possibility.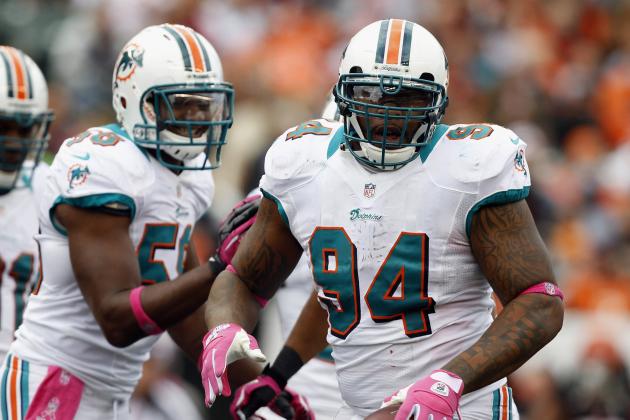 Matt Sullivan/Getty Images

1. Miami Dolphins
Without many defenses to pick from on the waiver wire this week, Miami becomes the top addition for defense. This is a unit that has played very well so far this year and has been productive in terms of fantasy football.
This week, the Dolphins go up against the Indianapolis Colts, who haven't exactly set the world on fire offensively. Look for Miami to force some turnovers and keep the Colts from scoring too much this week.
2. San Diego Chargers
San Diego gets the privilege of playing the offensively challenged Kansas City Chiefs this week. Considering that the Chargers are decent against the run, Kansas City will have to rely on Matt Cassel to put points on the board.
That's bad news for Kansas City and good news for people who pick up the Chargers defense off the waiver wire.
3. Detroit Lions
Detroit's defense has been absolutely mediocre this year, but a matchup with the Jacksonville Jaguars is simply too good to pass up.
The Lions may not give you a ton of points this week, but if your regular defense has a bye this week, you could certainly do much worse than Detroit's unit.
4. Tampa Bay Buccaneers
Tampa Bay travels to Oakland this week to take on the Raiders. While Oakland has been decent on offense at times, its also had some pretty terrible weeks.
If the Buccaneers can slow down Darren McFadden and keep big plays from happening, they have a chance to put some defensive points on the board in fantasy football.
5. Cleveland Browns
This waiver-wire addition should only be made if you're absolutely desperate, but the Browns could have some success against Joe Flacco and the Baltimore Ravens.
It isn't very likely, but considering how bad Flacco was the last time he stepped on the field, there is always a chance that he continues to play horribly.