Ranking the Most Watchable Games of Week 9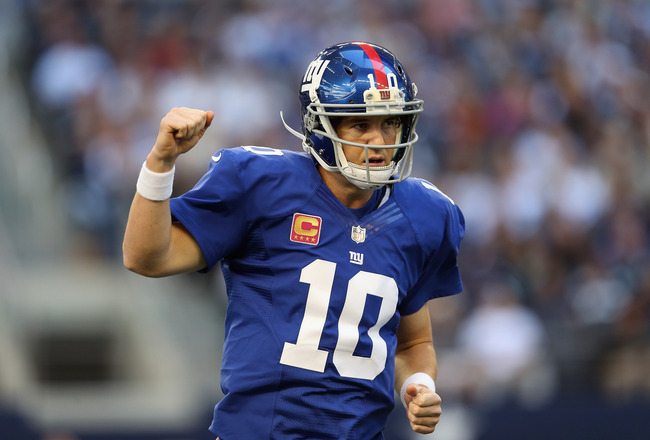 Ronald Martinez/Getty Images
With Week 9 of the NFL season on the docket, you're probably wondering which games are the most watchable for this week.
Allow me to let you in on a secret: The most watchable game this week doesn't include the Kansas City Chiefs, Jacksonville Jaguars or Cleveland Browns. Shocking, I know, but true nonetheless.
So, what games are the most watchable for Week 9? Join along as we give you reasons why you should and shouldn't watch each game as we rank the most watchable games for Week 9.
14. Kansas City Chiefs at San Diego Chargers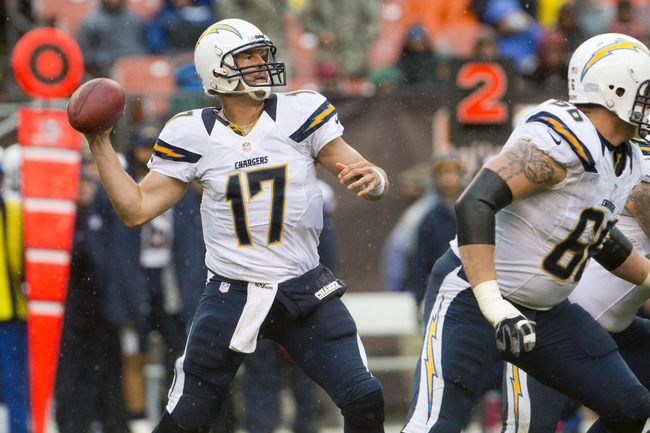 Jason Miller/Getty Images
Why You Should Watch: You Really Shouldn't
The San Diego Chargers scored six point against the Cleveland Browns last week. Yeah, that wasn't a typo, six points.
The Kansas City Chiefs, on the other hand, are the Kansas City Chiefs.
There will literally be nothing enjoyable to watch in this game.
Why You Shouldn't Watch: This Game Might End in a 0-0 Tie
I'm not kidding when I say this. Both the Chargers and Chiefs have been horrid on offense at times this season, and I don't see that trend stopping anytime soon.
Who Wins: Who Cares?
Seriously, does anyone really care who wins this game? Can we just move on to the next game, please?
13. Detroit Lions at Jacksonville Jaguars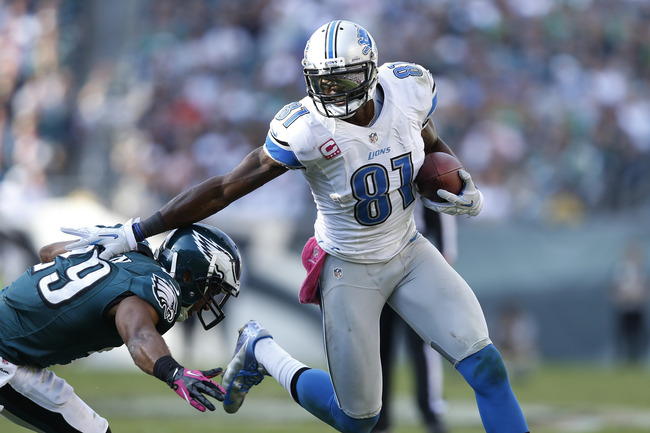 Joe Robbins/Getty Images
Why You Should Watch: Calvin Johnson Could Go Off For 300 Receiving Yards
Matthew Stafford finally looked like his old self last week despite Johnson only gaining 46 yards on three receptions. While both players have been a disappointment this season, things should turn around on Sunday against the Jacksonville Jaguars.
Look for Johnson to finally hit his stride and completely dominate the Jaguars secondary. While 300 yards may be a little high, it wouldn't be surprising at all to see him rather close.
Why You Shouldn't Watch: You'll Have to Watch Blaine Gabbert
Granted, Gabbert hasn't been quite as bad as he was last year, but he is still rather difficult to watch. The Detroit Lions are still an exciting team to watch, but there is nothing about Gabbert that is "must-see" TV.
Who Wins: Detroit
While the Jaguars kept things close against the Green Bay Packers in Week 8, I can't see that happening in Week 9. Matthew Stafford won't be without his top two receivers like Aaron Rodgers was, and he should have no difficulty carving up Jacksonville's defense.
12. Baltimore Ravens at Cleveland Browns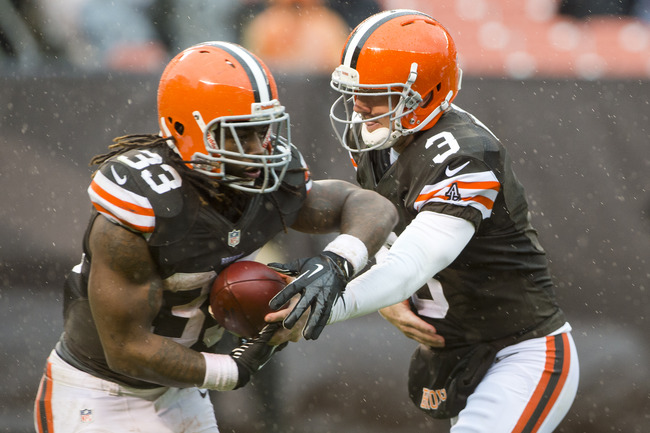 Jason Miller/Getty Images
Why You Should Watch: Trent Richardson Against the Baltimore Ravens
The rookie out of Alabama finally looked like the elite running back that many knew he was entering the 2012 NFL draft. He finally appears to be healthy, and that is exactly what the Cleveland Browns need.
Watching a great running back go against a great defense is always enjoyable, and that alone makes this matchup somewhat worth watching.
Why You Shouldn't Watch: This Will Likely Be a Blowout
Despite the Browns coming off a thrilling 7-6 victory against the San Diego Chargers, I can't see that happening again this week. In fact, the likely outcome of this game will end with the Ravens winning by double-digit points.
If you like blowouts, then this would be a fun game for you to watch, but people looking for quality football from both teams should probably look elsewhere on Sunday for a game to watch
Who Wins: Baltimore
This is about as close to a sure thing as anyone can get. Sure, the Browns have surprised the San Diego Chargers and Cincinnati Bengals this year, but they won't do it to the Ravens this week.
11. Tampa Bay Buccaneers at Oakland Raiders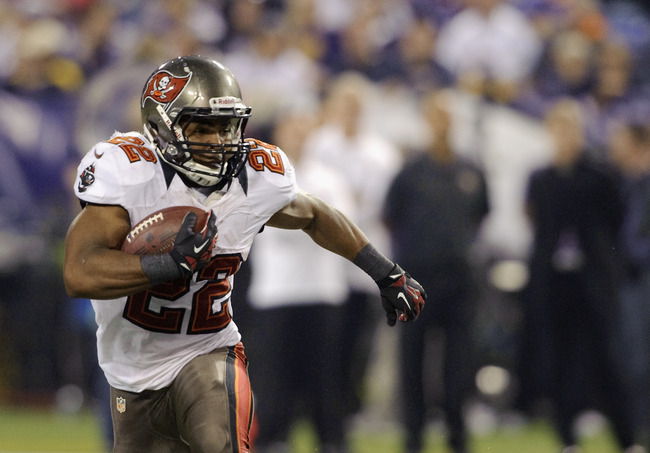 Hannah Foslien/Getty Images
Why You Should Watch: The Tampa Bay Buccaneers Are Getting Hot
They're 2-1 in their last three games, and both Josh Freeman and Doug Martin have looked spectacular over that time frame. They both look like franchise players at their respective positions, which is great news for Tampa Bay.
This is a team that is putting up points in the bunches, and there is no reason it'll slow down against the very questionable defense of the Oakland Raiders.
Why You Shouldn't Watch: Both Teams Have Been Horrid At Times
As good as Tampa Bay has been recently, it was also really, really bad through the first five weeks of the season. The same is true for Oakland, and while both teams have improved, there is always the chance that they regress to their former ways in Week 9.
Who Wins: Tampa Bay
I have this feeling that this game isn't even going to be close. The Raiders haven't been able to stop either the run or the pass this year, and the Buccaneers have been doing both of those quite well in recent weeks.
Look for Martin to outplay Darren McFadden and cement his status as a front-runner for Offensive Rookie of the Year.
10. Chicago Bears at Tennessee Titans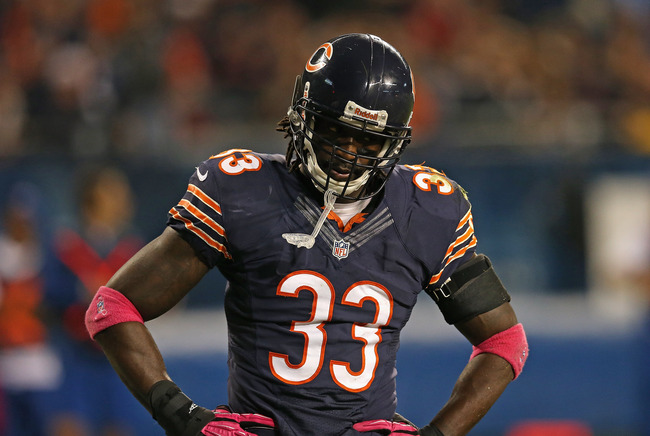 Jonathan Daniel/Getty Images
Why You Should Watch: The Chicago Bears Defense
No unit has been as impressive as Chicago has been on defense this year. In fact, Chicago's defense has been better at scoring points this year than some of the offenses in the league.
This group is filled with playmakers across the field such as Lance Briggs, Charles Tillman and Julius Peppers. If you're someone who loves to see defenses make offenses look silly, this is the game for you.
Why You Shouldn't Watch: Matt Hasselbeck Might Get Killed
With Jake Locker still sidelined with a shoulder injury, Hasselbeck will get the start this game. While he has been quite good so far this season, he has yet to play a defense like Chicago.
Considering that Hasselbeck is rather old these days, a bone-crushing hit from Briggs, Peppers or any other Bears player could end up completely ruining Hasselbeck's day.
Who Wins: Chicago's Defense
Yeah, I'm predicting that the Bears defense will outscore the Tennessee Titans offense. They're just that good.
9. Arizona Cardinals at Green Bay Packers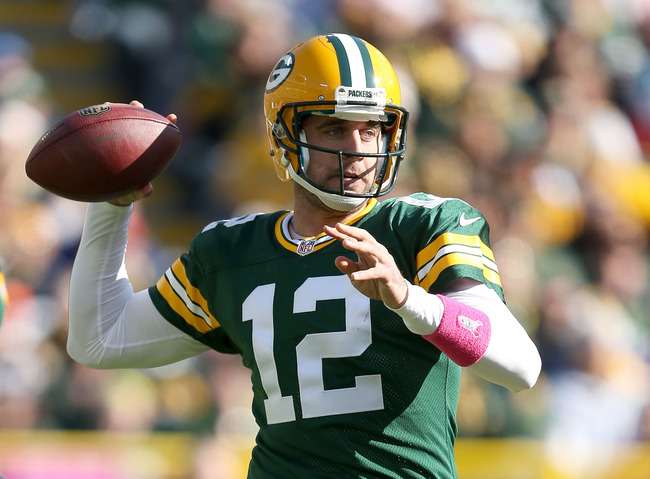 Andy Lyons/Getty Images
Why You Should Watch: Aaron Rodgers and Randall Cobb
The Green Bay Packers have been looking quite good in the past three weeks. They're 3-0, and a huge reason for their success has been the play of Rodgers and Cobb.
As good as Jordy Nelson and Greg Jennings are, Cobb has simply been exceptional this year. He continues to make huge strides in his game and is quickly becoming an elite playmaker in this league.
If Rodgers continues to find Cobb early and often, they could both put up huge numbers on Sunday.
Why You Shouldn't Watch: John Skelton and Kevin Kolb
It doesn't really matter who the Arizona Cardinals strut out onto the field at quarterback on Sunday. Either choice is going to be an awful choice, and both choices have the ability to completely take the fun out of watching football.
Who Wins: The Packers
While Arizona started the season extremely hot, it's since cooled down quite a bit. The Packers, on the other hand, are just starting to get hot.
This game has massacre written all over it.
8. Miami Dolphins at Indianapolis Colts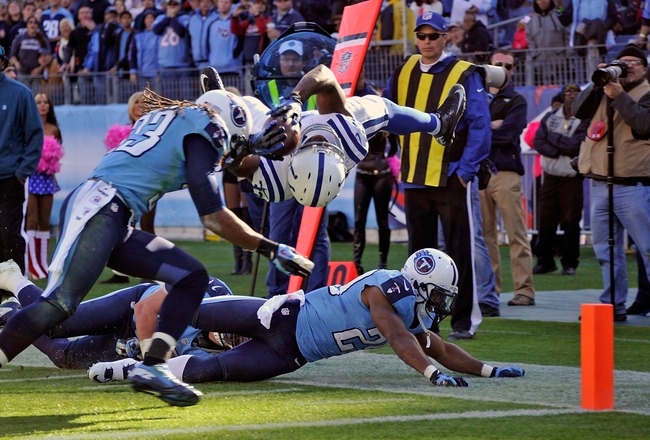 Frederick Breedon/Getty Images
Why You Should Watch: Rookie Quarterback Duel
This is, of course, if Ryan Tannehill can play on Sunday, which is still up in the air after a leg injury suffered in Week 8.
However, if Tannehill can play, his matchup with fellow rookie quarterback Andrew Luck could be quite the game. Both Luck and Tannehill have been fantastic this year, and both have led their teams to extremely surprising records in 2012.
There is nothing quite like watching the future stars of the NFL, and this game features two quarterbacks who could certainly become elite players down the road.
Why You Shouldn't Watch: Rookie Quarterbacks Can Be Sloppy
There is a good possibility that there will be a number of turnovers in this game, simply because that is what most rookie quarterbacks do best. Don't be surprised if this is a low-scoring game with the winning points coming very late in the game.
Who Wins: Andrew Luck
He's the No. 1 pick, and a win in Week 9 would give the Colts a 5-3 record. Yeah, no one thought that was going to happen this year.
7. Philadelphia Eagles at New Orleans Saints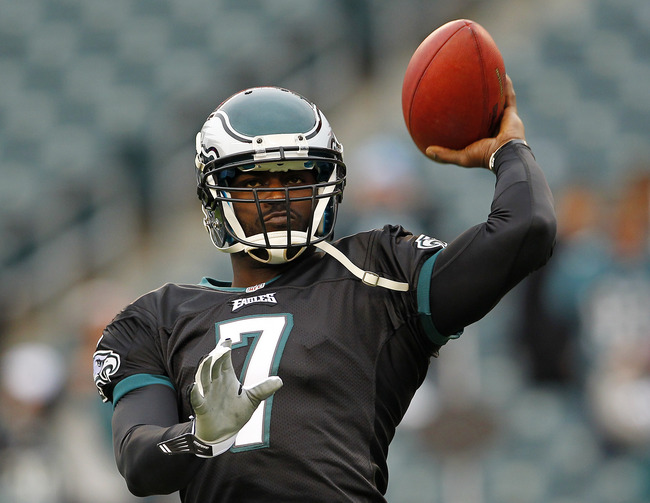 Rich Schultz/Getty Images
Why You Should Watch: There Could Be Plenty of Points
Both the New Orleans Saints and Philadelphia Eagles are capable of putting points on the board in bunches. Both teams are filled with talented players on the offensive side of the ball and shaky defenses.
What could really make this a high-scoring affair is the fact that both teams are coming off a loss in Week 8. They'll both be looking for revenge and to right their ship before their seasons go spiraling into true awfulness.
Why You Shouldn't Watch: Nick Foles Could Play Quarterback This Week
Look, Foles was a preseason darling, but the thought of him actually playing meaningful minutes at quarterback over Michael Vick doesn't sound too appeasing. While Vick is still the starter for the Eagles, a few bad possessions could bring Foles into the game.
If that happens, we'd all be losers of Week 9.
Who Wins: Drew Brees and the Saints
Brees has been fantastic the past month, and after Matt Ryan shredded the Eagles' secondary, I expect Brees to do the same.
6. Minnesota Vikings at Seattle Seahawks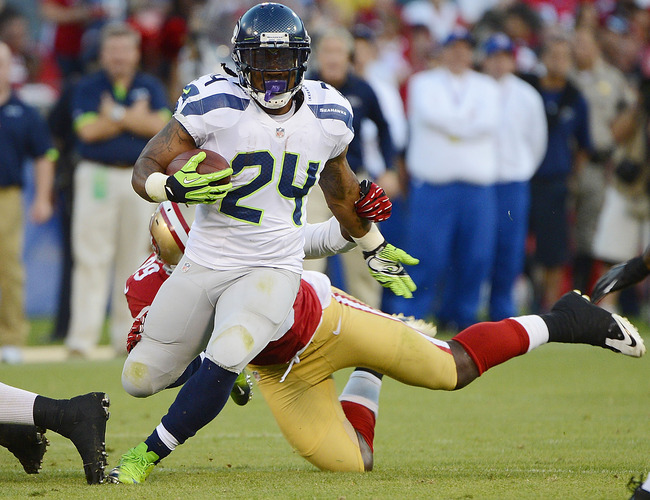 Thearon W. Henderson/Getty Images
Why You Should Watch: The Two Best Running Backs Are Playing
You could certainly make the case that Arian Foster deserves to be in this conversation, but right now, Adrian Peterson and Marshawn Lynch are the top two running backs in the league.
They rank No. 1 and No. 2 in yards per game and total rushing yards on the season. While they don't have the touchdowns like Foster does, they've been the more dominant runners so far this year.
This is going to be a great matchup of fantastic running backs. Don't be surprised if both Lynch and Peterson easily eclipse the 100-yard mark in this game.
Why You Shouldn't Watch: Russell Wilson and Christian Ponder Are Still Raw
There have been times when Ponder and Wilson have been sensational for the Minnesota Vikings and Seattle Seahawks. Unfortunately, there have also been times when they've looked like first and second-year quarterbacks.
Without much consistency from these two signal-callers, there is definitely the possibility that this turns into an ugly game offensively.
Who Wins: Seattle
This game is ultimately going to come down to passing the football, and it's hard to trust Ponder against the Seahawks secondary. The combination of Richard Sherman, Earl Thomas and Kam Chancellor will be the deciding factor in this game.
5. Buffalo Bills at Houston Texans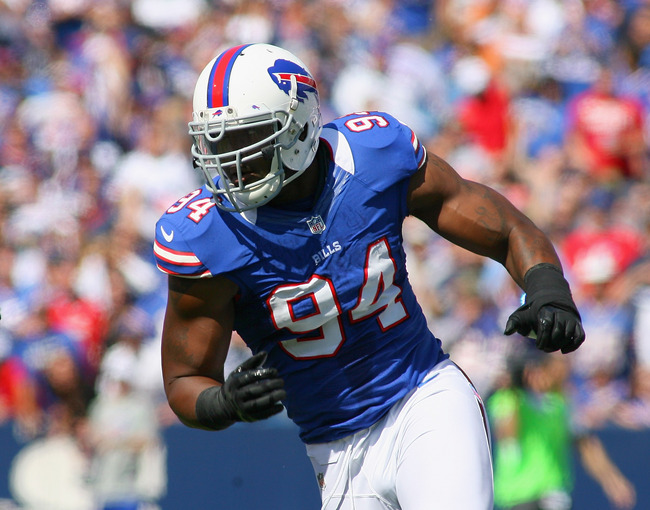 Rick Stewart/Getty Images
Why You Should Watch: Mario Williams Returns
This will be the first time that Williams returns to the team that drafted him. While he has been a major disappointment this season, you have to think that he'll be absolutely pumped up for this game.
If he can finally play up to the level that everyone expected him to entering the season, this game might actually be rather competitive.
Why You Shouldn't Watch: The Buffalo Bills Are Playing
The Bills have looked like the worst team in the league at times, and no one enjoys watching one great team dominate a horrible team. If the Bills team that allowed over 600 total yards on offense to the San Francisco 49ers shows up in Week 9, this game will be over by the first quarter.
Who Wins: The Team That Didn't Pay Williams $100 Million
The Houston Texans look like geniuses when you realize what Williams has done this year for the Bills. Coming off a bye and playing at home should make this an easy win for Houston and push it to 7-1 on the season.
4. Carolina Panthers at Washington Redskins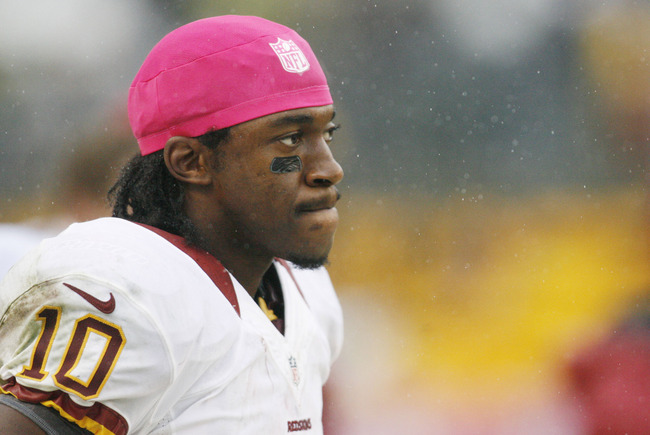 Charles LeClaire-US PRESSWIRE
Why You Should Watch: Cam Newton Version 1.0 vs. Cam Newton Version 2.0
Everyone labeled Robert Griffin III the second coming off Newton, and the comparisons haven't been far off. Griffin has been the most intriguing rookie this season and has put life back in the Washington Redskins, much like Newton did for the Carolina Panthers.
This game will feature two of the most exciting quarterbacks in the league and could provide numerous "must-see" television moments.
Why You Shouldn't Watch: 2012 Newton Hasn't Been Very Good
As dynamic as Newton was last year, he's seemed to lose it this year. His team isn't winning games, and he seems content to complain every time they struggle.
This could very well turn into a sloppy and messy game, especially if Newton plays like he has through the first eight weeks.
Who Wins: Newton 1.0
Ultimately, this is going to end up being a very exciting game to watch. There will be plenty of plays made by both Newton and Griffin, but in the end, the sophomore and original will end up winning the game.
3. Dallas Cowboys at Atlanta Falcons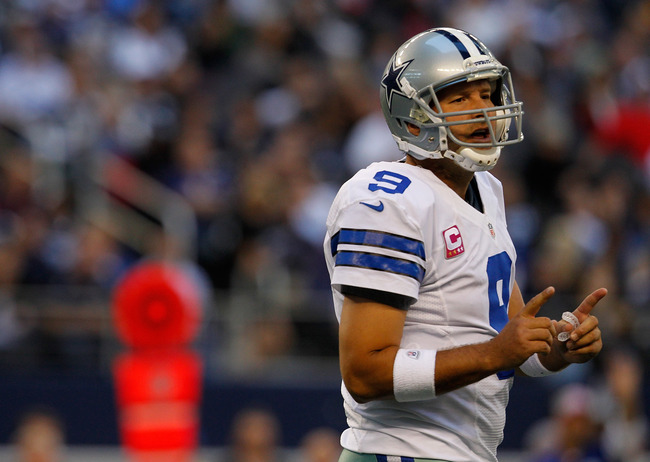 Tom Pennington/Getty Images
Why You Should Watch: Tony Romo
Romo nearly led the Dallas Cowboys back from a 23-point deficit last week against the New York Giants, which made that matchup one of the best games of Week 8. This week, he could find himself in a similar situation against the top team in the league.
This game has all the potential to be a close, hard-fought, high-scoring matchup, which is exactly what NFL fans want to see.
Why You Shouldn't Watch: Tony Romo
As good as Romo can be, he can also be absolutely horrendous. It is entirely possible that he throws six interceptions on his first six possessions in this game.
There is a slight chance that this game will be over after the first half, especially if Romo goes all Romo on us. If that is the case, this won't be enjoyable to watch at all unless you take pleasure in watching Jerry Jones get all angry.
Who Wins: The Undefeated Remains Undefeated
The 1972 Miami Dolphins better start doing whatever they do to get undefeated teams to lose because the Atlanta Falcons will be halfway to 16-0 after this victory.
2. Denver Broncos at Cincinnati Bengals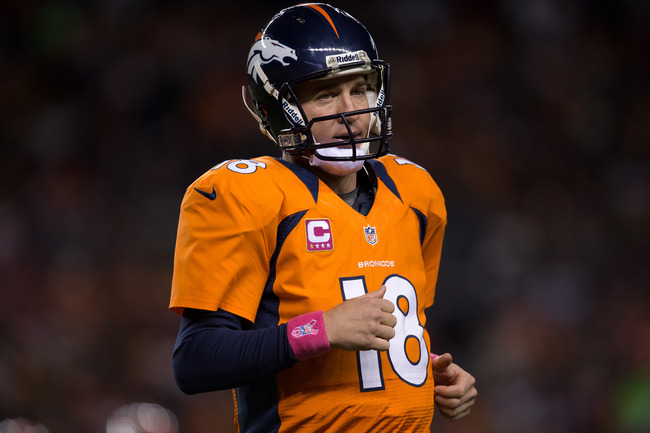 Justin Edmonds/Getty Images
Why You Should Watch: Peyton Is Back
It's official: Peyton Manning is back.
After throwing for three touchdowns in four straight games, Manning has silenced every critic on the planet Earth. The move to sign him by the Denver Broncos looks like the greatest move of the offseason.
On the other side of the field, we have A.J. Green who is really, really good. Like Calvin-Johnson good. He could easily dominate the Broncos secondary on his way to another big game.
Why You Shouldn't Watch: The Cincinnati Bengals Are Struggling
This game certainly has potential to be fantastic, but Cincinnati is riding a current three-game losing streak. The only quality team it lost to in that span was the Pittsburgh Steelers.
If the Bengals come out flat and play like they have for the past few weeks, this game could really be difficult to watch.
Who Wins: Peyton, Of Course
He's playing at an elite level, and I wouldn't pick only a handful of teams to beat him right now. Green will keep this game close for a while, but Manning will come out on top.
1. Pittsburgh Steelers at New York Giants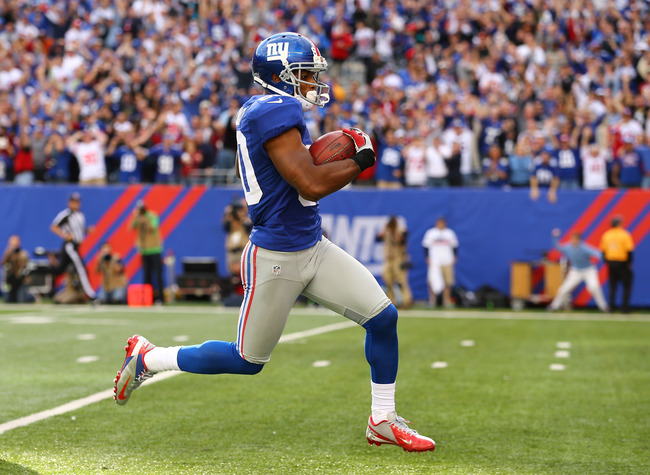 Al Bello/Getty Images
Why You Should Watch: Two MVP-Caliber Quarterbacks
While neither Ben Roethlisberger or Eli Manning may be atop many MVP rankings right now, they sure aren't far from the top. They've won six combined games in a row and will both be looking to make a statement in this game.
While Roethlisberger and Manning will be plenty involved in the outcome of the game, the team that runs the ball best could ultimately win this matchup. For the Pittsburgh Steelers, Jonathan Dwyer will likely see the majority of the carries, while Ahmad Bradshaw and Andre Brown will carry the load for the New York Giants.
Why You Shouldn't Watch: You Hate Football
I seriously can't think of any reason why you shouldn't watch this game. Both teams are playing extremely well right now, and Roethlisberger and Manning are two of the hottest quarterbacks in the league.
This should be an excellent game from start to finish.
Who Wins: Giants at Home
The Giants have won four straight games, and I simply can't see them losing at home, especially after such an emotional win against the Dallas Cowboys in Week 8. It's unfortunate this isn't a prime-time game (4:25 p.m. EST), but it should be fantastic nonetheless.
Keep Reading