New York Jets Winners and Losers: Fans' Biggest Losers in 30-9 Loss to Dolphins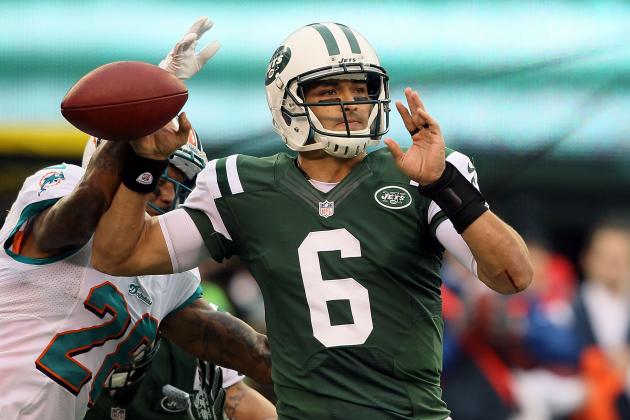 Alex Trautwig/Getty Images
Sanchez Fumbles...Again
The Jets vowed to compete and come out strong against the Dolphins at home following the gut-wrenching loss to the Patriots in Week 7. Instead, they came out flat from the first minute, allowing the Dolphins to score an easy three on their first drive and fell asleep on the onside kickoff, resulting in another Dolphin possession.
This was a disastrous game. The Jets now have two losses at home in which they were completely blown out, showing zero sign of offensive coherence at all.
The Jets weren't prepared on all sides of the ball. Backup Quarterback Matt Moore showed no fear against this Jets defense, throwing for 131 yards and a touchdown. The defense looked lost, and no one should be blamed more than first-round draft bust Kyle Wilson, who couldn't even stop the Dolphins' fourth-string wide receiver, Marlon Moore, from catching a 37-yard pass on a crucial 3rd-and-4.
As the Jets head into their bye week, there are far more losers then winners, but let's take a look at each now.
Begin Slideshow

»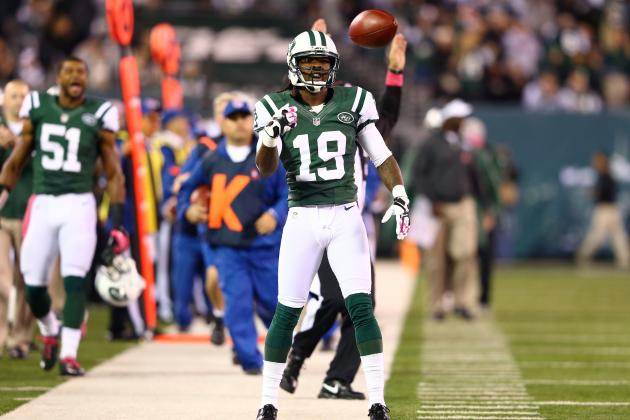 Al Bello/Getty Images

That's right. Who?
Clyde Gates had one of the biggest Jets plays of the days, returning the second-half kickoff for 47 yards into Dolphins territory. After the Jets botched the two-minute drill, leading to a blocked kick instead of seven or three points and a two-score game, they took a 17-point deficit into the second half.
Gates opened up the half with a huge return that looked to swing momentum in the Jets' favor. If the Jets converted a touchdown on the drive, they would be right back in the game.
The opportunity was lost, though, just another loser in this week's blowout to the Dolphins.
Gates had a nice day receiving, though, with seven catches for 82 yards. Before this game, he only had two receptions for 37 yards. Maybe he will become a legitimate playmaker for this team.
Gates, best known for being cut from the Dolphins on Hard Knocks, had a nice game against his former team.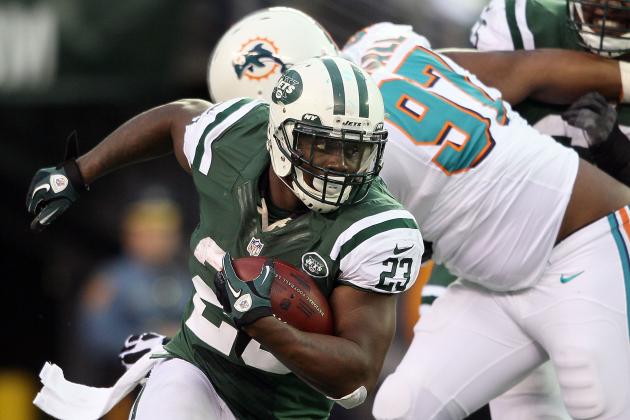 Alex Trautwig/Getty Images

While it wasn't his most impressive game as a Jet, it was good enough to name him one of this week's winners.
Greene rushed for 77 yards on 15 carries and caught two balls for 29 yards, bringing his total to over 100 yards for the day. He had his longest run, a 36-yard run, which could have been a touchdown if not for his garbage speed and a nice catch for 21 yards. It was the third straight game where Greene didn't look like the team's worst player, so that's a plus.
There isn't much to be proud of in this game, but it is nice to know that Greene is on somewhat of a hot streak compared to his awful start. Hopefully, he can still carry the load and put up big numbers in the next few games against the Seahawks, Rams and Patriots.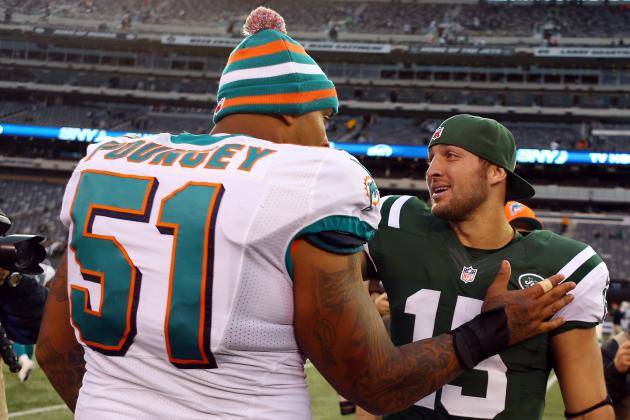 Elsa/Getty Images

How can this guy be a winner when he touches the ball once? Even though he whiffed on the punt coverage leading to a touchdown, for the majority of the game, Tebow sits on the sidelines and Sanchez accomplishes nothing on the field. Every game, his chances of starting increase more and more.
Against the 49ers, small cries for Tebow broke out. On Sunday, the masses called for him. More and more, it's looking like he was brought to New York to be nothing more then a decoy and seat seller. It's devastating to see that these were the real reasons Woody Johnson and Mike Tannenbaum brought Tebow to New York.
Sparano's packages for Tebow seem to be non-existent. Everything is setting up in Tebow's favor for a nice second half.
The Jets are 3-5, two games behind the Patriots with a 2-2 record in the division. If Tebow comes in and gets a few big wins against the Seahawks, Rams and Patriots, the Jets will be 6-5 and right back in it.
The season thus far, with Revis and Holmes going down, an awful record and a struggling Mark Sanchez has set up perfectly for Tebow. The Broncos let him loose when they needed a spark.
It's now of up to the Jets to let him loose for theirs.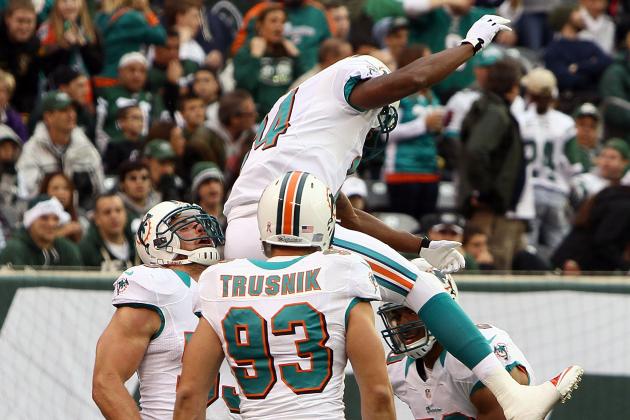 Alex Trautwig/Getty Images
Miami Celebrates after a Punt Block Touchdown
Usually when talking about the Jets, it's all praise for the unit. On Sunday, the Jets played arguably the worst special teams game in 20 years.
The Dolphins became the first team in 20 years to block a field goal, block a punt and recover an onside kick. Not only did they do all three, but they blocked a field goal for important momentum points for the Jets, they blocked the punt for a touchdown and they recovered the onside kick after scoring three points on the opening drive.
Special teams was just awful. Gates had one great kickoff return, but overall, special teams killed the Jets.
Had the Jets recovered the onside kick, they would have started on offense with great field position only down three. Overall, special teams just let the game get out of hand. The game could have easily been 17-14 or 17-6, close, manageable games, with plenty of time in the third quarter even with the blunders.
With these Jets, they will never win unless they play an all-around perfect game, executing on all three fronts. Offense, defense and special teams. On a day like Sunday when the special teams unit refuses to show up, the Jets will never win.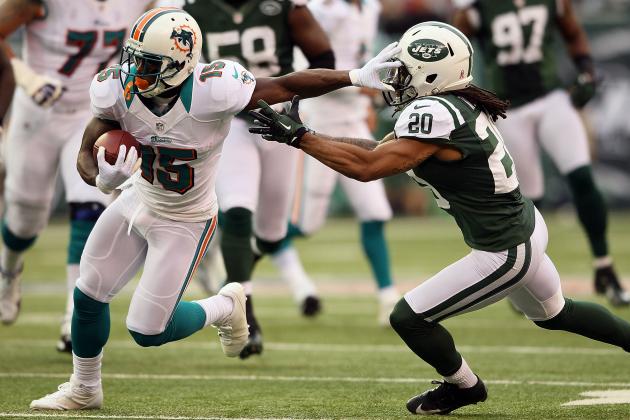 Alex Trautwig/Getty Images

Week after week Kyle Wilson makes me sick.
This guy is just so awful. A former first-round draft pick? Please. This guy has shown the star potential of the Taken trilogy.
Down 17-0 in the second quarter, the Jets needed to make a huge stop to get the ball back. On 3rd-and-4 from their own 42, Matt Moore threw a 37-yard pass to Marlon Moore, who burned by Kyle Wilson. This was a killer play and another example of Wilson's lack of playing ability. Time after time, wide receivers make this guy look terrible.
But Marlon Moore? This guy is the fourth-stringer for Miami!
Wilson also was as fault during a Jabar Gaffney touchdown. Wilson never steps up and makes big plays. This guy needs to be let go immediately. He has zero playmaking ability, can't guard a receiver and allows for guys to get around him at will.
With Revis out, the Jets hoped Wilson would elevate his play to the next level. I don't expect it happening anytime soon.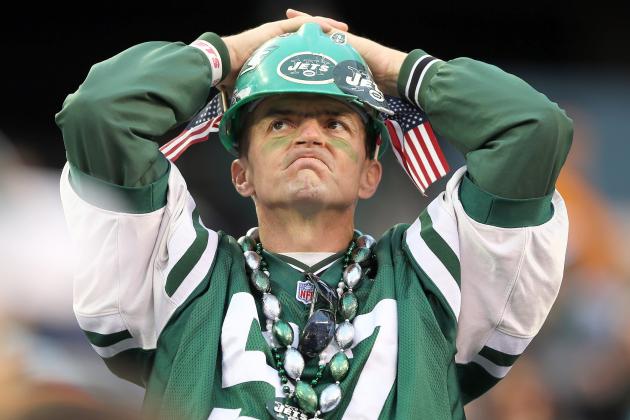 Elsa/Getty Images

It doesn't get any easier to be a Jet fan. For years and years, this team has made bad decision followed by bad decision. In the last 10 years, you can look at key decisions gone wrong.
1. After the Jets blow opportunities to beat Pittsburgh in Pittsburgh in 2004 with Doug Brien missing two kicks, the Jets use their first-round draft pick on Mike Nugent. Same old Jets lose, Jets don't improve at all.
2. The Jets get rid of Pennington for Favre and have Pennington steal the division from the Jets at home against Favre. The end of the Mangini era.
3. Drafting Kyle Wilson following the loss to the Colts in the AFC Championship game. The Jets lost this game when Garcon and Manning shred the defense, so the Jets figured let's draft Wilson and they will be Super Bowl Winners. Wrong.
4. Letting go of Key Veterans. Letting go of Faneca, Woody, Jenkins, Jones, Washington, you name it. The Jets got rid of all of their key guys who were the anchors of the 2009 and 2010 seasons, and now they have zero leadership and an awful locker room.
And now we get to this year. The Jets management refused to bring in any talent and neglected their duties this offseason. The team undoubtedly got worse and ignored their true needs. No run game, no pass protection, no pass rush. There are so many flaws. To be a Jets fan at this time is a travesty.
How can you reasonably talk yourself into paying hundreds of dollars during times like these to take a family of four to watch the Jets. They are an embarrassment. They are a disgrace. What in your right mind would make you want to drive to the Meadowlands right now to see this team get blown out at home?
The Giants are winning games with strong leadership and the Jets are looking like giant fools. It's not fair to the fans. They have to sit here and watch this mediocrity on a weekly basis. The Jets management will never improve and the talent will suffer because of it. There is nothing to look forward to as a fan right now. How can you after a 30-9 loss? It's not worth your time or your money.